(
This post may have affiliate links. Please see my disclosure.
)
Autumn is here and avocado toast is coming back with a sweet twist.
When I think of healthy fast food breakfast, I automatically sift through the hundreds of toast ideas flipping through my head.
And you know…the occasional peanut butter and jelly toast that I, as an adult, have every right to enjoy, comes up. But sometimes I want something different:
I used to think I wasn't much of a fruit person, but I am starting to discover the sort of nature's sweets I enjoy. A few things for sure:
I enjoy ripe fruit.
Tart or sour fruit are totally not my thing.
Fruit or no fruit, a banana will always be my #1. <3
Citrus fruits are cool under the right circumstances.
Avocado is a fruit and I am all about them.
I got a little bit creative this breakfast, but this was totally not planned. I had a few things laying around that I just wanted to use already.
At first, I was unsure about the whole sweet-and-savory thing with a classic avocado toast, but hey – if it can work in a salad, a bowl of oatmeal, and lentils, it can work on a piece of toast. Amirite?
So, here's the breakdown:
Avocado: Acts as a natural, buttery foundation that sets the tone for the toast. The flavor from the avocado is mild, yet plays an important part of balancing out the carbs with a healthy scoop of fat.
Thinly sliced ripe pears: Using ripe pears is important. This is when they are the sweetest and juiciest. Yummmm.
A drizzle of honey: Totally optional, but it'll add a bold flavor – especially if you're working with darker honey. If you want to go honey-free, you can use maple syrup, date syrup, or nothing at all.
Toasted bread: You hear that crunch? It's a perfect slice of whole-wheat toast that has been hugged between two warm walls. That slice will hold it down for all of the ingredients, giving you texture, warmth, and substance.
For more breakfast recipes, check out 18 Frugal Plant-Based Breakfast Recipes. We have sweet, savory, and everything in between!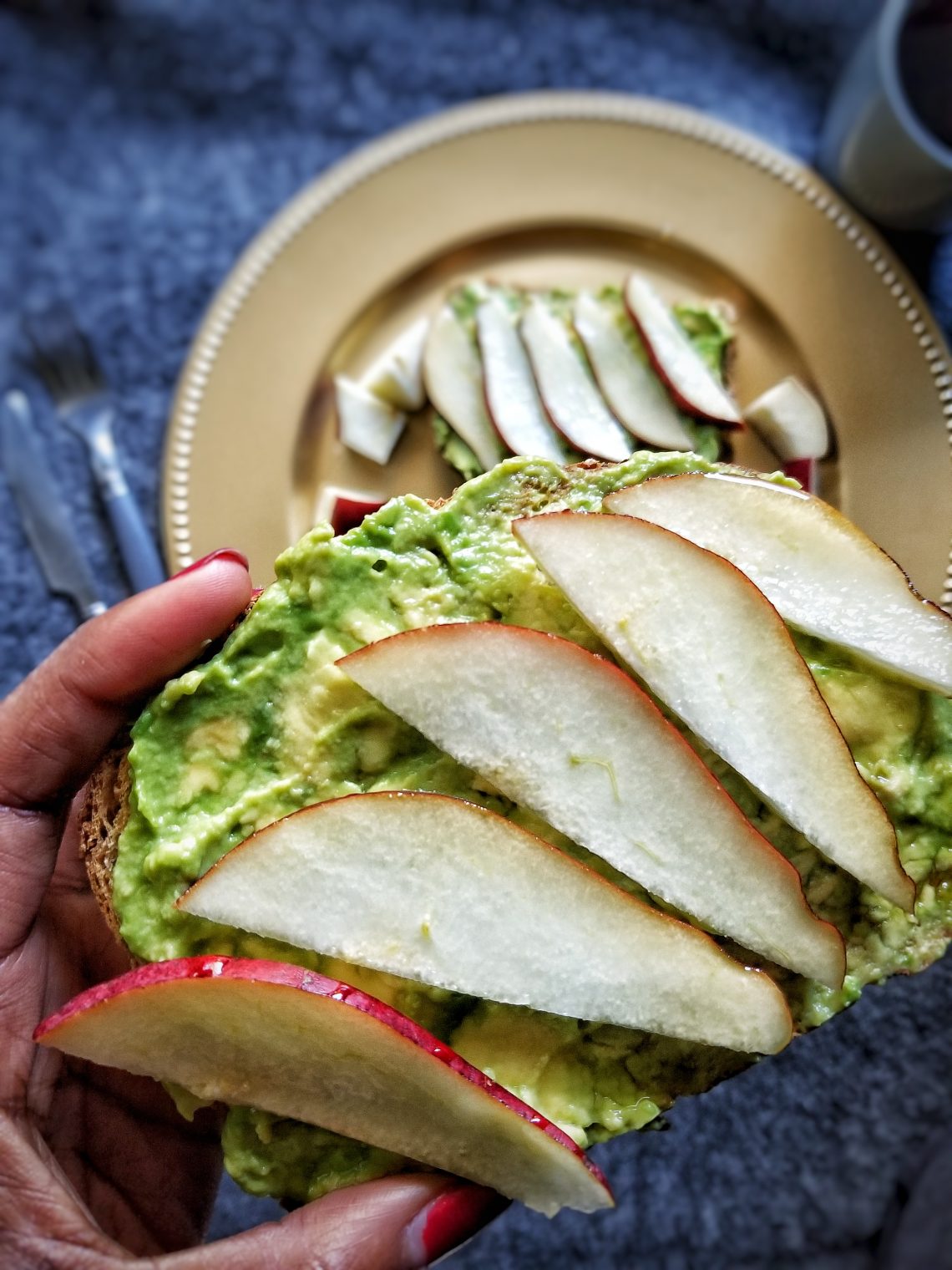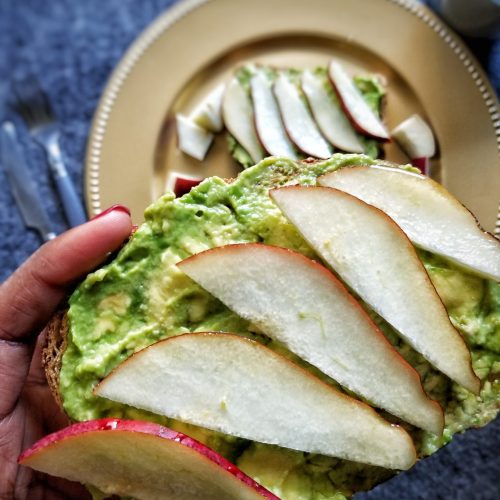 Avocado Toast With Pears Recipe
Simple savory and sweet avocado toast for morning when you need something that gets the job done, without having to stand over a stove. A convient no-cook recipe for on-the-go.
Ingredients
2

slices of toast

1

small Hass avocado

1/2

ripe pear

thinly sliced

A drizzle of honey or date syrup 

Pinch of salt
Instructions
First, carefully slice through the avocado lengthwise until you feel the knife tap the pit. Don't cut through the pit. Continue to rotate and cut around. 

Scoop out the pit/seed with a spoon. 

Next, scoop out the meat of the avocado into a bowl and smash. Add a pinch of salt to taste. 

Spread the avocado onto 2 slices of toast. Next top with thinly sliced pear. 

Drizzle honey or warm syrup on top. 

Optional: add a dash of cinnamon. 
Did you try out this Avocado Toast With Pears recipe?
Please leave a comment below, share it, rate it, or tag a picture @plantbasedandbroke on Instagram and hashtag it #plantbasedandbroke. Show off that creation with us