(
This post may have affiliate links. Please see my disclosure.
)
Growing up, having hot chocolate made from a packet was the normal way to have it. Let's be real, it was convenient as heck. 
However, I never second guessed it and never realized how easy it was to actually make it from scratch. But you know, these were the times of frozen dinners and SPAM. We didn't second guess anything. We just knew what tasted good – and that was usually a mix of salt, sugar, and nothing green. 
Here I am, decades later, having food and drinks made from scratch. Who woulda thunk it? 
There's no need for the pre-made stuff when it only takes just a handful of plant-based ingredients. I also added a pinch of cinnamon, because you know, cinnamon is like the butter of savory. It just works on almost everything sweet. 
Bring out those pantry items, we're about to have a cheap and no-frills cup of hot chocolate.
---
Homemade Dairy-Free Hot Chocolate Recipe 
Recipe Notes:
You can use whatever dairy-free, vegan milk tickles your pickle. I had cashew milk. Not for any particular reason other than I got it for a deal. 
The cinnamon is totally optional, but I recommend it. You can even be fancy and throw in a couple of cinnamon sticks to your drink. 
Personally, the amount of sugar in this recipe is perfect. But if you're into a sugar rush, just add more. Or add less. That's up to you and your tastebuds. 
Additionally, if you don't have vanilla, it's okay to skip it. The more important ingredients include the vegan milk, cocoa powder, and sugar. Everything else it optional. 
Ingredients:
1 ¼ cups of cashew milk 
2 tablespoons cacao powder 
1 ½ tablespoons of sugar
¼ teaspoon of vanilla 
¼ teaspoon of ground cinnamon 
Directions:
In a small pot, heat the vegan, dairy-free milk over medium-high heat until it simmers.
Once at a simmer, add the cocoa powder, sugar, vanilla, and ground cinnamon. 
Stir well and simmer for 1-2 minutes, or until hot. Serve immediately.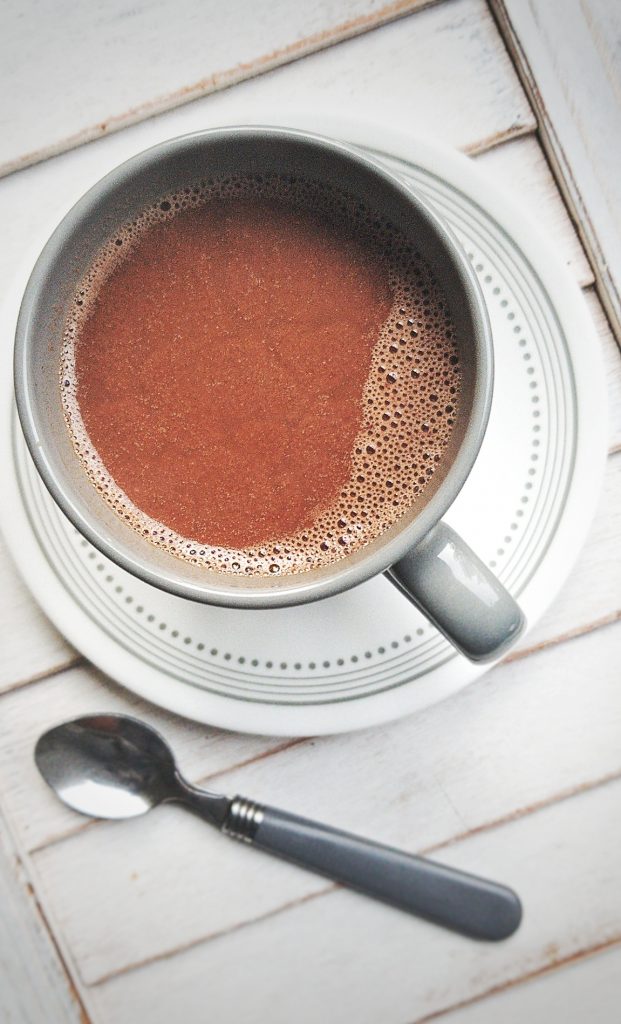 Need more warm dish ideas? Check out these recipes: 
Butter "Chicken" With Tofu Recipe 
Easy Lentil Soup With Kale And Rice 
What Did You Think About Homemade Dairy-Free Hot Chocolate Recipe? If You Tried Out The Recipe…. 
Please leave a comment below, share it, rate it or tag a picture @plantbasedandbroke on Instagram and hashtag it #plantbasedandbroke. Show off that creation with us.
How useful was this post?
Click on a star to rate it!
Average rating 5 / 5. Vote count: 8
Please follow and like us: