(
This post may have affiliate links. Please see my disclosure.
)
Who likes easy, no-fuss recipes that tastes delicious? *raises hand* Cool, me too. 
So I bring to you a dead-easy roasted cauliflower recipe that can be eaten as a snack, as a side, or for that late-night, before bed, side-eye-from-your-partner meal.
Live your best life. Eat it whenever.
Cauliflower has the reputation of being bland, boring, and sometimes soggy… if you boil them to oblivion. But when done right, you can yield perfectly tender cauliflower florets with undertones of sweetness and nutiness when blasted by heat. Hence, we're throwin' them into the oven.
Also, when baking these bad boys up, don't be afraid of the scorched, golden bits on the florets during its cook. That's what we call "flavor."
Alright, I don't feel like writing a story about cauliflower, so let's get to why you're even here….
---
No-Frills Roasted Cauliflower Recipe
Recipe Notes:
Leave the cauliflower florets frozen. They do not need to be defrosted prior to cooking.
You may use your favorite seasonings. I kept it simple and added salt and garlic powder.
Using your typical white cauliflower works too.
Ingredients:
1 teaspoon salt
2 tablespoon olive oil
1 teaspoon garlic powder (optional)
Directions:
First, preheat oven to 450ºF. Line a baking tray with parchment paper.
Pour the frozen cauliflower into a large bowl, then drizzle and evenly toss the oil onto the cauliflower, coating each piece.
Add the salt and your favorite seasonings onto the cauliflower. Toss again.
Next, place the cauliflower onto the baking sheet, with space in-between each floret.
Finally, roast for 15-18 minutes.
Optional: for added golden-ness, broil for 1-2 minutes at the end.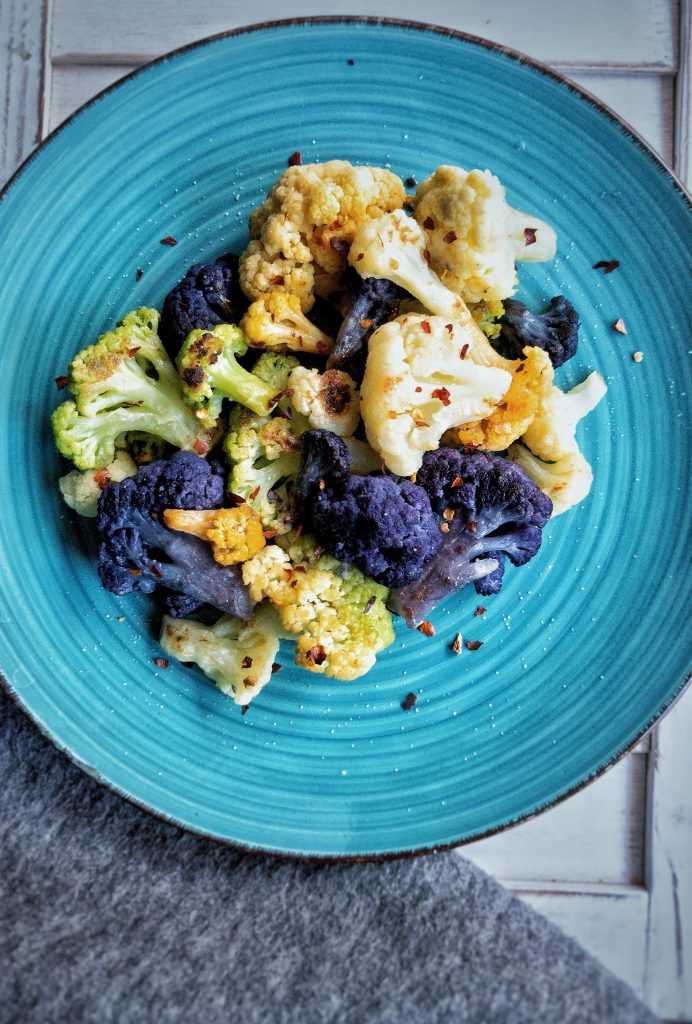 Looking for other delicious dishes? Check out these drool-worthy plant-based recipes:
Vegan Mushroom Chili Sin Carne
How To Make Tofu Taste Like Chicken
Did you try out this No-Frills Roasted Cauliflower recipe? Please leave a comment below, share it, rate it or tag a picture @plantbasedandbroke on Instagram and hashtag it #plantbasedandbroke. Show off that creation with us.
How useful was this post?
Click on a star to rate it!
Average rating / 5. Vote count:
No votes so far! Be the first to rate this post.
Please follow and like us: