(
This post may have affiliate links. Please see my disclosure.
)
If you're not in the mood to put down more than 30 minutes of headspace into a meal, this vegan pasta salad with a homemade peanut sauce if going to be your new food bestie. It's delicious, rich in flavor, and really easy.
To make things easier on you, find the green and red cabbage already shredded. For instance, I bought shredded cabbage from Trader Joe's. Additionally, you can do the same with the carrots. I actually used whole carrots and just cut them thinly myself.
Pro tip: whole carrots are usually cheaper the carrots that have been diced, shredded, or cut.
---
Vegan Pasta Salad With A Peanut Sauce Recipe
Ingredients:
For the peanut sauce:
Directions:
First, cook the pasta according to the package.
Rinse the cabbage and carrot
Then, In a small bowl, whisk the peanut butter, soy sauce, brown sugar, ginger, garlic, and water
After the pasta is done, drain the water. Rinse with cold water.
Next, combine sauce, vegetables, and pasta. Mix well.
Transfer to the fridge and let it cool for at least 30 minutes.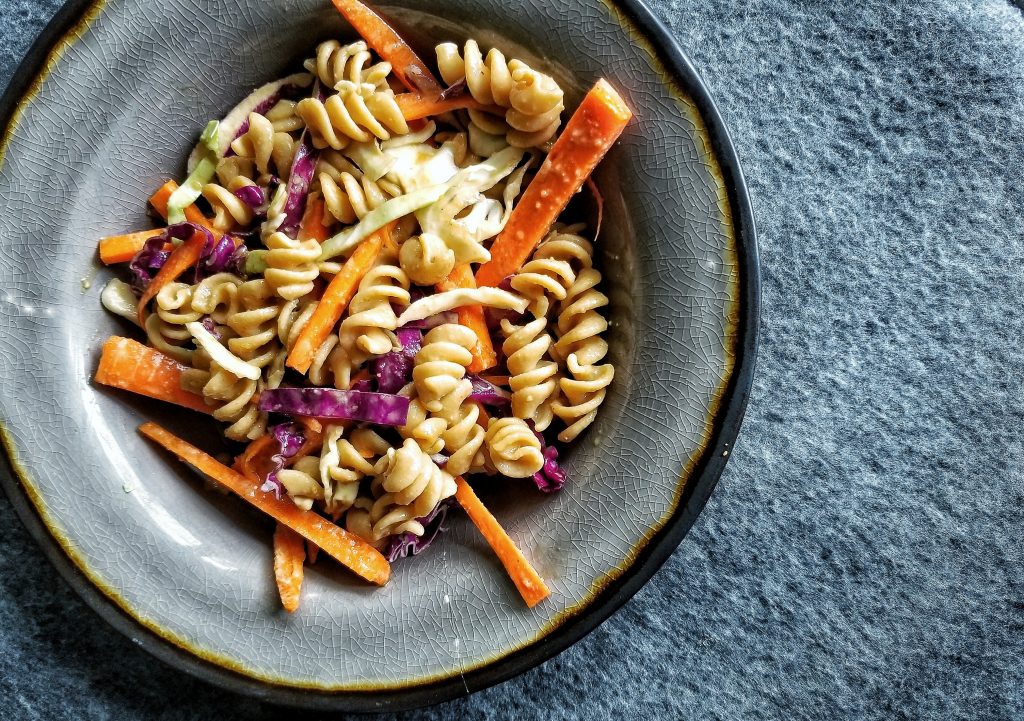 Vegan pasta salad, coming right up!
Check out these other recipes that make peanut butter the star:
Dark Chocolate + Peanut Butter Oat Bran Recipe
Plant-Based Peanut Butter Pancakes Recipe
Salted Peanut Butter + Honey Oat Bran Recipe