(
This post may have affiliate links. Please see my disclosure.
)
---
Drumroll, please. We're trying out Trader Joe's pumpkin butter today…in a vegan pumpkin smoothie.
Smoothies for fall? I mean, why not. Also, if you live in a city that's summer all year long (ahem, I am looking at you Miami), but still want to hop on that pumpkin train, a cool and creamy vegan pumpkin smoothie just makes sense.
Okay. So I walked into Trader Joe's earlier this week and my eyes lit up like a kid on Christmas morning. Everything in the store just screamed "AUTUMN IS HERE!" Although I wanted to buy everything, I had to hold it together. I am still broke/frugal/cheap AF.
Instead of using the pumpkin on a pie, or spreading it on sweet, warm bread, I decided a smoothie would be nice, especially since it's still hot in California. But I didn't want just any pumpkin-flavored smoothie. I wanted this smoothie to be incredibly creamy, thick, and dessert-like. So if you're looking for a diet smoothie, this one isn't it.
Live a little, you know?
---
Vegan Pumpkin Smoothie Recipe
Recipe Notes:
Using frozen, ripe bananas is important. It'll create a creamier texture in your smoothie. Also, sweetness. Ripe bananas bring in sweetness.
Use full fat coconut milk. It'll thicken up your smoothie.
If you don't have coconut milk, a thick dairy-free milk alternative like soy or oat can work too.
Adjust the spices to your liking. I enjoy a nice spice kick, so I am bit liberal with the spice shaker.
This recipe will yield about two servings, or just one tall glass of awesomeness.
Ingredients:
Directions:
Add all of the ingredients in to a high-powered blender. I use a Nutribullet.
Blend until smooth.
Pour in glass a cup and enjoy.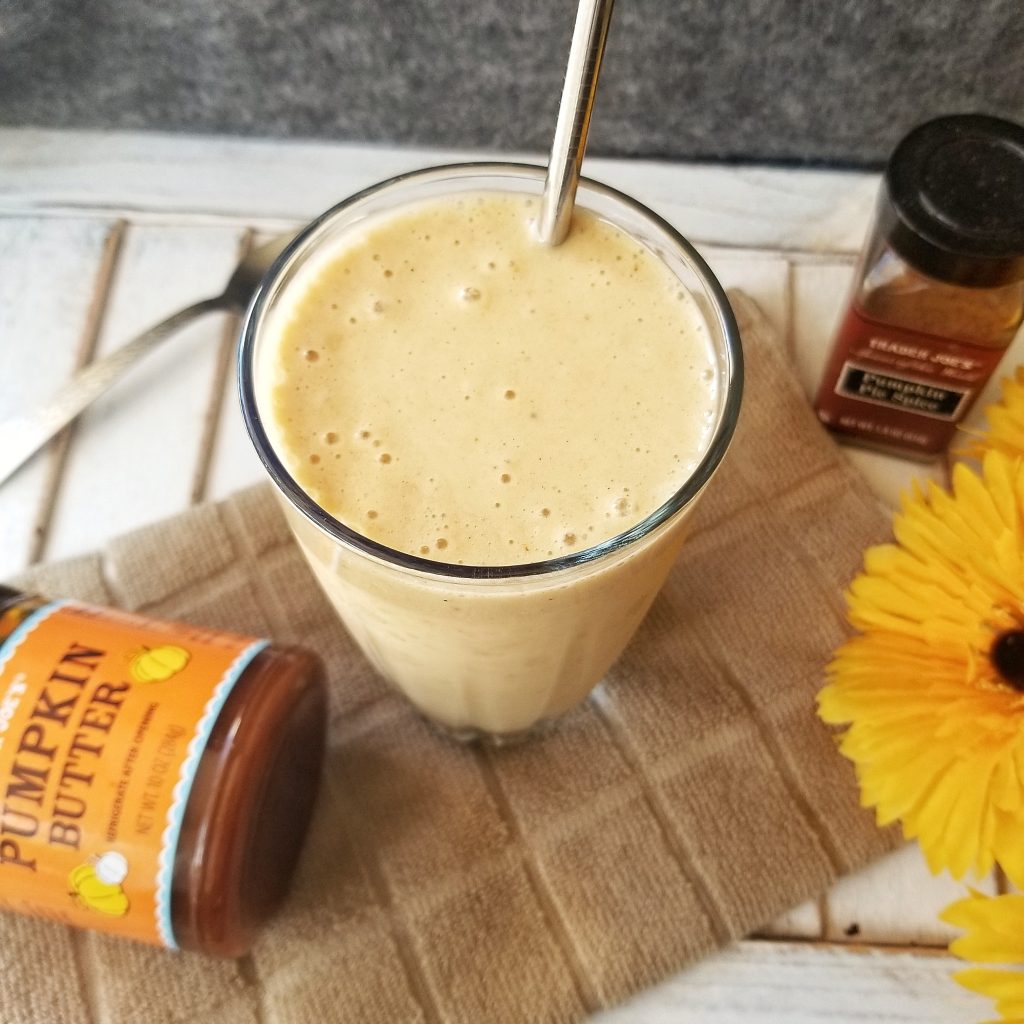 More Smoothie Recipes To Check Out:
Chocolate Peanut Butter Smoothie
Did you try out this recipe?
Please leave a comment below, share it, rate it or tag a picture @plantbasedandbroke on Instagram and hashtag it #plantbasedandbroke. Show off that creation with us. 
How useful was this post?
Click on a star to rate it!
Average rating 5 / 5. Vote count: 2
Please follow and like us: