(
This post may have affiliate links. Please see my disclosure.
)
After a couple of weeks of rich and decadent Indian food, it was time to switch my eating gears and get back to the plant-based basics. So of course I went with warm grapes & walnut oat bran bowl.
As much as I am obsessed with Indian food and would never say "no" to a buffet-style Indian lunch, my belling was rumbling for something refreshing and light, with a decent amount of protein and fiber. A bowl of oat bran was a no brainer.
When it comes to oat bran, I just use whatever I have hanging around to complete the bowl. Sometimes I will have something savory, sweet, or just plain. Some of my favorites include:
Savory Oat Bran Bowl With Tofu
Dark Chocolate + Peanut Butter Oat Bran Bowl

On my recent Trader Joe's trip, I bought a bunch of seedless thomcord grapes, which are a hybrid of the popular Thompson seedless grapes and concord grapes. They are one of my favorites since there isn't a hint of sourness and they are the perfect pop of sweetness and succulence.
Anyone else dislike sour fruit, or is that just me?
Because I house my grapes and most of my fruit in the fridge (for longevity and because I enjoy them cool), I decided to actually warm up the grapes a bit so there wasn't a drastic temperature contrast between the grapes and warmly cooked oats.
For the sake of ease and minimal clean up, I decided to pop the grapes into toaster oven for a few minutes to warm up. I set the toaster oven to 350 F degrees for about 5 minutes. The walnuts were toasted for about 1-2 minutes.
Let's get to the Warm Grapes & Walnut Oat Bran Bowl Recipe…
---
Warm Grapes & Walnut Oat Bran Bowl Recipe
Cooking Notes:
I warmed the grapes in a toaster oven, but if you prefer them frozen or cool, then do your thing and have it that way.
I typically cook my oats in water, but dairy-free milk wild a yield a creamier bowl of oats.
Adjust the brown sugar/syrup/honey to your personal preference. I don't like my food overly sweet, so a teaspoon of brown sugar and a drizzle of honey worked just fine for me.
Be careful with toasting walnuts in the toaster oven. They can burn quickly. Best to not leave them for over a minute or two. Or, you can just completely omit this step and just throw them into the bowl raw. No biggie.
This recipe yields about one serving.
Ingredients:
1 cup water or dairy-free milk
A drizzle of syrup or honey (optional)
1/4 cup walnuts
1/2 cup grapes
Directions:
Set the temperature for the toaster oven to 350F degrees.
In a single layer, add the grapes and walnuts.
Allow the walnuts to toast for a 1-2 minutes. Watch them – they burn quickly.
Once done, remove the walnuts and allow the grapes to cook for a total of 5 minutes.
While the grapes are cooking, add the oat bran and water into a pot. Mix well.
Bring the oats to a boil. Then reduce heat to medium-low and cook until it has thickened, about a minute or so.
Add the cinnamon and brown sugar. Give it a good stir.
Pour the oats into a bowl and top with grapes, walnuts, and honey/syrup (optional).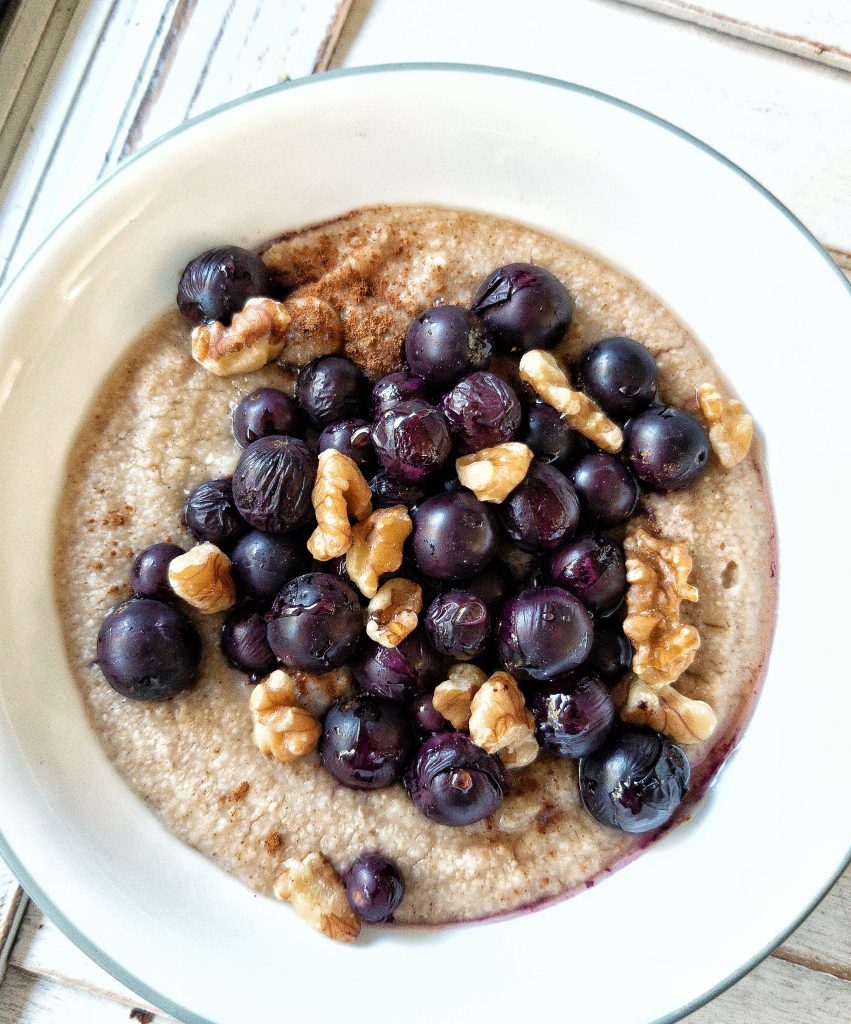 Want More Breakfast With The Bowl? Check These Recipes Out:
Quick & Easy Loaded Tofu Scramble
Did you try out this recipe?
Please leave a comment below, share it, rate it or tag a picture @plantbasedandbroke on Instagram and hashtag it #plantbasedandbroke. Show off that creation with us. 
How useful was this post?
Click on a star to rate it!
Average rating 5 / 5. Vote count: 1
Please follow and like us: