(
This post may have affiliate links. Please see my disclosure.
)
---
Don't feel like cooking? Yeah, me neither. Therefor, I am making a raw meal today.
To be honest, it's hot outside and these are the days when I start to think about how convenient a raw vegan meal or two might actually be. So today, I made walnut "meat" that requires no cooking and no stress. Finally, a walnut "meat" recipe that's simple, vegan, and fast to make. 😉
Okay, so this recipe only calls for 5 ingredients – all of which you can probably find in your kitchen pantry. However, feel free to experiment with different seasonings that you personally enjoy.
This is minimal effort, folks. Didn't even bother to chop anything. I had you (and me) in mind. Besides, it's another day of hot weather here in California and the less heat in my kitchen, the better off everyone in my home is.
FYI: If you prefer your walnut meat warm and toasty, you can opt out of the whole raw thing and throw the mix into a pan and cook for about 5 minutes or so with a little bit of oil. The upside to cooking the walnut meat is that you'll pull more flavor from the walnuts. So there's that. But, it's not necessary to cook it.
This walnut "meat" recipe is incredibly easy to make and can used in a variety of recipes including pastas, burgers, tacos, or just with a side of rice. Additionally, you can make this both raw and cooked and they are great both ways.
Ready for an easy recipe for a plant-based walnut "meat?"
Cooking Notes:
Adjust the soy sauce as you like – depending on how salty (or not) you like your food.
Walnuts in general are high in calories and fat, so if that's something you're concerned about, just take a peek at its nutritional value and serve accordingly.
I don't have a food processor, actually, just my Nutribullet. To pulse, I just blend for half a second, 4-5 times.
Ingredients:
1 cup raw walnuts
1 tsp dry basil
½ tsp smoked paprika
1 tsp garlic powder
Directions:
For 20 minutes, soak walnuts in cold water
Next, drain water from walnuts.
Then, add the walnuts, soy sauce, basil smoked paprika, and garlic powder into a food processor/high-powered blender.*
Pulse until the walnuts look "meat-like." Don't pulse so much that it ends up like butter.
*If you're using a blender: blend for half a second for about 4-5 times until you get a crumbly, ground meat-like consistency.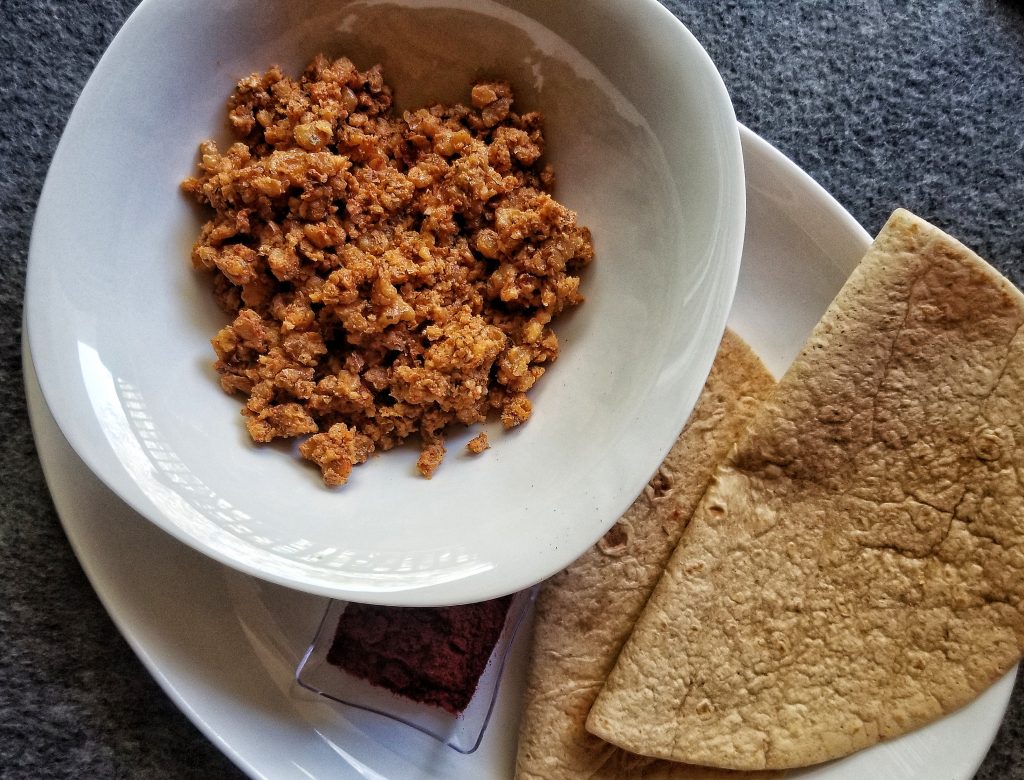 Feelin' summery? Check out these other recipes:
Crispy Buffalo Cauliflower Wings Recipe
Smoky, Vegan Bean Chili Recipe
Strawberry Banana Bread Recipe
Want to be a part of a growing community? Check it out on Facebook!
How useful was this post?
Click on a star to rate it!
Average rating 5 / 5. Vote count: 1
Please follow and like us: