(
This post may have affiliate links. Please see my disclosure.
)
Due to the current global pandemic, my pantry is stocked up with rice and dry beans. This means I have everything I need for an epic pot of arroz con habichuelas.
I mean really though, if I am being honest, my pantry is ALWAYS stocked with the essentials. The trick is to regularly purchase bulk foods, for example:
rice
beans
lentils
seasonings & spices
tomato sauce
dried fruit
nuts
Because my grocery shopping visits will be less frequent, I will be focused on plant-based recipes cooked from pantry, shelf-stable, and frozen ingredients.
We're all in this together – so let's make delicious food together.
What If My Rice Is Too Mushy/Wet?
At the end of the cook, if your rice is too mushy or wet, uncover the pot and allow excess moisture to evaporate.
What Kind Of Rice To Use?
You'll find that either medium-grain or long-grain rice is used in Puerto Rican-style rice. Although I grew up eating medium-grain rice, I used long-grain rice for this recipe, instead.
I love using long-grain rice because is stays fluffy and they separate more (aka less of "sticky rice" texture). I also find long-grain rice easier to cook with.
Dry Beans Or Canned Beans?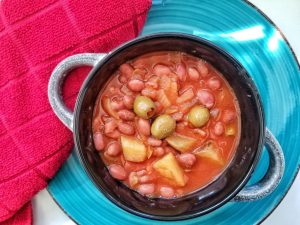 In this recipe, I used dry beans. Depending on what I currently have on hand, I'll switch between dry or canned. It doesn't matter.
Dry beans will take a bit longer to cook since they must be soaked overnight and cooked for at least an hour to become tender. But, it's worth it. Dry beans are cheaper and you can use the reserved bean water for your rice. Extra flavor alert!
If you're using canned beans, just be sure to drain and rinse your beans before using them in the recipe.
Where To Buy Sazon And Adobo Seasoning?
Sazon and adobo seasonings can be found at Latin grocery stores or in the "ethnic" aisle of a grocery store.
You can also find sazon and adobo on Amazon.
How To Make Sofrito?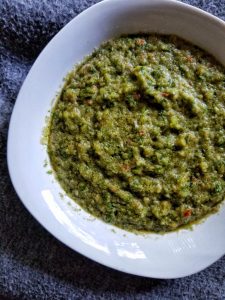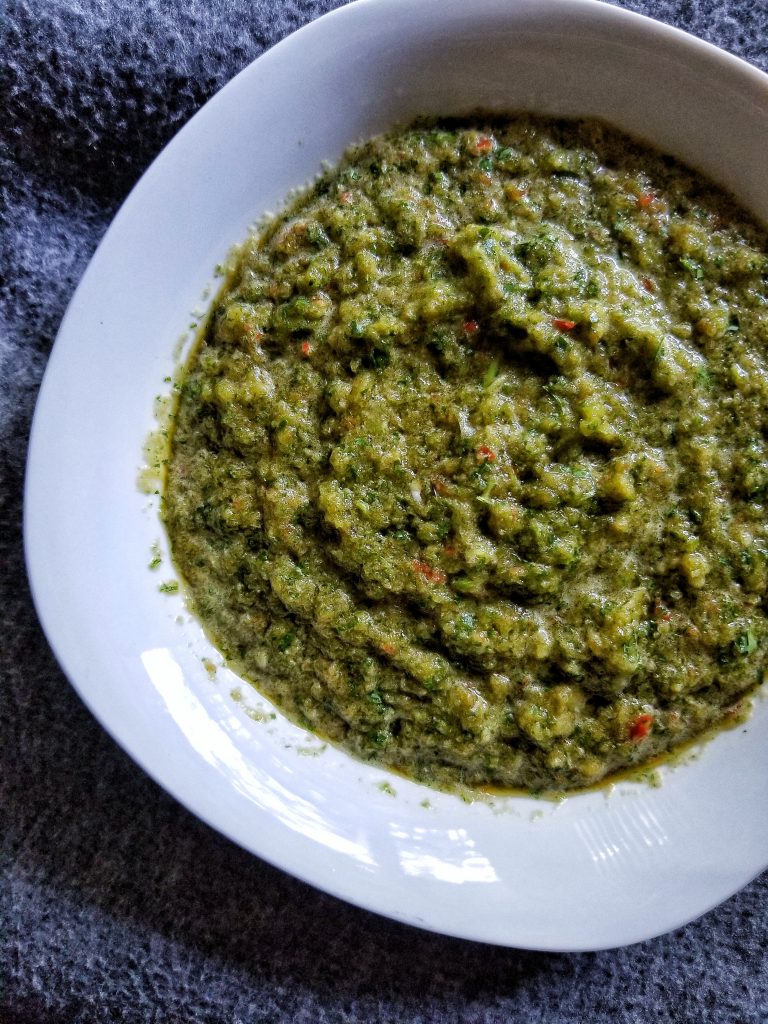 Sofrito is a base made from aromatic vegetables and used in Puerto Rican recipes including soups, stews, rice, and beans.
There are some varieties of a sofrito recipe. For mine, I use easy-to-find ingredients including green bell peppers, red bell peppers, onion, garlic, and cilantro.
All you need to do is peel, de-seed, chop, then blend your ingredients. Here's the full recipe for sofrito.
Let's spice up our lives with arroz con habichuelas.
---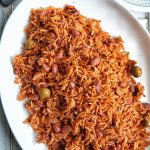 Print Recipe
Arroz Con Habichuelas
Puerto Rican-style yellow rice with pink beans and Spanish olives. Made with a vegetable base called "sofrito." It's a great vegan-option side dish that is typically paired with a stew or protein. Vegan, gluten-free.
Ingredients
2

cups

white long grain rice

3

tablespoons

sofrito

1

cup

pink/red kidney beans

cooked

2

tablespoons

vegetable/canola oil

5

ounces

can of tomato sauce

1

packet

sazon

1

teaspoon

adobo seasoning

Salt to taste
Instructions
First, rinse the rice a few times and remove any dirt or foreign pieces.

Next, heat oil in a pot over medium heat. 

Then, add the sofrito, tomato sauce, and sazon. Stir together and cook for 1 minute, until fragrant. 

Add the rinsed rice and cooked beans to the pot and mix with the other ingredients. 

Fill the pot with water, about 1 inch above the rice. Add a pinch of salt. 

Bring rice to a boil. Once at a boil, lower heat to a soft simmer. Cook uncovered for 10 minutes, or until the liquid has been mostly absorbed by the rice.

Once mostly dry, gently stir the rice from bottom to top about 1-2 times.

Finally, cover the pot and cook for about 20 minutes, until rice is tender and cooked through.
Notes
If you do not have a caldero/cast-iron pot, a non-stick rondeau or saucepans will work. 

For less salt, omit any salt and feel free to add less sazon.

If you want your rice to have more salt, just add a pinch of salt or Adobo. 

I used basmati long-grain white rice for this recipe.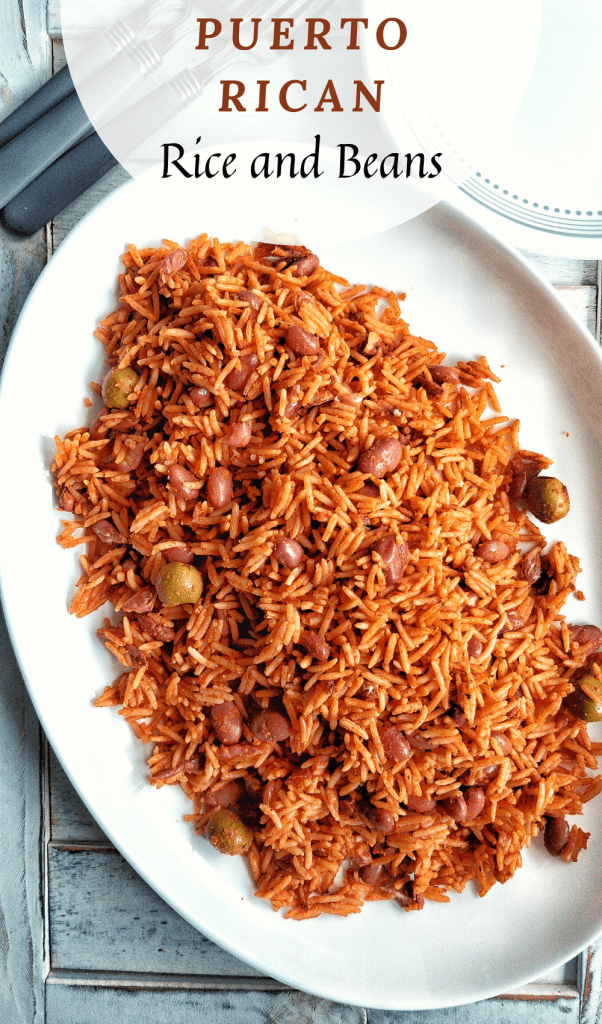 ---
Check Out These Popular Puerto Rican Recipes:
Habichuelas Guisadas (Red Bean Stew) From Scratch
Oil-free, Baked Maduros (Sweet Plantains)
Vegan Picadillo (stewed "beef")
Did you try out this Arroz Con Habichuelas recipe?
Please leave a comment below, share it, rate it or tag a picture @plantbasedandbroke on Instagram and hashtag it #plantbasedandbroke. Show off that creation with us.
Please follow and like us: