(
This post may have affiliate links. Please see my disclosure.
)
Jump to:
Arroz con habichuelas, or Puerto Rican Rice and beans is a dinner classic made with rice, beans, tomato sauce, seasonings, and green Spanish olives.
It's a savory, flavor-packed side dish commonly paired with other Puerto Rican dishes, for example, sliced avocado, fried plantains, and my vegan version of beef stew or picadillo. So good!
To make this rice delicious, make your own sofrito, find the right ingredients, and use a caldero (cast-iron) pot if possible.
Or, a dutch oven works perfectly fine for this recipe.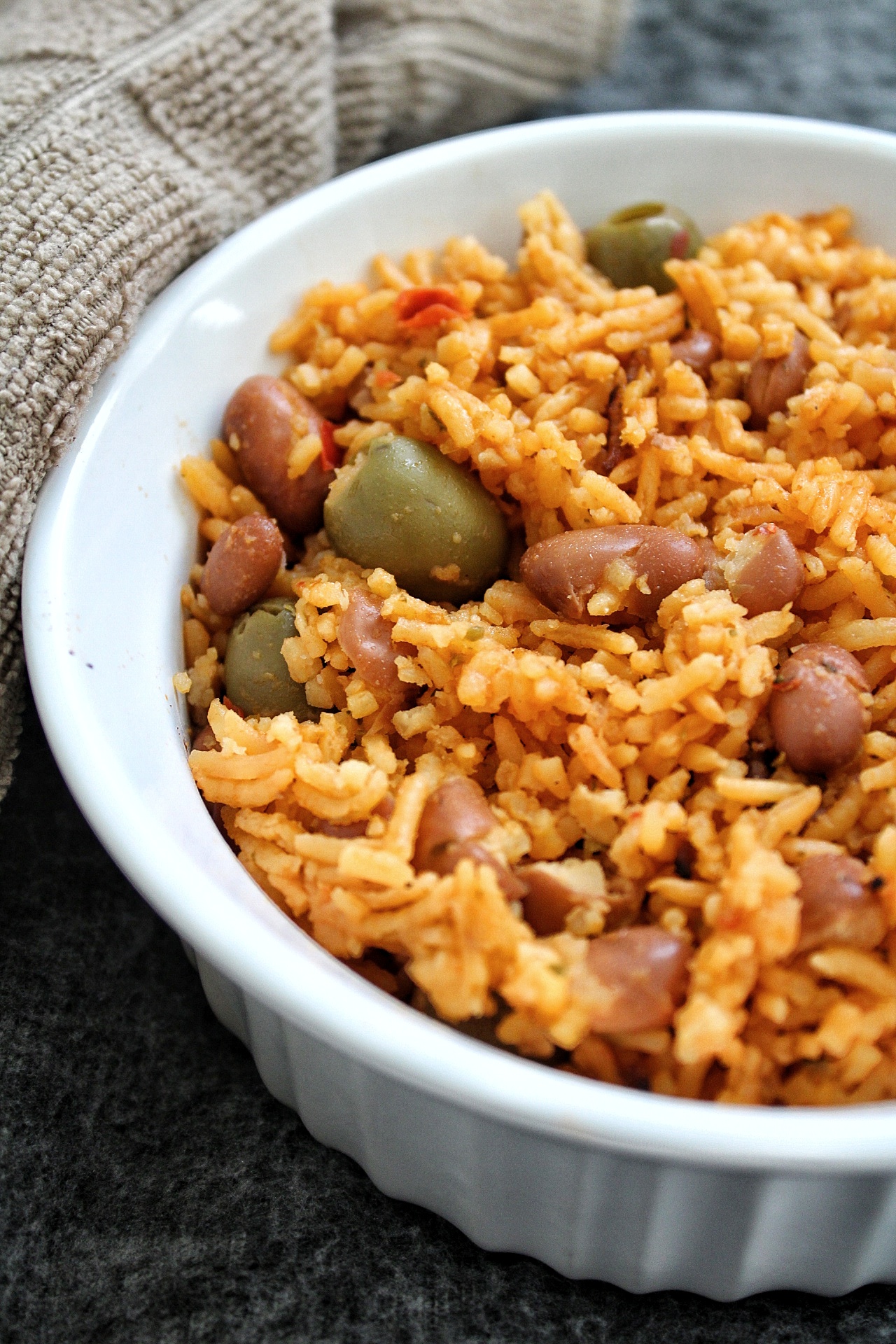 What Kind Of Rice To Use?
You'll find that either medium-grain or long-grain rice is used in Puerto Rican-style rice. Although I grew up eating medium-grain rice, I used long-grain rice for this recipe, instead.
I love using long-grain rice because it stays fluffy and they separate more (aka less of "sticky rice" texture). I also find long-grain rice easier to cook with.
I used opted to use basmati rice.
Dry Beans Or Canned Beans?
Depending on what I currently have on hand, I'll switch between dry or canned.
Go for either one. Cooking from dry bean will take longer. Canned beans is a great option if you're pressed for time or just don't want to stick around in the kitchen for too long.
Feel free to use either canned or dry beans. Up to you.
Dry beans will take a bit longer to cook since they must be soaked overnight and cooked for at least an hour to become tender.
But, it's worth it. Dry beans are cheaper and you can use the reserved bean water for your rice. Extra flavor alert!
If you're using canned beans, just be sure to drain and rinse your beans before using them in the recipe.
Where To Buy Sazon And Adobo Seasoning?
Sazon and adobo are popular Puerto Rican seasonings that show up in most Puerto Rican dishes. This includes stews, rice, casseroles, and beans.
Most big-box grocery stores will carry these seasonings alongside your traditional seasonings and spices (salt, pepper, chili powder).
However, if you're unable to locate these seasonings there, check if the grocery store has an "ethnic" or Latin-food section.
Many Latin grocery stores may carry these two products. However, if all else fails, you can also find sazon and adobo on Amazon.
If you want to make your own Puerto Rican spices, check these out:
---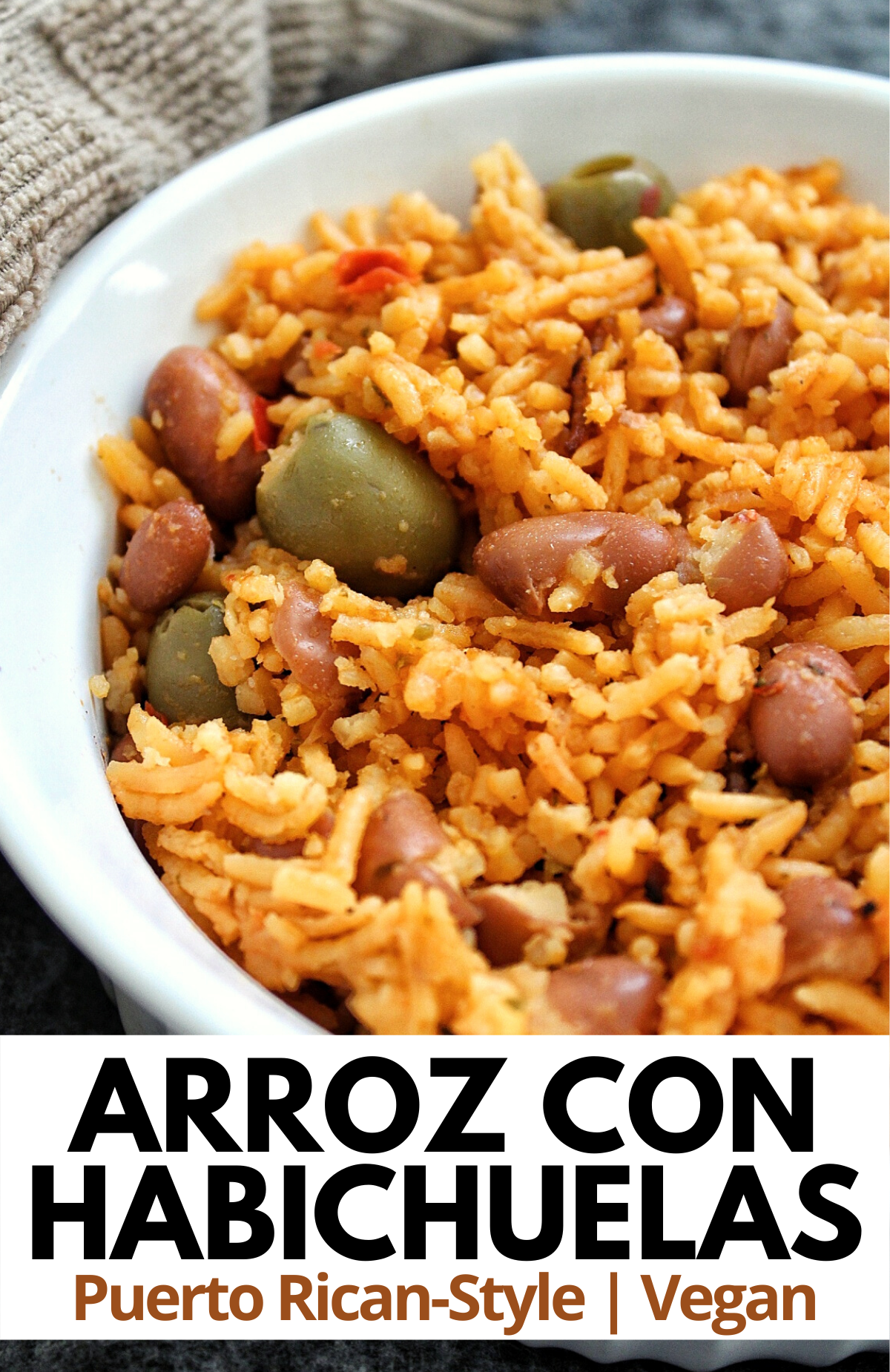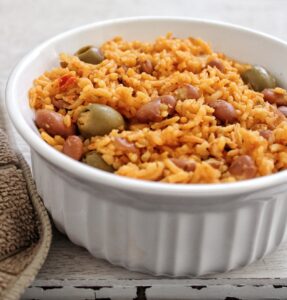 Arroz Con Habichuelas
Puerto Rican-style yellow rice with pink beans and Spanish olives. Made with a vegetable base called "sofrito." It's a great vegan-option side dish that is typically paired with a stew or protein. Vegan, gluten-free.
Instructions
First, rinse the rice a few times and remove any dirt or foreign pieces. Rinse until water is no longer cloudy. Then, drain the water from the rice.

Heat oil in a caldero or dutch oven over medium-high heat. Once oil is hot, add the rice. Toast and mix for 2-3 minutes.

In a small bowl, whisk together sofrito, tomato sauce, adobo, and sazon. Pour and mix into the rice.

Combine beans and olives with the rice. Add 2 cups of water, about 1 inch above the rice. Mix.

Without a lid, bring the rice to a boil over medium-high heat. Cook until the liquid has been mostly cooked off. Then, gently mix the rice from side to center. Reduce heat to low and cover with a lid.

Cook the rice for an additional 20 minutes, until rice is tender and cooked through.
Notes
If you do not have a caldero/cast-iron pot, a Dutch oven works too. 

This recipe is on the less-salt side. Feel free to add more sazon, adobo, or a pinch of salt if that's what you prefer. Also note, I used sazon with sodium/msg. 

I used basmati long-grain white rice for this recipe. 
Nutrition
Serving:
1
-Serving
Calories:
293
kcal
Carbohydrates:
47
g
Protein:
7
g
Fat:
9
g
Saturated Fat:
6
g
Polyunsaturated Fat:
1
g
Monounsaturated Fat:
2
g
Sodium:
440
mg
Potassium:
270
mg
Fiber:
4
g
Sugar:
2
g
Vitamin A:
104
IU
Vitamin C:
10
mg
Calcium:
37
mg
Iron:
1
mg
---
Did you try out this Arroz Con Habichuelas recipe?
Please leave a comment below, share it, rate it, or tag a picture @plantbasedandbroke on Instagram and hashtag it #plantbasedandbroke. Show off that creation with us.