(
This post may have affiliate links. Please see my disclosure.
)
Jump to:
There are days that I just want to revisit my childhood in a Puerto Rican household - and arroz con gandules or Puerto Rican yellow rice with pigeon peas does just that.
Once the fresh sofrito hits the oil, that is when I know my night is going to be delicious.
Arroz con gandules, or Puerto Rican yellow rice with pigeon peas is a popular Puerto Rican dish that's served as an everyday Puerto Rican dinner side dish. It's a staple, along with beans and sliced avocado are.
I recommend pairing Puerto Rican yellow rice with a protein base, like pastelon, beefless stew, mushroom pernil.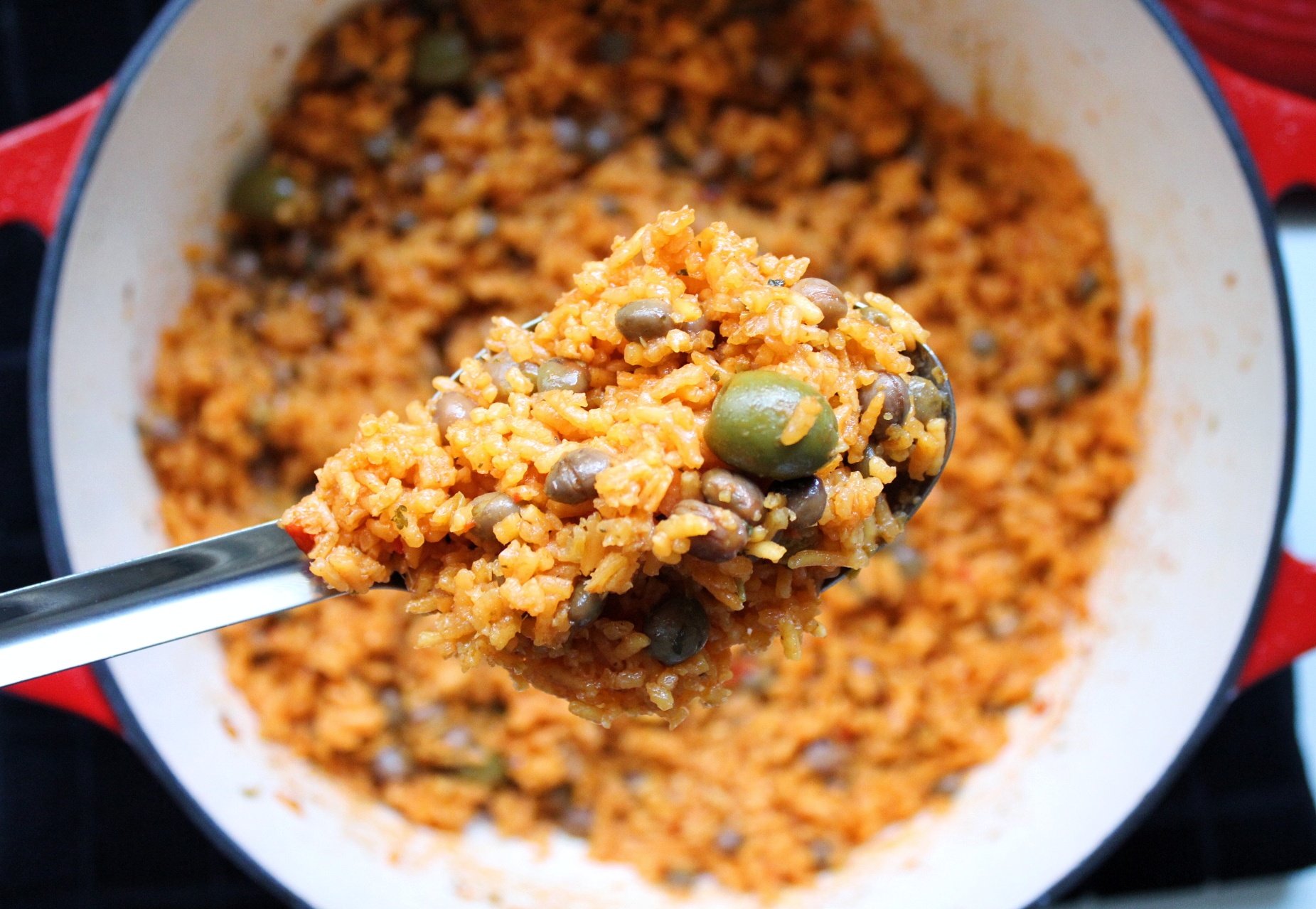 Puerto Rican yellow rice is made with homemade sofrito, tomato sauce, sazon, adobo, pigeon peas, sometimes Spanish olives if you're into it, and long grain rice.
Cooked, in a dutch oven or caldero, the yellow rice is fluffy and tender almost all the way through, with a crispy bottom.
The crispy bottom is the best part - also known as "pegao." This is where you will find concentrated flavor.
More Puerto Rican Dishes:
Or, go for a side dish of vegan tofu meatballs.
How To Make Sofrito
Like many Puerto Rican dishes, sofrito is what gives this rice flavor. Made with blended aromatics including onions, garlic, bell peppers, and cilantro, it is used as a cooking base.
It's best to make your own. It's easy, I promise. All you need to do is gather the ingredients, throw them into a blender or food processor, and boom - you have sofrito.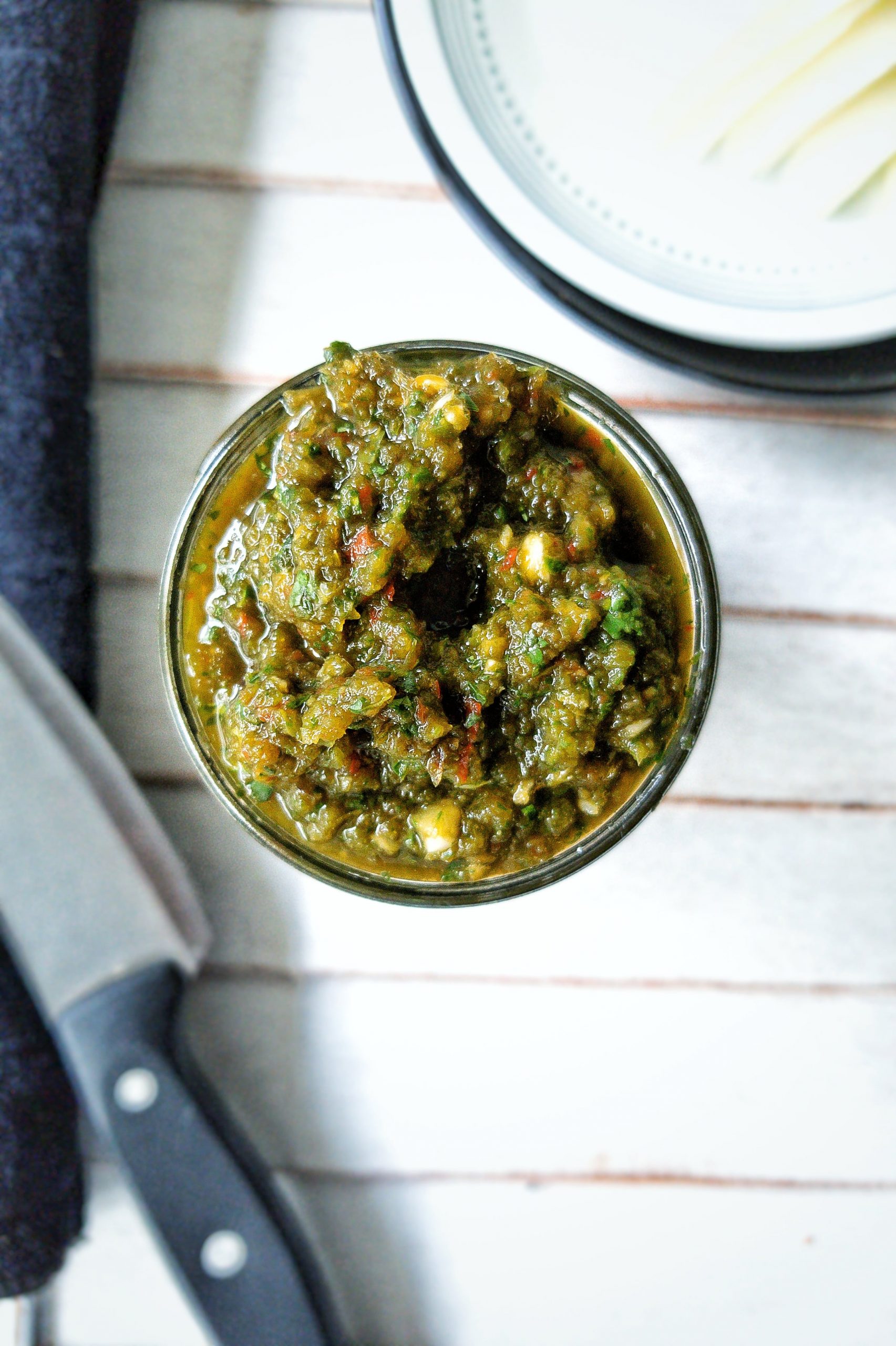 Recipes for sofrito may vary. I make my sofrito with easy-to-find ingredients that are also affordable.
Where To Find Gandules
Gandules can be tricky to find, depending on where you're located and your access. They can be typically found at Latin grocery stores or the ethnic/Latin section of a grocery store.
Gandules are also known as pigeon peas - same name, different language.
If you're unable to find them at your local grocery store, you can purchase gandules online.
What To Do If Rice Is Mushy/Wet?
After you're done cooking, if the rice is mushy or wet, allow the rice to cook over low heat for another 10 minutes or so without a lid. This will help steam off some of the excess water.
On the other hand, if the rice is not tender enough, add a little bit of water - about ¼ cup worth and cook for another 10 minutes or so.
It's also important to note to rinse the rice a few times to get rid of the starch. This step also helps to keep the rice from becoming gummy or sticky.
Do I Need A Caldero?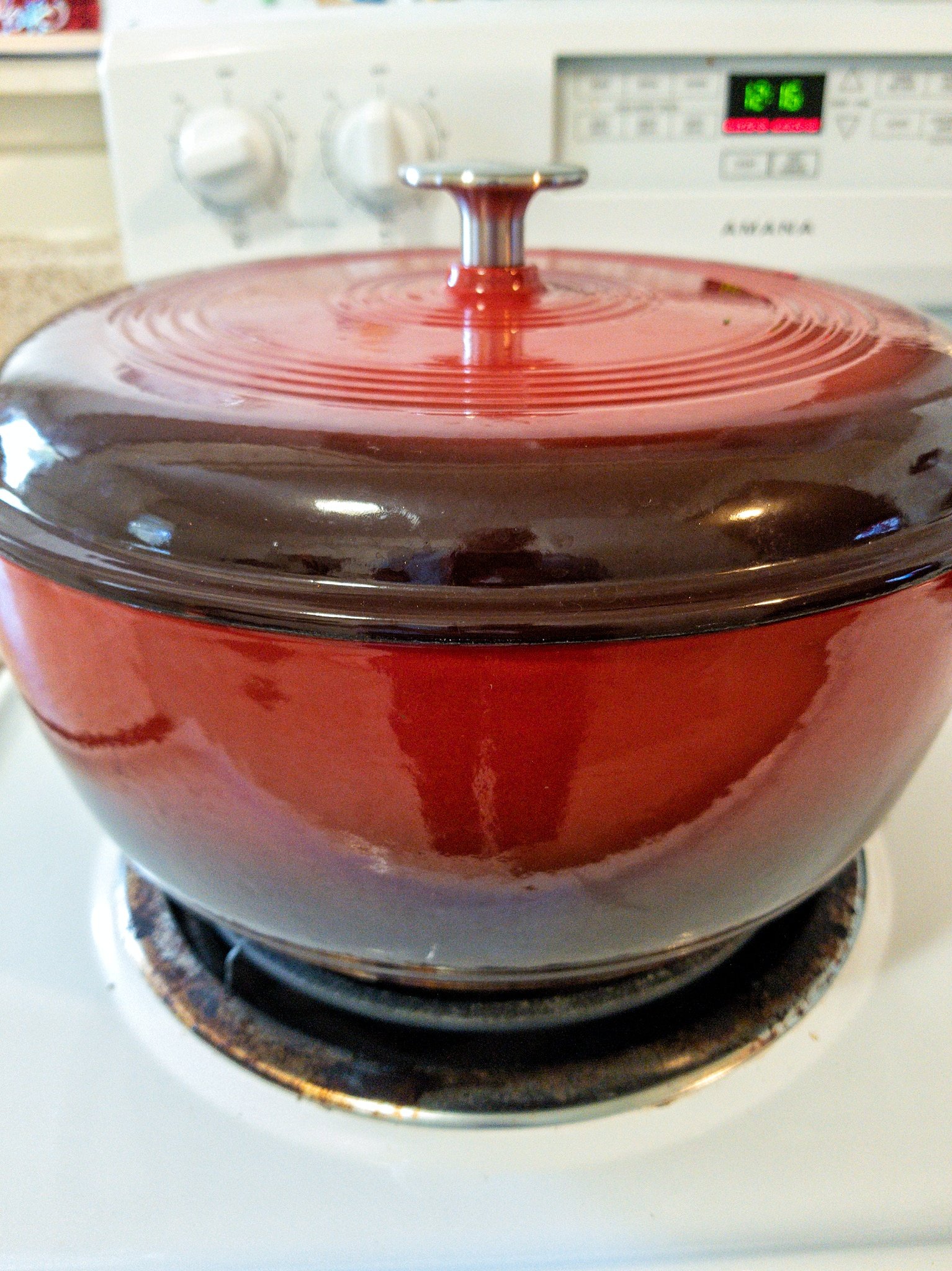 A caldero is a heavy-bottom pot that is efficient at distributing heat. I suggest using either a caldero or a dutch oven for this recipe.
Otherwise, the rice may not cook evenly - and may result in a burnt and sticky bottom.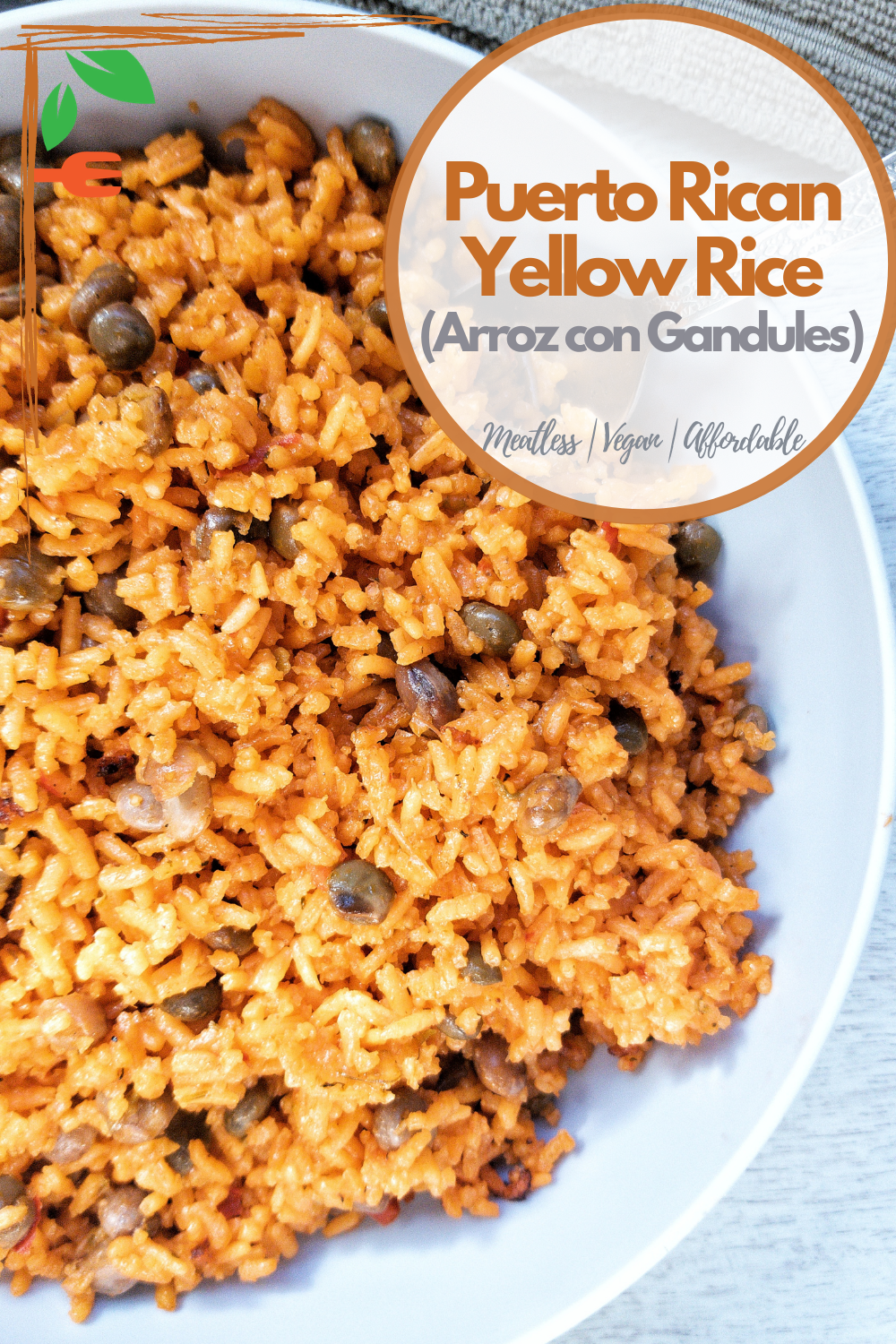 Did you try out this Puerto Rican Yellow Rice recipe?
Please leave a comment below, share it, rate it, or tag a picture @plantbasedandbroke on Instagram and hashtag it #plantbasedandbroke. Show off that creation with us.
If you're new to the plant-based diet world, check our our guide to going plant-based without breaking the bank.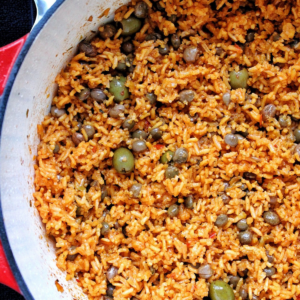 Arroz Con Gandules (Puerto Rican Yellow Rice)
Arroz con gandules or Puerto Rican yellow rice with gandules is a Puerto Rican staple made with pigeon peas, long-grain rice, sofrito, sazon, adobo, tomato sauce, and sometimes Spanish green olives. It's a Puerto Rican dinner staple that is served with most meals.
Ingredients
¼

cup

vegetable oil

2

cups

long-grain white rice

½

cup

sofrito

4

ounces

tomato sauce

2

teaspoons

sazon

1

teaspoon

adobo

15

ounces

canned gandules/pigeon peas

½

cup

Spanish olives (optional)

2

cups

water
Instructions
Rinse the rice multiple times until it's no longer cloudy. Then, drain the water from the rice.

Heat vegetable oil in a caldero or dutch oven over medium-high heat. Once the oil is hot, add the rice and toast for 2-3 minutes.

In a bowl, whisk together the sofrito, tomato sauce, sazon, and adobo. Pour and mix into the rice.

Add the gandules with its liquid, olives (optional) and water. Mix and coat the rice well. Bring to a boil without a lid at medium-high heat until water has mostly evaporated.

Next, mix the rice from edge to center a few times. Cover with a lid and reduce heat to low.

Cook for about 20 minutes until tender. Taste and add additional salt/adobo if need be. If It's a bit mushy or wet, allow the rice steam out without a lid for 10 minutes. If it's undercooked, add ¼ cup of water and cook with a lid on low for another 10 minutes.
Nutrition
Serving:
1
serving
Calories:
412
kcal
Carbohydrates:
67
g
Protein:
10
g
Fat:
12
g
Saturated Fat:
8
g
Polyunsaturated Fat:
1
g
Monounsaturated Fat:
3
g
Sodium:
548
mg
Potassium:
412
mg
Fiber:
6
g
Sugar:
1
g
Vitamin A:
130
IU
Vitamin C:
1
mg
Calcium:
59
mg
Iron:
2
mg