(
This post may have affiliate links. Please see my disclosure.
)
Jump to:
If you have ever eaten Puerto Rican cuisine, chances are, you've had Puerto Rican sofrito without even knowing it.
For a long time, I would ask my abuela to make a large batch of sofrito or recaíto for me, because I thought it was complicated to make. But she only had to show me once and I learned how easy it was to make it.
Whenever I used to visit my abuela's home and saw cilantro, peppers, garlic, and onions laying out on the kitchen table, I knew she was in the middle of making homemade sofrito.
She will often freeze multiple batches while keeping some in the refrigerator for quick access.
Because not all of the ingredients were easily found, we made our sofrito a little bit different. Sometimes with the exclusion of common ingredients found in sofrito recipes: cubanelle peppers, ajies dulces, and culantro leaves.
This was is our way of making sofrito with the ingredients we can find regularly.
Note: this recipe is for those who do not have access to all of the traditional ingredients for Puerto Rican sofrito, but still want to make it with easy-to-find, accessible ingredients. There are other variations for this recipe - this is mine and my family's due to limited access.
What Is Sofrito?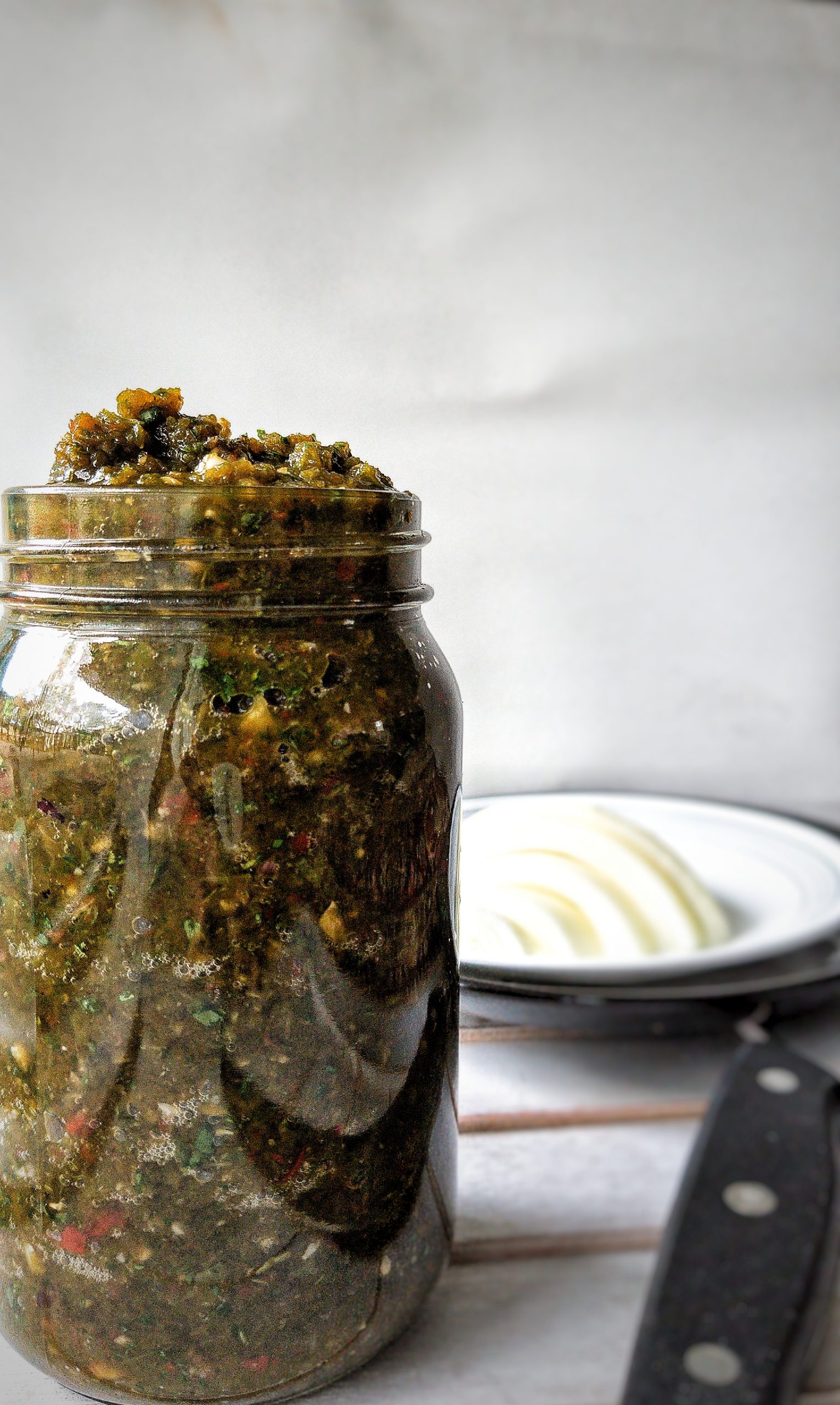 Sofrito, sometimes called recaíto, is a blend of fresh vegetables. Dropped into a pan of hot-popping oil, sofrito crackles at the start of the cooking process.
Different regions and even households will have their own versions of making sofrito. For example, in Spain, you can find sofrito made with garlic, onion, peppers, and tomatoes.
Sofrito is similar to the concept of mirepoix, which serves as a cooking base. The purpose of sofrito is to be used as an aromatic cooking base for dishes including sauces, stews, and soups.
Sofrito can be found at grocery stores, however, I highly recommend making it yourself. It hardly tastes the same and it's not worth the disappointment.
I've tried both the shelved and frozen pre-made grocery sofrito and they should just be left there.
Learn more on the ins-and-outs of sofrito in my What Is Sofrito blog post.
How To Make Puerto Rican Sofrito
Puerto Rican-style sofrito does not require any cooking.
All you need to do is to chop them into large chunks, throw them into a blender, and blend until chunky (not a puree). You'll typically use about 1-2 tablespoons of sofrito in a dish.
Ingredients Included In Sofrito:
1 yellow or red onion
1 red bell pepper
1 green bell pepper
1 garlic head
1 bunch cilantro (2 ounces/~56 grams)
Because I am not in close proximity to Latin grocery stores, or stores that have everything I need, I use what I can find, making some adjustments to the recipe. That means, unfortunately omitting ajies dulces.
Your sofrito will still be wonderful and delicious, even without ingredients like ajies dulces.
Always remember: every recipe, no matter how uniquely traditional to your household, will have its variations - even within the same region.
So, if you see a plethora of recipes with a slightly different ingredient list, that's why.
How To Store & Preserve Sofrito
Sofrito can be stored and preserved in an air-tight container or reusable silicone bag in the refrigerator for up to a week, or in the freezer for months.
To thaw sofrito from the freezer, simply move it from the freezer and into the refrigerator. It should be completely thawed in a day.
I recommend storing sofrito in the freezer if you do not intend on using it in a few days. After awhile, it will begin to lose its color and aroma. Any longer, you'll know right away that is has gone bad.
Sofrito hack: I pour and store the sofrito into an ice tray so I can just pop a couple out and defrost when it's time to cook.
Can You Eat Sofrito Raw?
Puerto Rican sofrito is used as a cooking base. Similar to how many dishes start with onions or garlic, many Puerto Rican dishes start with sofrito.
Some regions may have different ways to use this aromatic base, but in my household and in my family's generations, we cook sofrito at the beginning of a recipe and we don't serve it raw.
But that doesn't mean a challenge can't be made. I made an EPIC, creamy rigatoni pasta made with raw sofrito and ripe avocado.
Recipes Using Puerto Rican Sofrito
Drop a heaping spoonful of sofrito in these plant-based, Puerto Rican recipes:
If you want to make your Puerto Rican dish complete, try out fried sweet plantains.
It's time for that homemade sofrito to hit the oil!
---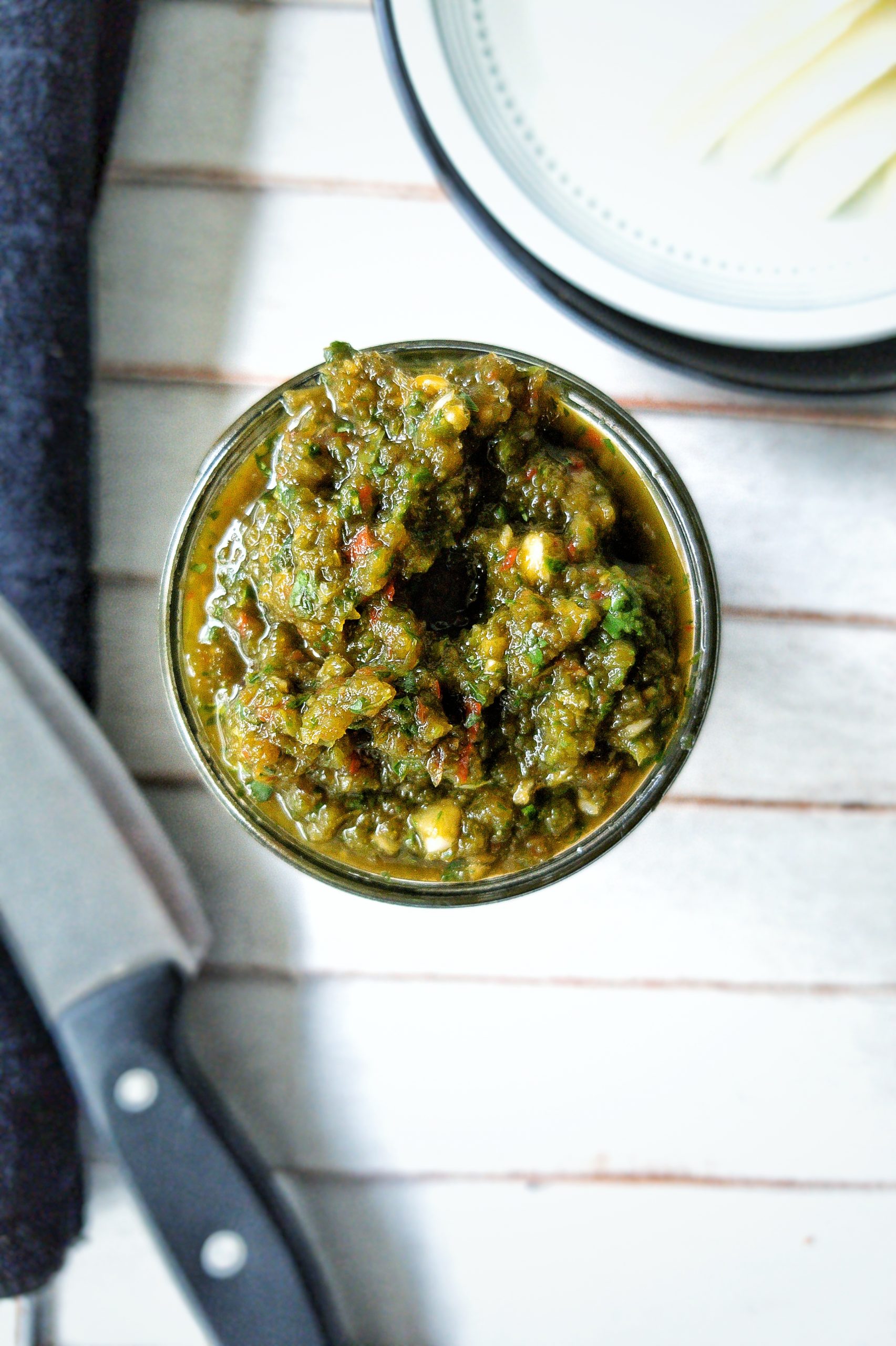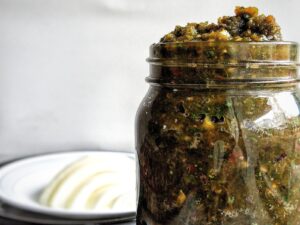 Homemade Puerto Rican Sofrito Recipe
Homemade Puerto Rican sofrito recipe to use in a variety of Puerto Rican dishes including soups, stews, rice, and beans.
Ingredients
1

yellow or red onion

roughly chopped

1

red bell pepper

roughly chopped

1

green bell pepper

roughly chopped

1

garlic head

peeled

1

bunch cilantro

 (2 ounces/~56 grams) roughly chopped
Instructions
Add the onion, red bell peppers, green bell peppers, garlic, and cilantro into a food processor or blender. Blend everything together until you have a chunky sofrito sauce.
Notes
If you're using a high-powered blender like a Nutribullet, blend in short pulses until chunky. 
You can use regular yellow onion or red onion. It doesn't matter. We're using mild onions for this recipe. I've used both for a sofrito recipe. 
The bunch of cilantro was about 2 ounces. 
Blend the sofrito in parts. I did about 5-6 batches due to the size of my blender. 
Some sofrito recipes call for olive oil or salt. I don't add those because I like to control those particular ingredients during the actual cook. 
Use this homemade sofrito recipe with your Puerto Rican rice! 
Nutrition
Serving:
3
cups
Calories:
110
kcal
Carbohydrates:
24
g
Protein:
4
g
Fat:
1
g
Saturated Fat:
1
g
Polyunsaturated Fat:
1
g
Monounsaturated Fat:
1
g
Sodium:
14
mg
Potassium:
642
mg
Fiber:
7
g
Sugar:
13
g
Vitamin A:
4304
IU
Vitamin C:
257
mg
Calcium:
52
mg
Iron:
1
mg
---
Did you try out this Homemade Puerto Rican Sofrito Recipe?
Please leave a comment below, share it, rate it, or tag a picture @plantbasedandbroke on Instagram and hashtag it #plantbasedandbroke. Show off that creation with us