(
This post may have affiliate links. Please see my disclosure.
)
---
If you have ever eaten Puerto Rican cuisine, chances are, you've had Puerto Rican sofrito without even knowing it. Sofrito is a blend of vegetables that is added to a dish during the cooking process.
They say online that you can have it like a dip, however, that's not really how it's typically used. Traditionally, sofrito is added to recipes including soups, stews, beans, and yellow rice.
Anyway, Puerto Rican-style sofrito doesn't require any cooking at all. All you need to do is to chop them into large chunks, throw them into a blender, and blend until chunky (not a puree). You'll typically use about 1-2 tablespoons in a dish.
Because I am not in close proximity to Latin grocery stores, I used what I could find, making some adjustments to the recipe. Your sofrito will still be wonderful and delicious, even without ingredients like aji dulce.
Always remember: every recipe, no matter how traditional, will have its variations – even within the same city. So, if you see a plethora of recipes with a slightly different ingredient list, that's why.
Sofrito hack: I pour and store the sofrito into an ice tray so I can just pop a couple out when ready to use. 
---
Homemade Puerto Rican Sofrito Recipe
Cooking Notes:
If you're using a high-powered blender like a Nutribullet, blend in short pulses until chunky.
You can use regular yellow onion or sweet yellow onion. Doesn't matter. We're using mild onions for this recipe.
The bunch of cilantro was about 2 ounces.
Blend the sofrito parts. I did about 5-6 batches due to the size of my blender.
Some recipes call for olive oil or salt. I don't add those because I like to control those particular ingredients during the actual cook.
Ingredients:
1 yellow onion
1 red bell pepper
1 green bell pepper
1 garlic head
1 bunch of cilantro (2 ounces/~56 grams)
Directions:
Rinse the cilantro and roughly chop into four parts. Set aside into a large bowl.
Next, roughly chop the yellow onion. Add to the bowl.
Roughly chop the peppers and remove the seeds. Also set aside into a bowl.
Then, break apart garlic head and crush each clove to make it easier to remove the peel.
Peel all of the cloves and throw them into the bowl with the rest of the stuff.
Add the onion, bell peppers, garlic, and cilantro into a food processor or blender.
Blend everything together until chunky.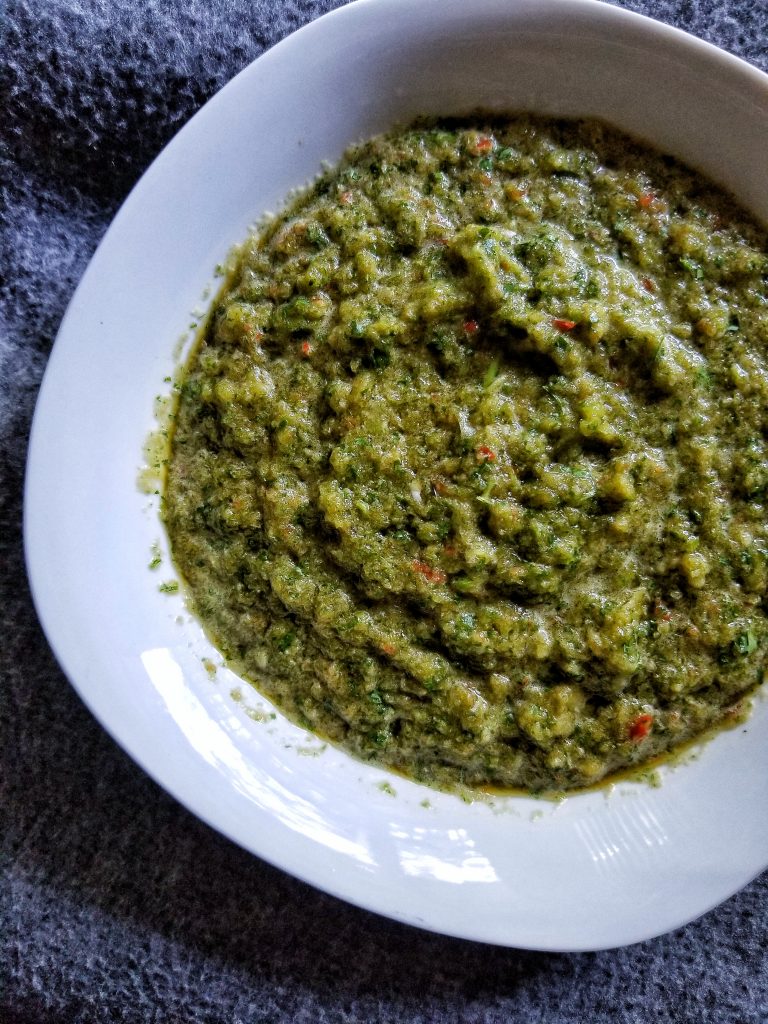 Looking for more Puerto Rican recipes? Check these out:
Sin Carne Guisada (Vegan Beef Stew)
How useful was this post?
Click on a star to rate it!
Average rating 4.3 / 5. Vote count: 4
Please follow and like us: