(
This post may have affiliate links. Please see my disclosure.
)
Jump to:
If you're looking for a delicious and health-conscious treat to savor this fall season, you're going to love this oil-free vegan banana bread. This easy-to-make recipe makes the most of those overripe bananas you have lying around. Additionally,  the absence of oil doesn't compromise on the moist, tender texture and the delicious flavor of this classic comfort banana bread. 
With the warm, comforting aroma of freshly baked banana bread permeating through your kitchen, you're bound to fall in love with this recipe that's perfect for autumn and beyond.
Whether it's a cozy morning breakfast or a comforting afternoon snack, this oil-free vegan banana bread is a delightful way to celebrate the flavors of the season.
Speaking of the fall season, be sure to check out our chickpea stew, chickpea curry, and fall soup recipes.
Why You'll Love This
It's Healthy: This banana bread recipe is oil-free and vegan, making it a guilt-free indulgence. With the focus on wholesome ingredients, you can enjoy a moist and flavorful treat without compromising your health-conscious choices.
Made With Perfectly Ripe Bananas: Utilizing those very ripe bananas that often go to waste, this recipe transforms them into a delicious, aromatic banana bread. The bananas not only provide natural sweetness but also contribute to the bread's moist, tender crumb. Got bananas that have gone black? Perfect! Throw them in the mixing bowl. 
Perfect For The Fall Season: It's warm, comforting, and perfect for the fall season. Whether you're sipping on a cup of tea on a crisp autumn afternoon or enjoying a cozy morning breakfast, this recipe adds a touch of seasonal comfort to your day.
Ingredients & Substitutions
Flour: All-purpose flour is a staple in banana bread, providing structure and volume. It's essential for achieving the right texture. I recommend not making substitutions here, as it may impact the texture of the banana bread. 
Baking Powder & Baking Soda: We'll need both of these ingredients to ensure our banana bread is soft, fluffy, and that it rises. 
Salt: A small amount of salt enhances the flavor of the bread and balances the sweetness. You can omit it if you're on a low-sodium diet, but it's best to keep it for flavor balance.
Ground Cinnamon: Cinnamon adds warmth and depth to the banana bread's flavor. You can substitute it with nutmeg, pumpkin spice, or allspice for a slightly different spice profile, or omit it if you prefer a simpler taste.
Coconut Milk: Because we're skipping the oil and butter, coconut milk will help add moisture to our banana bread. Be sure to go with full-fat coconut milk. 
Brown Sugar: Brown sugar contributes to the bread's sweetness and moisture. You can substitute it with white sugar or coconut sugar if necessary.
Chia Seeds: This banana bread recipe is vegan, so we're switching out the eggs for chia seeds to provide moisture and bind. If you don't have chia seeds on hand to make chia "eggs", flax "eggs" work too. Go for 1 tablespoon of ground flax with 3 tablespoons of water. 
Bananas: Overripe bananas are the star of the show, lending natural sweetness and moisture. The darker and softer the bananas, the better! Just be sure they are not molded or fermented. 
Walnuts: Walnuts add a delightful crunch and nutty flavor to the banana bread. If you have a nut allergy or prefer a different texture, you can substitute them with chocolate chips, dried fruit, or leave them out entirely for a nut-free version.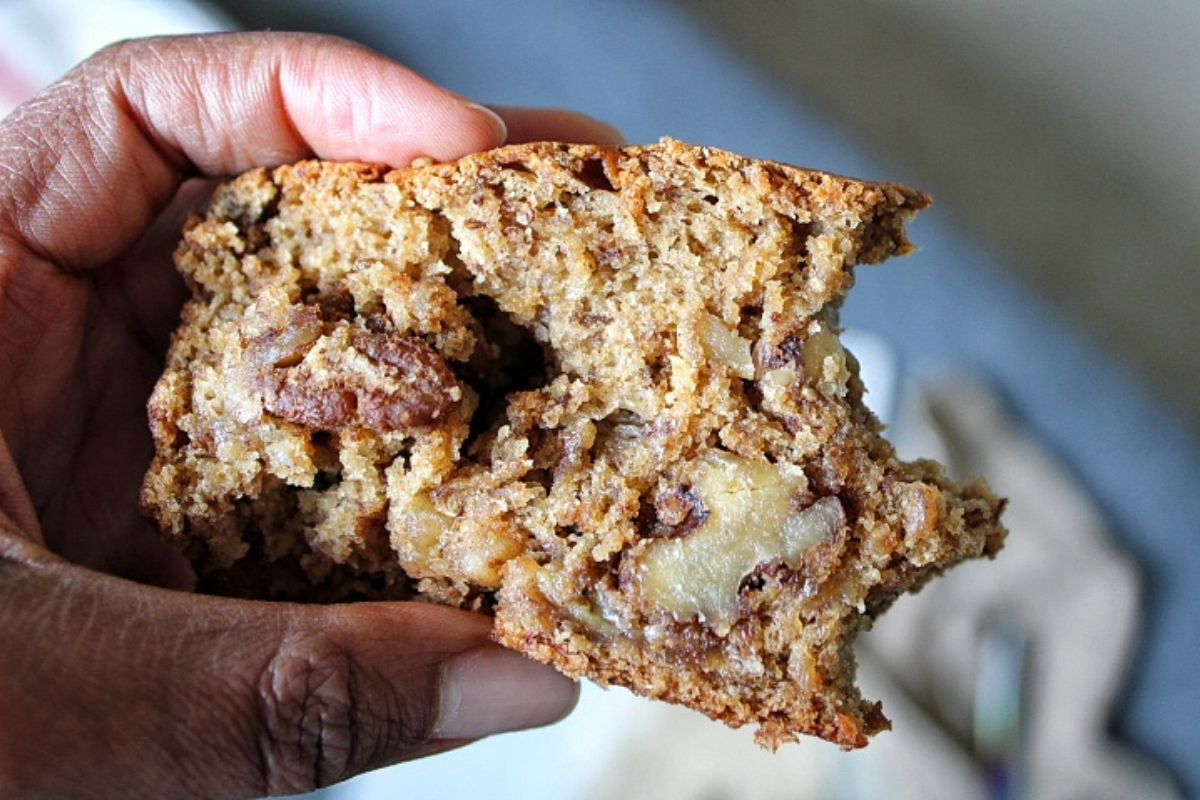 Tips For The Best Banana Bread
When it comes to creating the best banana bread, there's more to it than simply mashing ripe bananas and tossing them into a loaf pan. Achieving the perfect balance of flavor, texture, and moisture is an art in itself. Here are some of my best tips:
Use Overripe Bananas: The riper the bananas, the sweeter and more flavorful your banana bread will be. Look for bananas with brown spots on the peel.
Mash Bananas Thoroughly: Mash the bananas until smooth to ensure an even distribution of flavor and moisture.
Don't Overmix: Mix the batter until just combined. Overmixing can lead to a tough and dense banana bread.
Nuts or Add-Ins: Walnuts, chocolate chips, or dried fruit can add texture and extra flavor. Fold them into the batter gently.
Grease and Line the Pan: Grease your loaf pan and line it with parchment paper to ensure easy removal and prevent sticking.
Test for Doneness: Use a toothpick or cake tester to check if the bread is fully baked. It should come out clean or with a few moist crumbs attached.
Cool Properly: Allow the banana bread to cool in the pan for about 10 minutes before transferring it to a wire rack to cool completely. This helps retain moisture.
What To Serve With Banana Bread
To enhance your banana bread experience, consider serving it with a dollop of dairy-free coconut or almond yogurt for a creamy contrast. Fresh fruit, such as sliced strawberries or a medley of berries, not only adds a burst of color but also complements the sweetness of the bread. 
For an indulgent touch, a drizzle of pure maple syrup, melted chocolate, or a dusting of powdered sugar can elevate the flavors. And of course, a warm cup of your favorite coffee or tea makes for the perfect beverage to accompany a slice of banana bread, creating a comforting and satisfying snack or breakfast.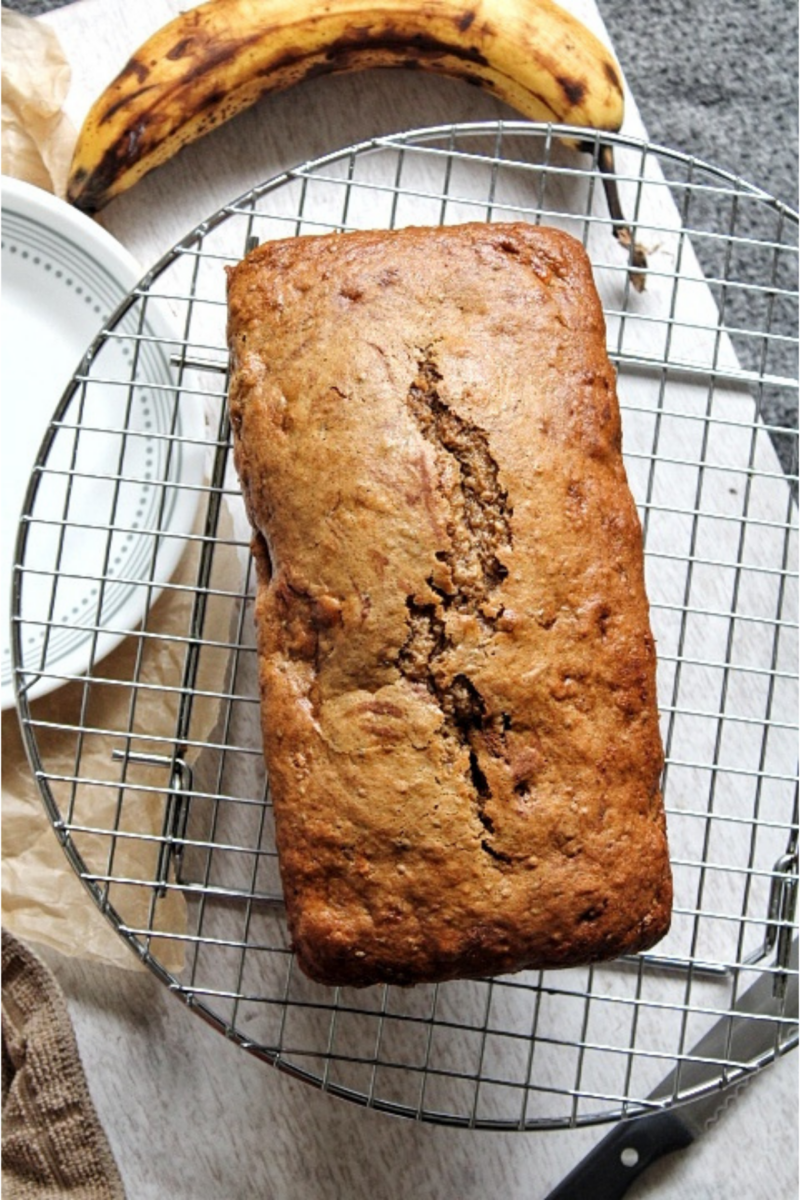 More Recipes With Bananas
Love bananas? Try out these recipes:
How To Store Banana Bread
To keep your banana bread moist and flavorful, start by allowing it to cool completely at room temperature. Once cooled, wrap the bread tightly in plastic wrap or aluminum foil to create an airtight seal. Alternatively, you can store it in an airtight container. 
Store at room temperature: Store your banana bread at room temperature for up to two days. 
Store in a refrigerator: If you want to extend its shelf life, refrigerate it for up to a week. 
Store in freezer: You can also freeze banana bread for longer-term storage by wrapping it securely and placing it in an airtight container, ensuring it's well-protected from freezer burn. 
When you're ready to enjoy it, allow the frozen banana bread to thaw at room temperature or reheat it in the oven to restore its fresh-baked texture and flavor.
How ripe should the bananas be for making banana bread?
The bananas should be overripe, with a peel that's mostly brown or even black spots. The riper the bananas, the sweeter and more flavorful the banana bread will be.
Can I make banana bread without eggs?
Absolutely! We're using chia seeds or flax seeds in this recipe. Other common egg substitutes include applesauce or yogurt. 
How can I make banana bread moist and tender?
To achieve moist and tender banana bread, use overripe bananas, don't overmix the batter, and include a fat source like oil or non-dairy milk. 
How do I prevent my banana bread from sinking in the middle?
To prevent the center from sinking, make sure you're using the correct amount of leavening agents, don't overmix the batter, and ensure your oven is preheated to the right temperature. Also, avoid opening the oven door too early during baking.
---
Did you try out this Moist Banana Nut Bread Recipe?
Please leave a comment below, share it, rate it, or tag a picture @plantbasedandbroke on Instagram and hashtag it #plantbasedandbroke. Show off that creation with us!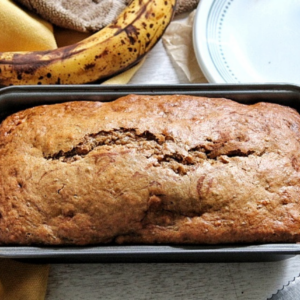 Oil-Free Vegan Banana Bread
Indulge guilt-free with our oil-free vegan banana bread, crafted from everyday ingredients including ripe bananas, coconut milk, and warm cinnamon.
Instructions
Preheat oven to 350 degrees F. Lightly grease, spray, or line with parchment paper an 8-inch loaf pan. Set aside.

In a bowl, mix the flour, baking powder, baking soda, salt, and cinnamon.

In a second large bowl, whisk together coconut milk, sugar, chia seed egg, and mashed bananas.

Add the wet ingredients to the dry ingredients and mix together with a spatula until combined. Fold in walnuts.

Pour banana bread mix into the prepared loaf pan. Bake for 50-60 minutes. Cool for 10 minutes, transfer to a metal rack to cool for another 30 minutes.
Notes
To make chia "egg" stir together 1 tablespoon of chia seeds and 3 tablespoons of water. Allow to gel up for at least 5 minutes. Stir again. 
I used a standard-size loaf pan, which is about 9x5. 
There is some wiggle room for the additions. I used 1 cup of walnuts, but you can choose to omit nuts or even chocolate chips. 
To store this bread, first, allow it to completely cool. Then, wrap with plastic wrap. It'll keep for up to 3 days on the counter and up to 5 days in the refrigerator. 
Nutrition
Serving:
1
-Slice
Calories:
411
kcal
Carbohydrates:
51
g
Protein:
7
g
Fat:
22
g
Saturated Fat:
7
g
Polyunsaturated Fat:
12
g
Monounsaturated Fat:
2
g
Trans Fat:
1
g
Sodium:
188
mg
Potassium:
310
mg
Fiber:
4
g
Sugar:
26
g
Vitamin A:
20
IU
Vitamin C:
3
mg
Calcium:
95
mg
Iron:
3
mg