(
This post may have affiliate links. Please see my disclosure.
)
Jump to:
The best recipes are created through mistakes. And that's exactly how I was able to get this tofu to taste almost like chicken.
Juicy, tender, with every bite dripping with an umami flavor that keeps on giving. Tofu can taste good, with just the perfect mix of technique, ingredients, and love.
There was once upon a time that I could not stand the taste and texture of tofu - to me, it was like a wet cardboard box.
However, after several years of experimenting, I have learned to appreciate the versatility of tofu.
Tofu can be smoky, spicy, tender, or with a crunch. It really is up to the home cook to hone in their creative juices.
Today I was the cook and I made what I wanted - tofu that tasted, felt, and looked like tender chicken chunks - and I was all about it.
The story of this recipe began with freezing the tofu block.
Freezing the tofu blocks create ice crystals within the block, which opens up the tofu and makes it easier for the broth mix to penetrate the block. It becomes sponge-like.
Anyway, the tofu block didn't quite hold together. This tofu block was medium-firm, not firm. Because of this and because I sliced them too thinly, they couldn't hold it together.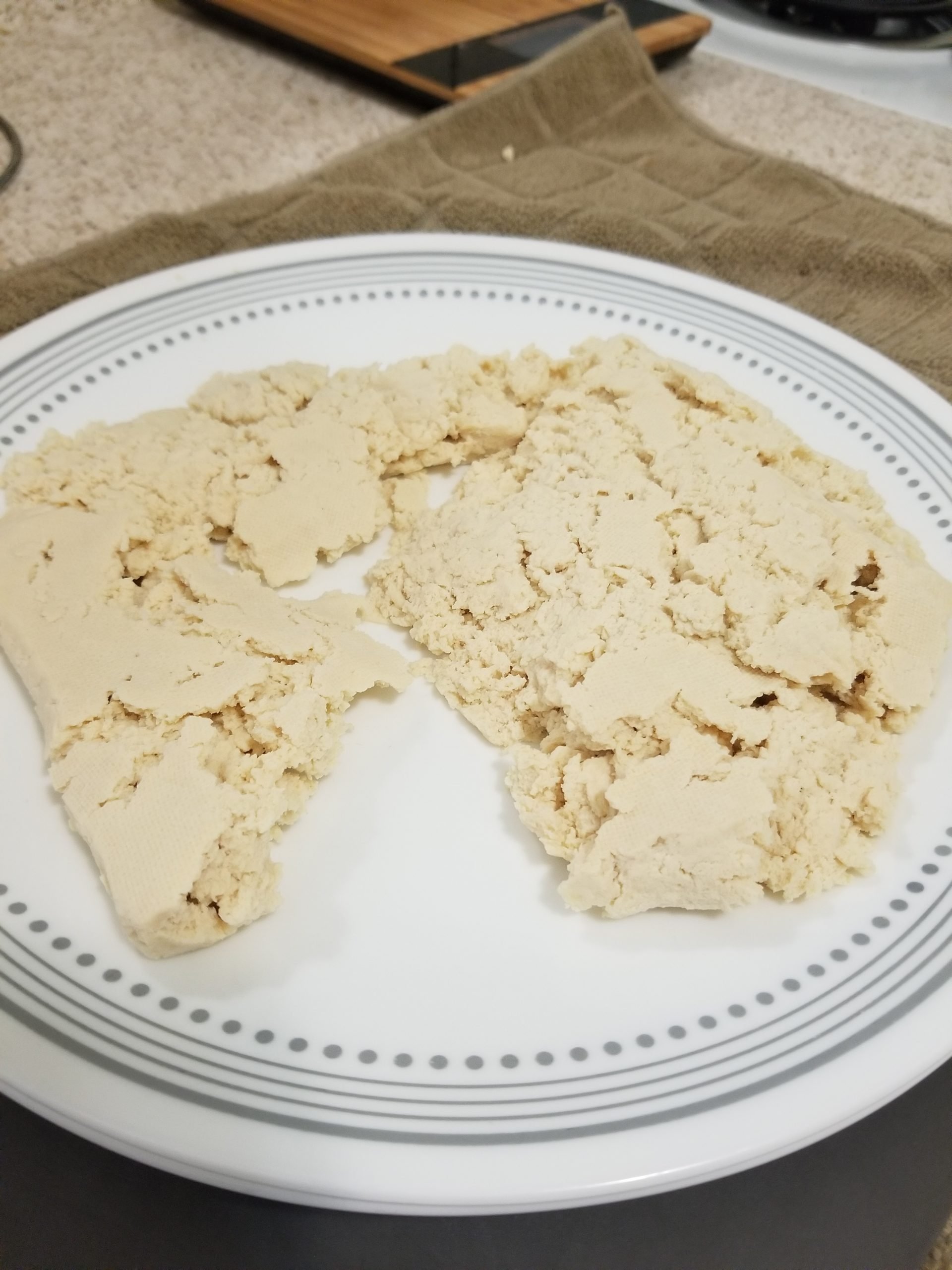 Cutting Tofu Before Or After Freezing
If you want the tofu pieces to be more uniform in shape, I recommend cutting them before freezing.
Once the tofu block is frozen and then thawed, it will be difficult for the tofu to hold its shape while cutting.
The tofu can be cut into strips, cubes, or nuggets - that choice is yours.
If you're planning on tearing the tofu block into nugget-type shapes, that can be done after the tofu has been thawed, since you can just tear them into pieces.
For this particular recipe, I opted to tear the tofu block into nugget pieces after it had been thawed.
Cooking Ingredient I Want To Highlight
Not-Chick'n Edward & Sons Bouillon Cubes are both crucial and transformative in this recipe. This is the ingredient that will help give your tofu a chicken-like flavor.
Personally, finding bouillon cubes are difficult to find at a physical store, so I purchase them online.
I make the online purchase worthwhile by buying enough to last me for a few months.
I freeze my tofu blocks frequently, so that's not new for me. What was new is that I got a block of tofu that wasn't quite as firm as to how I usually buy them.
I also did a bad job at slicing them thick enough, So, I actually ended up with tofu pieces.
Pro-tip: the more liquid you drain from the tofu block, the less of that tofu taste you're going to get. You know what I mean - that distinct tofu flavor that's a bit bizarre, but totally not off-putting.
Another benefit of draining as much water as you possibly can is that the tofu block will have a better time soaking up flavor from your broth mix.
New to frozen tofu? Check out 7 Things To Know About Frozen Tofu.
---
How To Freeze Tofu
Throw the entire tofu with its packaging into the freezer. No need to drain. Straight to the freezer it goes. You'll want to freeze the tofu block for at least a day.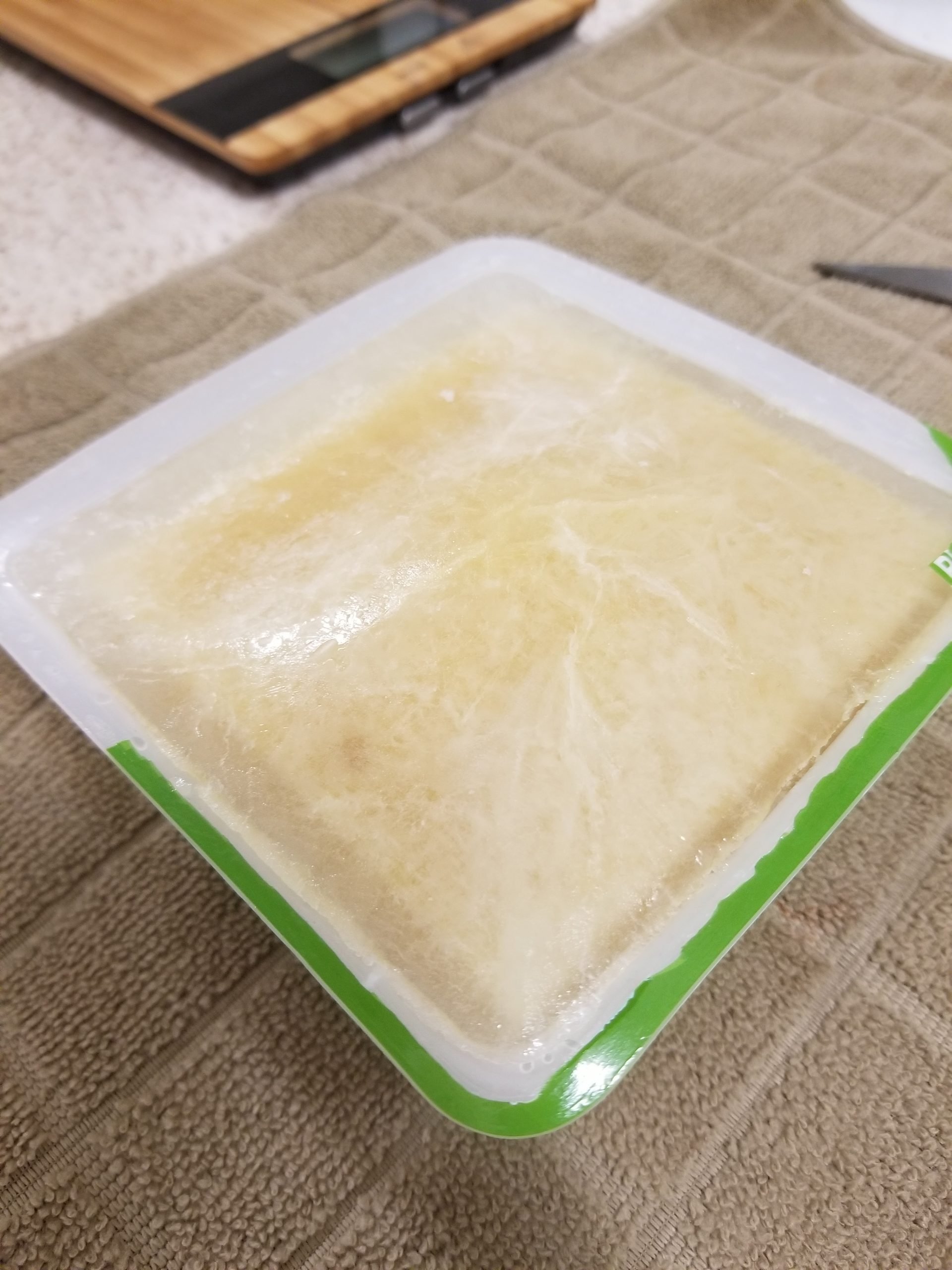 How To Defrost And Press Tofu
First, remove the tofu from its packaging.
You can defrost the tofu block on the counter or fridge all day. Just throw the tofu in a large bowl so it can collect any extra liquid as it defrosts. Once it defrosts, press the tofu.
Or, if you're in a hurry, just microwave the block. I microwaved the frozen tofu block to quickly defrost, which I did in 4-5 minute intervals.
When the time was done, I drained and pressed the tofu as much as I could between the backs of two plates.
Then I threw the tofu block into the microwave again. I repeated this process until my block was totally defrosted and free of any extra liquid.
More Recipes Using Frozen Tofu
Serve with a side of zucchini fries!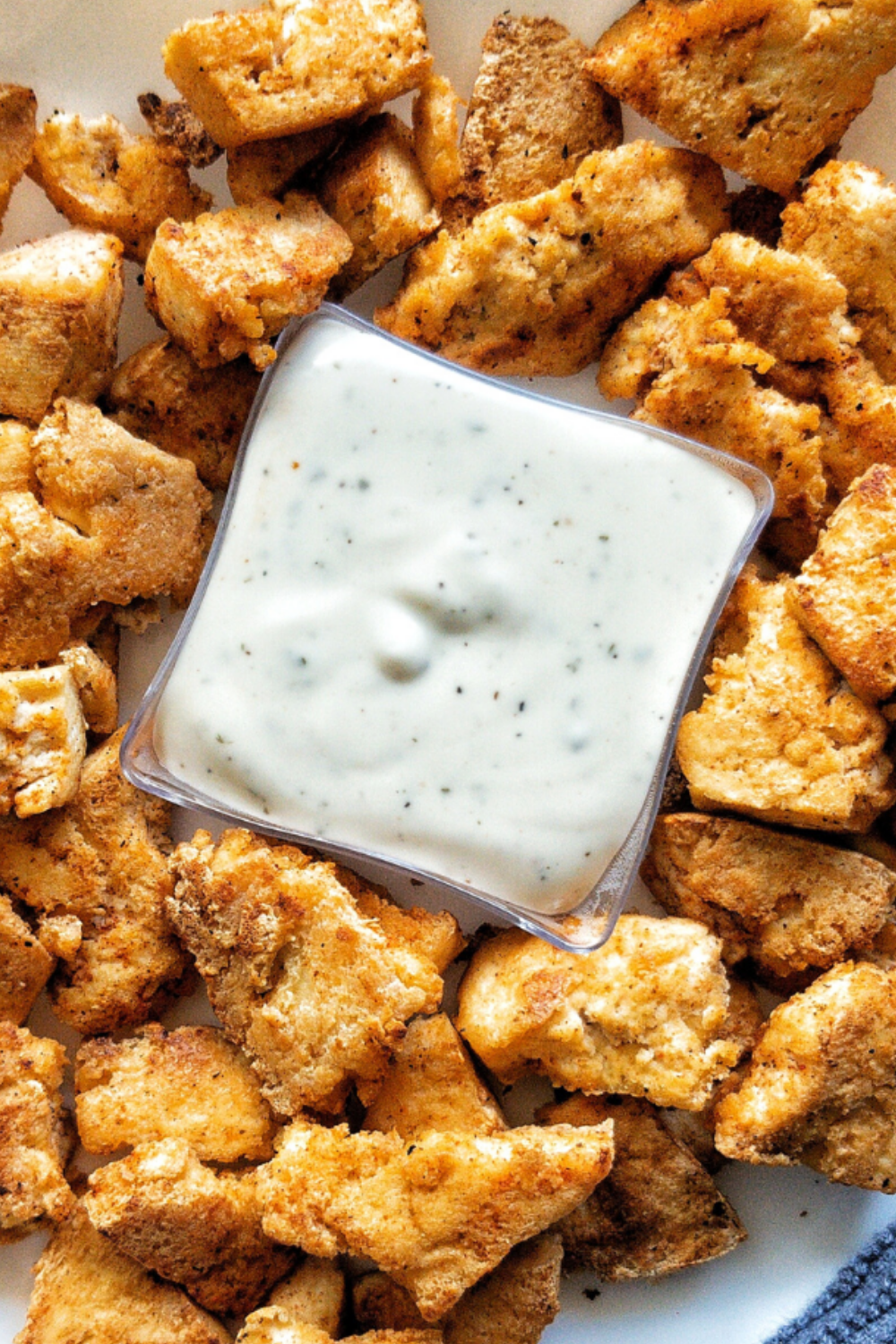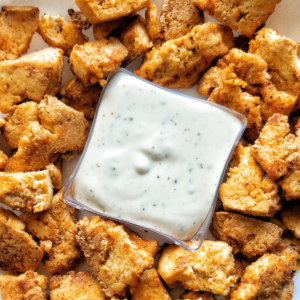 How To Make Tofu Taste Like Chicken
We're going to make tofu taste like chicken with just 4 ingredients and a handful of steps. This approachable recipe is perfect for salads, burgers, as a snack, or in a rice bowl.
Instructions
Freeze a block of tofu for at least 24 hours. Remove the frozen block from its packaging and thaw in a microwave, about 10-12 minutes.

Once defrosted, allow to cool for 5 minutes. Next, drain and gently press excess water with the backs of two plates.

Measure 6 tablespoons of water and pour it into a microwave-safe bowl. Microwave for 1 minute. Drop one Not-Chick'n cube into the bowl of hot water. Stir and dissolve to make a small broth mix.

Tear the tofu into bite-sized pieces and set aside in a bowl. In a pan over high heat, add 1 tablespoon of oil. Add the tofu and cook for about 4-5 minutes. Flip and cook until golden on all sides.

Next, pour the broth mix over the tofu pieces and cook for an additional 8-10 minutes.
Nutrition
Serving:
1
serving
Calories:
89
kcal
Carbohydrates:
2
g
Protein:
7
g
Fat:
6
g
Saturated Fat:
1
g
Polyunsaturated Fat:
2
g
Monounsaturated Fat:
3
g
Trans Fat:
0.01
g
Sodium:
233
mg
Potassium:
152
mg
Fiber:
0.1
g
Sugar:
1
g
Calcium:
31
mg
Iron:
1
mg
---
Cookware Used In This Recipe
---
Did you try out this How To Make Tofu Taste Like Chicken recipe?
Please leave a comment below, share it, rate it, or tag a picture @plantbasedandbroke on Instagram and hashtag it #plantbasedandbroke. Show off that creation with us.
If you're not sure how to eat a plant-based diet on a budget, check out our Guide To A Cheap Plant-Based Diet.