(
This post may have affiliate links. Please see my disclosure.
)
If I am going to have a salad, it has to be worth eating. Meaning, there should be more than just a bed of wilted greens.
In my opinion, here are a few elements to the perfect, balanced salad:
Variety of textures
A balance of fats, carbs, and proteins
Fresh ingredients
An assortment of vegetables
In this recipe, I am combining my infamously tender and tasty tofu "chicken" recipe with fresh, plant-based ingredients. For this sort of thing, I love to keep a container of previously cooked tofu to throw in a salad like this one, burrito, rice dish, or soup.
Creating tofu that tastes like chicken might sound like a complicated task, but only requires two main ingredients: tofu and 1 piece of Not-Chick'n cubes.
Once you do it a couple of times, it's seriously as easy as boiling water. Except, it tastes better. 😉
Okay, so let's chat a bit about this salad recipe. If you're not into cilantro, parsley will work just as nicely. Additionally, you can switch out the lemon juice for lime juice. Tweaks are allowed, depending on what you have on hand.
For the corn, I used frozen. However, I recommend fusing resh corn for extra crispiness and a bold, sweet flavor.
---
How To Make Vegan Chicken
This meatless "chicken" is made from juicy, tender, and flavor-packed firm tofu. Perfect dish for tacos, burritos, rice bowls, and left alone as tasty nuggets.
Ingredients
1

block

firm tofu

1

cube

Not-Chick'n Cubes

6

tablespoon

of water

(a little over ⅓ cup) 

Oil
Instructions
Remove frozen tofu block from the packaging. To quickly defrost, microwave block for 10-12 minutes, or until soft. 

Drain and press excess water. Cut the tofu block into planks. Pat dry more of the liquid with a clean towel or paper towel. Next, measure out 6 tablespoons of water and pour it into a microwave-safe bowl. Microwave for 1 minute.

Meanwhile, tear the tofu into bite-sized pieces and set aside in a bowl. Carefully remove the bowl of hot water from the microwave. Drop one Not-Chick'n cube into the hot water. Allow it to dissolve, stir.  

Then, in a medium-high heat pan, add 1 tablespoon of oil. Add the tofu and cook for about 4-5 minutes. Increase heat to high. Then, evenly add the broth to the tofu in the pan. 

Finally, cook for another 8-10 minutes, or until golden and water has been absorbed. Set aside and allow to cool for the salad. 
To read the full recipe notes, check out How To Make Tofu Taste Like Chicken.
---
Vegan Avocado "Chicken" Salad Recipe
Loaded avocado "chicken" salad made with tofu, red onions, and corn. The perfect summer side dish that's packed with protein, healthy, plant-based fats, and nutrients.
Ingredients
Cooked tofu

(see recipe above)

2

small ripe Hass avocados

1/2

cup

corn

defrosted, fresh, or cooked

1/4

cup

red onion

chopped

2

tablespoons

lemon juice

Salt

Pepper
Instructions
In a large bowl, add the tofu, avocado, corn red onion, and cilantro. 

Add a squeeze of lemon juice, salt, and pepper to taste. 

Gently toss until ingredients are well-combined.  
Notes
If you prefer not to use cilantro, use parsley instead. 
You can switch out the lemon for lime if that is what you prefer. 
I used two small Hass avocado. This means you can also just use one large avocado. 
This recipe yields about 2-3 servings. Or one if you have a large appetite.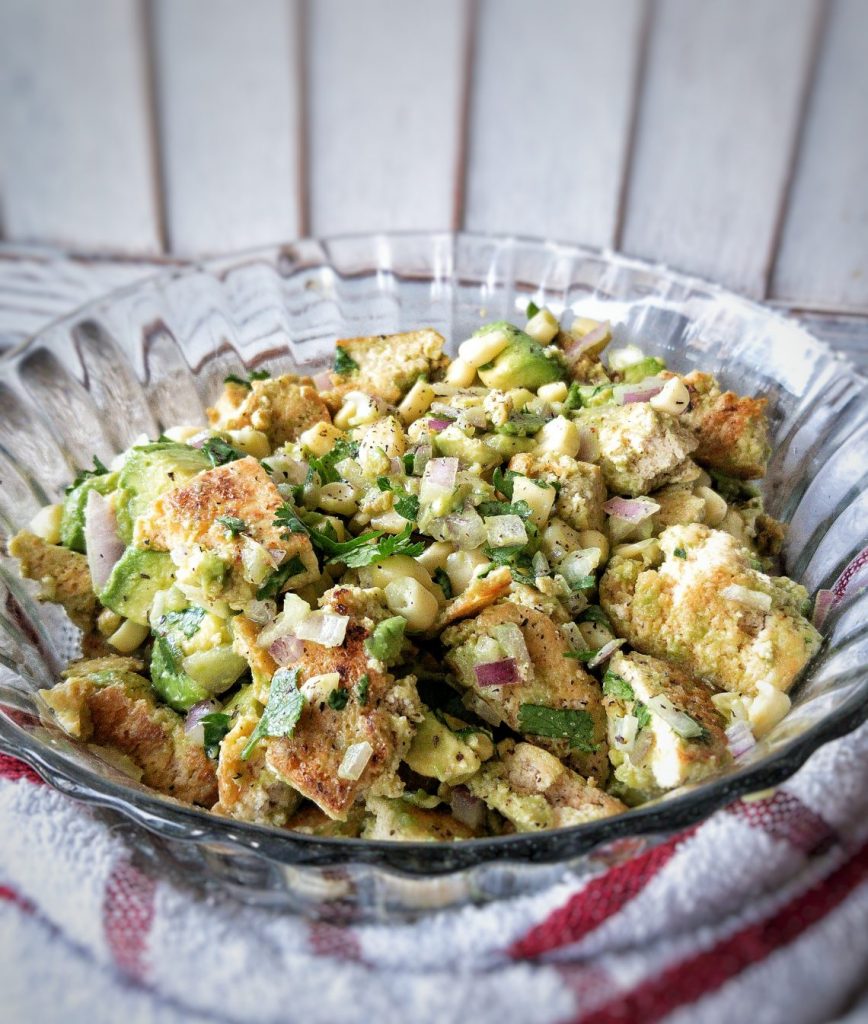 ---
How To Chill Salad
To store your salad, place in a bowl and tightly seal with plastic wrap. Or, store it in a tightly closed container.
Other Ways To Use Vegan Chicken Salad
If a vegan chicken salad sounds great but needs a little oomph, there are other ways to have it. Some ideas include:
A sandwich
Burrito
Pitas
As a dip with chips
Lettuce wrap
How To Tell If Avocados Are Ripe
Feeling an avocado is the best way to get a sense of whether an avocado is ripe enough or not. What you want to do is softly pinch the top of the fruit. A perfectly ripe avocado will be able to yield to some pressure, yet still, be a bit firm.
If the avocado is still hard, it's not ripe yet. If it's too soft, it's overly ripe. Once you get it to the perfect ripeness, it should be used that day or the next.
Or, store the avocado in the refrigerator and it should be kept ripe for an additional few days.
Why Freeze Tofu
There are a few reasons why I freeze tofu before turning it into "chicken." This helps firm up the texture and it opens up the tofu so it becomes more spongelike – making it easier for it to absorb marinades.
Learn more about using frozen tofu with 7 Things To Know About Frozen Tofu.
---
Cookware Used In This Recipe
---
Did you try out this Avocado Chicken Salad recipe?
Please leave a comment below, share it, rate it, or tag a picture @plantbasedandbroke on Instagram and hashtag it #plantbasedandbroke. Show off that creation with us.