(
This post may have affiliate links. Please see my disclosure.
)
Jump to:
One of my favorite plant-based breakfast meals made by my grandmother's hands growing up was a cozy bowl of cream of wheat or oatmeal. Today we're whipping up something a little different. Cream of rice is similar - but made of rice instead of wheat or oats.
As the cooler weather settles in and I am craving the sense of family and comfort, I decided I needed to whip out my saucepan and get back to the basics.
And by basics, I mean the simple, no-frills porridge recipes I grew up eating that not only were comforting, but cheap, fast, easy.
If you're into a creamy, rich, cinnamon-spiced porridge, this might just be your next favorite breakfast recipe.
Why You'll Love This
This cream of rice recipe is naturally gluten-free. We're simply using rice along with our favorite spices and flavors.
It's dairy-free! Although dairy-free, this dish is still comforting, creamy, and cozy. With the help of coconut milk.
It has just a 10-minute cooking time. Making this a quick and easy comfort food recipe the entire family can enjoy.
What Is Cream Of Rice?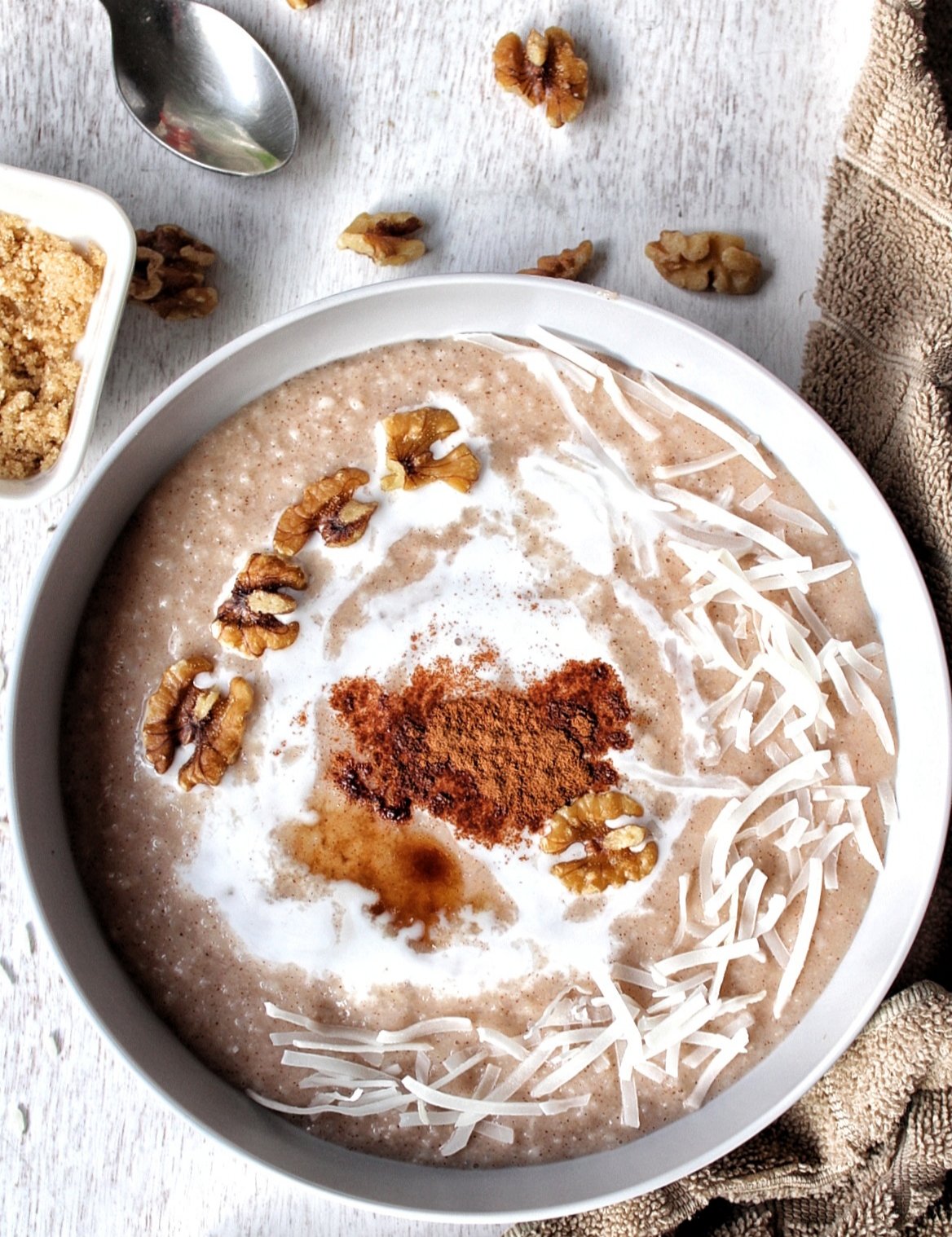 Cream of rice is exactly what you think it is - a gluten-free, creamy porridge, similar to oats, made from powder-like rice and boiled water or liquid of choice (i.e. vegan milk).
The dish can also go by different names including congee, rice porridge, rice pudding, arroz con leche, kheer, or rice gruel. The texture and flavor may vary, but the base is the same: rice.
Cream of rice cereal can usually be found and bought processed into a powder, boxed, and dried amongst the oats and grains section of the grocery store.
Sometimes it's not easy to find, but that's okay, we won't need the boxed cream of rice cereal.
For this recipe, we're skipping the boxed version of the stuff and going with homemade and from scratch.
The extra step is taking the rice grain and turning it into a coarse powder, just like you'll find in the boxed version. But I promise the extra step is a very small extra step. And for that part, you'll just need a high-speed blender.
My favorite high-speed blender for recipes like this one is a Nutribullet. However, any high-speed blender will do.
Although cream of rice might be popular in fitness and bodybuilding as a post-workout meal when carbs are needed right away - it's also a great meal for kids, babies, busy adults, and anyone looking for something quick, filling, and versatile.
It's an economical meal that can feed many mouths and can be served as a sweet treat during the holidays.
Cream Of Rice Ingredients
RICE: This is the star of the recipe. Both long grain and short grain work for this recipe.
COCONUT MILK: Coconut milk helps bring a creamy texture to this recipe. I highly suggest using coconut from the can. If you opt for other vegan milk alternatives like soy, almond, and oats, you can add more of it to this recipe to replace the water.
WATER: Water helps thin out the coconut milk. It's also there to add more volume.
CINNAMON: Ground cinnamon is not a must-have, but it's what makes this dish delicious. However, other spices to consider include nutmeg, cardamom, turmeric, or ginger.
BROWN SUGAR: If you're looking for a sweetener, brown sugar is an option. I wanted a bit of molasses flavor to come through in this recipe, so opted for brown sugar. Other ways to sweeten your porridge include maple syrup date paste, agave nectar, and honey.
How to Make Cream of Rice Porridge from Scratch
There's only 4 EASY steps to making homemade cream of rice:
Grind rice into a coarse powder.
Bring coconut milk and water to a boil. Reduce heat to medium-low, gradually add the rice, stirring often.
Add the ground cinnamon and brown sugar.
Stir and simmer until thick and creamy.
Recipe Notes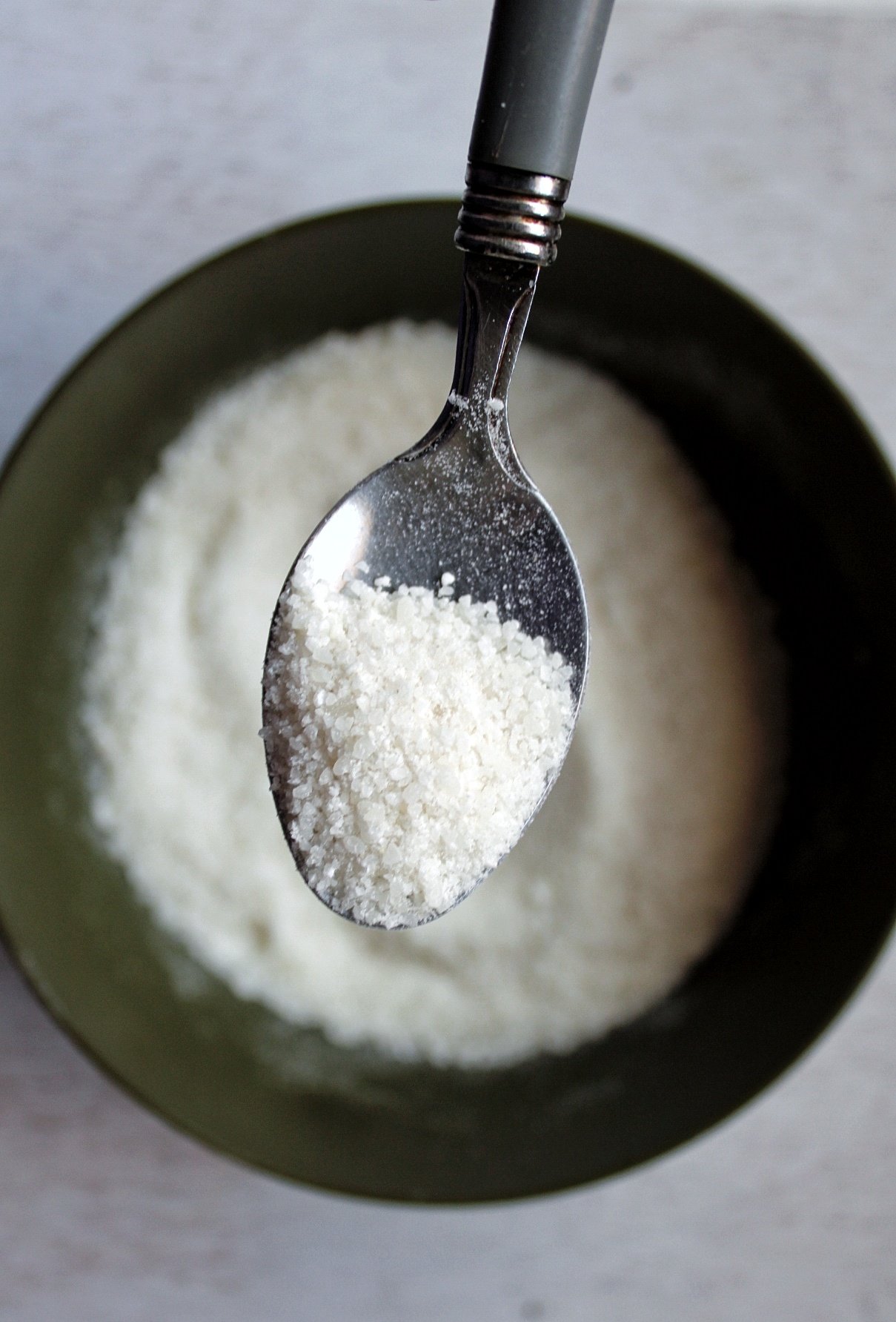 Use a high-speed blender with good blades to turn the rice into a coarse powder.
When cooking the cream of rice, be sure to watch the pot and don't walk away. This cooks quickly and you'll need to stir often until it thickens. If left in the pot for too long, it can burn and stick to the bottom of the saucepan/pot.
What To Add To Cream Of Rice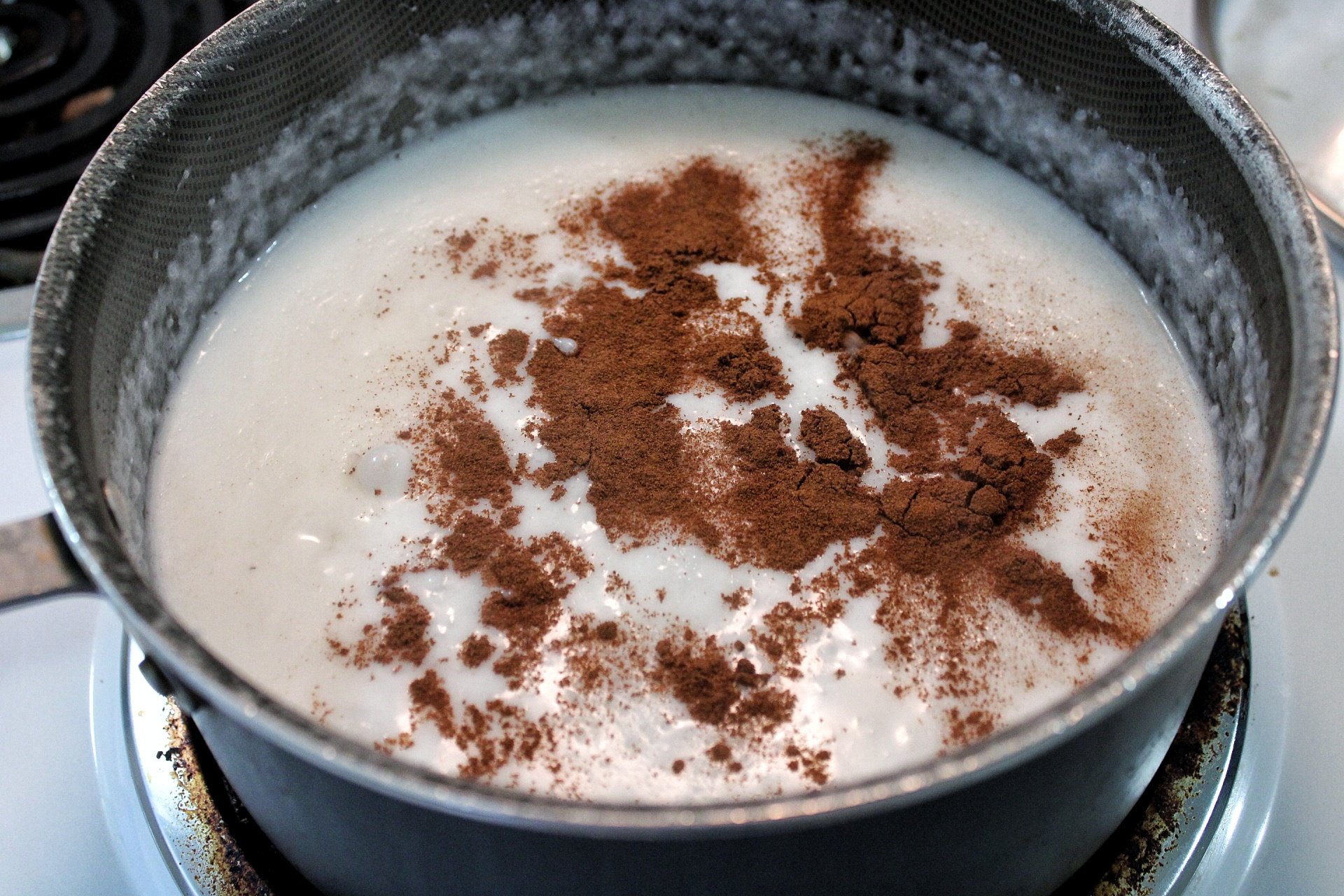 Cream of rice has the same flexibility as other types of porridge including grits, cream of wheat, and oatmeal.
Chances are, the stuff you add to your other types of porridge can be added to this dish, too.
Cream of Rice Toppings
Sweet toppings to consider include dairy-free butter, cinnamon, brown sugar, berries, coconut milk, other non-dairy milk, sliced almonds, chia seeds, nut butter, plant-based protein powder, and shredded coconut.
Cream of Rice Ingredient Combinations to Consider
For Sweet: My favorite combination is cinnamon, brown sugar, coconut milk, and a touch of salt and butter. And good news, that's what we're making today.
If you're into a savory porridge, try tofu scramble, salt, butter, mushrooms, green onions, and soy sauce.
Or, go for a simple route and just add a dash of salt to the cream of rice. Anything goes - as long as you enjoy it.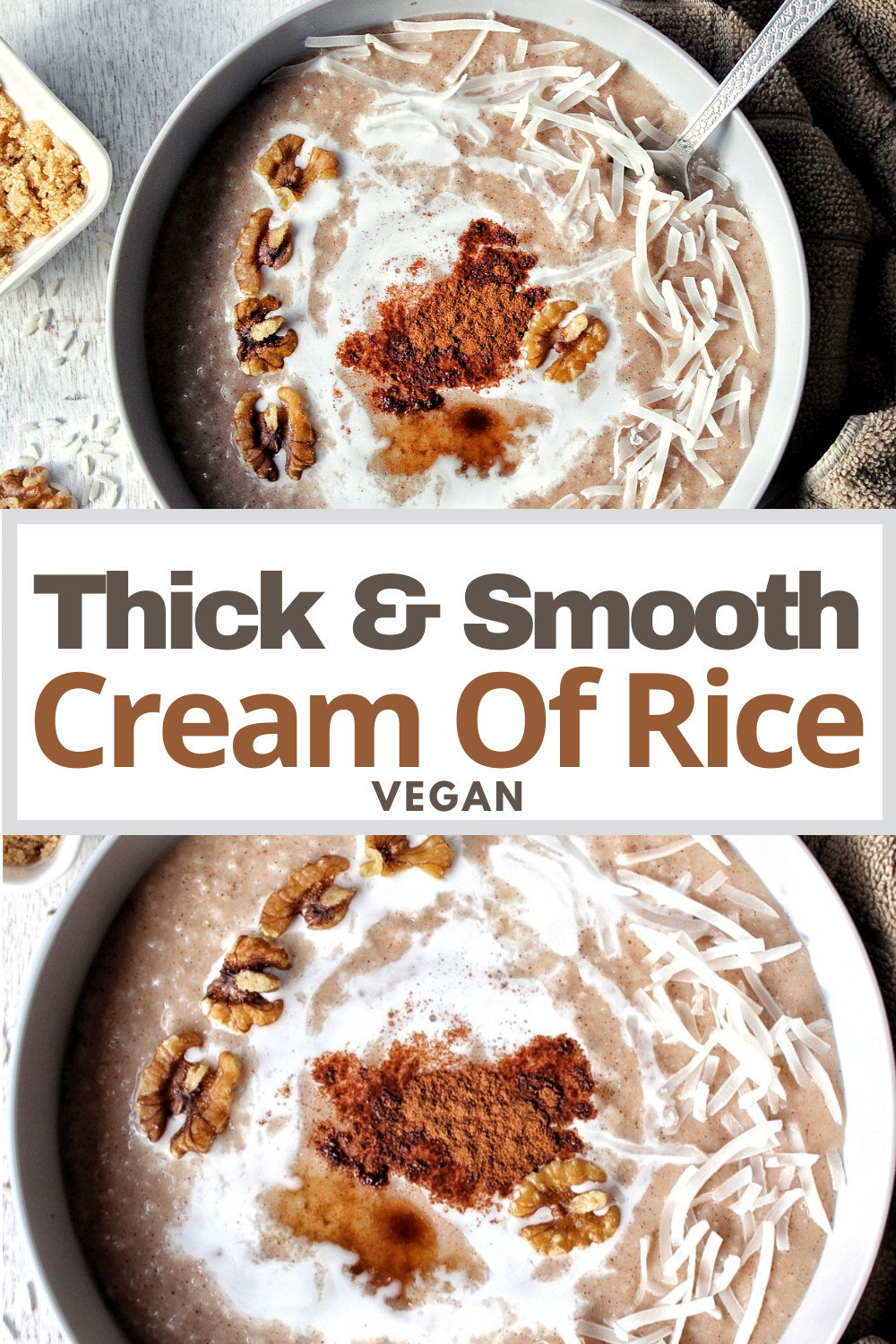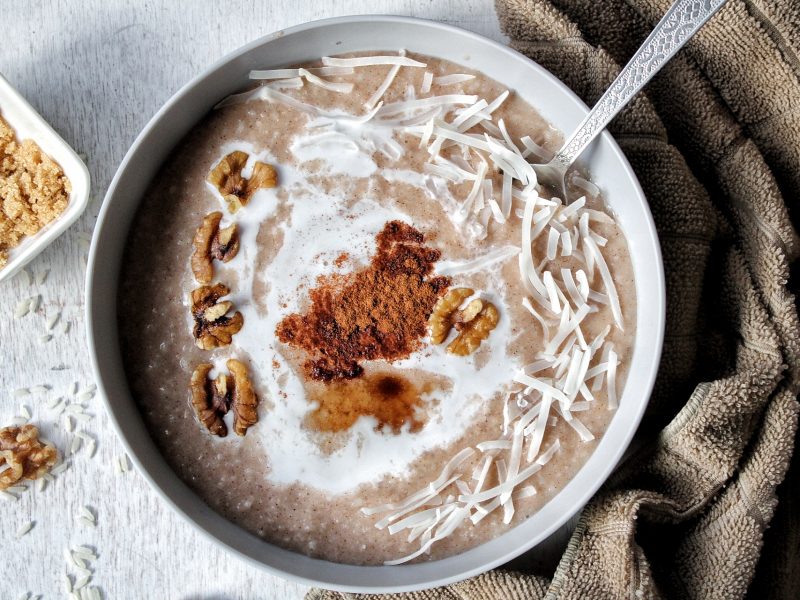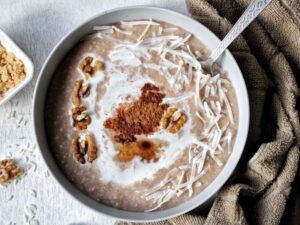 Easy Cream of Rice Recipe with Cinnamon Brown Sugar
Start your morning with a cream of rice recipe made from scratch! It's an affordable, creamy, homemade alternative to the store-bought porridge.
Instructions
Grind rice into a high-speed blender or grinder and blend until a coarse powder.

In a saucepan or pot, bring coconut milk and water to a boil. Reduce heat to medium-low, gradually add the rice, stirring often.

Then, stir in the ground cinnamon, and brown sugar. Stir and simmer until thick and creamy - about 5-10 minutes. Taste for texture and flavor check. If the rice hasn't cooked down enough, add a bit more water/milk and cook for a bit longer.

Serve and top with your favorite toppings!
Notes
For a creamier texture, simmer for a little longer. For a more runny texture, add more liquid (water/non-dairy milk). 
If the rice doesn't have a soft texture, cook for another 5 minutes on low. This could happen if rice was not blended down completely. 
Nutrition
Serving:
1
-Serving
Calories:
304
kcal
Carbohydrates:
45
g
Protein:
4
g
Fat:
12
g
Saturated Fat:
11
g
Polyunsaturated Fat:
1
g
Monounsaturated Fat:
1
g
Sodium:
20
mg
Potassium:
188
mg
Fiber:
1
g
Sugar:
6
g
Vitamin A:
1
IU
Vitamin C:
1
mg
Calcium:
38
mg
Iron:
2
mg
Did you try out this Homemade Cream Of Rice With Cinnamon And Brown Sugar recipe?
Please leave a comment below, share it, rate it, or tag a picture @plantbasedandbroke on Instagram and hashtag it #plantbasedandbroke. Show off that creation with us.