(
This post may have affiliate links. Please see my disclosure.
)
---
A bowl of Butter Oat Bran is the perfect breakfast porridge for something quick, easy, and savory.
Hands-down, my favorite meal of the day is breakfast. Especially a warm one during the winter months.
What I love most about oats or porridge is that I can have it savory or sweet, that choice is up to me.
More often, I am usually in the mood for savory oats, like a protein-packed bowl of oats with tofu. Or, an Indian-inspired bowl of oats with garam masala and vegetables.
Oat bran is my porridge of choice because it takes up to 3 minutes to cook up and it's packed with plant-based protein and fiber.
So, if I need something in the morning that I know will fill me up, oat bran is it.
Why You'll Love This Recipe
You can get as creative as you want. Simply add salt and butter. Or, add other spices and ingredients to your bowl.
Oat bran is the perfect morning meal if you need something to keep you full for relatively low calories.
In one cup of raw oat bran, there are about 16 grams of protein, 15 grams of fiber, and 28% of the daily value of iron.
What To Eat With Oat Bran Porridge
If I need to add more to my plate, I like to add protein with my oat bran.
A quick and easy tofu scramble is one of my favorite. Other additions include veggie tempeh bacon, yogurt, or a handful of nuts.
Check out these toppings to pair with savory oats:
Roasted almonds
Creamy peanut butter
Flax seeds
Grated carrots
Beans
Chopped onion
For spices, consider smoked paprika, garlic powder, onion powder, garam masala, turmeric, black pepper, red pepper flakes, salt, garlic salt, cinnamon, nutmeg, ginger, black peppercorns, cumin, cayenne, or coriander.
For more oatmeal recipes, try out our Peanut Butter Protein Baked Oats, Oatmeal Cookies, and Soy Sauce and Green Onion Oat Bran.
Tried out this Butter Oat Bran recipe?
Please leave a comment below, share it, rate it, or tag a picture @plantbasedandbroke on Instagram and hashtag it #plantbasedandbroke. Show off that creation with us.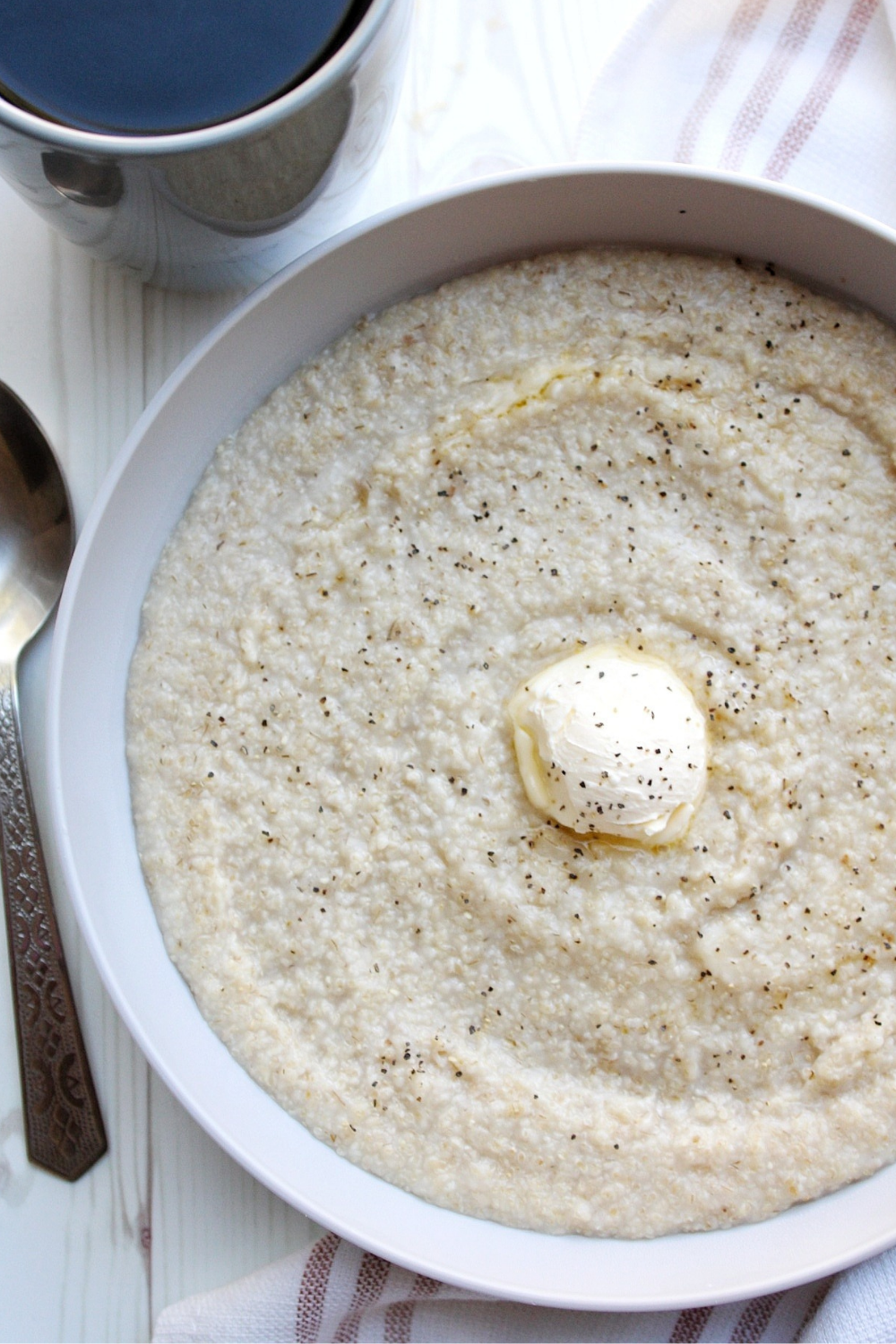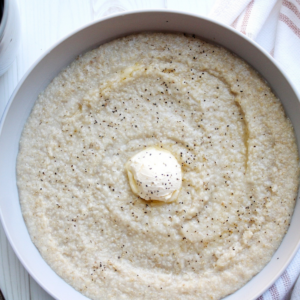 Buttery Oat Bran
Warm up your morning with a cozy bowl of oat bran topped with vegan butter, salt, and black pepper. It's the perfect morning comfort food.
Ingredients
2/3

cups

oat bran

2

cup

water

or vegan milk

1

tablespoon

vegan butter

Pinch of salt

Black pepper

optional
Instructions
Combine oat bran, water, butter, and salt in a small pot or saucepan. Bring to a boil. Once at a boil, reduce heat to simmer. Simmer and stir frequently for 1-3 minutes until thick and creamy.

Serve in a bowl and top with additional butter, salt, and black pepper (optional).
Notes
My secret to savory oat bran is that a little bit goes a long way. A bit of butter and salt really brings forth the flavor.
This cooks up FAST. So, stick around the kitchen and watch it. It will take at most 3 minutes to cook. 
Modify the milk/water depending on if you typically like your oats more creamy or dense. 
Nutrition
Serving:
1
-Serving
Calories:
113
kcal
Carbohydrates:
26
g
Protein:
7
g
Fat:
4
g
Saturated Fat:
1
g
Polyunsaturated Fat:
2
g
Monounsaturated Fat:
2
g
Trans Fat:
1
g
Sodium:
29
mg
Potassium:
227
mg
Fiber:
6
g
Sugar:
1
g
Vitamin A:
94
IU
Calcium:
30
mg
Iron:
2
mg
More Plant-Based Oat Bran Recipes
Did you try out this Easy Savory, Creamy Oat Bran Recipe?
Please leave a comment below, share it, rate it, or tag a picture @plantbasedandbroke on Instagram and hashtag it #plantbasedandbroke. Show off that creation with us!