(
This post may have affiliate links. Please see my disclosure.
)
---
If you need something kid-friendly that's going to have everyone in your family asking for seconds and thirds – I have the perfect smoky mac and cheese recipe. It's totally vegan, oil-free, and unbelievably creamy.
The trick? Cashews. In fact, Cashews make for the perfect vegan cheese base with its smokiness, nuttiness, and rich flavors. With a good solid cashew foundation, you can whip up just about any kind of cheese-base dish with a little bit of this-and-that. For this recipe, I utilized what was in my pantry.
You really need to try out this recipe yourself. With that said, let's get to this smoky mac & cheese vegan recipe:
---
Smoky Mac and Cheese Recipe [Vegan]
Cooking Notes:
Use raw and unsalted cashew.
Save the water you used from boiling the cashews. Trust me, it'll make your mac & cheese delicious.
I just used ziti because that's what I had in my pantry. In case the case you don't have ziti, use whatever type of macaroni noodles you have.
This recipe makes about 4 servings.
Lastly, if you don't set aside enough water from the cashew, just add regular water.
If you want it extra creamy and less healthy, add vegan butter. I didn't for this recipe, though.
Ingredients:
1 cup cashews (raw + unsalted)
2 cups macaroni pasta (dry)
1 ½ cups cashew water*
1 tbsp tomato paste
1 tbsp garlic powder
1 tbsp fresh lemon juice
Salt
4 cups water for boiling
*I'll explain the cashew water in the recipe down below.
Directions:
First, cook the pasta according to the package's instructions. I cooked and boiled mine for about 10 minutes in salted water. Drain and set aside.
Next, add water to a pot and set over high heat. Once it starts boiling, add your cashews.
Boil the cashews for 10 minutes to soften.
Once the cashews are done boiling, remove cashews from water and keep the cashew water.
In a blender, add cashews, nutritional yeast, smoked paprika, tomato paste, garlic powder, fresh lemon juice, and 1.5 cups of the leftover cashew water.
Then, blend until smooth.
Finally, add the cashew vegan cheese to the pasta and mix evenly.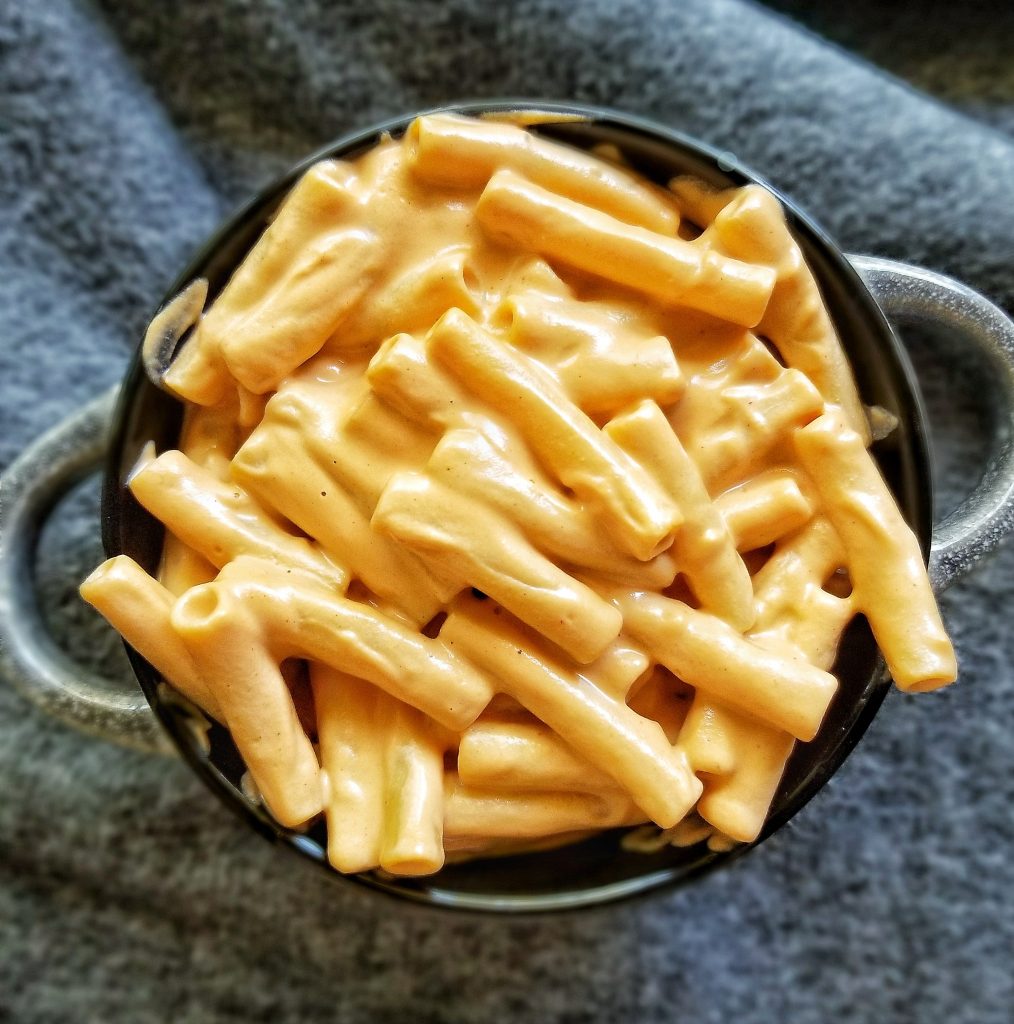 Make this dish complete with these recipes:
Easy Plant-Based Potato Salad Recipe
Crispy Buffalo Cauliflower Wings Recipe
Smoky, Vegan Bean Chili Recipe

Be sure to also check out our growing community on Facebook! 🙂

How useful was this post?
Click on a star to rate it!
Average rating 5 / 5. Vote count: 1
Please follow and like us: