(
This post may have affiliate links. Please see my disclosure.
)
Jump to:
I often crave the comfort foods I had served when I was a kid, so I decided to make things a little interesting by making a Vegan Chicken Noodle Soup with Tofu!
This soup definitely brings me back to my childhood - especially during those sick moments!
This soup isn't just perfect for cooler nights, but for when you want something warm and light as a meal. But if you're like me - you know soup can be enjoyed during the warmer months, to.
For this recipe, I swapped out the chicken for tofu. Means we're still getting some protein in this meatless soup!
Why You'll Love This
In short, this homemade soup is insanely good.
Into soup? Check out our other soup recipes:
Ingredients & Substitutions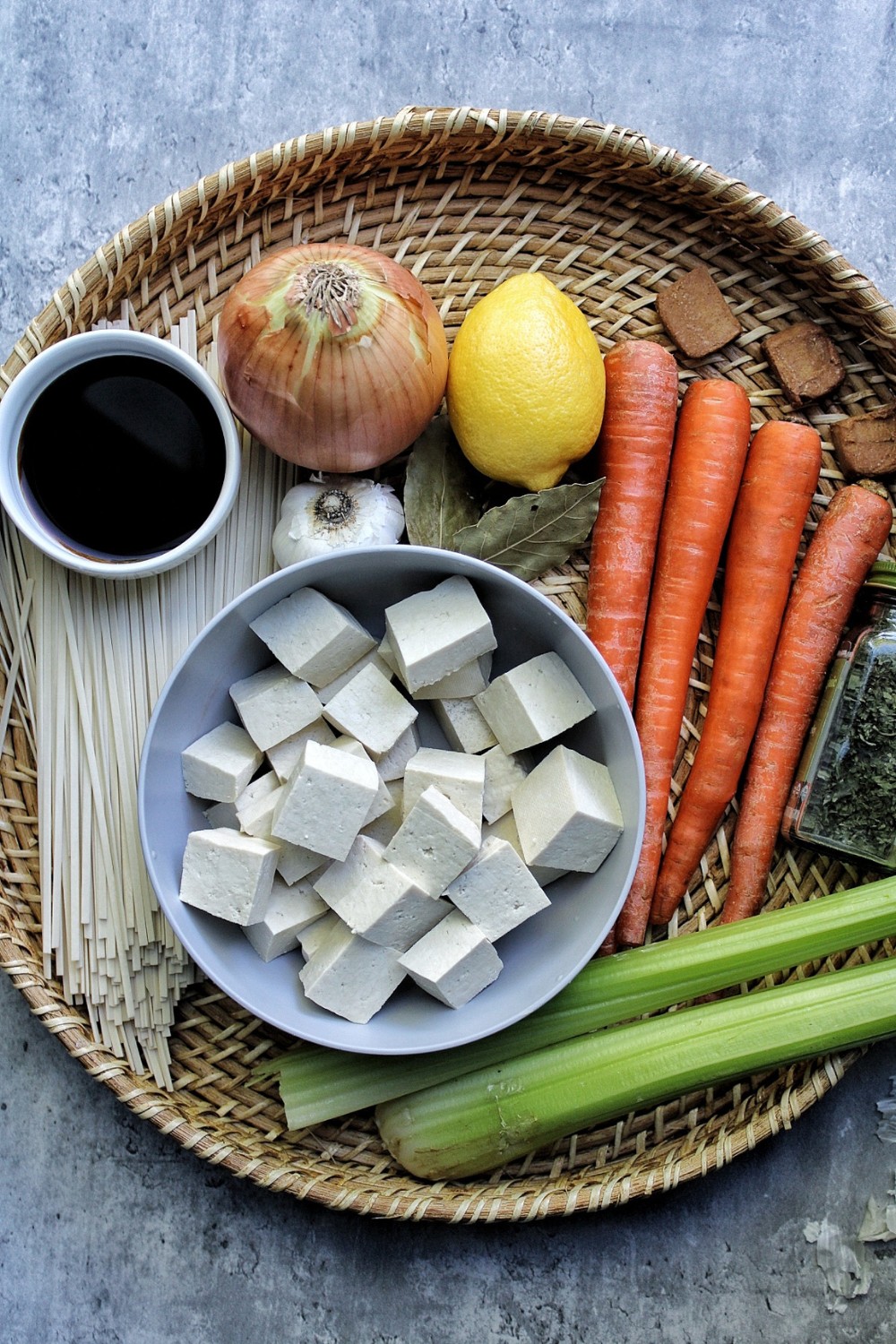 What To Eat With Vegetarian Chicken Noodle Soup
No chicken noodle soup is relatively light and great on an upset stomach, so what you eat with it can just depend on your tastebuds and your mood.
For a side that's a little heavier, go for a sandwich, fresh baguettes, flatbread, biscuits or rolls,
For a lighter side, go for a green salad, roasted vegetables, or saltine crackers.
Recipe FAQs
How To Add Flavor To Chicken Noodle Soup
Don't be afraid of herbs, broth/bouillon, and aromatic vegetables (garlic, onion, carrots, celery, etc.)! These three items will be essential to flavoring up your soup.
Additionally, fresh lemon juice towards the end of cooking will provide complex flavors to your soup.
Other pantry-friendly ingredients that'll serve your soup well include old-fashioned salt and black pepper.
Best Type of Noodle To Use For Chicken Noodle Soup
Egg noodles work great for chickenless noodle soup, but they aren't vegan. And since we're bringing up that point, some noodles have eggs in them. Be sure to check the packaging to find if they are eggless.
If you're going gluten-free, white or brown rice is a great alternative to noodles!
How To Prevent Noodles From Absorbing The Broth
If you're not planning on consuming the soup right away, I suggest cooking the soup and the noodles separately. When you're ready to reheat and serve, combine them.
Even if you plan to serve the soup a few hours later, I recommend keeping the noodles separately. It only takes a short amount of time for the noodles to suck up the broth and dominate the soup.
What Makes This The BEST Vegan "Chicken" Noodle Soup
The Broth - We're getting that chicken soup flavor most of us growing up remembering with the help of the broth - which is a combination of water and Not-Chick'n Edward & Sons Bouillon Cubes.
The Tofu - We won't miss the chicken with firm tofu! It makes for the perfect replacement for chicken.
The Vegetables - This soup includes all of the classic vegetables to create more authentic "chicken" noodle soup recipe.
The Noodles - Go with your go-to soup noodles to make your best version of this vegan "chicken" noodle soup.
How To Store
Store the soup and noodles separately in an airtight container or reusable silicone bag for up to 3-4 days in the refrigerator.
How To Store Frozen
To freeze, allow soup to cool to room temperature. Transfer to the fridge to cool down, then transfer to the freezer. Be sure to use freezer-safe bags or containers.
To reheat from frozen, transfer the soup into the fridge overnight to thaw, then cook on the stovetop until heated through.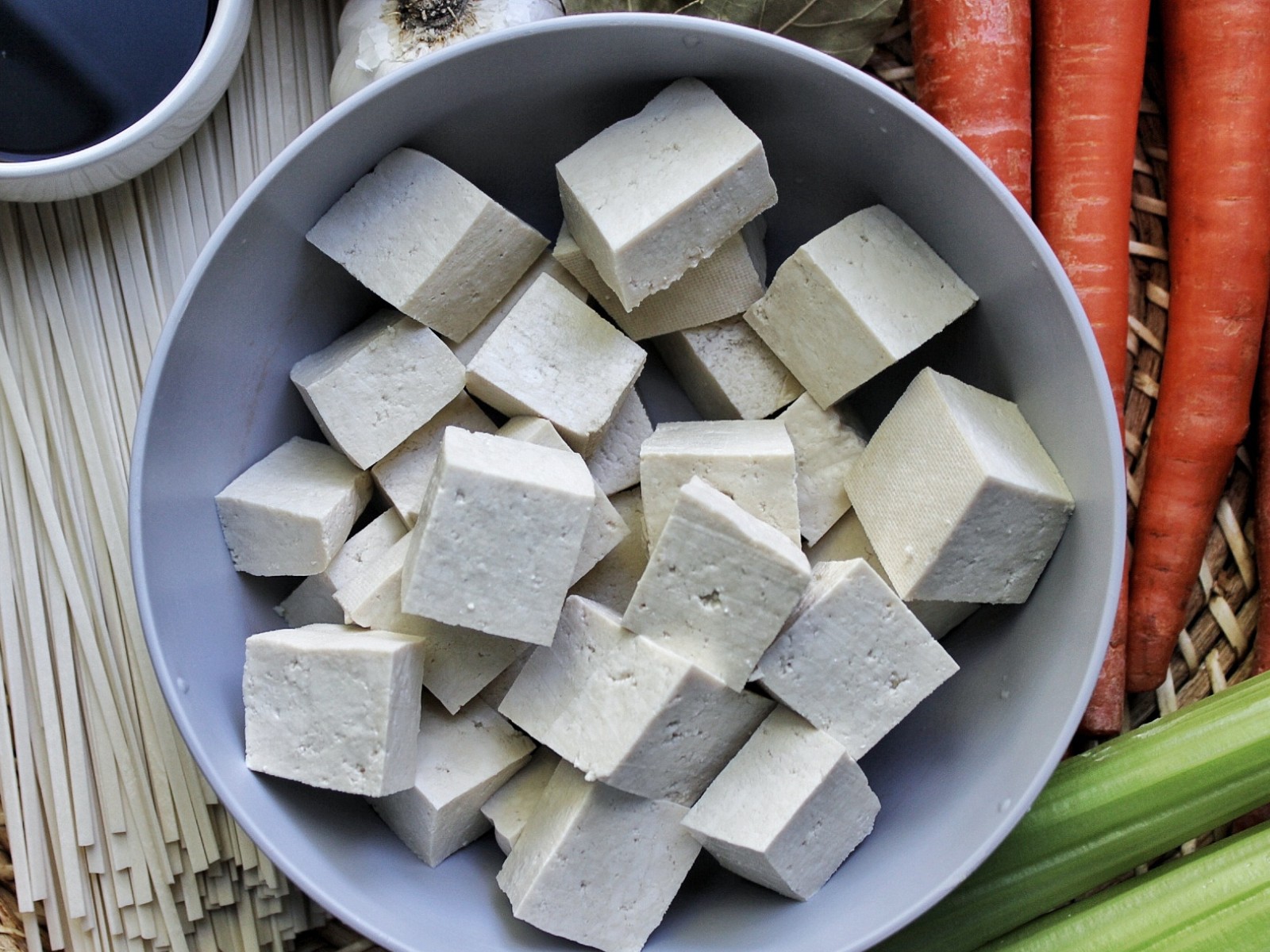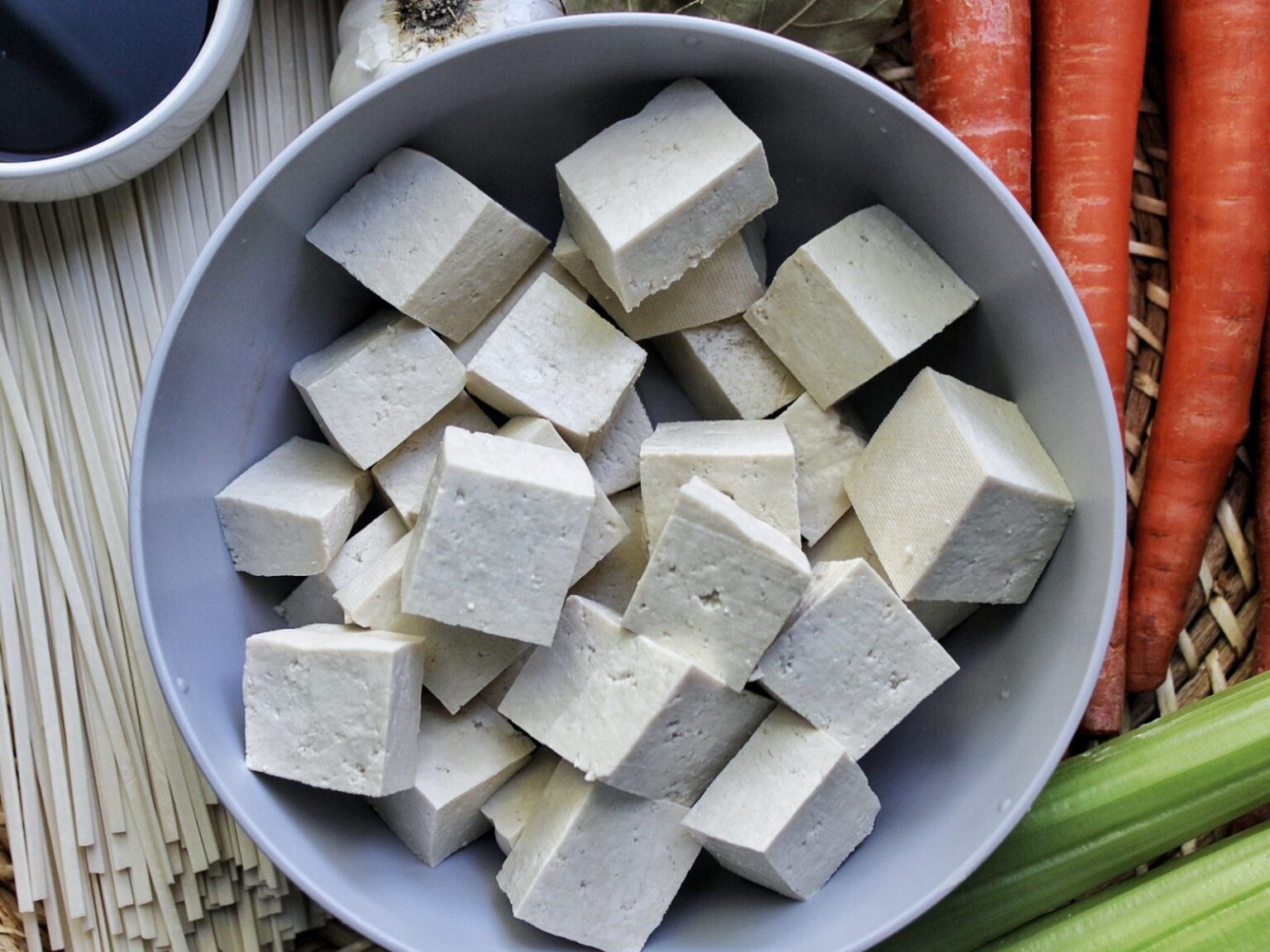 More tofu-based recipes to try:
Tried out this Vegan Chicken Noodle Soup recipe?
Please leave a comment below, share it, rate it, or tag a picture @plantbasedandbroke on Instagram and hashtag it #plantbasedandbroke. Show off that creation with us.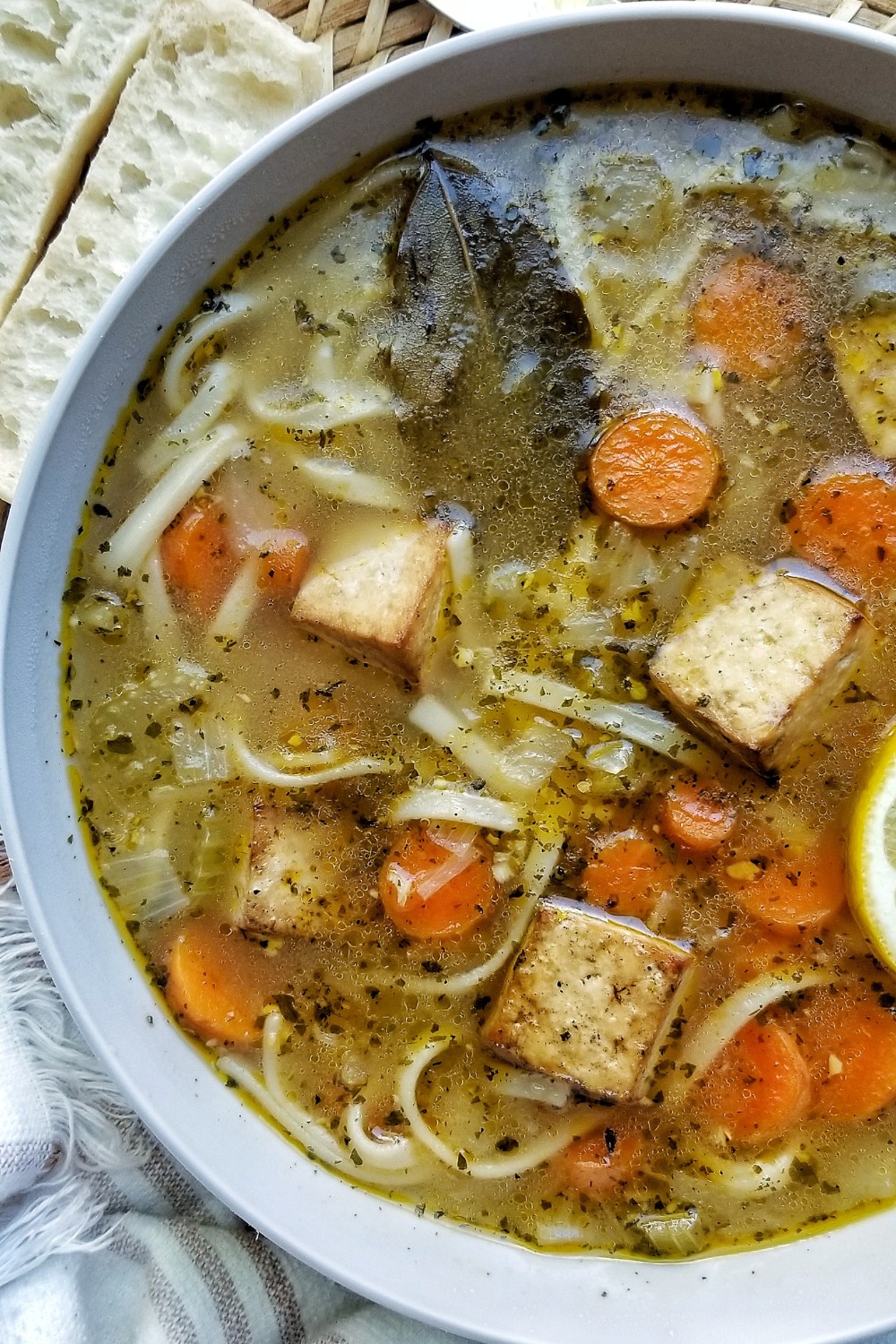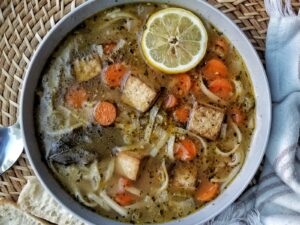 Vegan Chicken Noodle Soup with Tofu
Go for a Vegan Chicken Noodle Soup with Tofu the next time you're craving something comforting and warm! Ready in just 40 minutes and made with pantry-friendly ingredients.
Ingredients
14

ounces

extra-firm tofu

or firm tofu, cubes

2

tablespoons

soy sauce

¼

cup

olive oil

1 tablespoon used for tofu, the rest for soup

1

onion

chopped

4

carrots

sliced

2

celery ribs

sliced

6

garlic cloves

crushed

10

cups

water

3

bouillon cubes

2

tablespoons

dried parsley

¼

teaspoon

cayenne pepper

8

ounces

noodles

1

tablespoon

lemon juice
Instructions
Chop tofu into 1-inch cubes. Pour the soy sauce over tofu and gently toss until soy sauce is evenly distributed. Let tofu marinate for 5 minutes.

In a non-stick pan or skillet, heat 1 tablespoon of olive oil. Once the oil is shimmering, add the tofu cubes. Cook and sauté tofu cubes until browned on all sides. Remove from the pan and set aside. To air-fry: toss tofu with 1 tablespoon of olive oil and soy sauce. cook tofu at 400 degrees F for 10 minutes, and shake the basket halfway.

In a dutch oven over medium heat, add the remaining olive oil. Add onion, carrots, and celery. Add a pinch of salt. Cook for 4-5 minutes, until tender. Then, add the crushed garlic and cook for 30 seconds, or until fragrant.

Add water, bouillon cubes, bay leaves, black pepper, dried parsley, and cayenne pepper.

Bring to a boil, then reduce to a simmer. Cover and simmer for 15 minutes. Then, add the noodles and tofu. Bring to a boil over medium-high heat. Cook without a lid for 10 minutes, or until al dente. Add lemon juice to the soup. Combine well.

Serve and garnish with parsley or your choice of herbs.
Notes
I used

Not-Chick'n Edward & Sons Bouillon Cubes

for my soup base/broth. 

Extra-firm tofu was used in this recipe. However, firm tofu may be used - the texture may be a little softer. Feel free to go for tofu-free alternatives like chickpeas or plant-based chicken. 

Go for your soup noodle of choice!
Nutrition
Serving:
1
serving
Calories:
221
kcal
Carbohydrates:
28
g
Protein:
9
g
Fat:
8
g
Saturated Fat:
1
g
Polyunsaturated Fat:
1
g
Monounsaturated Fat:
5
g
Cholesterol:
1
mg
Sodium:
684
mg
Potassium:
302
mg
Fiber:
2
g
Sugar:
4
g
Vitamin A:
5138
IU
Vitamin C:
5
mg
Calcium:
56
mg
Iron:
1
mg