(
This post may have affiliate links. Please see my disclosure.
)
I was a craving a creamy bowl of vegan roasted tomato basil soup that reminded of the good ol' days when I could just pick up a container of soup from anywhere, on days when things really busy.
Then I realized I had a 2-pound bag of Roma tomatoes that needed some love. So, naturally, I blasted them with oven heat for a soup made entirely from scratch.
There were some things I knew I wanted from this homemade tomato soup recipe. I wanted it to be creamy, yet light. I anticipated a pronounced flavor of fresh basil with a touch of garlic.
Additionally, I wanted to feel at ease under a warm fluffy blanket and a warmer bowl of soup.
For more quick and easy plant-based dinner recipes, check out 30-Minute Plant-Based Dinner Ideas.
Important Roasted Tomato Soup Ingredients
Roma Tomatoes. When purchasing tomatoes, I often choose those that are a deep burgundy color and mildly tender to the touch. This indicates they are ripe and these fare well in soup-type recipes.
We will be taking the Roma tomato halves and placing them on a baking sheet where they will then be dressed with a generous pour of olive oil and a liberal toss of salt and cracked black pepper.
Roasting the tomatoes will bring forth a pleasantly intense tomato flavor that's perfect for this tomato soup recipe. If you do not have Roma tomatoes – that's fine. Use any tomato you have or enjoy, the important part is that they are ripe.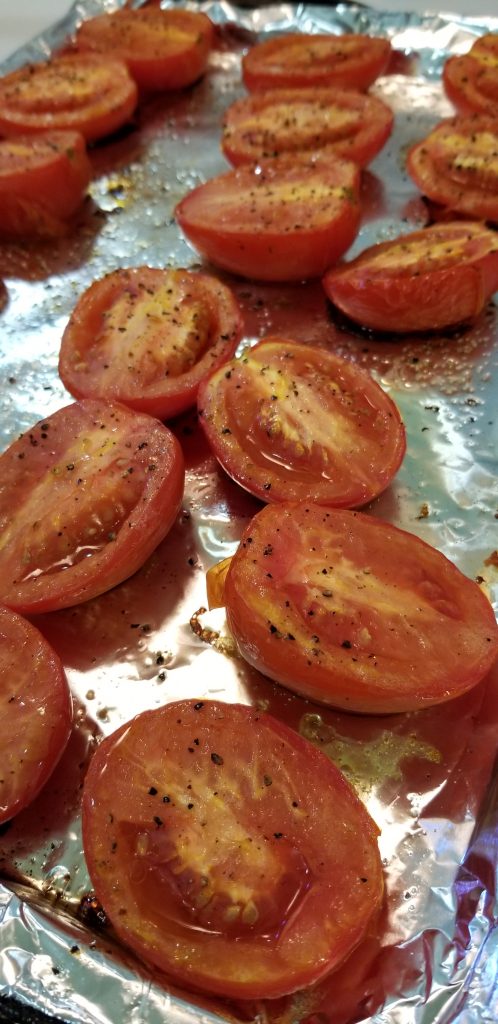 Garlic. I opted for more of a lusty essence of garlic, rather than a mild and sweet garlic flavor that is found in oven-roasted garlic. I did this by lightly frying the crushed and minced garlic in butter for just 30 seconds.
Yellow Onion. I quickly caramelized the sliced onions over medium heat in a dutch oven, and by fast, I mean I saute them over medium heat for 30 minutes. By caramelizing the onions, we're unveiling a depth of sweetness.
The longer onions are caramelized, the more intense their flavor. However, we're speeding up the cooking process by going for the "good enough" approach.
Vegan Butter. This is an important ingredient to add a soft and light creaminess to the soup. Use your vegan butter of choice.
I always use Melt Organic – it's hand down the creamiest, "buttery," plant-based butter I've tried that's also affordable. I find them usually ranging from $3-$4 per container at my local grocery store.
Fresh Basil. You need this. You want this. This is going to take your soup to the next level and I highly recommend using fresh basil. However, if you're unable to get your hands on some – use dry basil. Add 1 tablespoon's worth.
Sugar. Tomatoes will naturally yield varying levels of acidity. Sugar can help balance that out. Both brown sugar or white sugar works fine for this balancing act.
Start with a pinch at a time, give it a stir, and indulge in a taste test to see if you need to add a little more.
Vegetable Stock. Hello, flavor town! For the vegetable stock, I mixed one Not-Chick'n Edward & Sons Bouillon Cubes with boiling water until dissolved. However, you can use homemade vegetable stock or store-bought vegetable stock.
More Soup Recipes
How To Store Tomato Soup
You can store this vegan roasted tomato basil soup in an air-tight container or reusable silicone bag in the refrigerator for up to 4-5 days. Additionally, it can be stored in the freezer for up to 6 months.
To reheat from frozen, simply have it thaw 1-2 days in the refrigerator. Then, warm the soup over medium-low heat until warm.
If you don't have time for that, the soup can be heated in the microwave for a few minutes. I recommend using a microwave-safe container.
Recipe Notes
Use any type of tomato you prefer – the more important detail is that the tomatoes are ripe. In this case, I use Roma tomatoes. Feel free to use what you have on hand.
If you don't have fresh garlic on hand, garlic powder will work too. Add the garlic powder with the rest of the ingredients during the blending step.
Butter is important in this recipe to bring a subtle creaminess. Add more or less – depending on your personal taste buds. I wanted to make this recipe relatively healthy, so I added just enough butter for my preference.
Use a high-powered blender to breakdown all of the ingredients into a smooth soup. I personally use an Oster blender. Take caution when blending the soup. It will be hot.
If you find your soup is too thin for your liking, simply simmer the soup for longer during the final cooking steps. Alternatively, if it's too thick, add a bit more vegetable stock.
What To Serve With Tomato Soup
The soup is good on its own, but some pairings just make sense. Here are some ideas.
Or, treat yourself with an autumn-appropriate pumpkin muffin dessert after that bowl of soup.
Vegan Roasted Tomato Basil Soup
Creamy Vegan Roasted Tomato Basil Soup made with fresh ingredients including fragrant basil leaves and buttery, minced garlic. A great meal for when autumn and winter settles in and you just wanted a warm, comforting bowl of homemade soup from scratch.
Ingredients
2

pounds

Roma tomatoes

cut in half

Olive oil

Salt

Pepper

1

yellow onion

cut into slices

4

tablespoons

vegan butter

4

garlic cloves

crushed, minced

2

cups

vegetable stock

1/2

cup

packed basil leaves

Pinch of sugar

(optional)
Instructions
Preheat oven to 400 degrees F. Line tomatoes onto a baking tray. Drizzle with olive oil and sprinkle salt and black pepper over the tomatoes. Roast for 30-40 minutes.

Meanwhile, place a dutch oven or large pot over medium heat. Add 1 tablespoon of olive oil. Throw in the sliced onion and a pinch of salt. Cook for 30 minutes. Stir frequently to avoid an uneven cook and sticking.

Next, add 1 tablespoon of vegan butter and garlic to the dutch oven or pot. Cook for 30 seconds, until fragrant.

Remove tomatoes from the oven and pour them into the dutch oven. Add vegetable stock, and basil. Stir together and simmer for 10 minutes.

Carefully transfer contents into a blender. Blend until creamy.

Pour soup back into the dutch oven. Add 2-3 tablespoons of butter, stir, and simmer over medium-low heat for about 10-15 minutes, until thick and creamy. Serve and garnish with basil.
Did you try out this Vegan Roasted Tomato Basil Soup recipe?
Please leave a comment below, share it, rate it, or tag a picture @plantbasedandbroke on Instagram and hashtag it #plantbasedandbroke. Show off that creation with us.