(
This post may have affiliate links. Please see my disclosure.
)
Jump to:
Chickpeas are the star in this recipe! So, grab your bowls and spoons and turn up the salsa music - we're making Puerto Rican chickpea stew tonight! If you're into Puerto Rican flavors and dishes like our pastelón, Puerto Rican spaghetti, tofu guisado, and yellow rice - you're going to LOVE this dish!
What is Garbanzo Guisados or Puerto Rican Chickpea Stew?
Puerto Rican chickpea stew is a stew made with authentic, Puerto Rican ingredients including sofrito, sazon, adobo, fresh cilantro, and spices. It's made similarly to other Puerto Rican stews like habichuelas guisadas.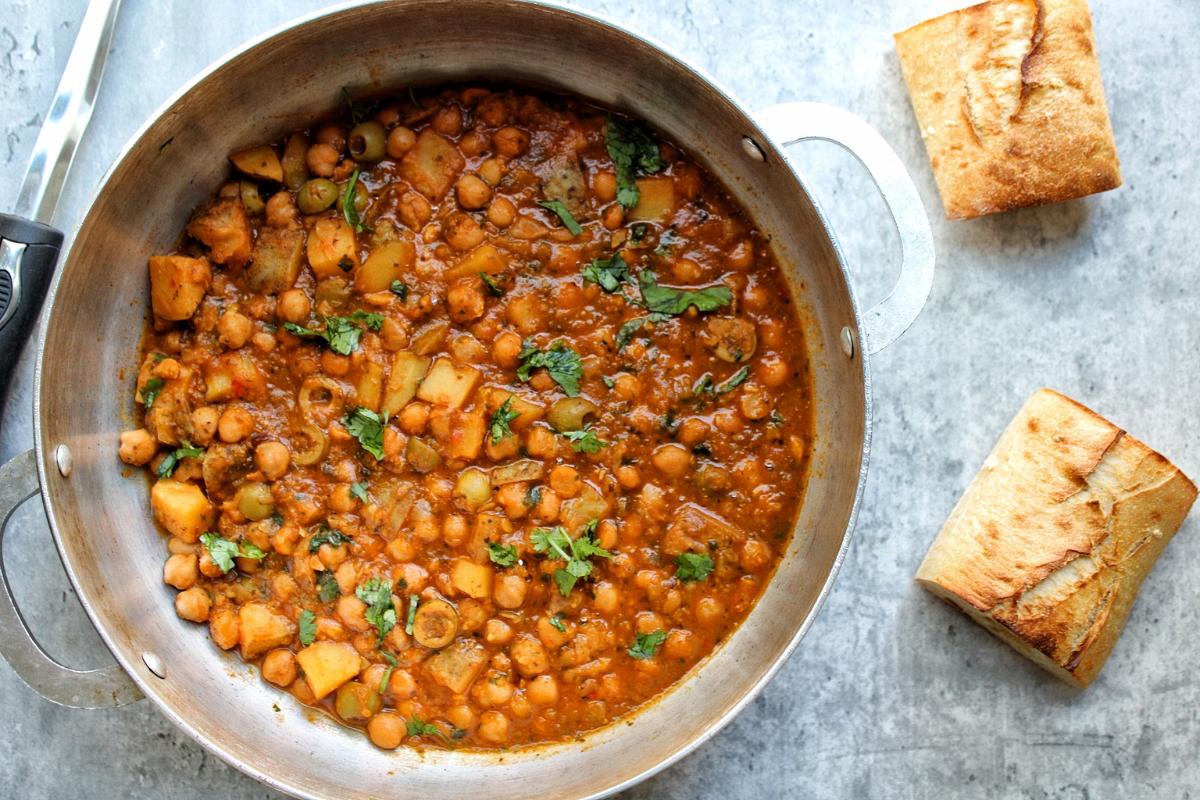 Why You'll Love This
It's a quick recipe! With a 20-minute quick time and minimal chopping, you have the perfect weekday meal to serve up your hungry family. Serve with a heaping bowl of white rice or your favorite toasted bread.
It's FLAVORFUL! This recipe doesn't hold back when it comes to flavor. With the combination of homemade sofrito, spices, and broth - you have the most delicious chickpea stew you'll ever make!
It's healthy, packed with plant-based protein and fiber - all thanks to the chickpeas and other ingredients in this stew! Along with being healthy, this dish is also gluten-free, soy-free, 100% vegan, and nut-free.
Ingredients & Substitutions
We're using easy-to-find, affordable ingredients in this delicious chickpea stew. Here's the list:
Olive Oil - If you don't have olive oil, any neutral oil will work, like vegetable or canola oil.
Sofrito - I recommend making sofrito from scratch, but you may be able to find it in either the freezer section of the grocery store, or in the "ethnic" or Hispanic aisle at the grocery store - which can be found jarred.
Sazon - Sazon can be found at most grocery stores that sell a variety of spices and seasonings. If not, it can be found online.
Adobo - Like sazon, adobo can be purchased online.
Oregano
Bay Leaves - You'll need just about 1-2 bay leaves.
Tomato Paste - Tomato sauce may also be used in a pinch. About ¼ cup tomato sauce will do - adjust other liquids as needed.
Olives - Green Spanish olives (Manzanilla) are the way to go here.
Chickpeas - Canned chickpeas were used in this recipe, but they may also be cooked from scratch. If using canned chickpeas, be sure to drain the cans.
Potatoes
Vegetable Broth - Use any kind you prefer. I used a bouillon cube. Just keep in mind the sodium and adjust the other salt-based seasonings in this recipe (sazon + adobo) as needed.
Cilantro (to garnish)
Chopped Onions (to garnish)
Lemon juice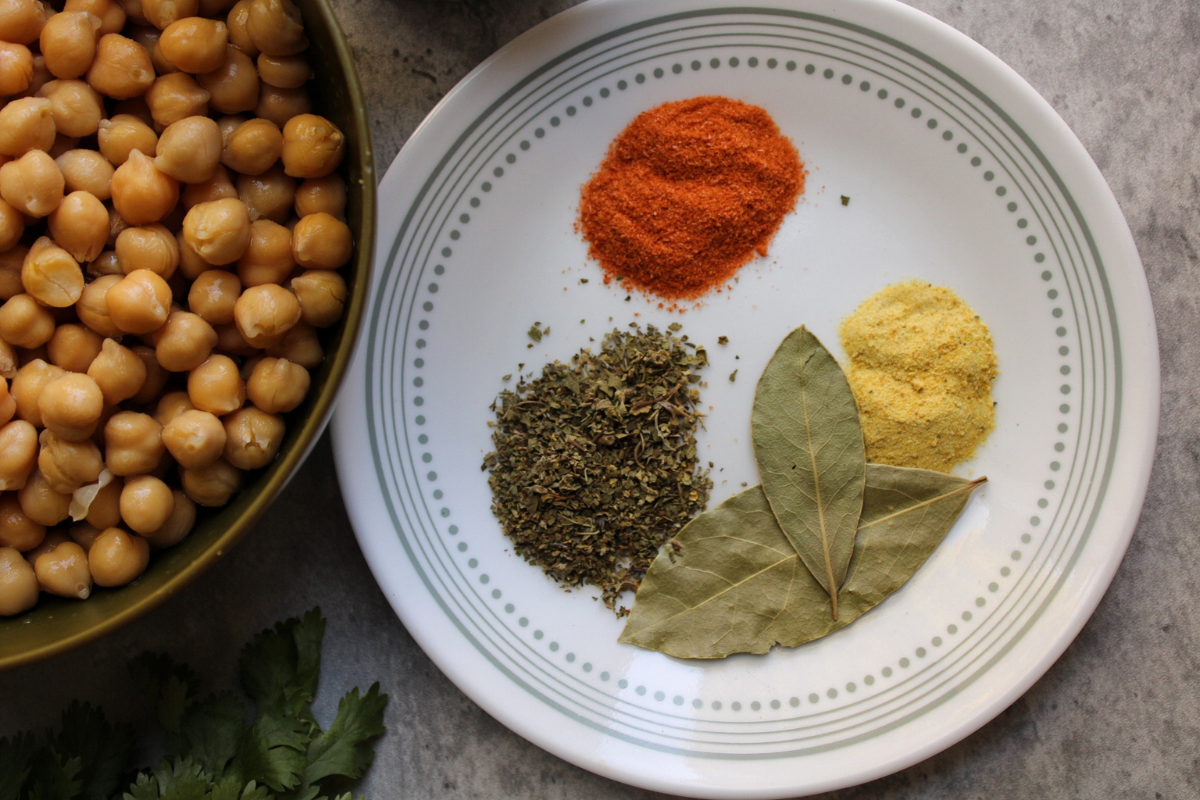 Tips for the Best Chickpea Stew
To create a thicker, hearty chickpea stew, blend about half a cup of the cooked stew and reintroduce it back to the pot to simmer for an additional 1-2 minutes.
If possible, use fresh sofrito. Although there are options for jarred or frozen sofrito, nothing comes close to the real deal. Also, it's very easy to make. You just need a handful of vegetables (cilantro, peppers, onion, and garlic) then blend until chunky.
Add more water or broth as needed, depending on your preferences.
Looking for a spicy chickpea stew? Add cayenne pepper or add chilies.
Add the "optionals" and "garnishes" including cilantro for flavor, chopped onions for a crunch, and lemon juice to brighten up the stew. They make a world of difference.
Serve with toasted bread or your favorite grain.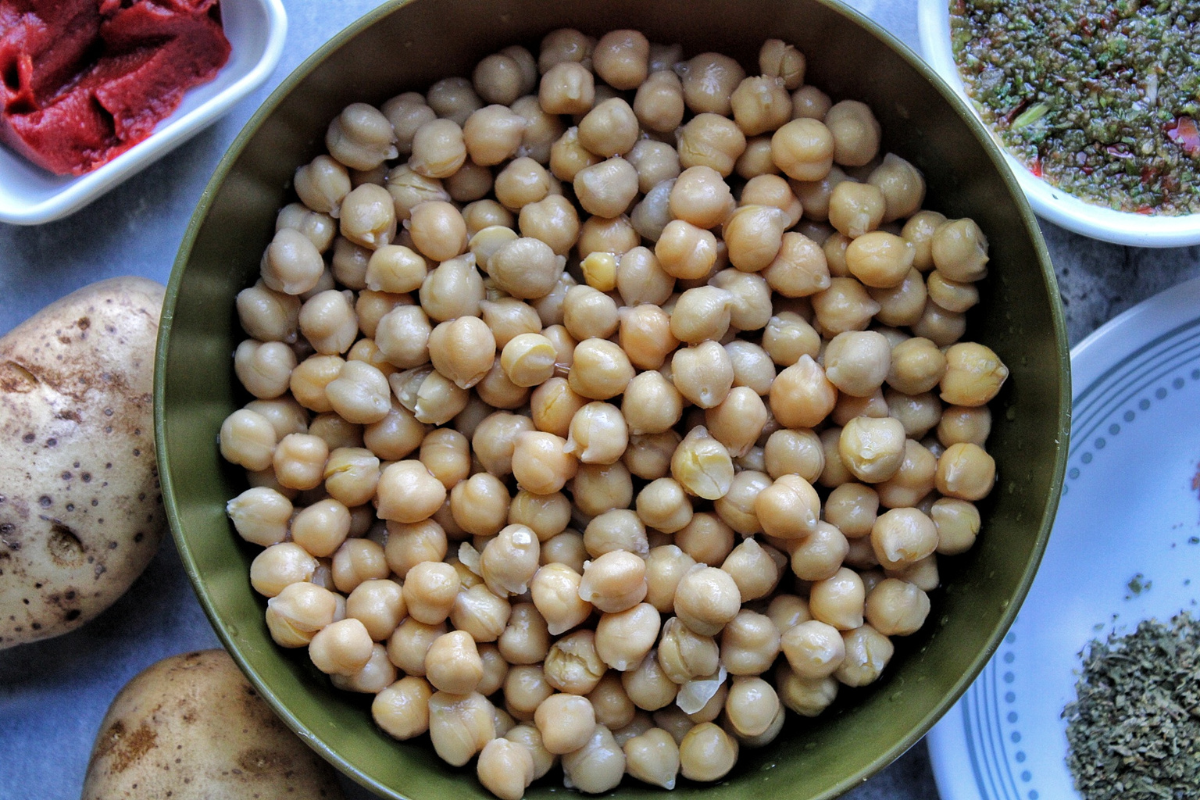 How To Thicken Chickpea Stew
The best way to thicken chickpea stew is to remove about ½ cup of cooked stew and blend until it's a paste or puree. Then, reintroduce it back to the pot and simmer for an additional 1-2 minutes. Combine well.
What To Serve with Puerto Rican Chickpea Stew
Because this dish is already so flavorful, I like to serve it with plain white rice, toasted bread, or flatbread.
Other sides can include tostones, maduros, yuca, sliced avocados, or a green salad.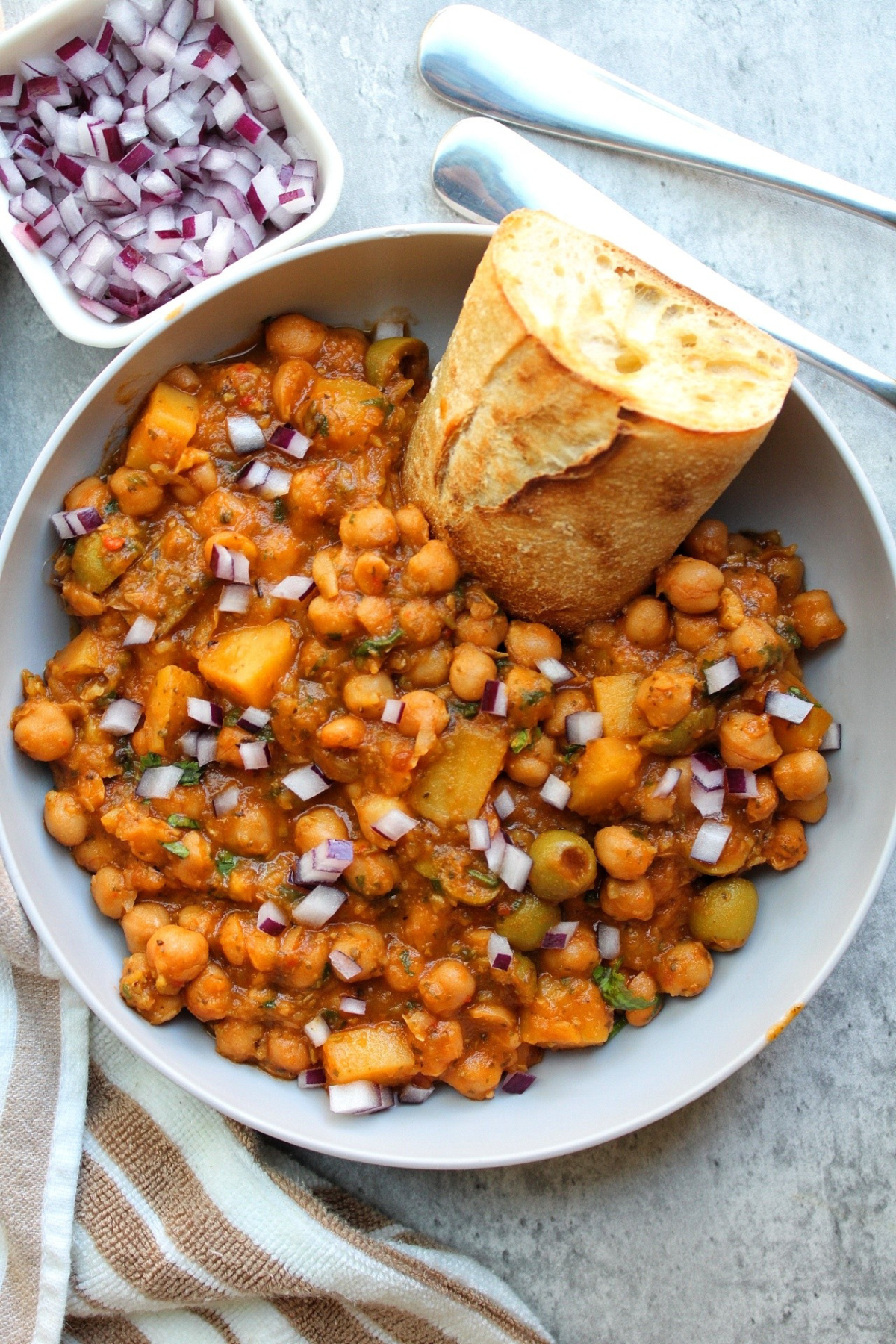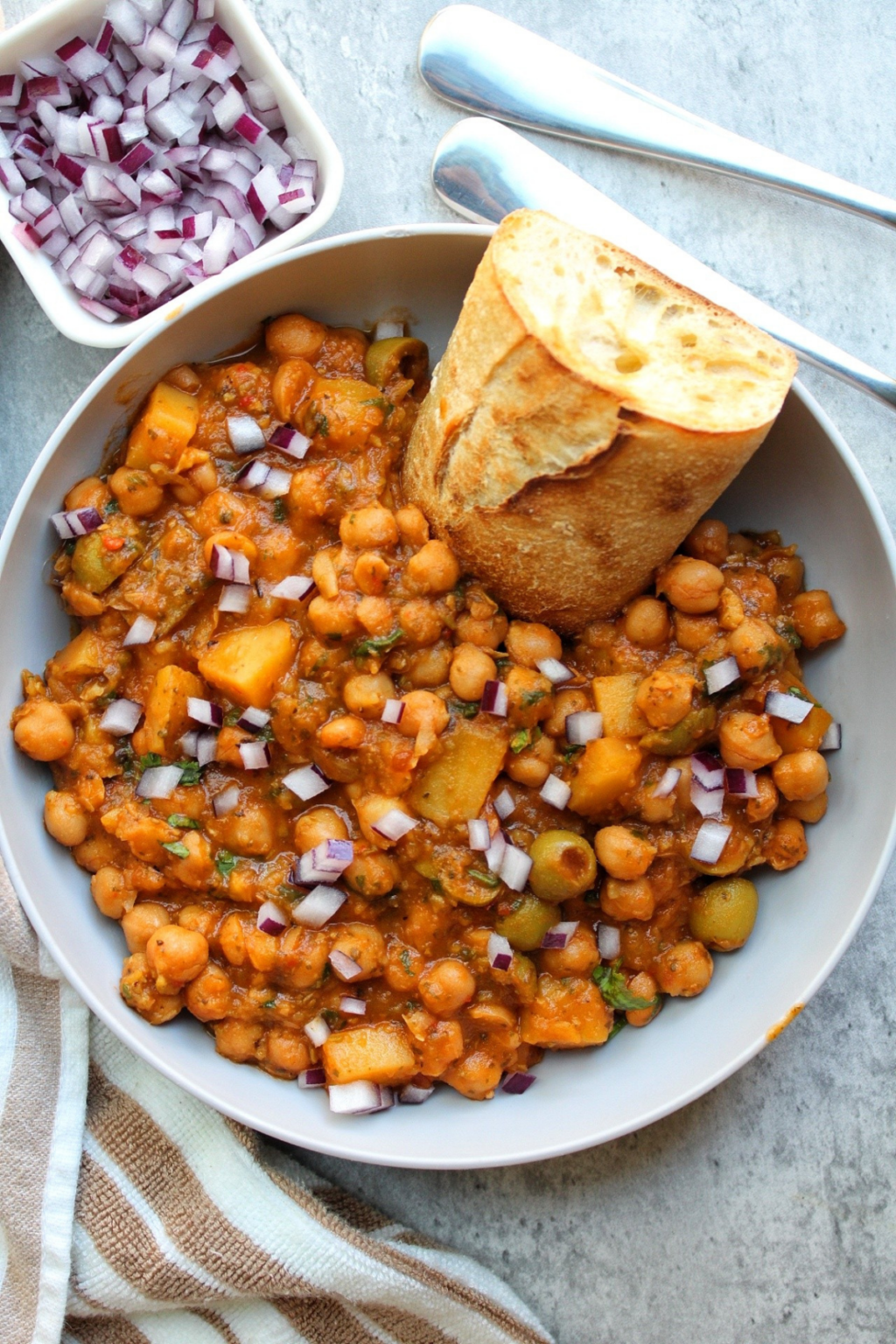 More Recipes With Chickpeas
How To Store
To store chickpea stew, allow it to cool completely before transferring to an airtight container. They can be kept in the refrigerator for up to 3 days.
To reheat, gently warm the chickpea stew on the stovetop over low heat, adding a splash of water or broth if needed to maintain the desired consistency.
Are chickpeas the same as gandules?
No, chickpeas and gandules are not the same. Chickpeas are a type of legume also known as garbanzo beans. They are round, beige-colored beans with a nutty flavor. On the other hand, gandules, also known as pigeon peas, are a different type of legume. They are small, round, and greenish in color. Both chickpeas and gandules are commonly used in various cuisines, but they have distinct flavors and textures.
What is the Spanish name for chickpeas?
The Spanish name for chickpeas is "garbanzos." In Spanish-speaking countries, you'll often find chickpeas referred to as "garbanzos" on menus and in recipes.
Are chickpeas and garbanzo beans the same thing?
Yes, chickpeas and garbanzo beans are the same. They are known by both names interchangeably. The term "chickpea" is more commonly used in the United States, while "garbanzo bean" is more prevalent in Spanish-speaking countries and some other regions.
Are chickpeas healthy?
Chickpeas are highly nutritious. They are an excellent source of plant-based protein, fiber, vitamins (such as folate and vitamin K), and minerals (including iron, magnesium, and potassium). Chickpeas are also low in fat and can contribute to heart health and weight management.
Tried out this Chickpea Stew recipe?
Please leave a comment below, share it, rate it, or tag a picture @plantbasedandbroke on Instagram and hashtag it #plantbasedandbroke. Show off that creation with us.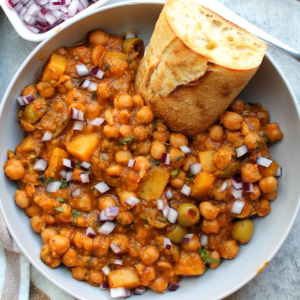 Puerto Rican Chickpea Stew (Garbanzos Guisados)
This is the BEST Puerto Rican chickpea stew! Made with authentic Puerto Rican flavors, spices, and ingredients. Serve with rice or fresh bread.
Ingredients
2

tablespoons

olive oil

½

cup

sofrito

½

teaspoon

sazon

½

teaspoon

adobo

1

teaspoon

dried oregano

2

tablespoons

tomato paste

¼

cup

olives

halved

2

cans

chickpeas

15.5-ounce cans

2

potatoes

medium, cubed into 1-inch pieces

3

cups

vegetable broth

see notes

Cilantro

chopped

Lemon juice

optional, to add to final dish

Onions

chopped, to garnish
Instructions
In a medium saucepan, heat the olive oil over medium heat. Add the sofrito and allow it to fry for 1 minute, until fragrant.

Add the sazon, adobo, dried oregano, and bay leaves. Cook for another minute.

Add the tomato paste, olives, chickpeas, and potatoes. Stir well.

Add the broth or water and bring to a boil, then reduce heat to a simmer.

Cook for 20 minutes, or until potatoes are tender.

Remove about ½ cup of the stew, blend, then add back to the pot. Simmer for an additional 1-2 minutes until it has thickened. Serve with chopped onions, cilantro, and a squeeze of fresh lemon juice.
Notes
Vegetable broth: About 3 cups of water along with 1 bouillon cube was used. Because this recipe already has salt-based seasonings, I reccommend using a broth that's lighter on the salt/sodium. 
Nutrition
Serving:
1
serving
Calories:
175
kcal
Carbohydrates:
23
g
Protein:
3
g
Fat:
8
g
Saturated Fat:
1
g
Polyunsaturated Fat:
1
g
Monounsaturated Fat:
6
g
Sodium:
952
mg
Potassium:
546
mg
Fiber:
3
g
Sugar:
3
g
Vitamin A:
544
IU
Vitamin C:
23
mg
Calcium:
29
mg
Iron:
1
mg