(
This post may have affiliate links. Please see my disclosure.
)
Jump to:
Fried sweet plantains or "maduros" are a common Puerto Rican side dish that adds a touch of sweetness to an otherwise savory dish.
Growing up, we had this at the dinner table just about every evening, along with rice, stewed beans, and a few slices of ripe avocado. However, don't feel the need to restrict how or when to serve fried sweet plantains.
They can be served with breakfast, lunch, or dinner. Or as a good ol' mid-day snack.
Where To Find Plantains
Plantains are a popular food item and I have seen them being sold at plenty of big-box grocery stores. They are sold both ripe (yellow + black spotted) or unripe (green).
You can purchase them in either state. The yellow and black-spotted banana will be ripe enough for fried sweet plantains.
Additionally, plantains can be found at Latin grocery stores in the produce section.
In the good old neighborhood of Little Havana, Miami, plantains are sold at many small, family-owned grocery stores or on the back of a fruit truck or cart.
If you pick up green plantain bananas, you'll need to wait until they are ripe enough before using them in this recipe.
When Are Plantains Ripe Enough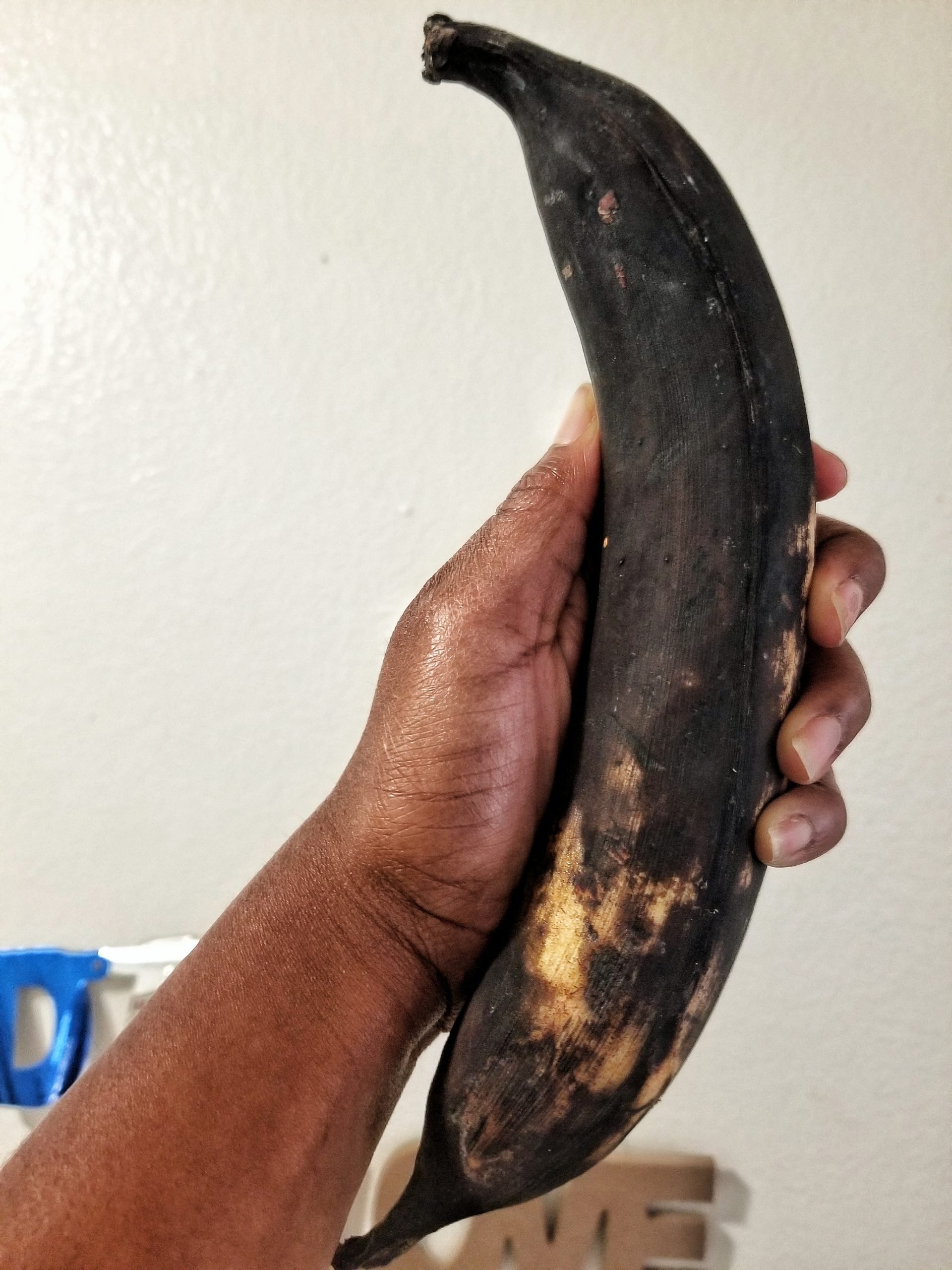 We are using just 3 ingredients for this fried sweet plantain recipe and there's something you need to know about one of those items.
You need very ripe plantains.
Similar to common yellow bananas, you can tell when a plantain has ripened when it becomes spotted and mostly black.
As the plantain ripens, it becomes sweeter and softer - making them the perfect candidate for sweet plantains, or maduros.
If your plantains are not yet mostly black and soft, you'll have a starchy and slightly sweet plantain.
In my opinion, you are better off waiting until the plantains are ripe enough for fried sweet plantains, or grab them when they are green for a savory plantain dish like tostones.
Best Oil For Frying Plantains
For pan-frying over medium heat, you want to go with a medium or high-smoke point oil. Smoke point determines at what temperature the oil begins to burn and smoke.
Oil or fats with low-smoke points that may not suitable for pan-frying (depending on the cooking heat) include cold-pressed olive oil, butter, walnut oil, or any unrefined oil.
Examples of High-Smoke Oil
In this recipe, I used canola oil. It has a high smoke point, it's mild in flavor, and it's an affordable cooking oil option. I do not recommend using olive oil in this recipe.
Because this recipe calls for very ripe plantains, the high sugar content makes them soft and sticky, making cooking a bit tricky. I highly recommend using a non-stick cooking pan to prevent sticking.
If you're looking for an affordable non-stick cooking pan, check this one out from T-fal. I've had my set from this brand for years now and they still work great.
Pro-tip: to keep a non-stick pan working properly for a long time, do not use metal cooking utensils against the pan. Silicone or wood utensils are not as abrasive as metal cooking utensils, keeping the non-stick coating intact.
More Puerto Rican Recipes
Need an oil-free version of this recipe? Here's how to make sweet plantains in the oven.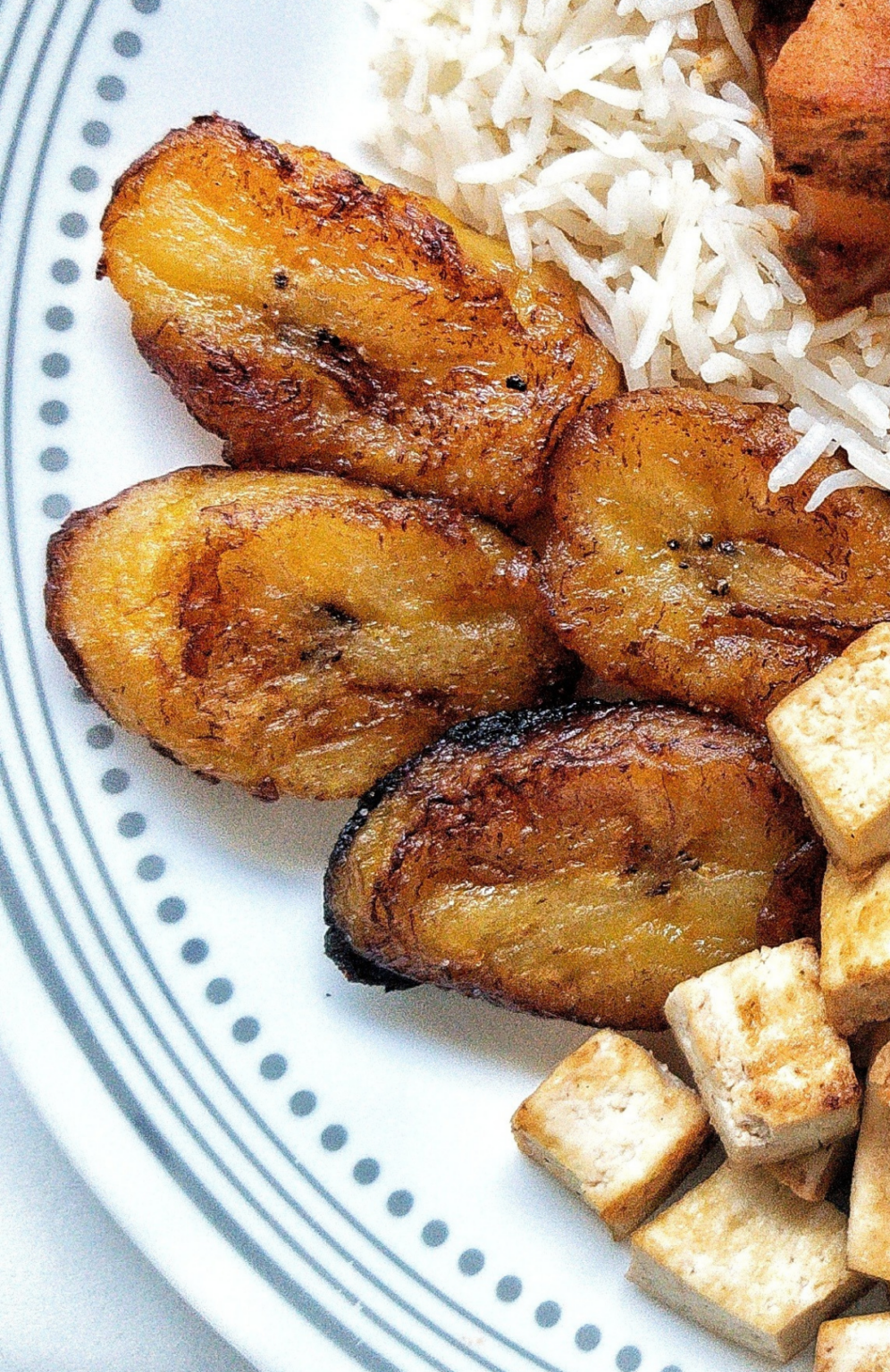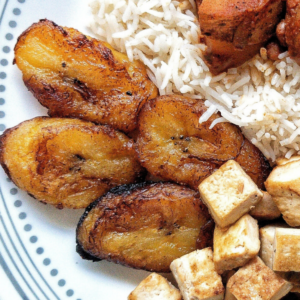 Puerto Rican Fried Sweet Plantains (Maduros)
Quick and easy pan-fried sweet plaintains (maduros) made with just one main ingredient: plantains. A delicious side dish to have with Puerto Rican, Jamaican, Cuban, and other carribbean dishes!
Instructions
Cut the ends of the plantains and slice the plantain vertically, just skin deep. Remove the peel from the plantain and cut it into 1-inch thick pieces.

Set a non-stick pan over medium-high heat and pour in vegetable oil, at 1-inch deep

Once the oil is hot carefully add the plantain pieces. Fry on each side over medium heat for about 2 minutes on each side, or until golden.

Reduce heat to medium-low and cook plantains for another 4-5 minutes, flipping halfway

Once done, remove from oil and transfer plantains onto a plate of paper towels. Sprinkle with salt while still hot.
Notes
Some pieces will cook faster than others. It's fine to pull them out at different times. 

Maduros or fried plantains work best when they are very ripe. This means waiting for the banana to turn yellow and then turn into a dark, black-spotted color. 
Nutrition
Serving:
1
-Serving
Calories:
116
kcal
Carbohydrates:
14
g
Protein:
1
g
Fat:
7
g
Saturated Fat:
1
g
Polyunsaturated Fat:
2
g
Monounsaturated Fat:
4
g
Trans Fat:
1
g
Sodium:
2
mg
Potassium:
223
mg
Fiber:
1
g
Sugar:
7
g
Vitamin A:
504
IU
Vitamin C:
8
mg
Calcium:
1
mg
Iron:
1
mg
Did you try out this Puerto Rican Fried Sweet Plantains (Maduros) recipe?
Please leave a comment below, share it, rate it, or tag a picture @plantbasedandbroke on Instagram and hashtag it #plantbasedandbroke. Show off that creation with us.