(
This post may have affiliate links. Please see my disclosure.
)
Jump to:
Puerto Rican food is always the winner at my home, so it was time to finally make Puerto Rican-style carne guisada, but vegan and sin carne. Also known as vegan beef stew.
Puerto Rican carne guisada is a comforting beef stew that's usually made with beef stew meat and is typically served for dinner. It also includes potatoes, carrots, Puerto Rican seasonings, and tomato sauce.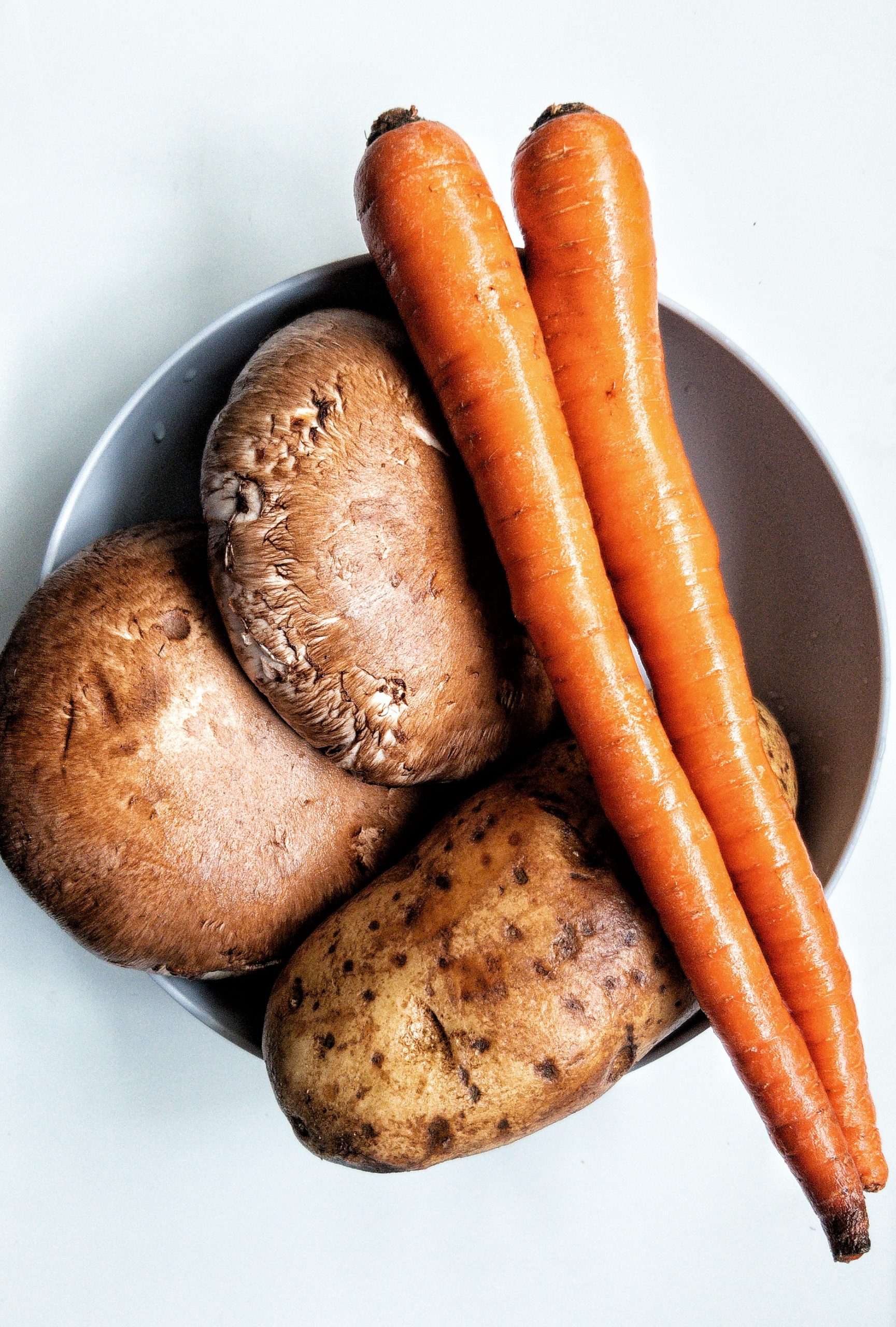 What I love about this vegan Puerto Rican beef stew dish is that it uses fairly inexpensive ingredients and it's pretty easy to make.
It's perfect with a side of white rice or Puerto Rican yellow rice. Additionally, it can be served with sliced avocado, sweet plantains (maduros), stewed beans, and boiled yuca.
If you want more recipes with mushrooms, check out our stewed mushroom and onion dinner recipe.
For this dish, we're using the traditional ingredients but swapping out the beef for portabella mushroom caps, which makes for a great meat alternative. They are chewy, tender, and have a natural umami flavor to them.
If you're unable to use portabella mushroom caps, common mushrooms can work too. However, their flavors and texture won't match up with caps. But, use what you have.
If you love this comfort food recipe, check out our vegetarian chili recipe.
Best Mushrooms To Use For Vegan "Beef" Stew
I like to use mushrooms that give off a chewier or "meaty" texture. This includes portobellos, oyster, and shittake. If I don't have these options, I go for your common mushrooms.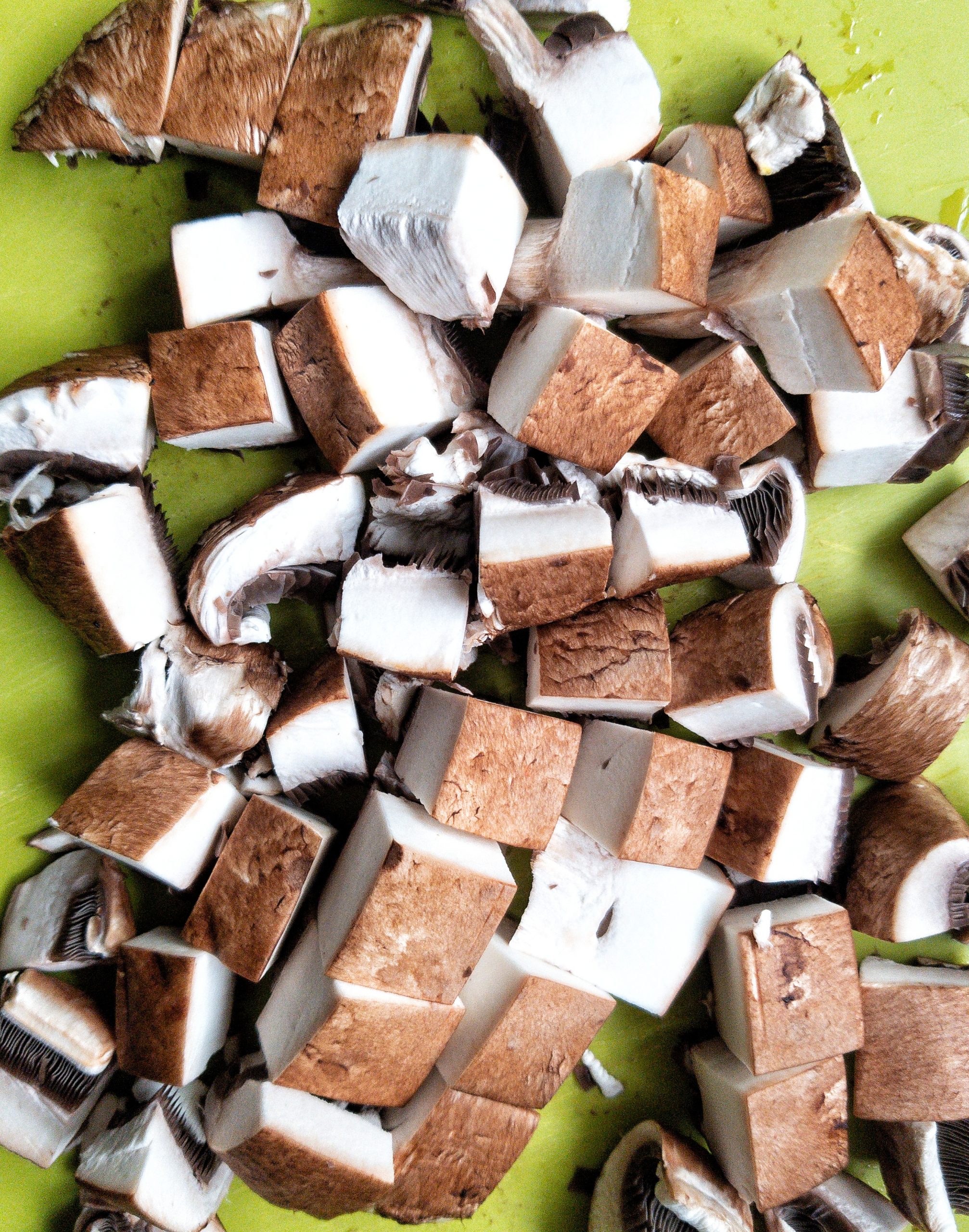 Can't find the mushroom variety you're looking for? Visit your local Asian grocery store or market. I find that they have a wider range of mushrooms and plant-based protein.
How To Make Sofrito
To make this classic, meaty Puerto Rican dish, we're using Puerto Rican spices and flavors. This includes a homemade sofrito recipe.
Don't be too intimidated by sofrito, it's pretty easy to whip up. It takes some patience, but at the end of the day, it requires a good blender.
You'll find a plethora of sofrito recipes on the internet with varying ingredients.
Every country, region, and home will make it slightly different. For mine, I use easy-to-find ingredients packed with the traditional flavors I am used to having.
Ingredients For Sofrito
Onion
Red Bell Pepper
Green Bell Pepper
Whole Garlic
1 Bunch Cilantro (2 ounces/ 56g)
Full recipe for Puerto Rican sofrito.
For more quick and easy plant-based dinner recipes, check out 30-Minute Plant-Based Dinner Ideas.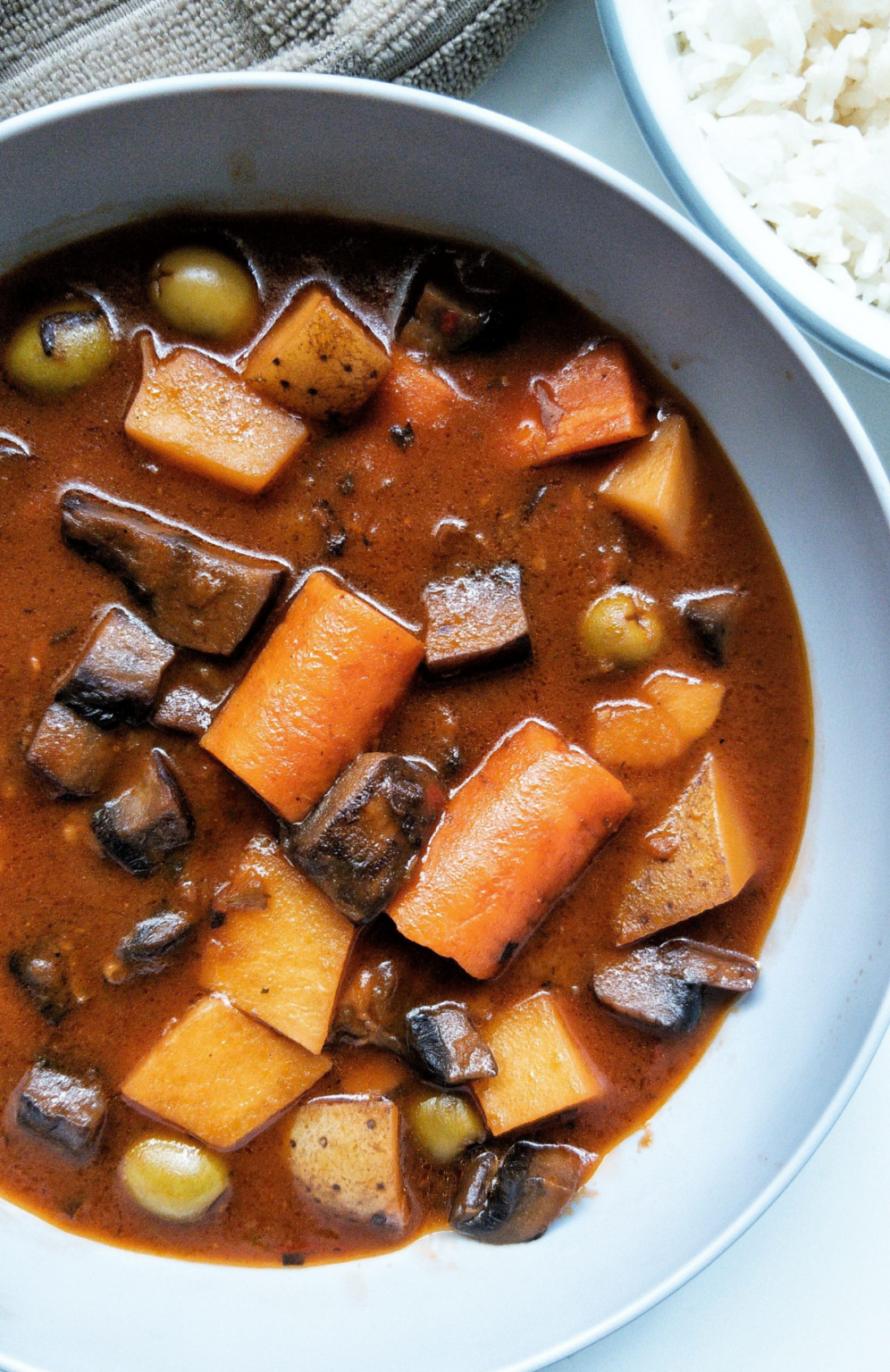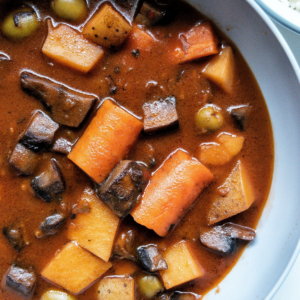 Vegan Carne Guisada (Meatless "Beef" Stew)
A Puerto Rican classic, turned vegan! A plant-based, vegan beef stew, also known as "carne guisada." Made with mushrooms caps, carrots, olives, and spices.
Ingredients
3

tablespoons

oil

8

ounces

mushroom caps (or mushroom variety of choice)

chopped

1

teaspoon

reduced-sodium soy sauce

3

tablespoons

sofrito

1

teaspoon

sazon seasoning 

½

teaspoon

adobo

½

cup

tomato sauce

¼

cup

green Spanish olives

2

large carrots

chopped, bite-sized

1

large russet potato 

chopped, bite-sized

2 ¼

cups

water
Instructions
In a dutch oven or deep saucepan over medium-high heat, add 1 tablespoon of oil. Once oil is hot, toss in the chopped mushrooms.

Next, evenly pour and toss reduced-sodium soy sauce to the mushrooms. Stir occasionally and cook until liquid has been cooked off and there are golden bits to the mushrooms.

In the same dutch oven or saucepan, move the mushrooms to the sides in the pot. Add the last 2 tablespoons of oil. Add the sofrito, sazon, adobo seasoning, tomato sauce, Spanish olives, and bay leaves. Stir and cook for 1-2 minutes.

Then, add the carrots, potatoes, and water to the dutch oven/pot. Set heat to high to a boil. Once at a boil, lower temperature to a simmer. Cover with a lid.

Simmer for 15-20 minutes until carrots and potatoes are tender. To thicken stew, add ¼ cup flour-and-water slurry (optional). Serve.
Nutrition
Did you try out this Vegan Carne Guisada (Meatless "Beef" Stew)?
Please leave a comment below, share it, rate it, or tag a picture @plantbasedandbroke on Instagram and hashtag it #plantbasedandbroke. Show off that creation with us