(
This post may have affiliate links. Please see my disclosure.
)
Jump to:
Anyone else on a veggie burger-kick? Black bean tofu burgers are one of my favorites to make. Because anything with bread, sauce, and a burger patty is always a delicious idea in my book.
These black bean burgers are loved by both meat-eaters and vegetarians alike and are perfect for a kid-friendly weeknight dinner meal.
Made with affordable plant-based,whole-food ingredients including tofu, black beans, and mushrooms - they have a "meaty" texture without the meat.
Another upside? These burgers have quite a bit of protein and plant-based fiber. Meaning, these burgers are satisfying and filling.
Note: this recipe has been improved and updated.
Got cannellini beans? Try out this simple cannellini veggie bean burger with just 8 ingredients.
Recipe Notes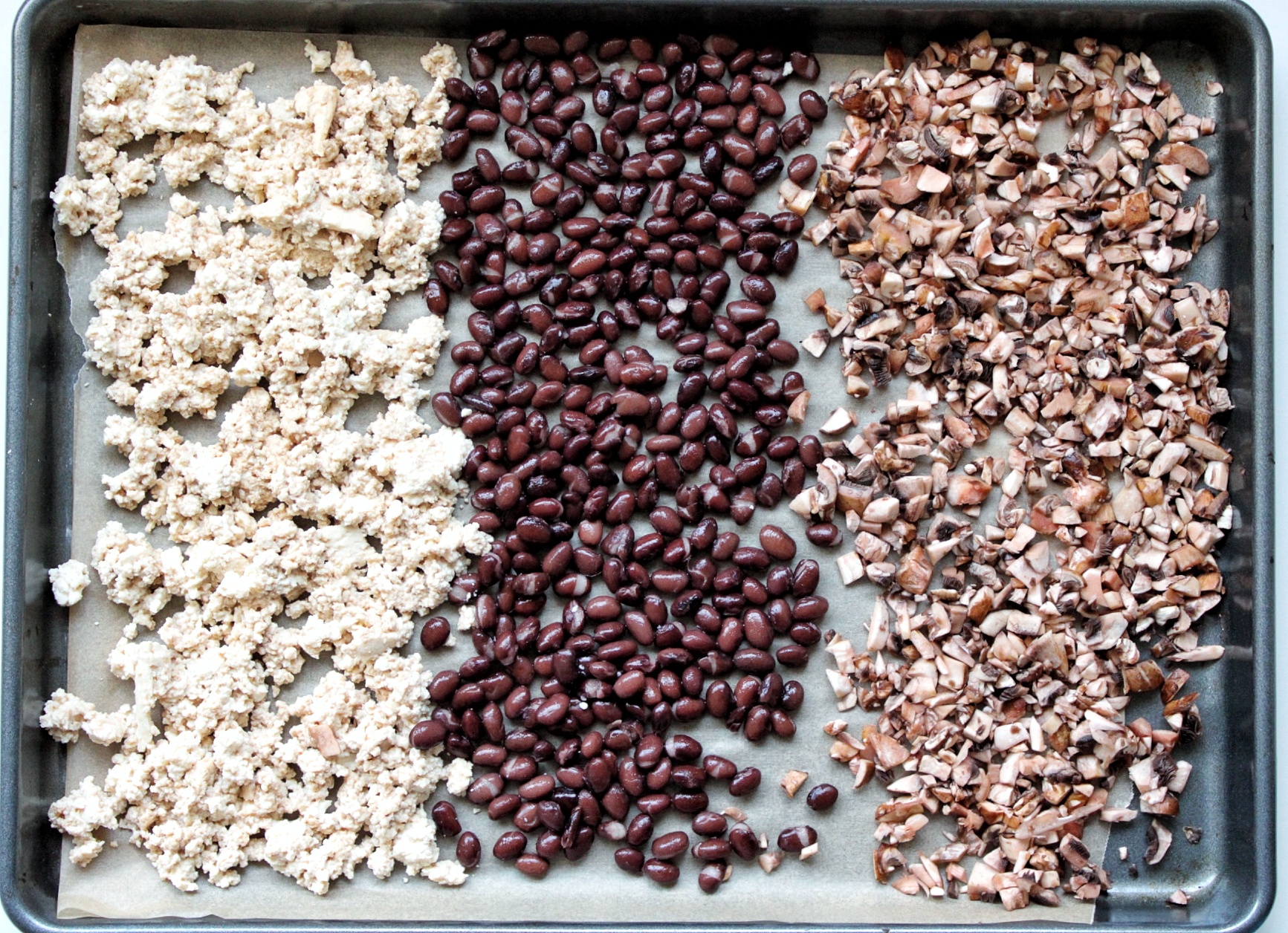 If you're not into the spice mix (smoked paprika + garlic), go for any spice combination you prefer. The burger has a mild flavor from the beans, tofu, and mushrooms - so it's completely fine to dress it up with the flavors you enjoy most. Some spice blends you can think about include onion powder, garam masala, cumin, chili powder, cayenne powder, black pepper, and curry powder.
The texture of the burger mix when all the ingredients are combines should be slightly sticky, but dry enough to work with it. It shouldn't create a thick coat around your fingers. If the mix is still sticky, add more oat flour and combine well with a silicone spatula.
To make oat flour, simply take raw old fashioned oats and blend them in a blender until flour-like and powdery. This will be our gluten-free ingredient used to help bind the burgers.
Why Are My Burgers Crumbly?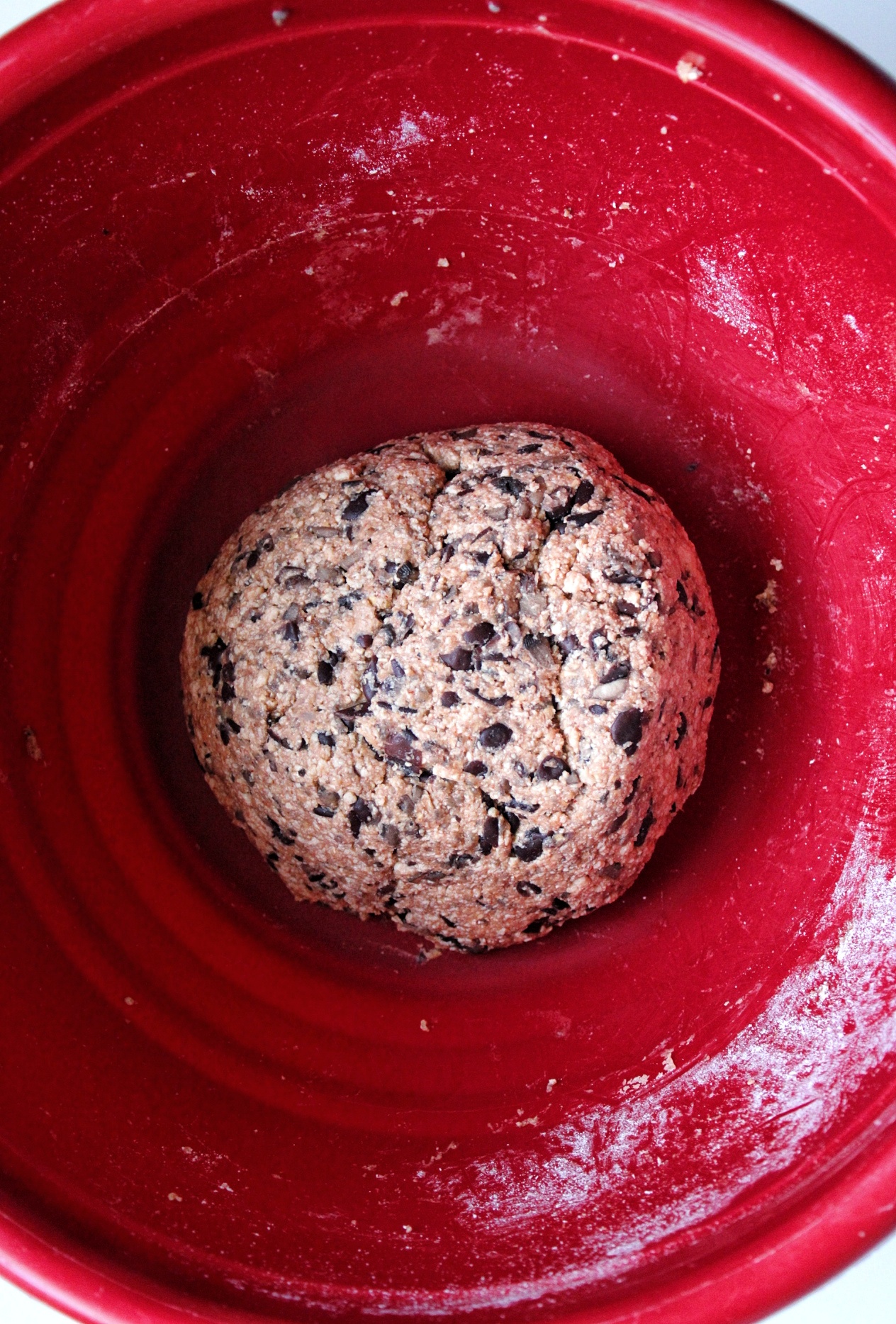 Veggie burgers are a different beast - they cannot be handled with the same kind of care that meat-based burgers are met with.
Because they are made with vegetables and plant-based ingredients, they will be drier and the texture will be more delicate.
However, this is where binders come in and how important they are in creating a solid hold for meatless burgers.
In this recipe, we're using the magic of chia seeds and water. This combination creates a gel-like texture, similar to eggs.
It's crucial not to skip out on these two ingredients. Otherwise, you'll end up with a vegan burger that won't hold together well, especially when being cooked.
Chia seeds can be found at stores like Target, Walmart, and Costco. They are usually places with other nuts and seeds. If you can't find them at a physical store, Amazon sells them too.
In addition to using "chia egg," the oats in this recipe will also help with bringing in ingredients together.
Oat flour helps soak up some of the dampness from the burger mix and serve as an additional ingredient to create a solid bind for the burgers.
What To Eat With Veggie Burgers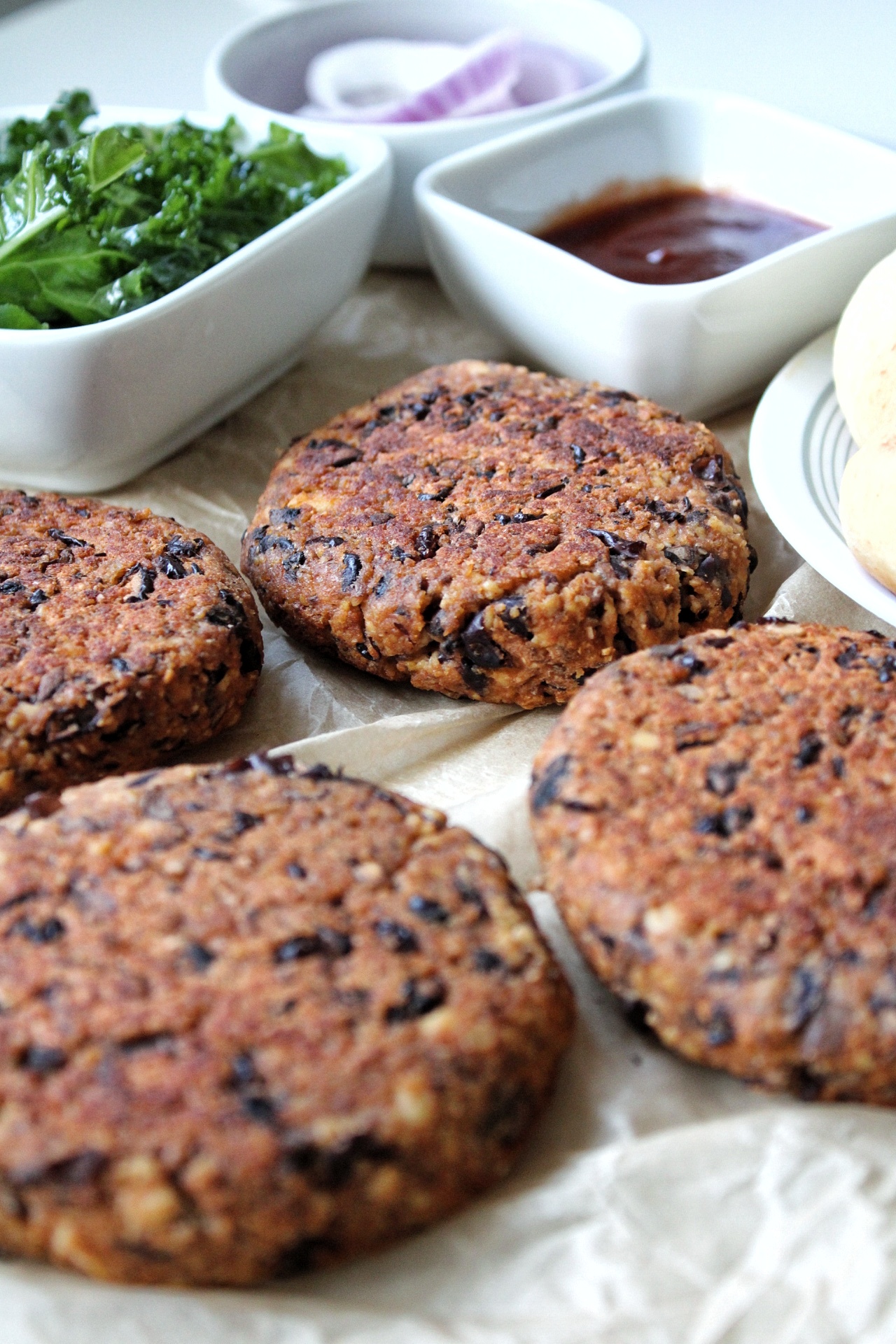 On very lazy days, I just grab whatever is around my kitchen to serve with my veggie burgers.
But hands down my favorite side to pair with these burgers are homemade potato chips or zucchini fries. I can also use them as a topping - which adds more crunch and flavor.
Here are more exciting options that are kid-friendly:
Corn On The Cob
Fries
Coleslaw
Salad
Also, don't forget about the toppings! Go for any topping you love. The standard for me is a few slices of tomatoes, onion, a sauce, and pickles if I have them.
Other burger toppings to consider include lettuce, avocado, sprouts, vegan cheese, and veggie bacon.
As for sauces, you can go for a traditional ketchup sauce, or make your sauce from scratch. Guac, salsa, and hummus are also great ideas.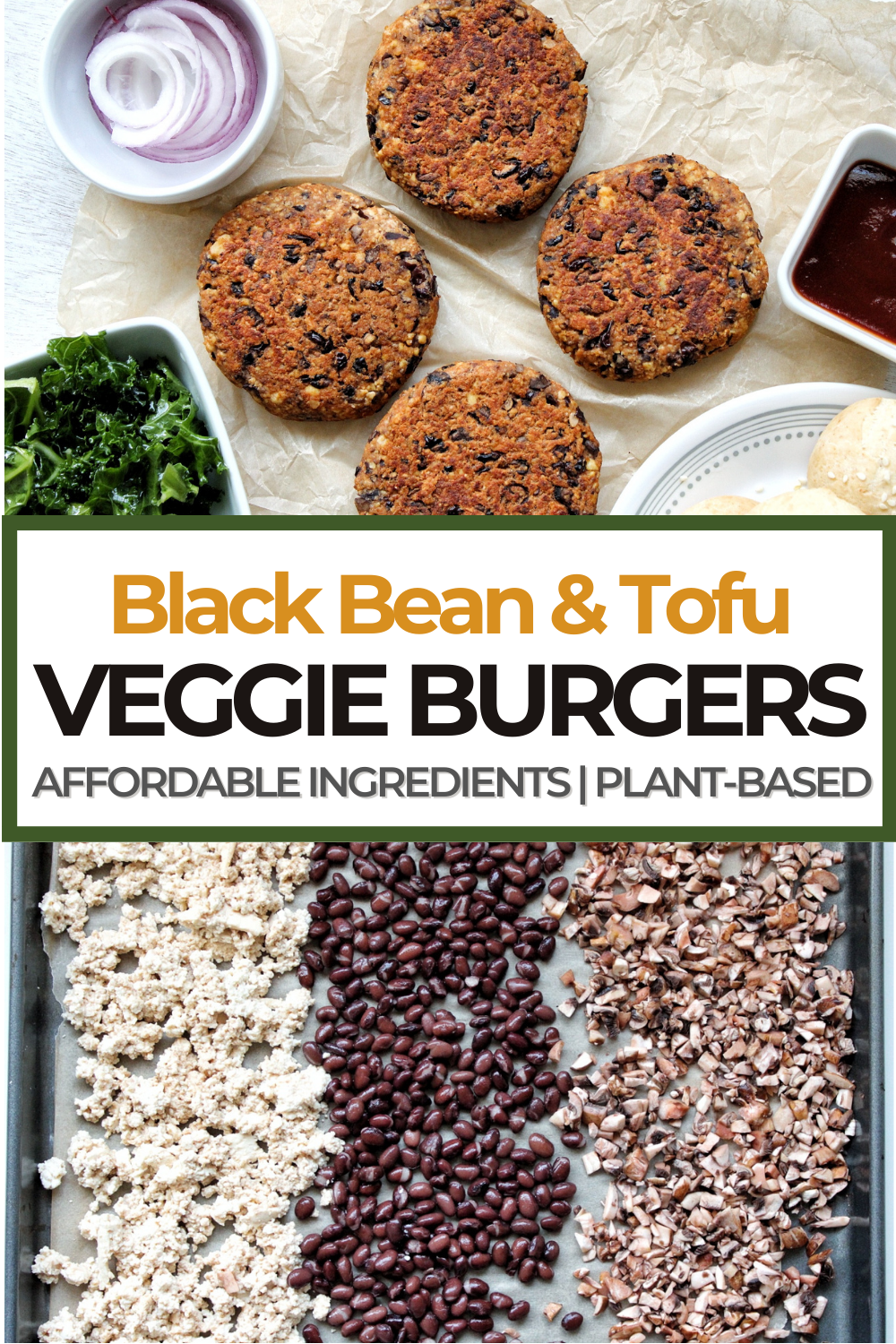 Want more burger ideas? Check out our list of plant-based burgers with gluten-free, oil-free, soy-free, high-protein, low calories options!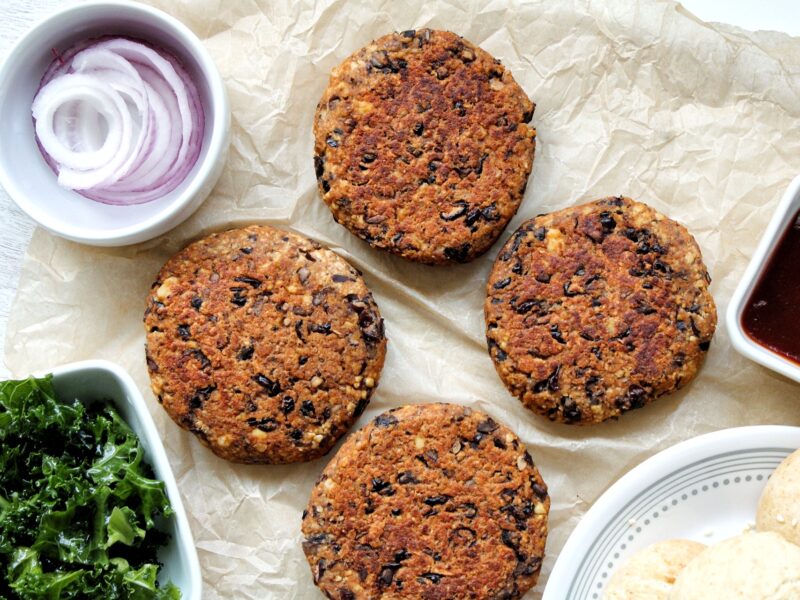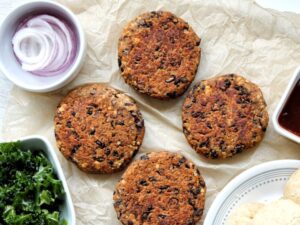 Black Bean Tofu Burger Recipe
Protein-packed, healthy plant-based burgers made with tofu, black beans, and mushrooms. A kid-friendly burger that's great for a weekday dinner meal. Gluten-free, vegan, and healthy.
Instructions
Chia "Egg"
In a small bowl, stir together the chia seeds and water. Allow sitting until it's time to use it in the recipe. Stir it a couple of times.
Veggie Burger
Preheat oven to 375 degrees F. Line a baking sheet with parchment paper. 

In a bowl, crumble the tofu with your hands and mix in soy sauce. 

Arrange and spread the tofu, black beans, and common mushrooms on the baking sheet in a single layer. Cook the tofu, beans, and mushrooms in the oven for 15 minutes. 

Transfer black beans to a bowl and smash with a fork. Add the tofu, mushrooms, tomato paste, garlic powder, smoked paprika, nutritional yeast, and salt. Mix until well combined with a spatula.

Add chia "egg" and oat flour to the burger mix and combine well. It will be a bit sticky, but dry enough to handle without sticking to your hands. If too wet, add more oat flour. 

Divide the burger mix into 4 equal portions, then form into burger patties. Place the burger patties onto a plate and cover. Allow to firm up in the refrigerator for at least 30 minutes. 

Cook burger patties over medium heat in a lightly oiled non-stick pan or skillet for 5 minutes on each side, carefully flipping.
Notes
To make oat flour, simply take old fashioned oats and blend them in a blender until flour-like. 
This recipe pairs perfectly with air fryer red potatoes.
Nutrition
Serving:
1
-Burger
Calories:
242
kcal
Carbohydrates:
28
g
Protein:
14
g
Fat:
9
g
Saturated Fat:
1
g
Polyunsaturated Fat:
4
g
Monounsaturated Fat:
3
g
Trans Fat:
1
g
Sodium:
614
mg
Potassium:
438
mg
Fiber:
8
g
Sugar:
2
g
Vitamin A:
372
IU
Vitamin C:
2
mg
Calcium:
125
mg
Iron:
3
mg
---
Did you try out this Black Bean Tofu Burger Recipe?
Please leave a comment below, share it, rate it, or tag a picture @plantbasedandbroke on Instagram and hashtag it #plantbasedandbroke. Show off that creation with us