Jump to:
Buns, patties, toppings, and sauce - that's all you need for flavor-packed, delicious plant-based burgers.
My favorite way to up the flavor in my meatless burgers? Finger-lickin' good "meaty" mushroom bacon, creamy pesto, or a layer of lip-smacking BBQ sauce.
Of course, you can choose and customize your own, that's what this list is all about.
You'll have 100% control over the texture and flavor due to the variety of ingredients that can be used - and that list is endless.
You can go with mushrooms, tempeh, tofu, beans, lentils, grains, lentils, potatoes, vegetables, nuts, and seeds.
I typically like to keep my burgers simple, gluten-free, with just a handful of ingredients.
For a protein-packed burger (14 grams), I love going for a black bean tofu burger.
The bottom line, there's a veggie burger for everyone out there. We've whipped together a delicious list of plant-based burgers to enjoy during this summer.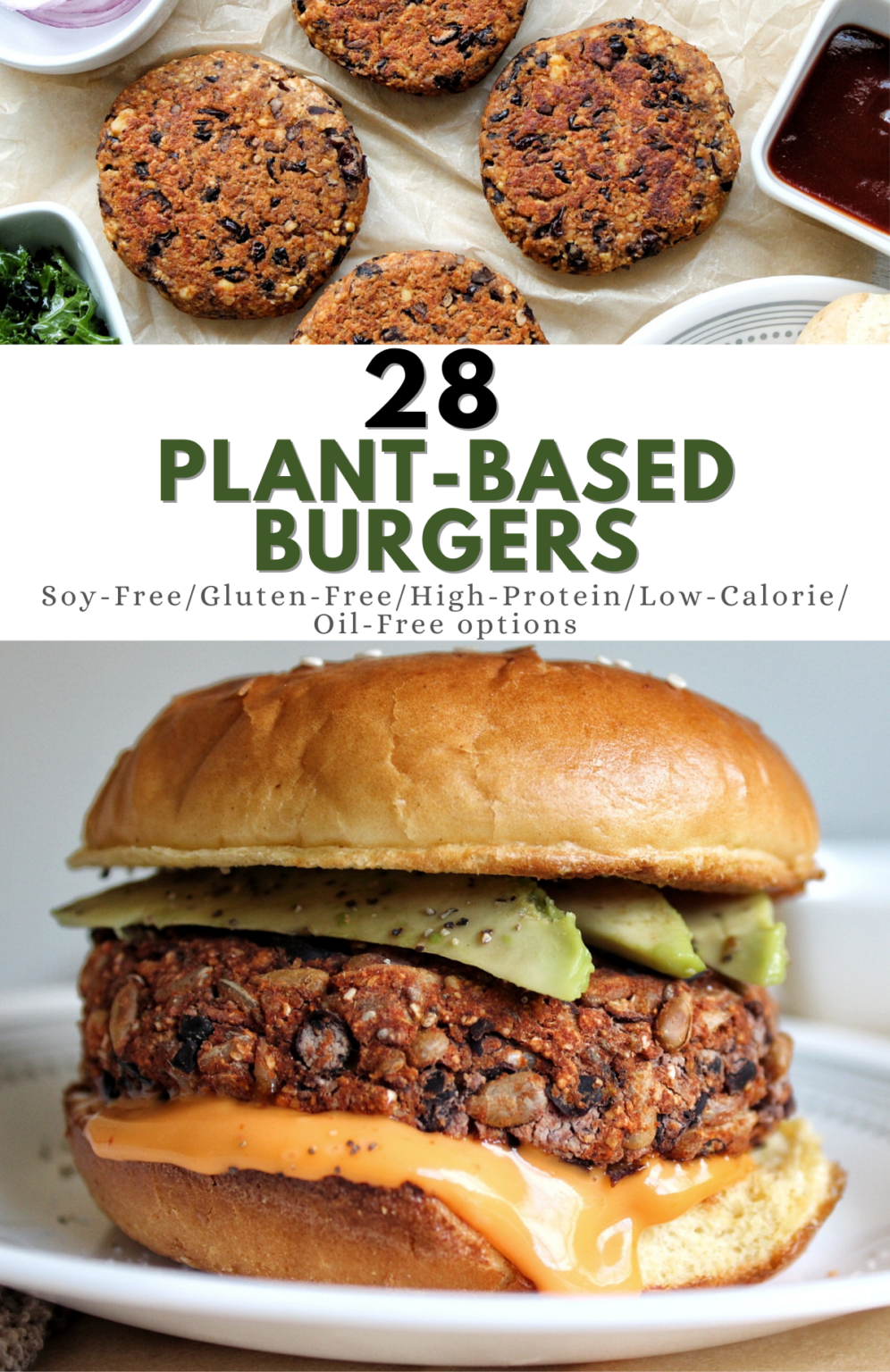 Gluten-Free Veggie Burgers
Make these gluten-free veggie burgers complete with gluten-free burgers buns. Don't forget to pile on some gluten-free sides like potatoes wedges, salad, or baked zucchini fries.
Low-Calorie Veggie Burgers
Whether you're eating at a calorie deficit or are just in a mood for a light lunch, pair these low-calorie veggie burgers with a low-calorie side. My favorite is sliced cucumbers with a pinch of salt. Roasted vegetables or pan-cooked green beans are also great options.
Oil-Free Veggie Burgers
There is no shortage of oil-free sides to go along with your oil-free veggie burgers! Switch it up with baked sweet plantains, creamy red potato salad, or kid-friendly vegan mac and cheese.
Soy-Free Veggie Burgers
Along with french fries, soups, and salads - there's a lot we can choose from if we want a soy-free meal with our soy-free burgers. I love getting back to my roots with Puerto Rican rice or stewed beans.
High-Protein Veggie Burgers
Switch out the fries for crispy smoked paprika chickpeas to add more protein to your plate. Don't forget a summer-approved, refreshing pile of chickpea salad!