(
This post may have affiliate links. Please see my disclosure.
)
Need a mush-free, textured burger that doesn't fall apart?
You've come to the right place with these oil-free black bean rice burgers!
With the help of an egg-free binder, oats, and a variety of ingredients, we were able to put together a veggie, black bean burger that holds up to its promise of being delicious and stable.
But that's not all – these burgers are also oil-free, gluten-free, and mess-free because we're only using one bowl to mix the ingredients and an oven to fire these patties up!
For more burgers, check out our cannellini bean veggie burgers and black bean tofu burgers.
Let's Talk About The Ingredients: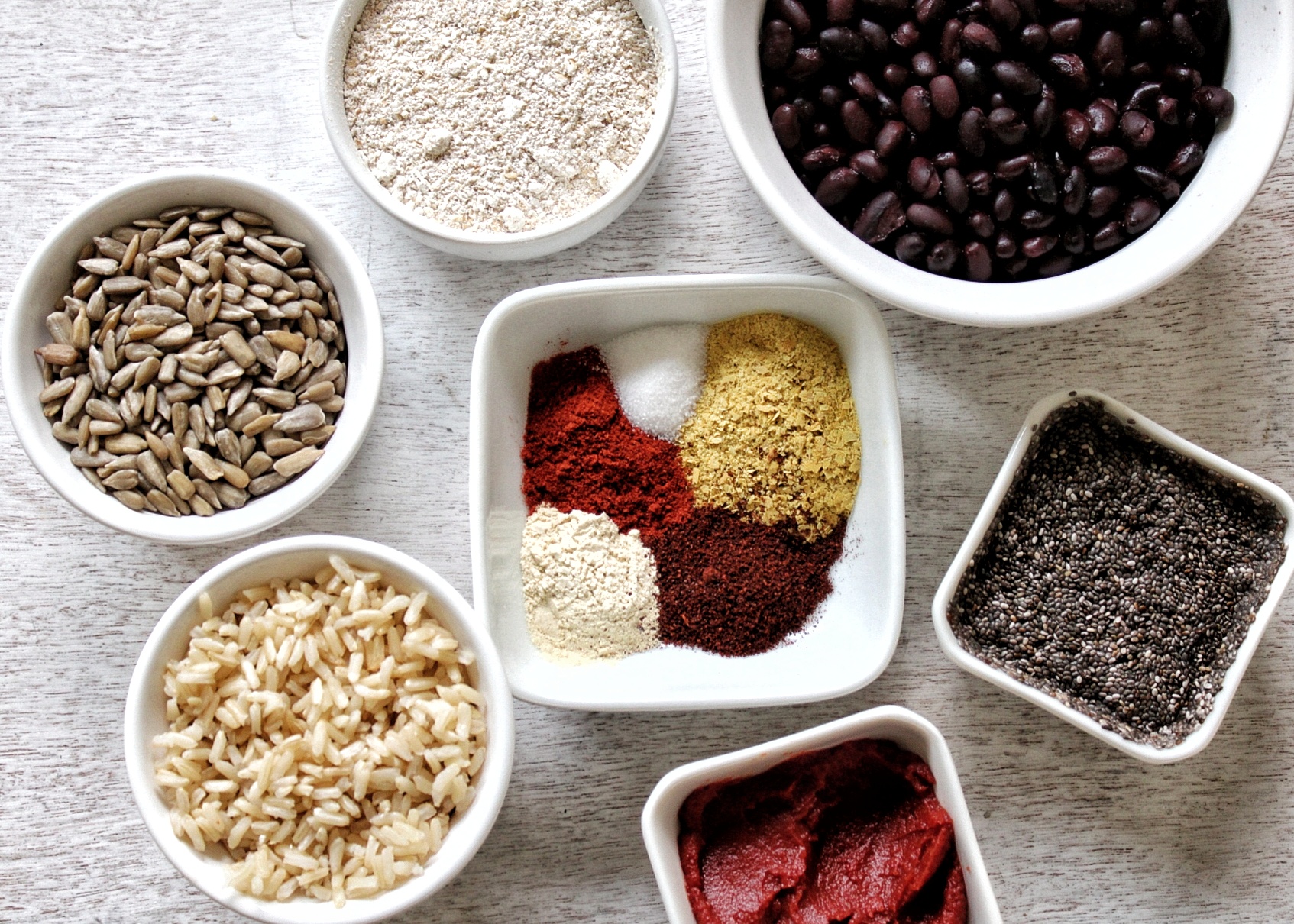 Sunflower Seeds helps create a layer of texture.
Black Beans are the star in this burger! It helps bring the burger together, provide some protein, and a mild nuttiness.
Tomato Paste acts both as a binder and adds an umami-packed flavor
Nutritional Yeast is salty, "cheesy," and savory. It's one of my favorite ingredients to add to a burger.
Spices if you want flavor, you'll have to spice up these burgers!
Brown Rice like the sunflower seeds, brown rice adds more texture. It also helps with binding the beans with the rest of the ingredients.
Oat Flour is essentially flavorless in this recipe, but it has one purpose: to bring the ingredients together. Additionally, it helps soak up any wetness from the burger mixture.
Chia "egg" also acts as a binder.
To finish off the black bean rice burger, go for your favorite toppings! I decided to keep it simple and to top off with sliced ripe avocado.
Other side toppings that pair great with these burgers include sliced onion, tomatoes, lettuce, pickle, veggie bacon, vegan cheese, and chips.
I also added vegan sriracha mayo. To keep it completely oil-free, go for an oil-free sauce like ketchup, dijon mustard, salsa, or hot sauce.
Sides To Serve
Baked Beans
Corn On The Cobb
Pasta Salad
Onion Rings
French Fries
How To Make Stable Burgers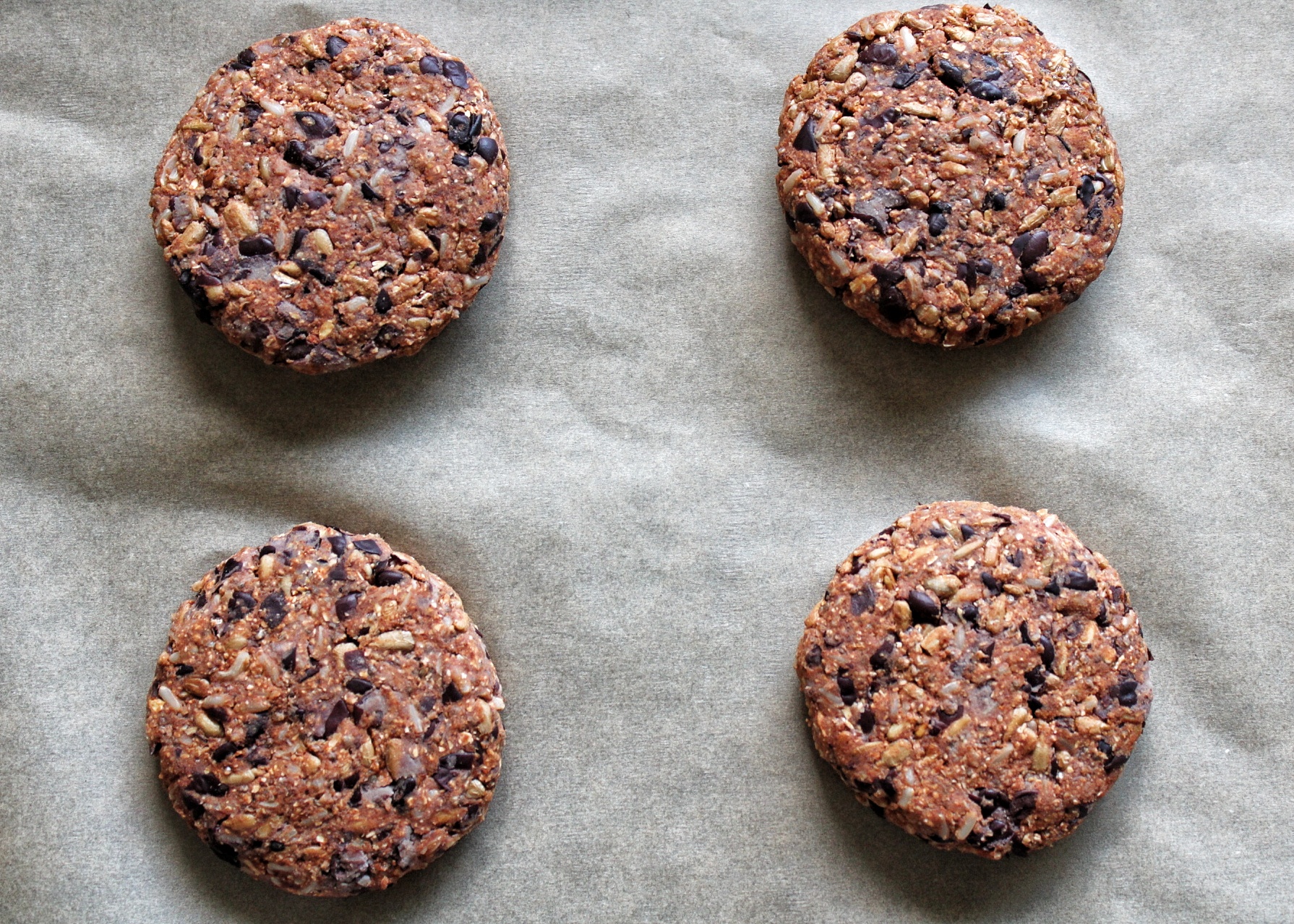 One of the problems with meatless burgers is that they are prone to fall apart. Or even worse, they have a mushy texture.
The trick is to make sure you have a good binder or two to make sure the burger has a solid foundation.
One of the most important ingredients in this burger recipe is a chia "egg," which is made with 1 tablespoon of chia seeds and 3 tablespoons of water.
This mixture creates a gel-like binder. Flaxseed works, but it doesn't gel up as well. I highly suggest using chia seed for this recipe.
In addition to the chia "egg," the oat flour in this recipe helps bring the ingredients together.
The amount of each ingredient in this recipe was carefully chosen. The mixture won't be too wet and it won't be too dry. It will be on the drier side when mixing, but as the ingredients are well-combined, there shouldn't be any dry spots.
How To Store
Once you're done making the black bean rice burgers, allow them to cool off on a wire rack. Then, store them in the fridge in an air-tight container or reusable silicone bag for up to 3 days.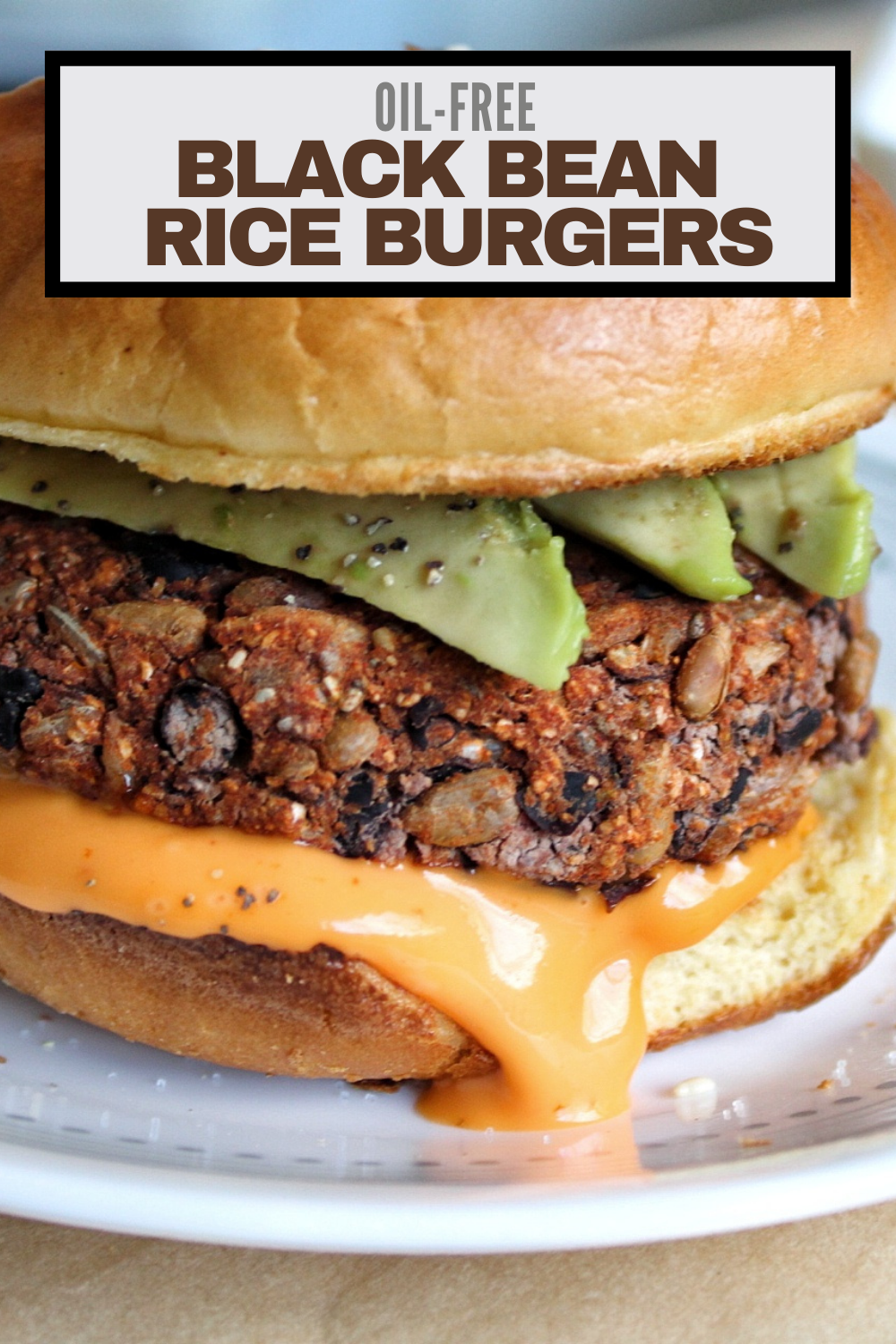 Want more burger ideas? Check out our list of plant-based burgers with gluten-free, oil-free, soy-free, high-protein, low calories options!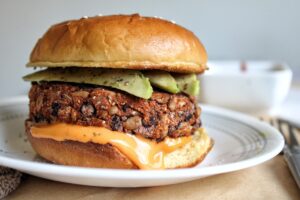 Black Bean Rice Burgers
If you're into veggie burgers that are mush-free, non-crumbly, and delicious – this is going to be your next favorite! The best part? They are oil-free, gluten-free, and packed with flavor!
Instructions
In a non-stick skillet or pan, dry toast the sunflower seeds over medium heat until golden, about 5 minutes. Set aside 

Preheat oven to 350 degrees F and line a baking sheet with parchment paper.

In a large mixing bowl, add the black beans and smash with a fork.

Next, add and mix the tomato paste, nutritional yeast, chili powder, garlic powder, smoked paprika, salt, sunflower seeds, brown rice, oat flour, and chia "egg." Taste and adjust seasoning as needed.

Be sure there are no dry spots in the burger mixture. It should be at the right texture to form into burgers.

Scoop a little over ½ cup of the mixture and form into veggie burgers.

Line the vegan burgers onto the baking sheet. Bake for 20 minutes at 350 degrees F, flipping halfway.

Serve with a toasted bun and your favorite toppings.
Notes
I used cooked long-grain rice for this recipe. To cook, use one cup of brown rice and 1.5 cups of water.  It should cook perfectly in a rice cooker. 

To make oat flour, blend the old-fashioned oats until flour-like. And you're done! My pro-tip is to prepare a large batch, store it in a mason jar, and use it when you need it. 

To make chia "egg," stir together one tablespoon of chia seeds and three tablespoons of water. Set aside for at least five minutes to gel up, give it another stir. 

I used unsalted, raw sunflower seeds. They need to be toasted until fragrant and golden. I suggest staying around the kitchen for this step. They can burn if left for too long.  

It's best to use brown rice that has been cooked and cooled down.
Nutrition
Serving:
1
-Serving
Calories:
330
kcal
Carbohydrates:
46
g
Protein:
15
g
Fat:
11
g
Saturated Fat:
1
g
Polyunsaturated Fat:
5
g
Monounsaturated Fat:
4
g
Sodium:
776
mg
Potassium:
679
mg
Fiber:
12
g
Sugar:
2
g
Vitamin A:
529
IU
Vitamin C:
5
mg
Calcium:
71
mg
Iron:
4
mg
Did you try out this Oil-Free Black Bean Rice Burger recipe?
Please leave a comment below, share it, rate it, or tag a picture @plantbasedandbroke on Instagram and hashtag it #plantbasedandbroke. Show off that creation with us.