(
This post may have affiliate links. Please see my disclosure.
)
Jump to:
At the beginning of my plant-based journey, potatoes were eaten just about every day. It's a satiating, filling, cheap food that can be made into cakes/patties, homemade chips, a salad, fries, and yes, potato wedges.
They are still one of my favorite foods, but I've added a little more variety to my plate since then.
These potato wedges are crisped on the outside, tender and pillowy on the inside. The best part? They are oil-free and roasted.
Yep, these wedges are WFPB-friendly!
Recipe Notes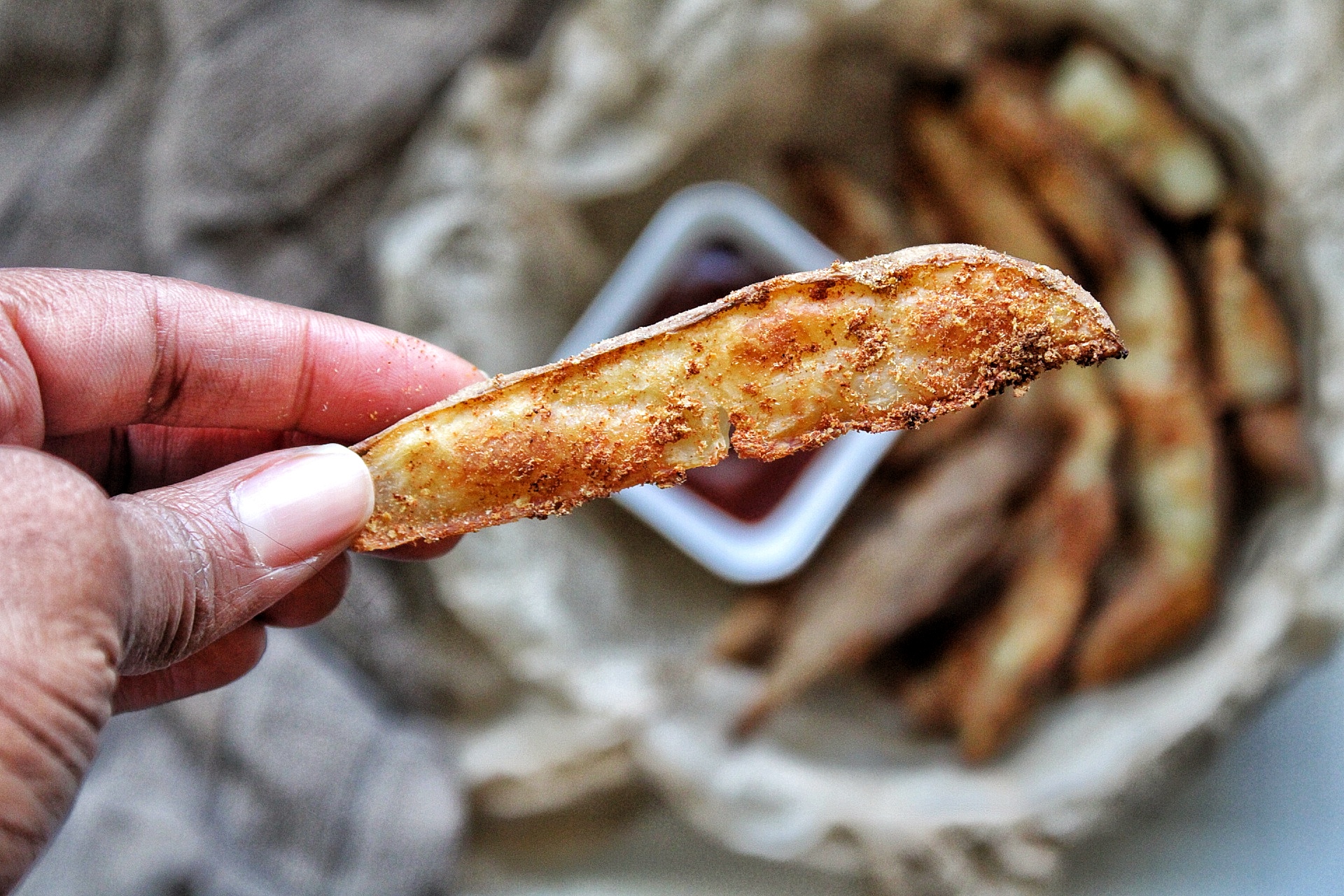 Keep a close eye on the potato wedges as they parboil. Boiling them for about 7-8 minutes should be enough. Also, this cooking step yields fragile wedges After this, be careful with draining, seasoning, and handling. A wedge or two might break, but they will still taste great.
I used parchment paper when baking these wedges. Because we're not using oil, the wedges can stick if using aluminum foil. With that being said, stick with parchment paper if you can.
Benefits To Parboiling
Parboiling potato wedges with salt and baking soda does a few things. For one, the salt help season the wedge all the way through.
Additionally, the baking soda yields an incredibly crispy potato wedge, without the need of frying them. It's a science thing and it's a very important step to achieving a nice crunch.
According to Serious Eats, "parboiling the potatoes in alakaline water breaks down their surfaces, creating tons of starchy slurry for added surface area and crunch."
Spices To Use
There are no rules to the kind of spices you can roll around the potatoes in. For this recipe, I chose to go with nutritional yeast, smoked paprika, and garlic powder.
To go with an Indian flair, use a mix of garam masala, cumin, black pepper, and turmeric.
To make it Puerto Rican, sazon, adobo, cumin, black pepper, and garlic powder are great additions.
Here are other dried spices to consider:
Paprika
Ginger
Parsley
Oregano
Basil
Thyme
Rosemary
Cayenne
Garlic
Onion
Curry
Chili
If the sesasoning you choose to use has added salt, be sure to season to taste.
What To Eat With Potato Wedges
Potato wedges are most enjoyed alone as a snack, or with homemade veggie burgers. My favorite burgers to pair with these fries include black bean tofu burgers or cannellini bean veggie burgers.
If you want your whole meal to be oil-free, try our black bean rice burgers!
You'll have an entire meal that'splant-based, healthy, and satiating.
Fried chicken is a standard entree for fries, and we have a healthier, plant-based version of it. Check out our crispy tofu nuggets and grab your favorite dipping sauce. Anything cooked in a batter can be a great addition to your wedges.
Or, do a little different and smother a heaping serving of homemade brown mushroom gravy - that can be made oil-free, too.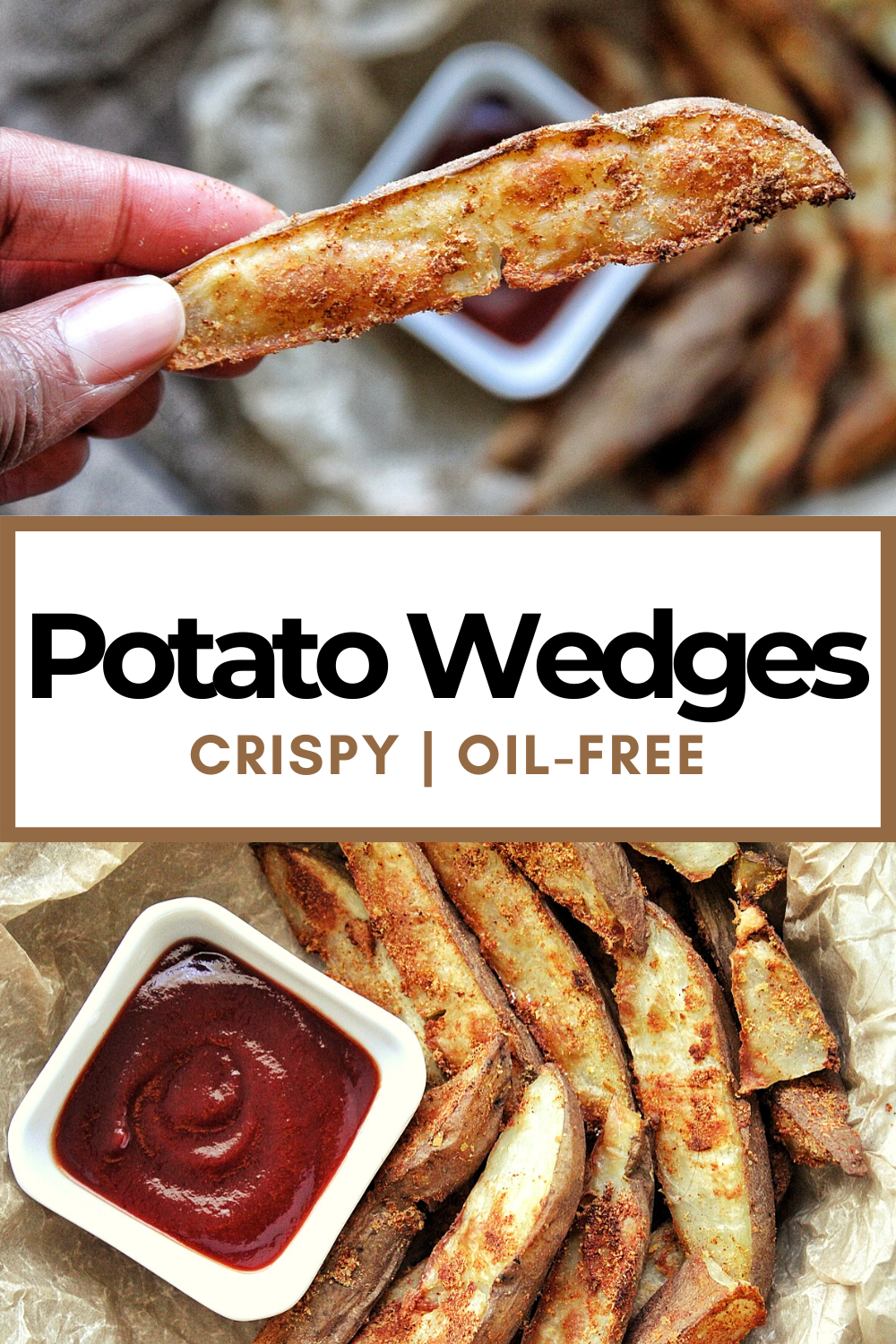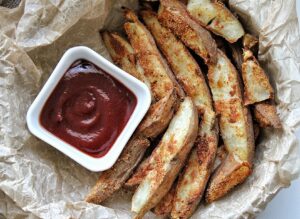 Oil-Free Crispy Potato Wedges
Roasted potato wedges made with your favorite seasonings, but most importantly, oil-free! The perfect snack or side.
Ingredients
2

russet potatoes

cut into wedges

1

teaspoon

salt

1

teaspoon

baking soda

Seasoning mix
Instructions
Preheat oven to 450 degrees F and line a baking sheet with parchment paper.

Add the potatoes into a pot and pour enough water to cover them. Add the salt and baking soda. Set to high heat and bring the pot of water to a boil. Cover pot with a lid. Boil for about 7-8 minutes

Carefully drain the water from the pot. It's best to just open the lid a bit and pour out the water. Season and evenly coat the wedges with the seaoning mix of choice.

Arrange the wedges in a single layer onto the baking sheet. Bake the wedges for 30 minutes, flipping halfway. Add a pinch of salt while it's hot, serve.
Notes
Use any seasoning mix you prefer. I opted for nutritional yeast, smoked paprika, and garlic powder. 
Nutrition
Serving:
1
Serving
Calories:
168
kcal
Carbohydrates:
38
g
Protein:
5
g
Fat:
1
g
Saturated Fat:
1
g
Polyunsaturated Fat:
1
g
Monounsaturated Fat:
1
g
Sodium:
1721
mg
Potassium:
888
mg
Fiber:
3
g
Sugar:
1
g
Vitamin A:
2
IU
Vitamin C:
12
mg
Calcium:
28
mg
Iron:
2
mg
Did you try out this Oil-Free Crispy Potato Wedges recipe?
Please leave a comment below, share it, rate it, or tag a picture @plantbasedandbroke on Instagram and hashtag it #plantbasedandbroke. Show off that creation with us.