(
This post may have affiliate links. Please see my disclosure.
)
This recipe has been improved and updated.
As per usual, I was craving a little of potatoes and homemade Indian food in my life, so I decide to make an easy baked aloo tikki recipe.
With this recipe, I just grabbed what I currently have in my pantry and in my home, because you know, I'm frugal. Fresh, finely chopped, organic vegetables in this recipe? No. Just some leftover onions, bell peppers, and a few potatoes.
For the seasonings, feel free to taste test as you add your seasonings. Start with a teaspoon, then add more to adjust.
You're probably wondering why I baked my aloo tikki – well it's because I want to limit the amount of oil I use in my diet. This recipe uses some oil, maybe about a tablespoon worth. But keep in mind, we're definitely not soaking the aloo tikki in it.
Also, depending on how large you make your aloo tikki, you'll yield about 12 small patties with this recipe.
Okay, so let me take you through how I made these homemade aloo tikkis (potato croquettes) with what I have.
---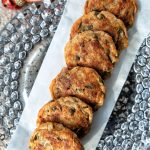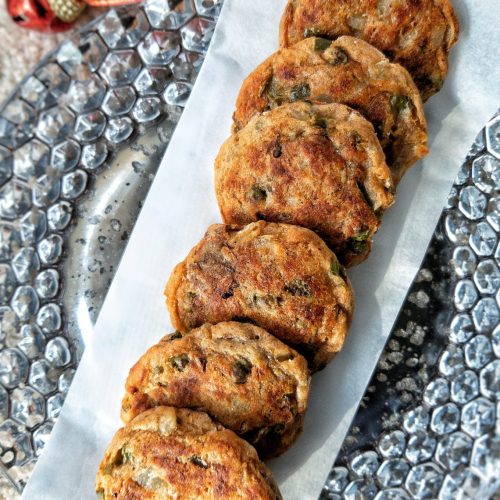 Print Recipe
Easy Baked Aloo Tikki
Ingredients
2

medium russet potatoes

cubed

1/3

cup

peas

1/3

cup

onions

chopped

1/3

cup

green bell pepper

chopped

1/3

cup

flour

1/2

teaspoon

chili powder

1/2

teaspoon

ground cumin

1/2

teaspoon

ground ginger

1

teaspoon

garlic powder

Salt to taste

Pinch of red chili pepper

Oil
Instructions
First, place the potato chunks into a pot of cold water to ensure even cooking. Add 2 teaspoons of salt.

Bring water to a boil then reduce to a simmer. Cook until potatoes are tender, about 10 minutes, depending on how thick the potato chunks are. They should be easy to pierce with a fork, with little resistance. 

Once done, drain water from potatoes. Pour potatoes onto a large plate and allow the excess water to evaporate for five minutes.

In a large bowl, mash the potatoes with a fork. Add your seasonings: chili powder, cumin, ginger, garlic powder, red chili pepper, black pepper, and salt to taste. Mix well.

Next, add the chopped onions, bell pepper, and peas. Mix well.

Add ¼ cup of flour. Mix well. Next, preheat your oven to 425F degrees.

Make sure your hands are completely dry and dust them with flour for easier handling. If the potato mixture is too sticky, add a bit more flour.

Next, make small balls with the aloo tikki mixture. Flatten into patties that are about 1/2 inch thick.

Brush both sides of the tikki with oil. Lay tikkis on a baking tray lined with parchment paper.

Finally, bake for about 30 minutes. Carefully flipping them halfway.

When the aloo tikkis are done, take them out and allow them to cool for about 5 minutes to further firm up. Serve.
Notes
This is a heathier version of your fried aloo tikki recipe. If you want them fried, well, you'll need to fry them.
For this recipe, I did not peel the potatoes, as I enjoy using all of the potato. But if you prefer to peel them, that's fine too.
Boiling the potatoes in salted water will allow them to absorb the salt and make it more flavorful.
During the halfway oven flip, the aloo tikki will be a bit tender. This is expected. They will firm up as they further cook. Gently flip so they hold their shape.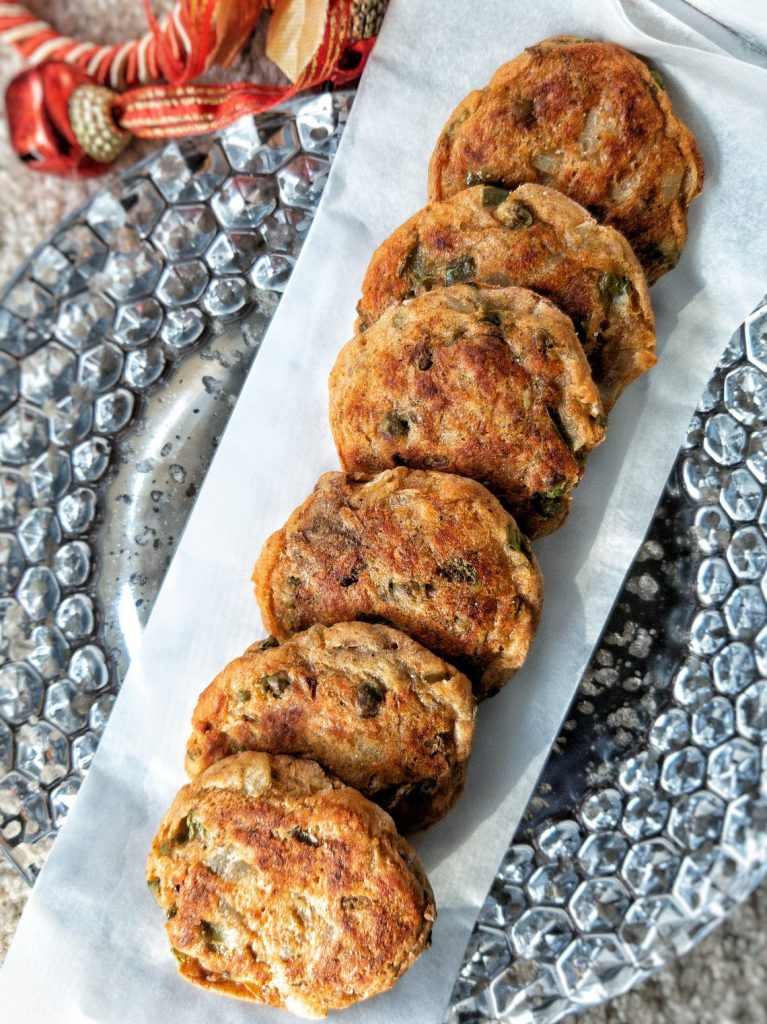 ---
While you're here, check out more Indian-inspired recipes that'll pair well with your baked aloo tikki patties:
Did you try out this baked aloo tikki recipe?
Please leave a comment below, share it, rate it or tag a picture @plantbasedandbroke on Instagram and hashtag it #plantbasedandbroke. Show off that creation with us.
Please follow and like us: