(
This post may have affiliate links. Please see my disclosure.
)
Jump to:
There are plenty of days I want to indulge in something rich and chocolatey - without the not-so-great baggage. This is where this chocolate oat bran muffin recipe comes and saves the day.
These gluten-free oat bran muffins require just 8 ingredients - all of which are plant-based, stacked with protein and wholesome fiber from the cocoa powder and oat bran.
But they don't have to be eaten for breakfast, they are just as delicious as a mid-day, kid-friendly snack, dessert, or a treat-your-self anytime meal.
What To Expect In These Muffins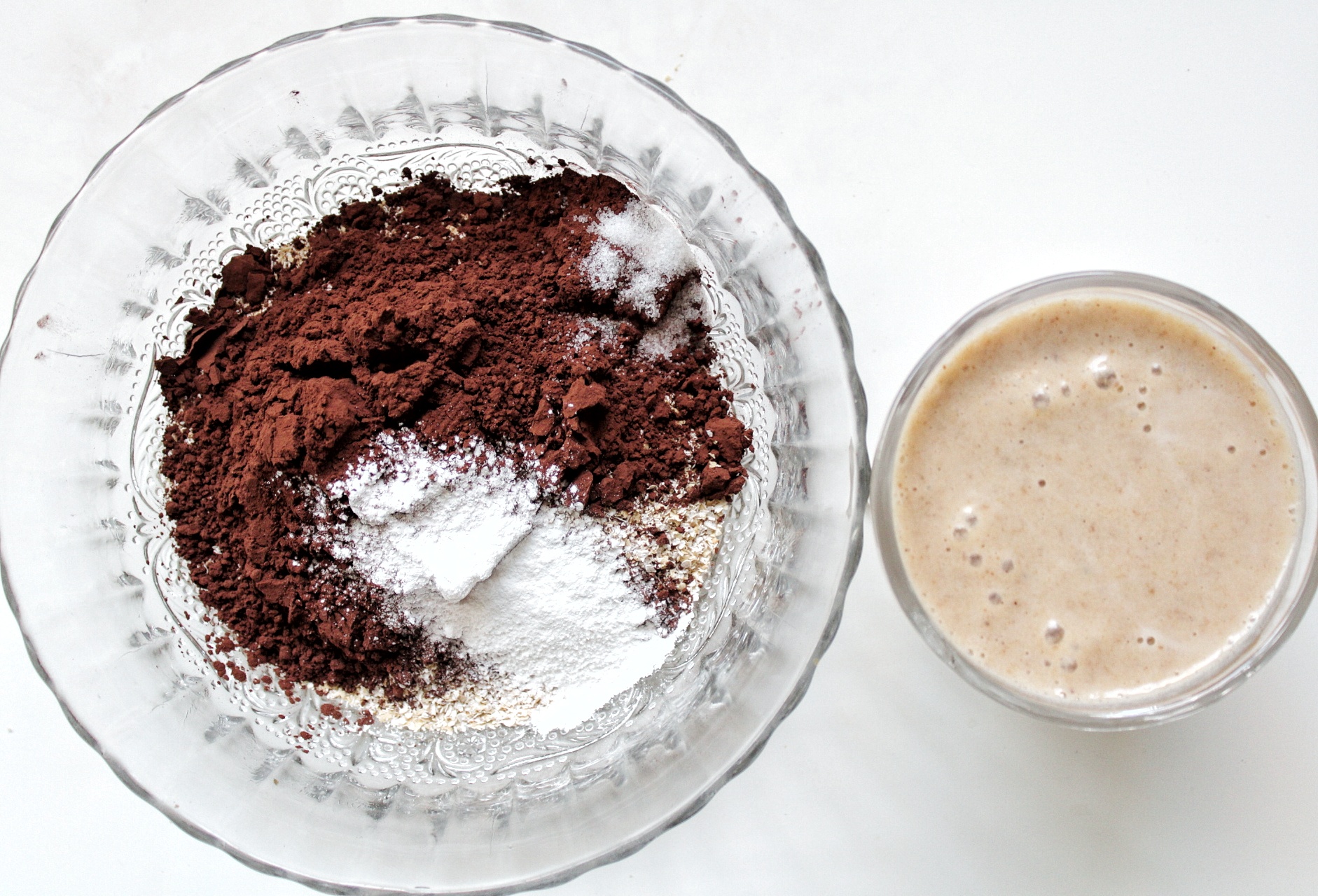 These muffins are gluten-free, made with oat bran! To substitute oat bran for old-fashioned oats, break them down into flour. To make oat flour, take your standard (non-flavored) old-fashioned oats and blend them until flour-like or powdery.
These are PACKED with FIBER! The oats, cocoa powder, banana, and date paste add a significant amount of delicious fiber to these muffins.
The muffins can be made sugar-free! Instead of using sugar, use date paste instead. It's a natural way to sweeten up your backed goods.
More Chocolate For Breakfast Recipes:
Recipe Notes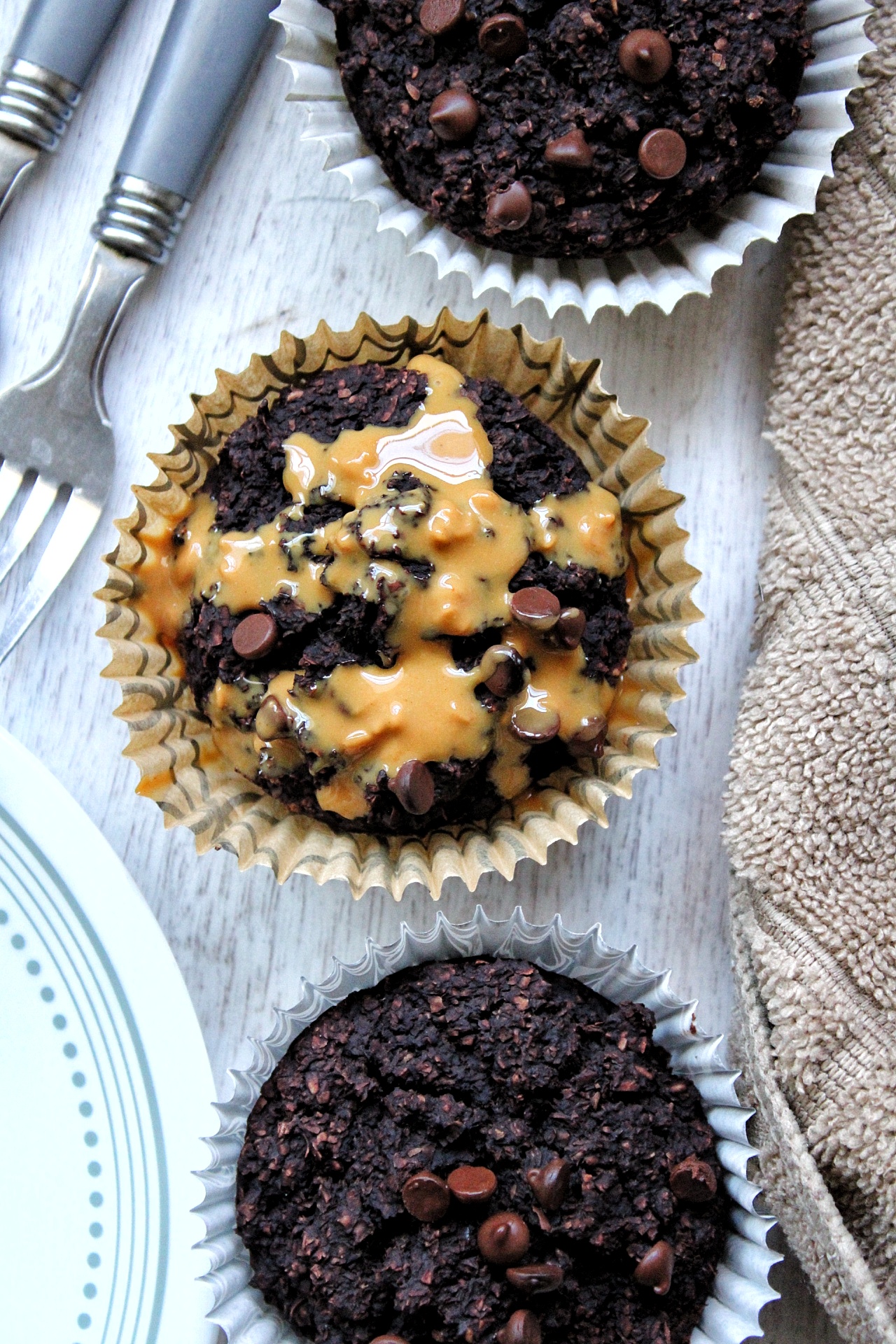 Want to go sugar-free? Switch out the sugar with date paste instead. Or, go with your favorite sugar-free sweetener.
This recipe is not very sweet at all. However, feel free to add more sugar or date paste. Or, use a jam or sweet spread to crank up its sweetness.
What To Eat With Oat Bran Muffins
I love to keep things simple and have a mug of steamy black coffee with a touch of sugar with these muffins.
It pairs perfectly well with chocolate. Speaking of coffee and chocolate, if you're into that combination, you'll definitely love our vegan chocolate cake - check it out.
I also like to use different spreads for these muffins. Sometimes I'll go for peanut butter, a dab of vegan butter, homemade sugar-free date paste, drizzle coconut dulce de leche on top if I need a bit of sugar boost. Jam is also a great idea.
How To Store
I love these best right out of the oven. However, if you want to save these for later, no problem.
Store these muffins in an airtight Tupperware or a reusable silicone bag in the refrigerator for up to 5 days.
To warm them back up, zap them in the microwave for 15-20 seconds wrapped in a damp paper towel to reintroduce some moisture.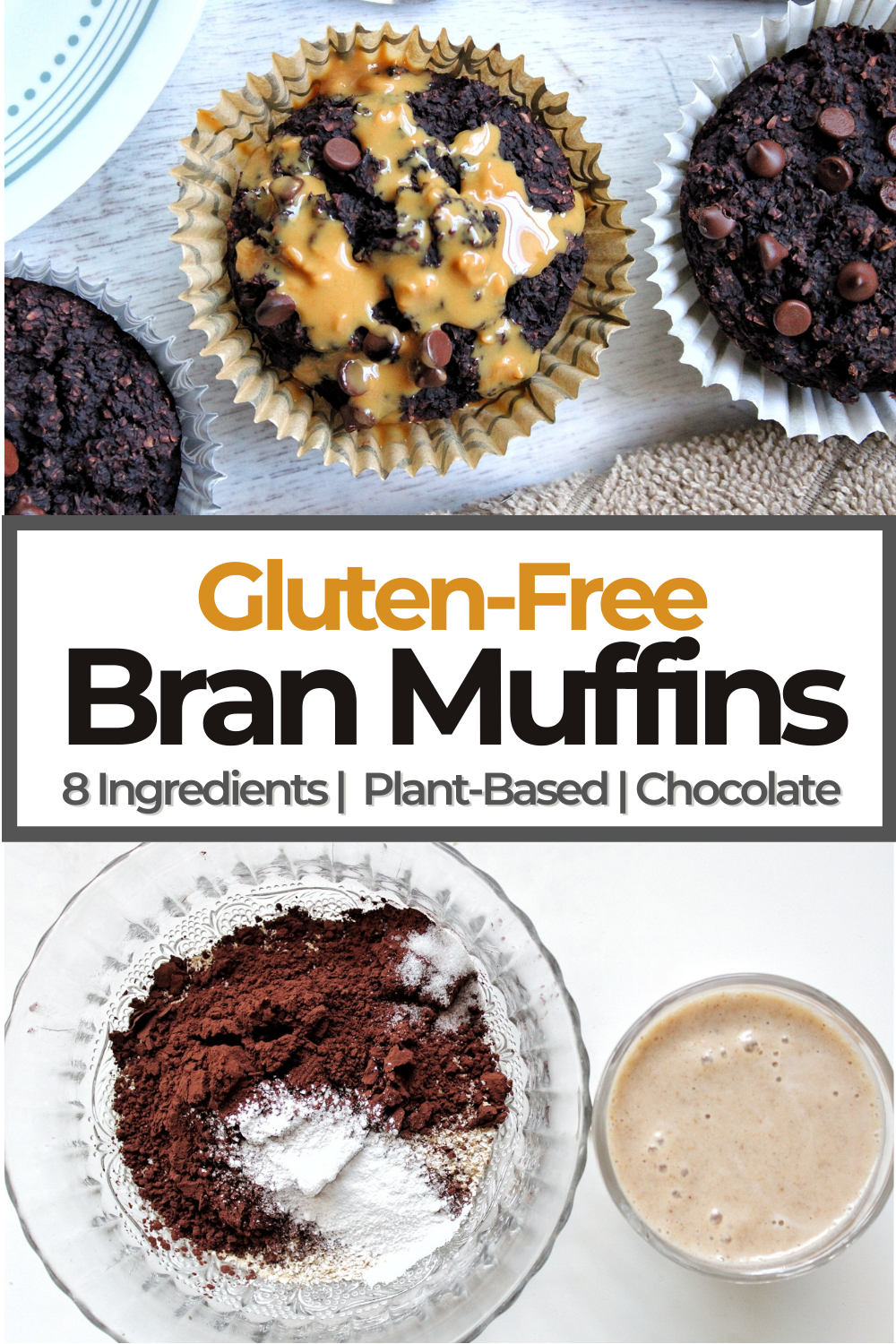 For more breakfast recipes, check out 18 Frugal Plant-Based Breakfast Recipes. We have sweet, savory, and everything in between!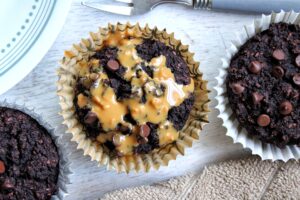 Chocolate Oat Bran Muffins
Gluten-free, vegan oat bran chocolate muffins that tastes like dessert, but packs on the fiber and protein you need to start your morning.
Instructions
In a mixing bowl, combine oat bran, cocoa powder, sugar, baking powder, and salt. If using sugar, add it here. If using date paste, see next step.  

In a blender, blend the vegan milk, banana, and date paste (if using to replace sugar). 

Combine the wet ingredients with the dry ingredients in the mixing bowl.

Pour the muffin batter into the muffin tin and full about ¾ of the way. Top with chocolate chips (optional). Bake for 15-17 minutes. Remove muffins and allow to cool for at least 15 minutes on a wire cooling rack. 

Serve and drizzle natural peanut butter, add your faovirte sweet jam, or give it a spread of vegan butter. (optional)
Notes
If using date paste, add the paste to the wet ingredients (banana + vegan milk) and blend together. 
If using sugar, add the sugar to the dry ingredients instead (oats, cocoa powder, baking powder, salt). 
This recipe is meant to be healthy, sugar-free, gluten-free, and vegan. Because of this, the texture and flavor will be different from standard muffins. It's not very sweet, so feel free to add more sugar or date paste if you like. Additionally, the muffins are dense. 
Nutrition
Did you try out these Chocolate Oat Bran Muffins?
Please leave a comment below, share it, rate it, or tag a picture @plantbasedandbroke on Instagram and hashtag it #plantbasedandbroke. Show off that creation with us