Jump to:
Plant-based fiber is the thing that helps keeps us healthy, satiated, and light.
According to the U.S. Food and Drug Administration (FDA), the daily value for dietary fiber is 25 grams (g) per day.
Sounds like quite a bit of fiber for one person, but as we slowly drop heavily processed food and pick up more whole-food, plant-based ingredients, we can easily meet the daily fiber recommendations.
Why Is Fiber Important
Fiber is what helps everything run smoothly - literally. Dietary fiber in food helps keep bowel movement regular. Additionally, it can help improve cholesterol and blood sugar levels.
According to Mayoclinic, fiber also aids in achieving a healthy weight by providing satiety and fullness in fewer calories for the same volume of food.
Meeting the daily fiber requirement can be a challenge at first, but understanding two things can help you reach your dietary fiber goals:
Look for high fiber foods
Consider how to implement these foods in your daily cooking
What is Soluble & Insoluble Fiber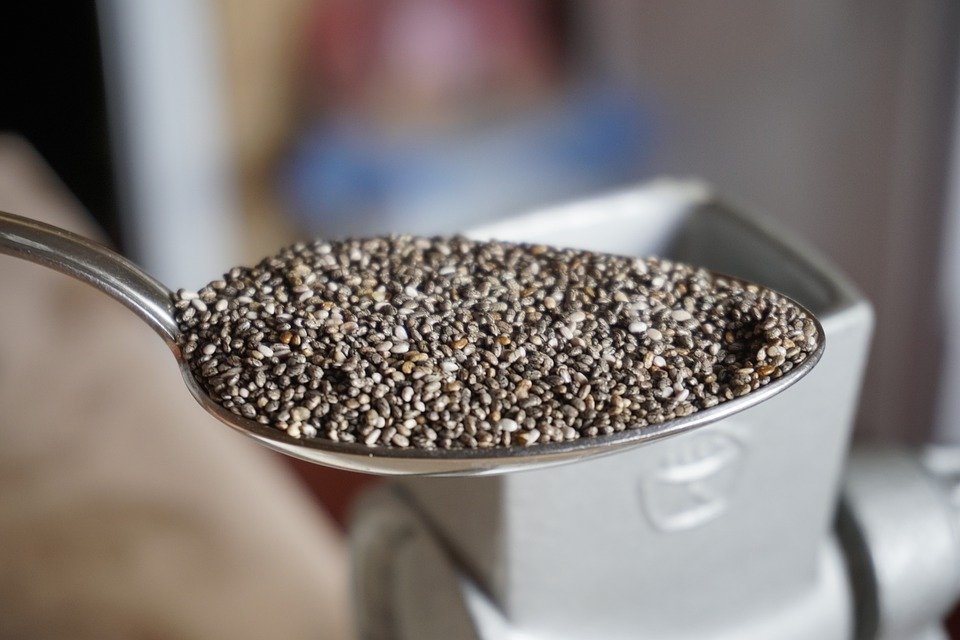 Soluble fiber pulls in water and is broken down in the gut into a gel-like substance.
Insoluble fiber does not dissolve in water and is left intact. It adds bulk to stool and helps food pass more quickly.
Many foods contain both soluble and insoluble fiber.
High Fiber Foods
Focus on whole foods. Naturally, whole foods contain high fiber - some more than others. Let's take a look at some of your options.
Legumes
Whole Grains
Fruits
Vegetables
Nuts & Seeds
Per 100 grams. Data from the U.S. Department of Agriculture FoodData Central.
Kcal = calories.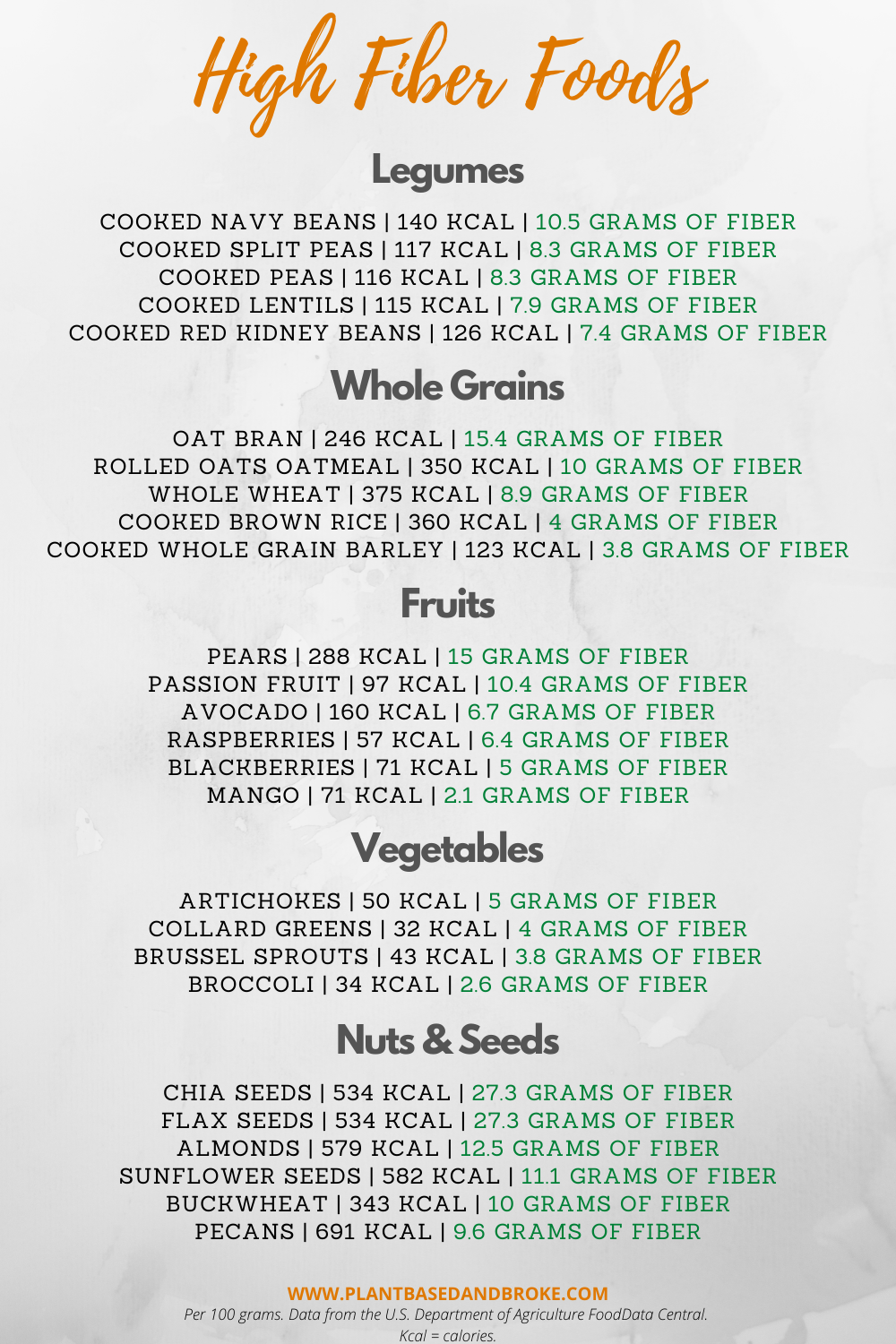 ---
How To Increase Fiber Intake?
1. Incorporate Vegetables For Every Meal
A great way to add fiber to your diet is to add it to your breakfast, lunch, and dinner plate. It can either be a side salad or a bowl of steamed mixed vegetables.
One way of including vegetables for breakfast is with a big bowl of savory oats topped with sauteed mushroom, kale, and tofu.
2. Add Chia Seeds And Flax Seeds To Smoothies
Just about anything can be added to a smoothie and that includes chia seeds and flax seeds. In two tablespoons of chia seeds, you get 10g of fiber. That's about 30 percent of the recommended daily fiber. Yes, please!
If you like a little bit of crunch and texture with your smoothies, make it a smoothie bowl instead and top it off with granola, sliced almonds, and seeds.
3. Use Cocoa Powder
Did you know that cocoa powder has 2 grams of fiber per tablespoon? Here's a reason to add more chocolate to your recipes!
Add cocoa powder to your smoothies, oats, or muffins. It's a delicious and fun way to include more fiber in a way to your day.
4. Eat Less Heavily Processed Foods
Switch out the heavily processed foods with something that is more nutrient-dense. For example, switch out the store-bought jam for slices of berries for your pb&j.
Or, instead of using refined white sugar, incorporate dates instead.
5. Have A Salad
It can be a side salad or can be a big bowl of all of your favorite vegetables. My type of salad is one that's loaded up with my favorite plant-based foods including avocado, lentils, nuts, seeds, corn, bell peppers, and onion.
A bowl of salad doesn't have to be boring - make it your own. If you want something hearty, go for a vegan avocado chick'n salad.
6. Have A Soup
The great thing about soups? You can add just about anything you want to them - no rules. When I make soups, I grab whatever vegetables I have laying around and a broth/bouillon cube to flavor it up.
My fiber-rich go-to soup is a hearty bean and lentil chili with a toss of frozen corn. Hearty, filling, and packed with all the stuff that's easy on your wallet.
7. Switch White Rice For Brown
Cooked brown rice has about 4 times the amount of fiber compared to white rice. It's an easy switch!
If you need some excitement in your brown rice, add some salt and oil/vegan butter.
8. Go For Bread With Nuts, Seeds, And Whole Grain
A slice of white bread will always hit the spot but grab a loaf speckled with crunch and chew. I am talking about the addition of nuts and seeds.
You'll find yourself that one of these dense slices is good enough and will curb your morning hunger.
9. Have Lentils, Peas, or Beans
Lentils, peas, and beans have a ridiculous amount of fiber. For example, lentils have about 8 grams of fiber per serving. They are also very affordable and typically easy to find.
I include lentils just about every day in my plant-based meals - either in a burger, burrito, salad, or soup.
10. Make Better Choices
Adding fiber to your diet is exactly that. It doesn't need to be an entire diet change if you don't want it to be. Simply add your favorite plant-based, high-fiber foods to your plate.
---
21 High Fiber Recipes
Ready to take the plunge into an AFFORDABLE plant-based diet? Check out our Guide To A Cheap Plant-Based Diet.