(
This post may have affiliate links. Please see my disclosure.
)
If you're tired of oats, but still want something that brings the same comfort as porridge, red split lentil is a must-try for breakfast.
This breakfast lentils dish is made with a swirl of warm cinnamon, a pinch of nutmeg, creamy vegan milk, and sweetened with brown sugar.
Made with pantry-friendly ingredients and this recipe is perfect for eating healthy on a budget. Additionally, it's packed with protein – about 11 grams per ¼ cup. That means this recipe yields about 48 grams of protein. Woah!
Here's The Nutrient Breakdown For Red Split Lentils (¼ cup, 45g):
150 calories
11g protein
7g fiber
2.7mg iron
40mg calcium
Starting a plant-based diet and need more protein? Check out Top 10 Cheap Plant-Based Protein Sources to get some ideas for your next meals!
I used very simple ingredients for this dish because I wanted to keep this as affordable as possible. I also wanted to keep this recipe gluten-free, oil-free, whole-food-plant-based-approved, and wholesome.
However, there are no limits to where you want to take these breakfast lentils
I like to top mine with whatever I have around in the kitchen – sometimes that might be shredded coconut, toasted walnuts, berries, a splash of coconut milk, or apples.
If you're going sugar-free or avoiding refined sugar, you can go for a whole-food plant-based sweetener alternative including dates or raisins. Stevia is also an option that's low calorie and gets the sweet job done.
Why Use Red Split Lentils?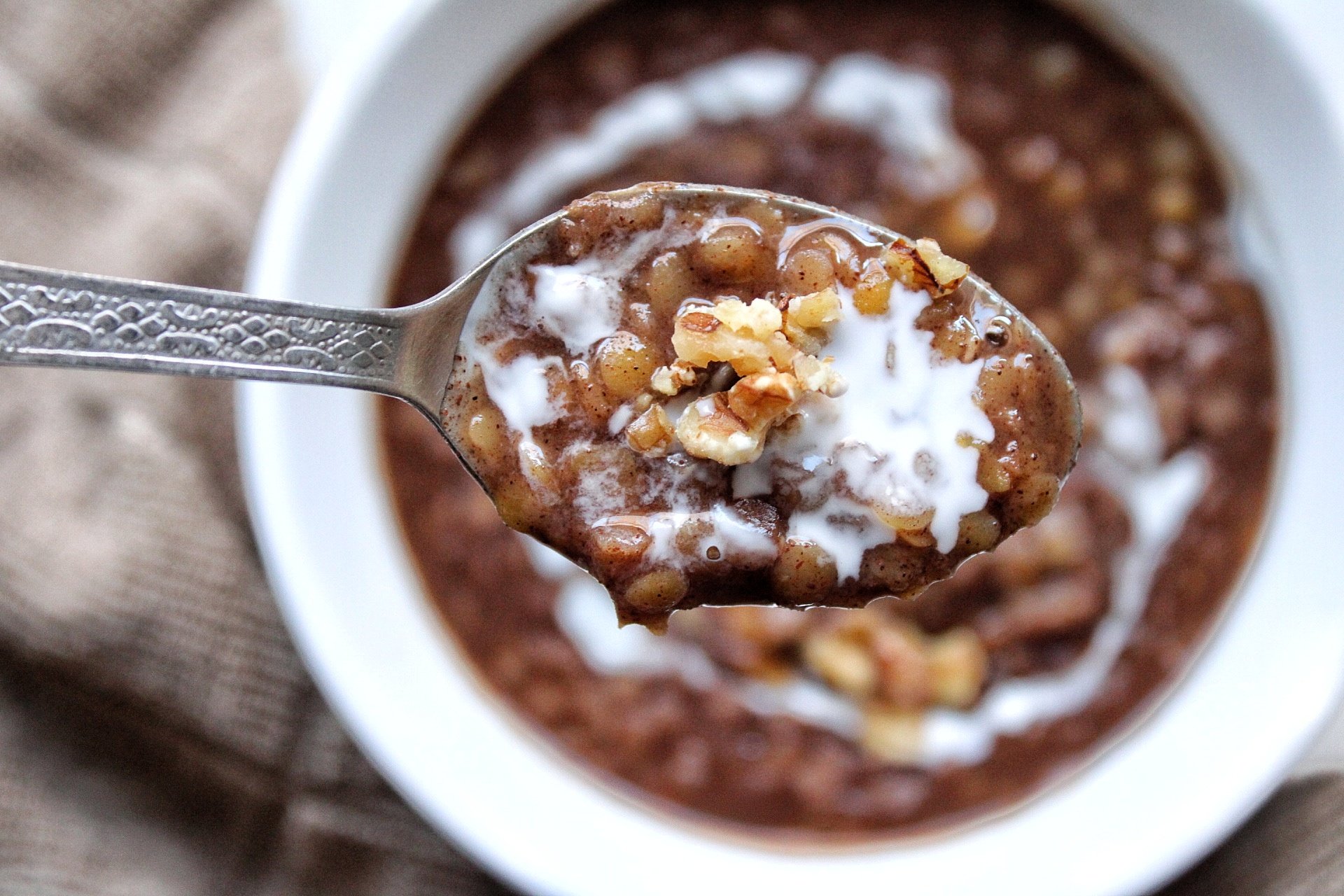 Red split lentils are very soft, tender, and takes on any of the flavors you give to them. Additionally, they cook relatively fast in comparison to other lentil varieties.
They are typically cooked in just 12-15 minutes. On the other hand, green lentils are tender after being cooked for 30 minutes or so.
Where To Buy Red Split Lentils
Red split lentils can be found at big-box grocery stores includng Walmart, Target, and Trader Joe's. I have also found them at Asian grocery stores at a great price and sometimes in bulk.
They'll usually be sitting next to other dry legumes. If you can't locate red split lentils at your local grocery store, they can also be found online at Amazon.
Should Lentils Be Soaked Before Cooking?
Lentils do not need to be soaked, especially red split lentils. Red split lentils cook very quickly – just a few minutes.
So, just throw them into the pot with boiling/simmering water and you're good to go. Reasons why lentils are a great, quick dish that can be enjoyed any time of the day.
If you're looking for more cozy breakfast ideas, try out our cream of rice.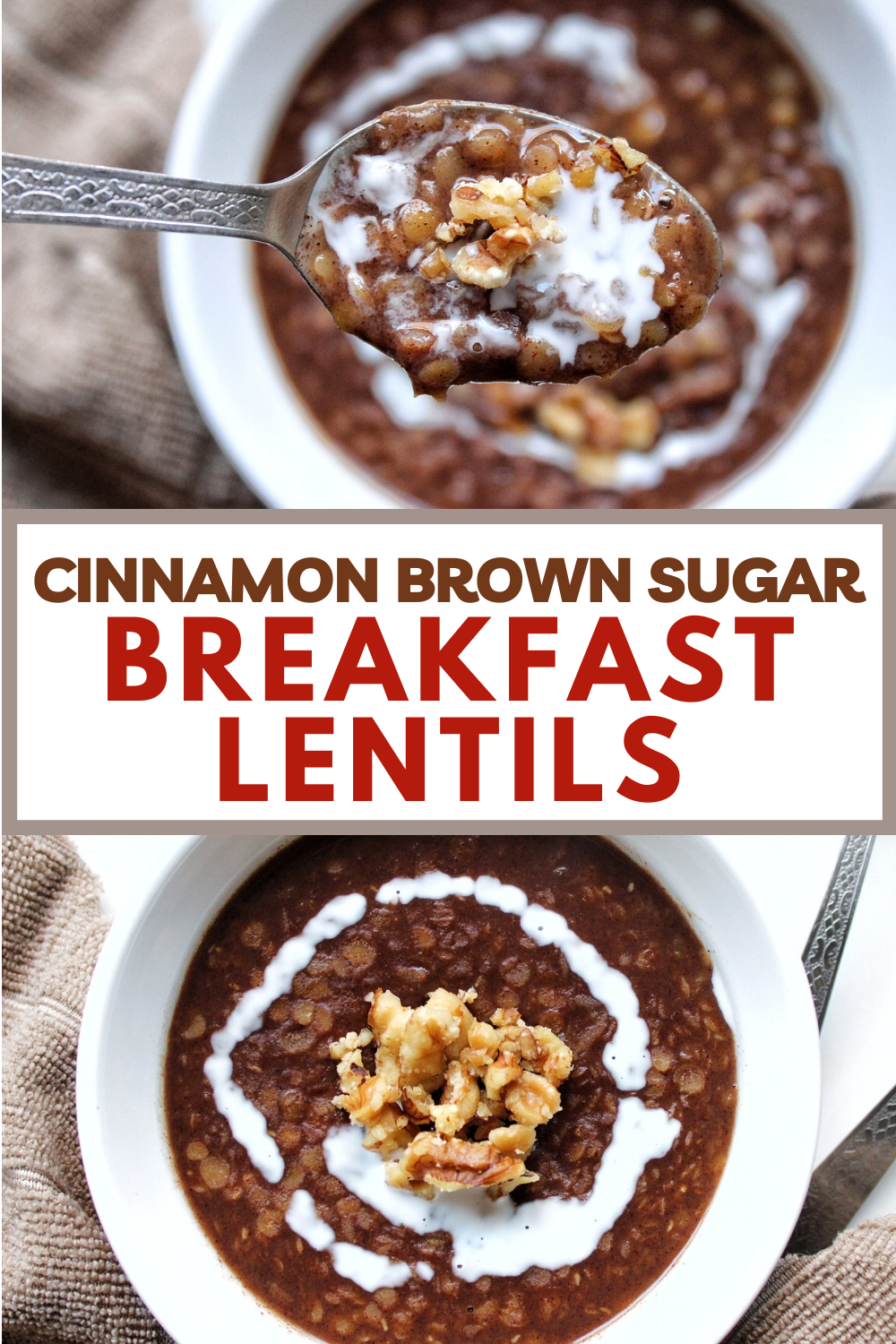 Breakfast Red Split Lentils
Creamy, red split breakfast lentils topped with chopped walnuts and creamy coconut milk. A great alternative to traditional porridge or oatmeal that whipped up in just minutes!
Ingredients
1

cup

red split lentils

3

cups

water/vegan milk

1

tablespoon

ground cinnamon

1/4

teaspoon

nutmeg

4

teaspoon

brown sugar

adjust to preference

Splash of coconut milk

optional

Chopped walnuts

optional
Instructions
In a saucepan or pot over high heat, stir together red split lentils and water/vegan milk.

Stir in cinnamon, nutmeg, and brown sugar. Once at a boil, lower heat to medium. Cook and stir for 15 minutes, or until creamy and tender.

Optional: Add your favorite porridge toppings! I added a splash of coconut milk and chopped walnuts.
Notes
Feel free to use any sweetener of choice and use as much or as little as you prefer. 

For a creamier breakfast red split lentils, add a splash of coconut milk.
Nutrition
Serving:
1
-Serving
Calories:
259
kcal
Carbohydrates:
39
g
Protein:
17
g
Fat:
4
g
Saturated Fat:
1
g
Polyunsaturated Fat:
2
g
Monounsaturated Fat:
1
g
Sodium:
93
mg
Potassium:
694
mg
Fiber:
16
g
Sugar:
9
g
Vitamin A:
719
IU
Vitamin C:
15
mg
Calcium:
297
mg
Iron:
4
mg
Did you try out this Breakfast Lentils recipe?
Please leave a comment below, share it, rate it, or tag a picture @plantbasedandbroke on Instagram and hashtag it #plantbasedandbroke. Show off that creation with us.