(
This post may have affiliate links. Please see my disclosure.
)
Jump to:
I am more of a savory breakfast type-of-girl, but sometimes I like to have a sweet treat to go along with my black coffee.
I've adapted this recipe from my classic banana nut bread. I wanted to bring a different twist to the traditional banana bread recipe and pack it with tender, juicy blueberries!
It was so freaking good! Definitely didn't last more than a day in our home. And that was mostly my doing.
Why You'll Love This Recipe
If you love a moist loaf of blueberry banana bread, this is the recipe you're looking for! Every bite is tender with juicy bursts of blueberries.
This recipe is oil and butter-free! But we've figured out a way to get this recipe perfectly soft and moist - and that's with the help of creamy coconut milk and ripe bananas.
Flavor doesn't hold back! It's incredibly tender with the right amount of banana and bluberry flavors.
How To Make Blueberry Banana Bread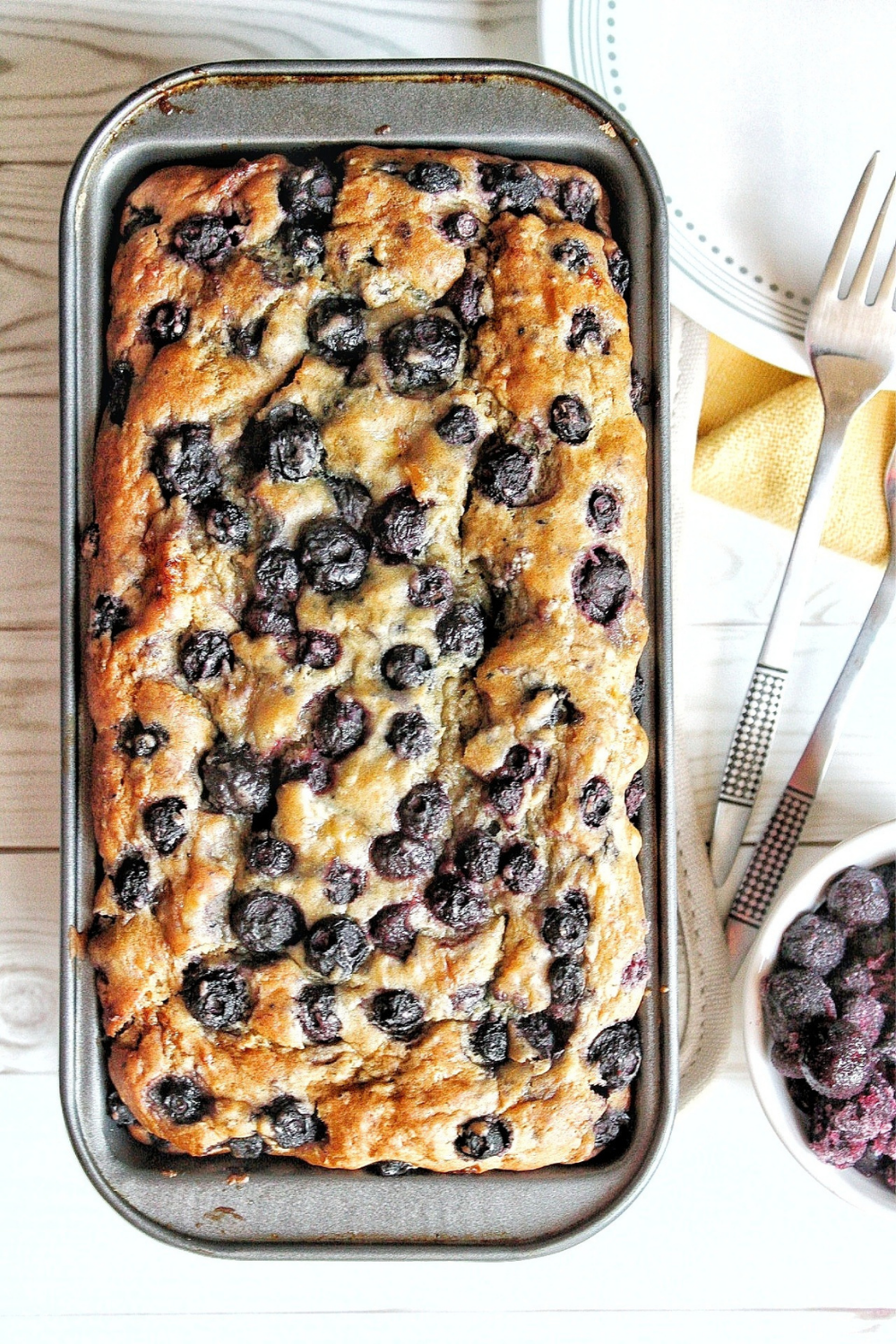 Combine dry ingredients. First, whisk together flour, baking powder, baking soda, salt, and a pinch of ground cinnamon.
Combine wet ingredients. In a separate bowl, mix coconut milk, brown sugar, chia "egg," mashed banana.
Mix dry and wet ingredients.
Fold in blueberries. Either frozen or fresh blueberries work.
Bake at 350 degrees F for 50-60 minutes. Bake for an additional 10-20 minutes if the center is still wet.
What To Eat With Blueberry Banana Bread
Because this blueberry banana bread is so moist and flavorful, I like to serve it as-is.
However, a great way to level up this recipe is with a spread of homemade date paste, berry jam, vegan butter, or a drizzle of honey.
To mellow out the sweetness, go for a warm mug of black coffee or tea.
More Sweet Breakfast You'll Enjoy:
Recipe FAQs
How To Tell If Bananas Are Ripe Enough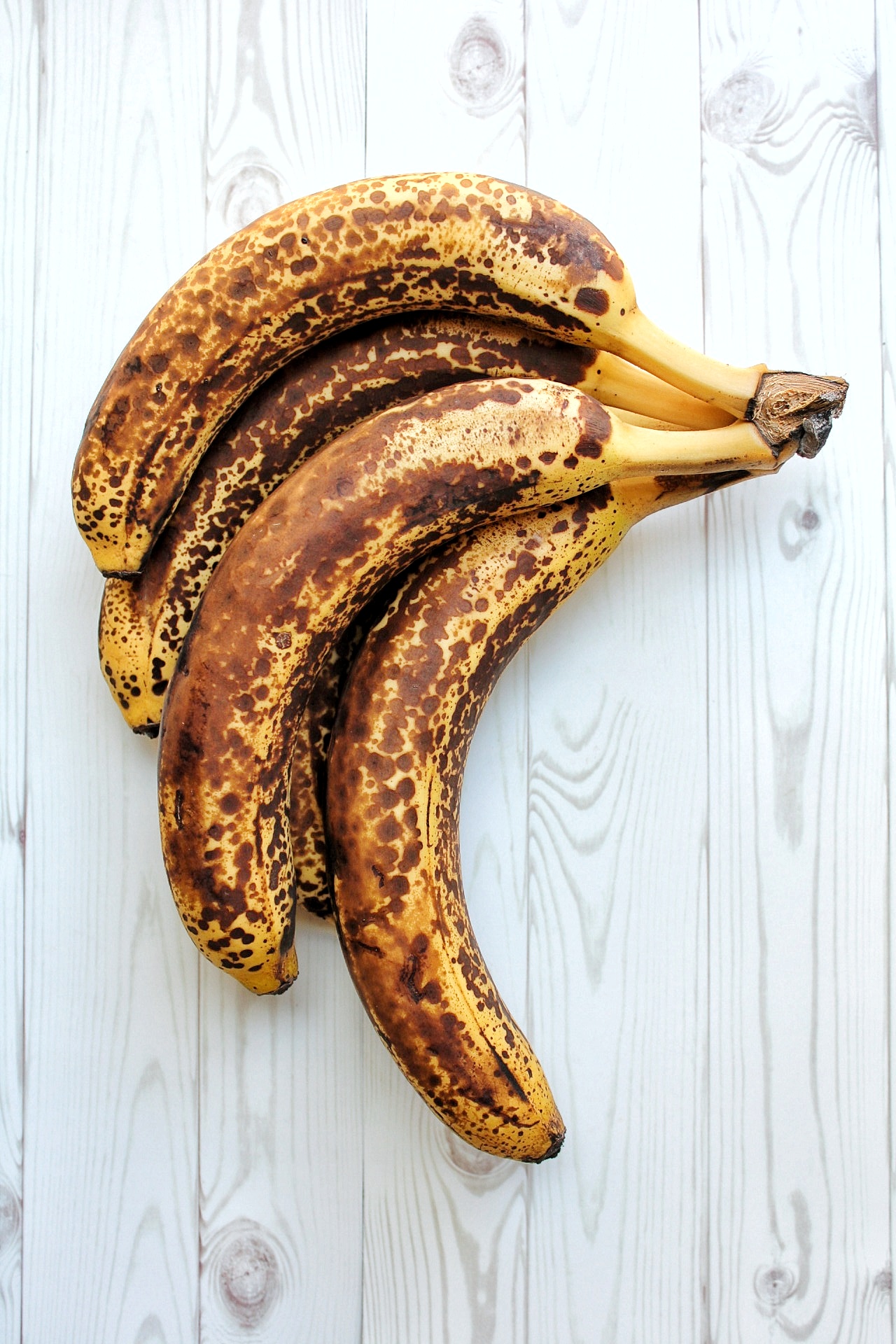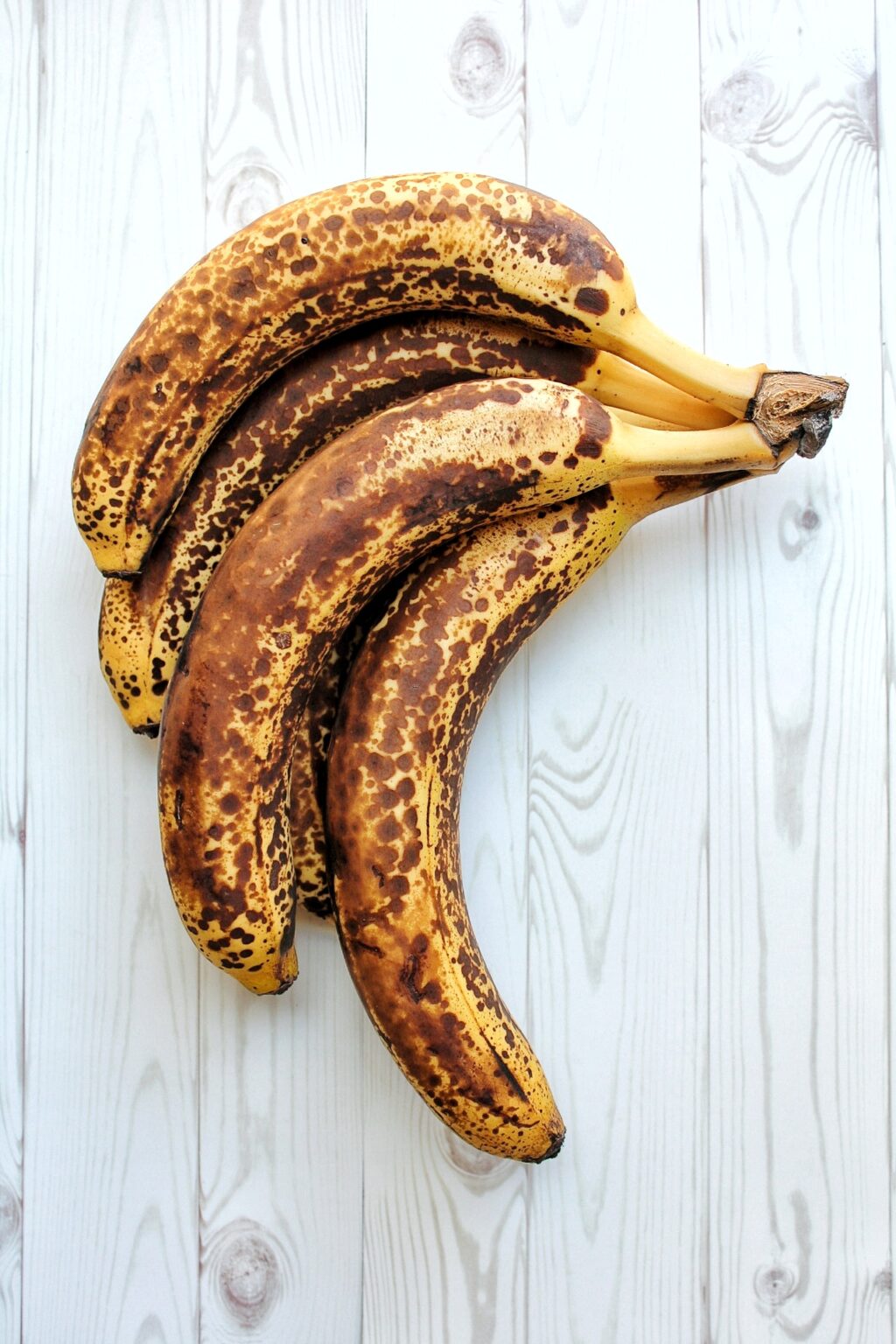 You'll need black-spotted or nearly black bananas for this recipe. Additionally, they should be soft to the touch.
If you have green and yellow bananas hanging around, let them hang around for a little bit longer. They won't be suitable for a banana bread recipe just yet.
The darker and softer the bananas, the better. They haven't gone "bad," they are perfect for sweet banana bread recipes.
Using Fresh Blueberries vs. Frozen Blueberries
Both fresh blueberries and frozen blueberries can be used in this recipe. I prefer to use frozen blueberries because they can keep in the freezer for a long time.
The only difference between fresh and frozen is that frozen may leave streaks in your banana bread. This happens because frozen blueberries release a bit more liquid than their fresh counterparts.
Not a big deal, just may impact the bread's appearance.
I love having streaks in my banana bread and I find that they provide a more even blueberry flavor all throughout.
How To Store
After the blueberry banana bread is done baking, first let it completely cool off. I recommend having it cool on a cooling rack.
If storing the bread in the fridge, first wrap in plastic wrap to prevent the loaf from drying out. It should last for about a week or so.
If storing the bread on the counter, transfer the loaf to a storage container with a lid. It will last for up to 4 days.
To store in the freezer, tightly wrap the loaf in plastic wrap. It will keep for months!
Once you're ready to consume the bread, transfer it onto a countertop and allow it to thaw.
For sliced, frozen, banana bread, it'll thaw in about 30 minutes. For the entire loaf, it'll take up to 4 hours.
More Banana Recipes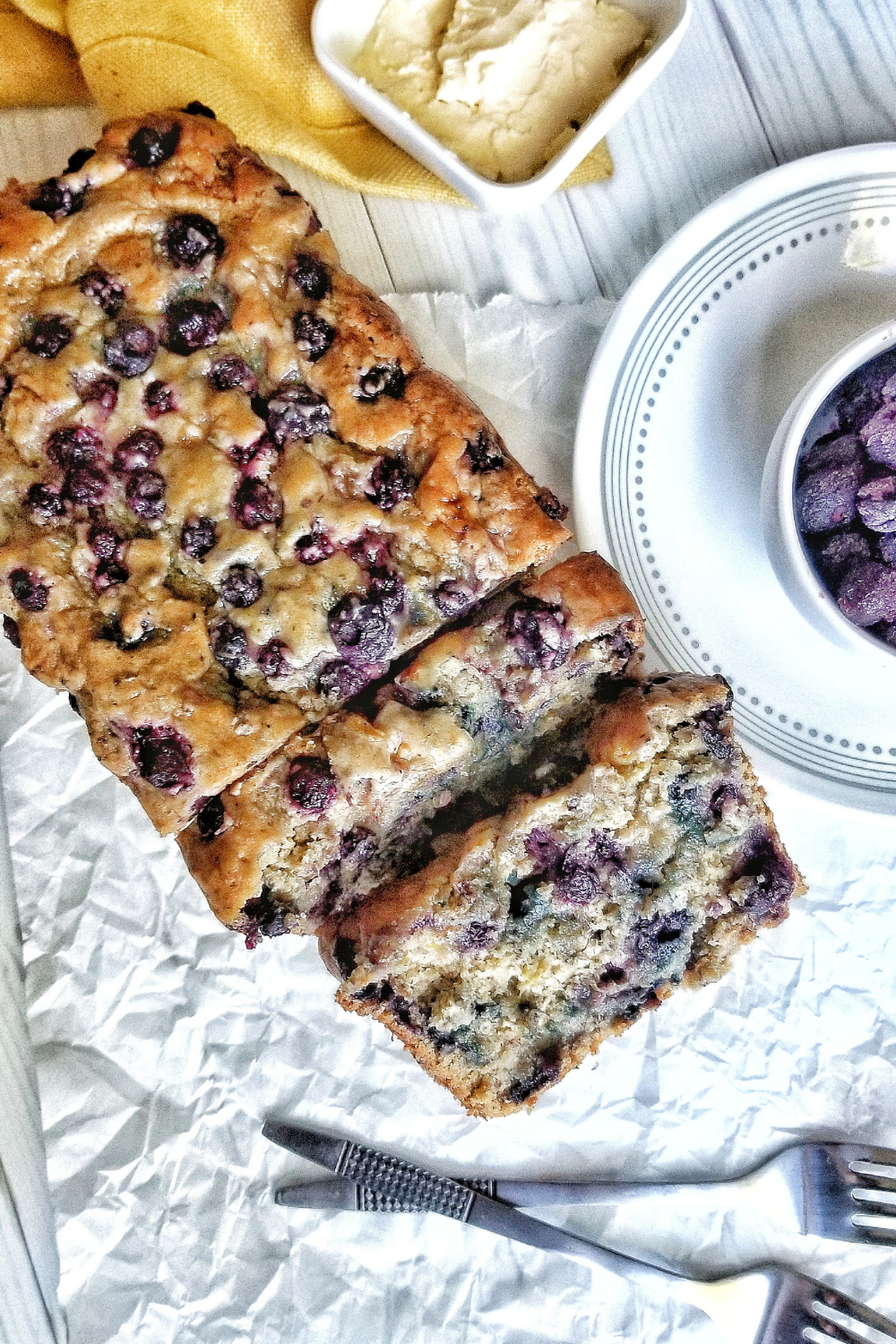 Tried out this Extra Moist Blueberry Banana Bread recipe?
Please leave a comment below, share it, rate it, or tag a picture @plantbasedandbroke on Instagram and hashtag it #plantbasedandbroke. Show off that creation with us.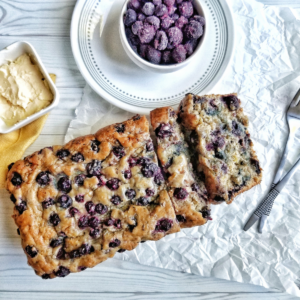 Extra Moist Blueberry Banana Bread
Nothing beats a classic, Extra-Moist Blueberry Banana Bread with juicy blueberries! This recipe is eggless, dairy-free, and oil/butter-free.
Instructions
Preheat the oven to 350 degrees F. Lightly grease, spray, or line with parchment paper an 8-inch loaf pan. Set aside.

In a bowl, mix the flour, baking powder, baking soda, salt, and cinnamon.

In a second large bowl, whisk together coconut milk, sugar, chia seed egg, and mashed bananas.

Add the wet ingredients to the dry ingredients. Mix with a spatula until well-combined and there are no dry spots. Fold in the blueberries.

Pour banana bread mix into the prepared loaf pan. Bake for 50-60 minutes. Cook for an additional 10-20 minutes if the banana bread hasn't cooked all the way through. You can test this by using a toothpick and inserting it into the center. If it comes out clean, it's done.

Cool for 10 minutes, transfer to a cooling rack to cool for another 30 minutes.
Notes
To make chia "egg" stir together 1 tablespoon of chia seeds and 3 tablespoons of water. Allow to gel up for at least 5 minutes. Stir again. 

Both frozen blueberries and fresh can be used in this recipe. I opted to use frozen blueberries. They'll just bleed a bit into the bread. 

Reserve a few blueberries to add to the top of the batter (optional).

To store, wrap banana bread in plastic wrap and place it in the refrigerator. It'll keep for a week or so. If storing the bread on the counter, transfer the loaf to a storage container with a lid. It will last for up to 4 days. 
Nutrition
Serving:
1
-slice
Calories:
253
kcal
Carbohydrates:
50
g
Protein:
3
g
Fat:
5
g
Saturated Fat:
4
g
Polyunsaturated Fat:
1
g
Monounsaturated Fat:
1
g
Sodium:
187
mg
Potassium:
204
mg
Fiber:
2
g
Sugar:
26
g
Vitamin A:
27
IU
Vitamin C:
4
mg
Calcium:
65
mg
Iron:
2
mg