(
This post may have affiliate links. Please see my disclosure.
)
Jump to:
Go ahead - you're allowed to switch out the hot and sticky coffee mug for a cool and whipped bowl of coffee and frozen bananas. Yes, that's right, we're making a coffee banana smoothie bowl loaded with sweet and savory.
Unsurprisingly consistent, summer is here and the oven will not be shown a lot of love in an apartment that begs for outside cool air. I am essentially giving the oven an arms-length treatment it so deserves right now.
Bye, oven.
These days, I have smoothies, sandwiches, and salads on rotation for minimal kitchen effort. Because cooking life without an air conditioner is uncomfortable at best.
This coffee banana smoothie bowl is incredibly easy and all you need is a regular blender. I use either a Nutribullet or Oster blender. Either one works great - the number of servings they hold is different, however.
A Nutribullet works well for one or two servings, and the Oster blender can whip up a lot more than that.
Smoothie bowls are a tasty sweet treat for both children and adults alike. It takes on the characteristics of ice-cream, yet, contains a wide array of vitamins and nutrients from the blended fruit.
What Is A Smoothie Bowl?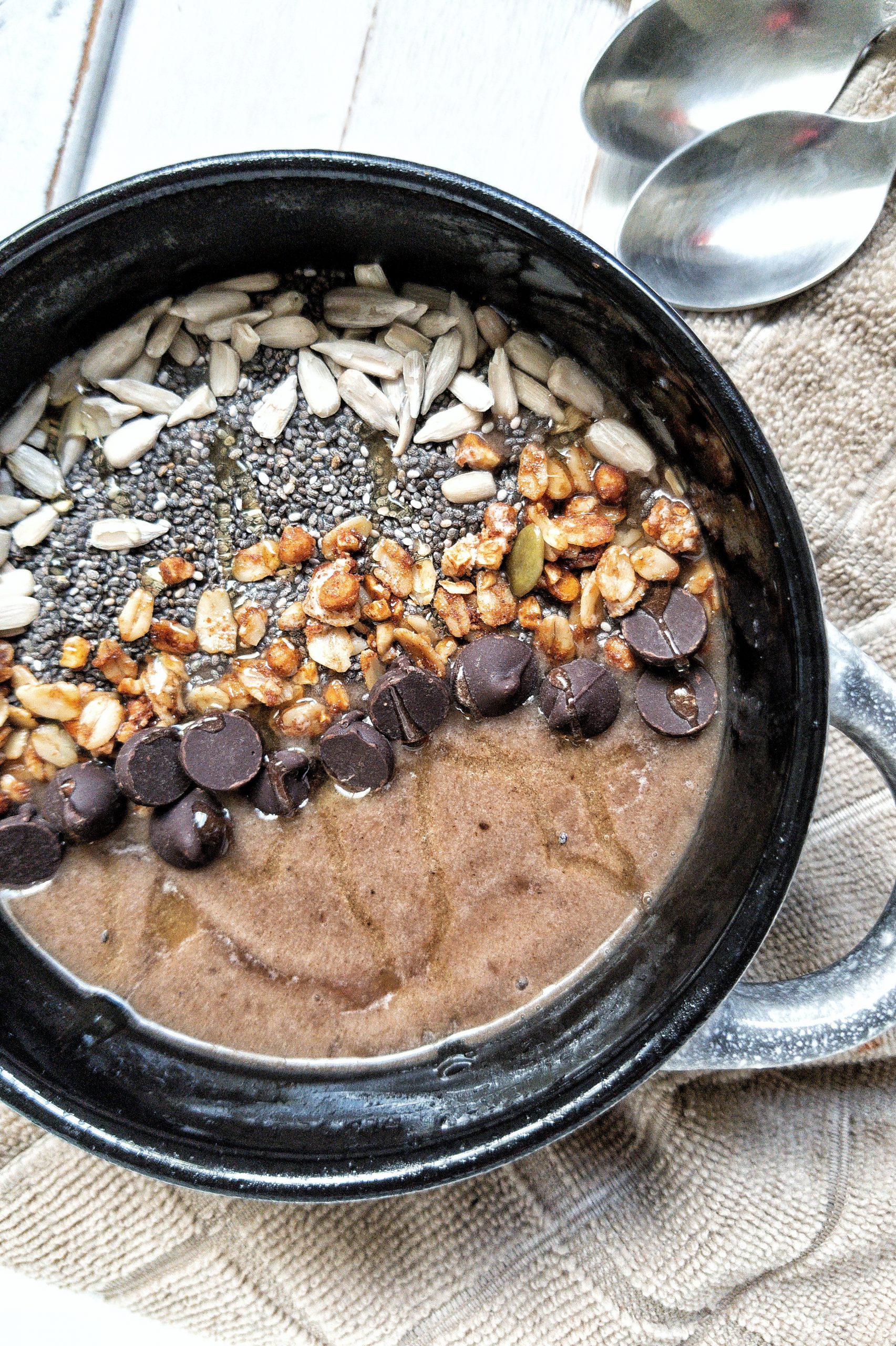 A smoothie bowl is made up of the same stuff a regular smoothie is. However, smoothie bowls tend to be much thicker and creamier - almost ice-cream-like. Smoothie bowls are treated more like a meal than as a drink.
A smoothie bowl is consumed by a spoon, rather than chugged with a straw.
Frozen fruit like bananas, strawberries, strawberries, and peaches are used to build a creamy texture in the smoothie bowl.
Once everything is blended up, the velvety blend is poured into a large, deep bowl, hence, the name. Then, it's topped off with your favorite crunch.
More Smoothie Bowl Recipes:
Smoothie Bowl Topping Ideas:
Sliced almonds
Granola
Chia Seeds
Peanut Butter
Crushed peanuts
Frozen berries
A drizzle of honey
Chopped dates
Chocolate chips
Sliced bananas
Pure maple syrup
Shaved coconut flakes
Dark chocolate chunks
Pumpkin Seeds
If you're willing to go the extra mile, I highly recommend a drizzle of homemade, dairy-free coconut dulce de leche to top off this bowl.
Here Are Some Of My Favorite Smoothie Bowl Toppings
How To Thicken A Smoothie Bowl?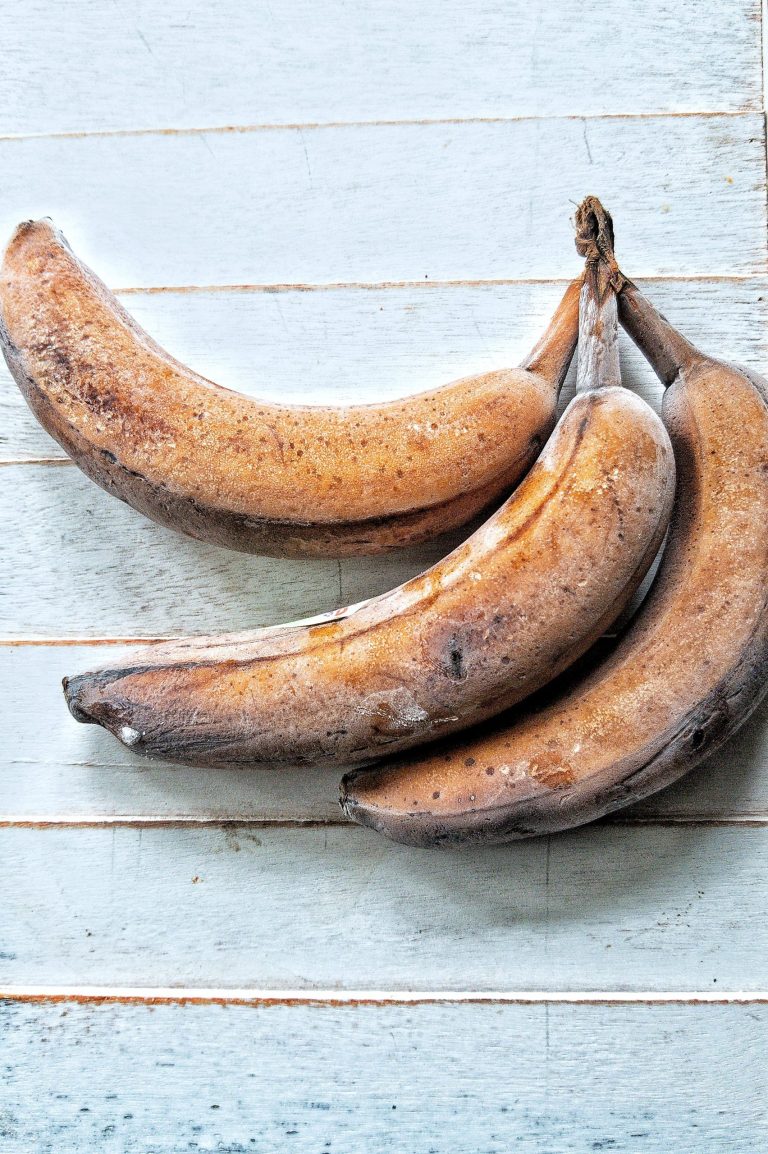 The number #1 trick to getting a thicker smoothie is to start with frozen ingredients. Similar to banana ice-cream, the frozen ingredients help create a thick and creamy texture that resembles closer to ice-cream than juice.
Learn more on how to store and peel frozen bananas.
If you're using liquids, for example, dairy-free milk, yogurt, or water - I recommend having them chilled to keep the smoothie bowl blend thick.
In this recipe, be sure to use already made coffee that has been chilled - you can even toss it in the freezer to get it a bit icy.
Other ways to help thicken a smoothie bowl is to make these considerations:
Switch out milk for yogurt.
Switch out ice for frozen fruit.
Use a blender with sharp blades.
One of my favorite types of non-dairy milk to use in smoothie bowls is soy milk. They tend to be much thicker and provide about 9 grams of protein per serving (1 cup).
If the smoothie bowl is melting too quickly, throw it in the freezer for 10-15 minutes.
How To Chill Coffee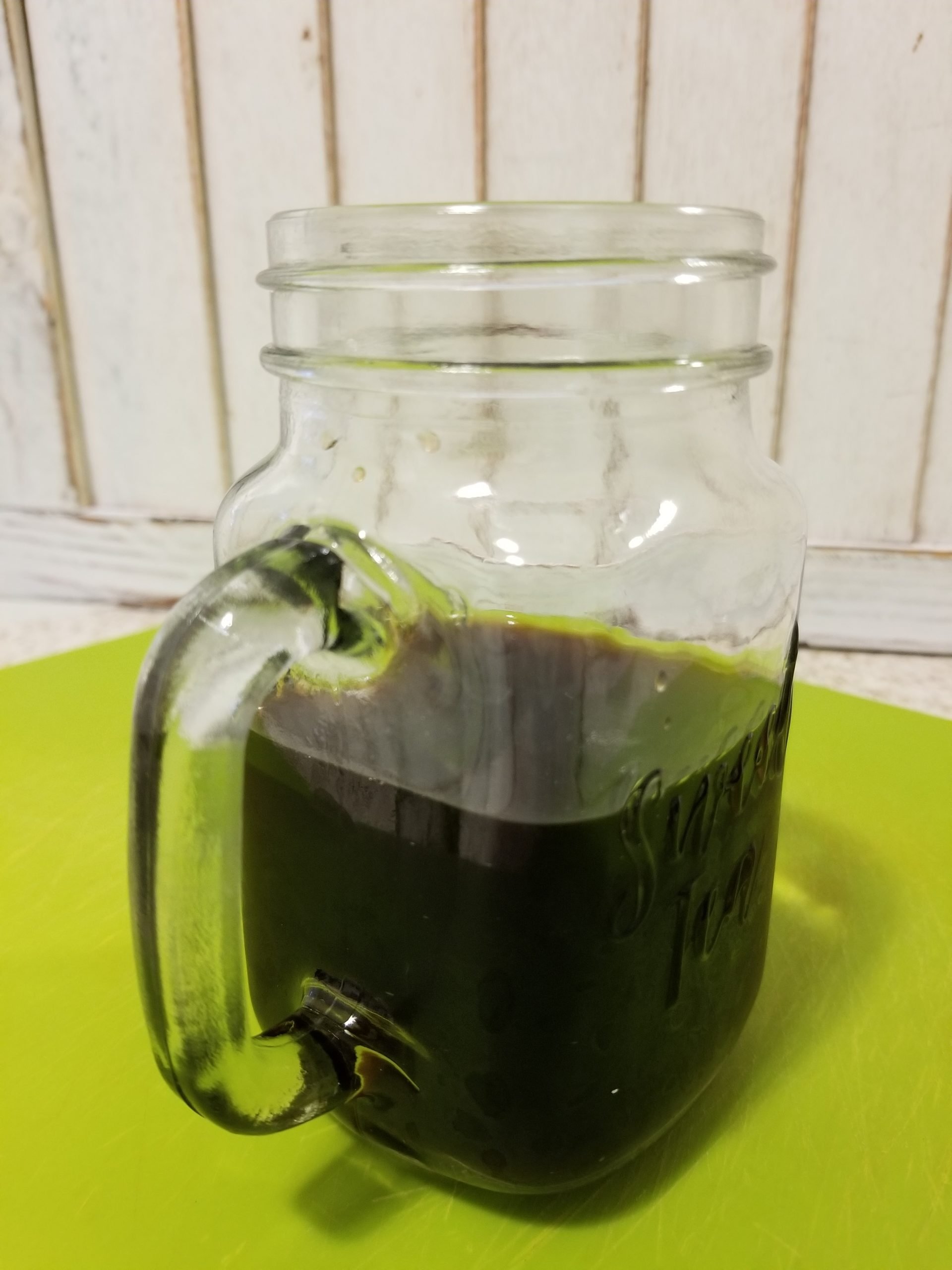 I suggest making the coffee the night before and slide it into the refrigerator to cool overnight. However, if you don't want to do that - make the coffee in the morning, but give it at least an hour to cool off.
Additionally, you can find pre-made coffee if you want to go in that direction.
Using hot coffee in a smoothie bowl is a sure way to make it watery and thinned-out. We're not about that kind of smoothie life.
Ways To Sweeten A Smoothie Bowl
My favorite way to add a touch of sweetness to my plant-based smoothie bowls is to add a drizzle of honey. Although smoothie bowls can be naturally sweetened from ripe bananas - it might not be adequate for some palates.
If you want to stick with plant-based sweetener options, consider dates or date syrup. Both are great options to naturally drop a boost of sweetness to your smoothie bowls.
Keep in mind, if you're using dates, it might be difficult to break them down as smoothly in a blender. Liquid sweeteners like date syrup blend well in a smoothie bowl or drink.
Other sweeteners include sugar, stevia, and maple syrup.
For more breakfast recipes, check out 18 Frugal Plant-Based Breakfast Recipes. We have sweet, savory, and everything in between!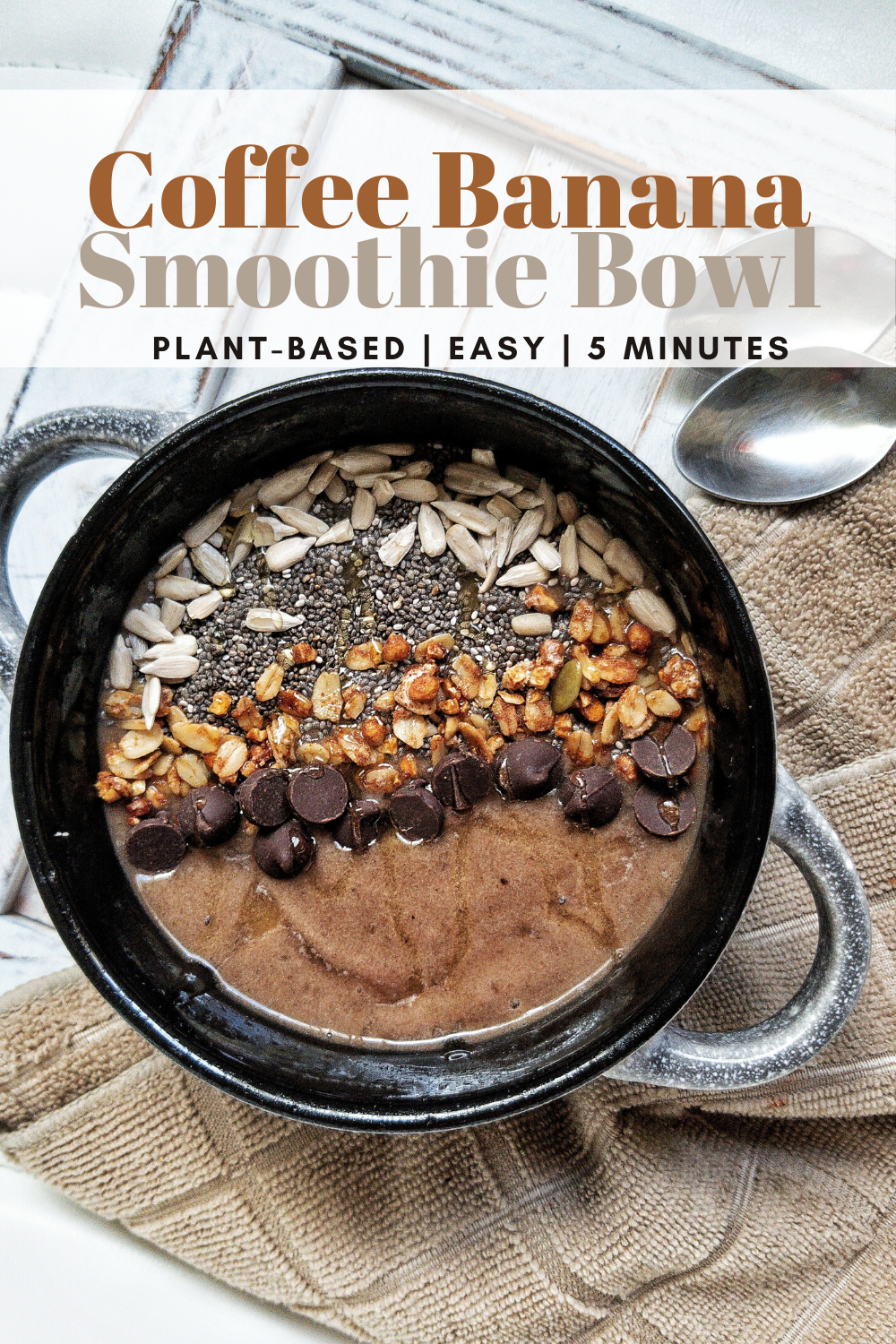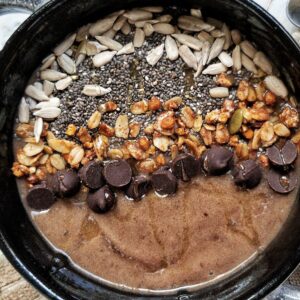 Coffee Banana Smoothie Bowl
This creamy and ice-cream-like coffee banana smoothie bowl is exactly what everyone needs on a warm sunny day.
Instructions
Pour in the coffee, milk, frozen bananas, and honey/sweetner into the blender.

Pause blend if needed to push the ingredients down and scrap the sides.

Blend coffee banana smoothie ingredients until creamy and thick.

Pour coffee banana mixture into a bowl and top with your favorites. I added sunflower seeds, chia seeds, granola, and chocolate chips.
Notes
If the smoothie melts quickly, you can stick in the freezer for about 10-15 minutes. 
Use whatever topping you like, or just have it as a regular smoothie and drink it with a straw. 
I used already made black coffee for this recipe. I cooled it overnight. 
Nutrition
Serving:
1
-Serving
Calories:
242
kcal
Carbohydrates:
58
g
Protein:
4
g
Fat:
2
g
Saturated Fat:
1
g
Polyunsaturated Fat:
1
g
Monounsaturated Fat:
1
g
Sodium:
27
mg
Potassium:
978
mg
Fiber:
6
g
Sugar:
32
g
Vitamin A:
277
IU
Vitamin C:
21
mg
Calcium:
90
mg
Iron:
1
mg
Did you try out this Coffee Banana Smoothie Bowl recipe?
Please leave a comment below, share it, rate it, or tag a picture @plantbasedandbroke on Instagram and hashtag it #plantbasedandbroke. Show off that creation with us.