If there's ever a time to hop on the frugal food train, it's now. Especially the frugal plant-based breakfast train.
Although we are a certified frugal household, we are honoring the plant-based and broke movement even more.
With uncertainty looming in the air and anxieties running high, it makes sense for us to hold back and make things stretch.
Cooking recently has been mundane – not for lack of creativity or food, but because, personally, my mind has been fluttering around thinking about our current pandemic.
But let's talk about this plant-based breakfast thing. If you're new to a plant-based diet, not sure if you're going to stick to one, or you just want to add a little more green to your diet, breakfast is an easy way to start.
Plant-based recipes can be quick, affordable, and easy. This is especially true for breakfast.
What Can You Eat For A Plant-Based Breakfast?
There are plenty of options for a healthy, delicious, plant-based breakfast. You can go savory, sweet or something in-between. Some of those options include:
Pancakes
Savory Loaded Toast
Veggie Bacon
Eggless Scramble
Smoothies
Oats
Muffins
Sweet Bread
Breakfast Potatoes
…And there's plenty more.
So, even though a plant-based diet might sound like a diet with a bowl stuffed with raw spinach that's totally not it (but if that's your thing, that's okay too).
If you're into a breakfast plate stacked with bacon, eggs, and pancakes, there's a way to make that plant-based.
It takes just a bit of thinking outside of the box. But, it's an approachable box. We don't need a long list of ingredients and instructions to serve a delicious, nutritious plant-based breakfast.
---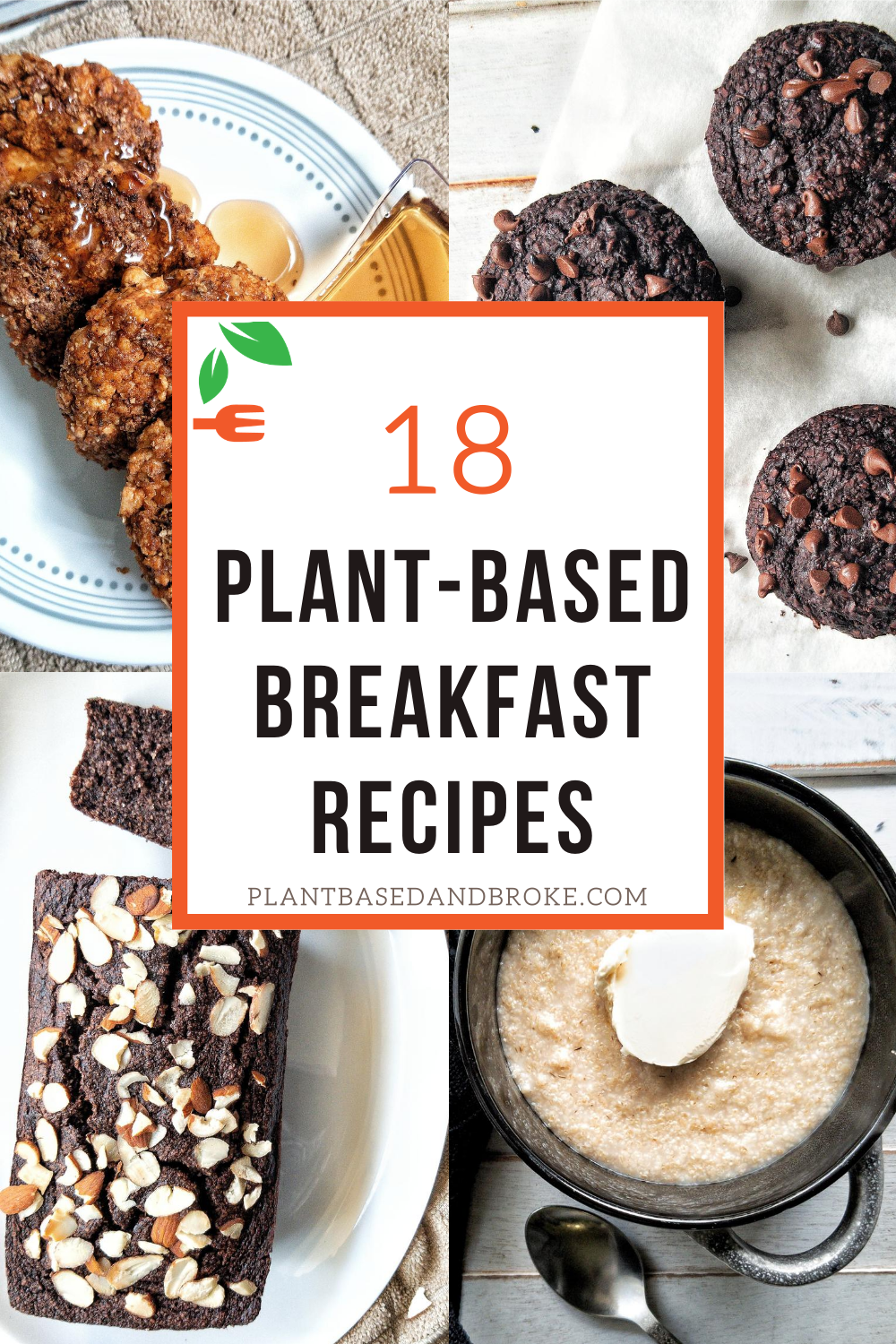 Tried a dish from this 18 Frugal Plant-Based Breakfast Recipes?
Please leave a comment below, share it, rate it or tag a picture @plantbasedandbroke on Instagram and hashtag it #plantbasedandbroke. Show off that creation with us.