(
This post may have affiliate links. Please see my disclosure.
)
Jump to:
Cheap, delicious, easy-to-find, easy-to-make, and perfect as a side for just about any meal. Yes, I am talking about home fries, or pan-fried breakfast potatoes.
Before, I would grab a 3-5 pound bag of potatoes. Today, we're slinging 10-pound bags into the grocery cart. This is in part due to us spending less time at grocery stores.
So, of course, potatoes are going into everything and showing up at the kitchen table for nearly every meal.
What To Pair With Home Fries
If you need a dipping sauce, check out our Creamy, Garlic Dressing.
Should I Peel My Potatoes?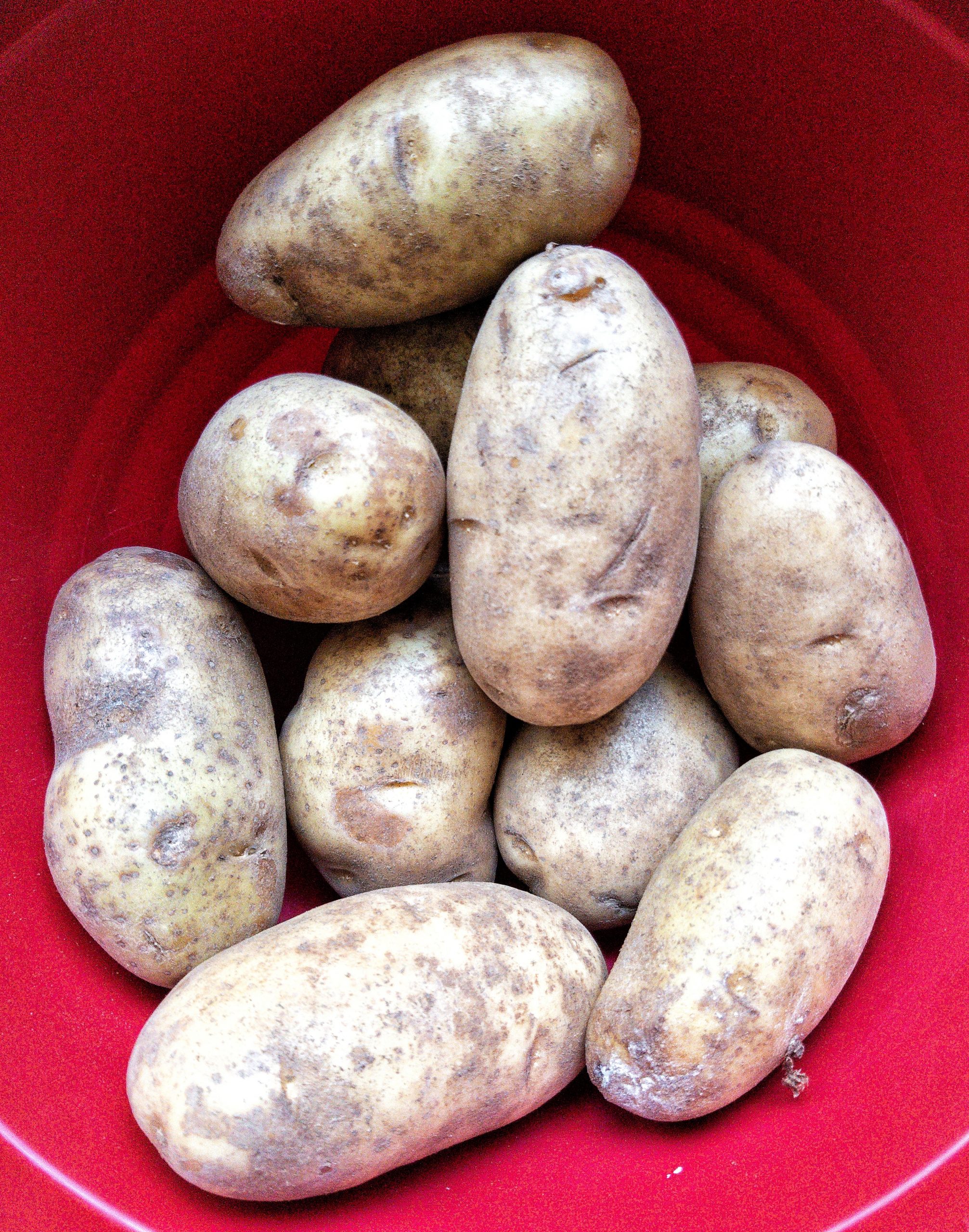 You really don't have to. I am in the why-would-you-want-to-waste-perfectly-good-food camp?
I never peel potatoes, not even for mashed potatoes because I prefer to use the skins rather than just tossing them away. Besides, I love potato skins and they create a nice crispy exterior when cooked.
The choice is yours. Peeling or not peeling your potatoes won't change the recipe.
What Kind Of Vegan Butter Do I Use?
I personally use Melt Organics, which is vegan. They taste similar to traditional butter - surprisingly creamy and soft. However, feel free to use your butter of choice.
More grocery stores have started to stock their fridge shelves with vegan butter. Call ahead local your grocery store to see if they sell any.
If you cannot find vegan/dairy-free butter, go for oil instead.
Can I Switch Up The Seasonings?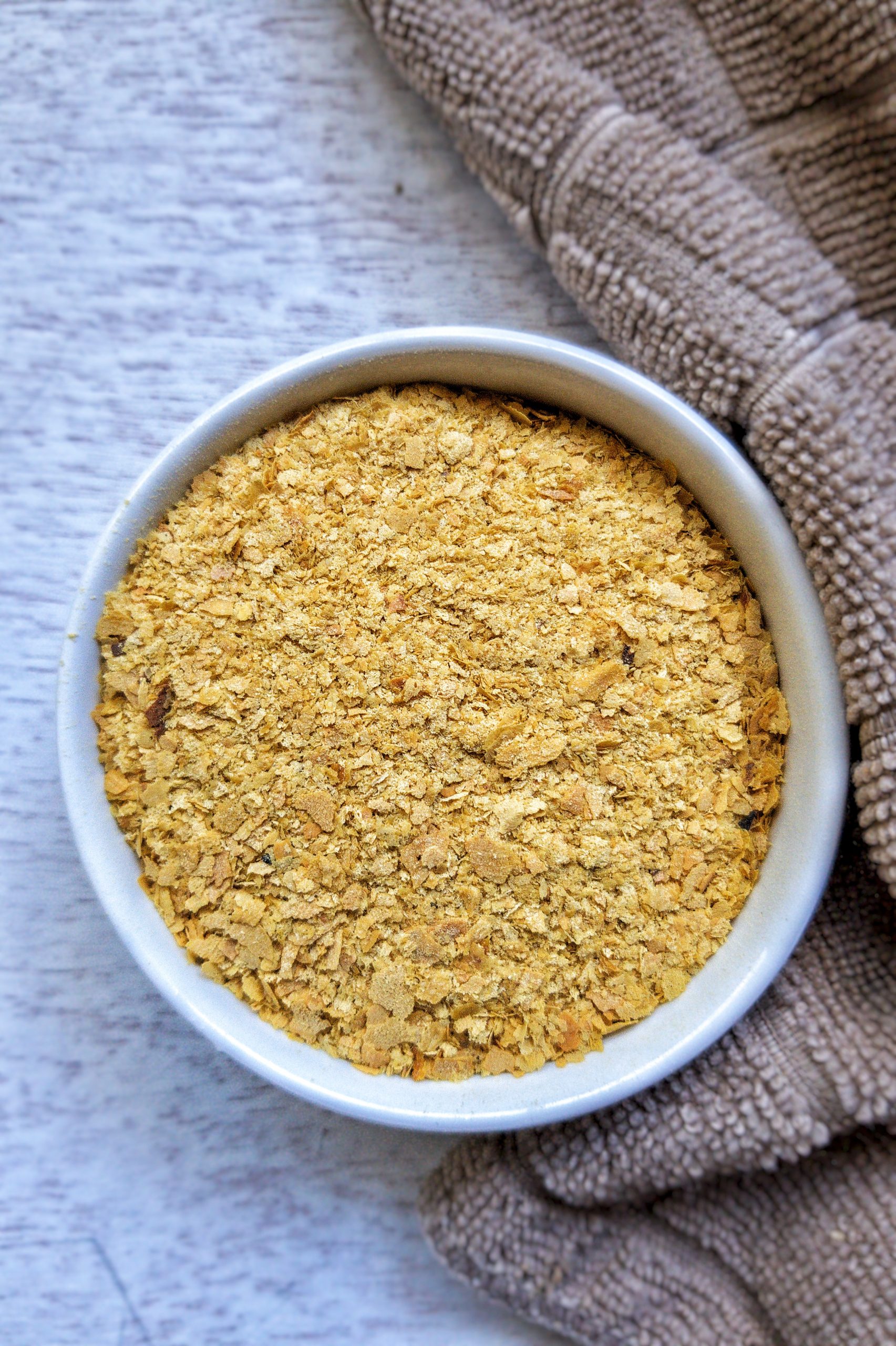 No need to use the exact seasonings listed below in the recipe. You're totally allowed to mix-and-match, using ingredients you love.
Examples of seasonings you may use for your home fries include…
Chili Powder
Onion Powder
Black Pepper
Saffron
Cayenne Pepper
Crushed Red Pepper
Oregano
Italian Seasoning
What's The Difference Between Home Fries vs. Breakfast Potatoes?
They are essentially the same.
Both home fries and breakfast potatoes are chopped up potato cubes that have been pan-fried until crispy and golden on the outside with a perfectly tender inside.
Sometimes they'll have additions, for example, chopped bell pepper and onions.
How you call them is up to you.
More Potato Recipe To Check-Out:
How To Yield Crispy Home Fries In A Non-Stick Pan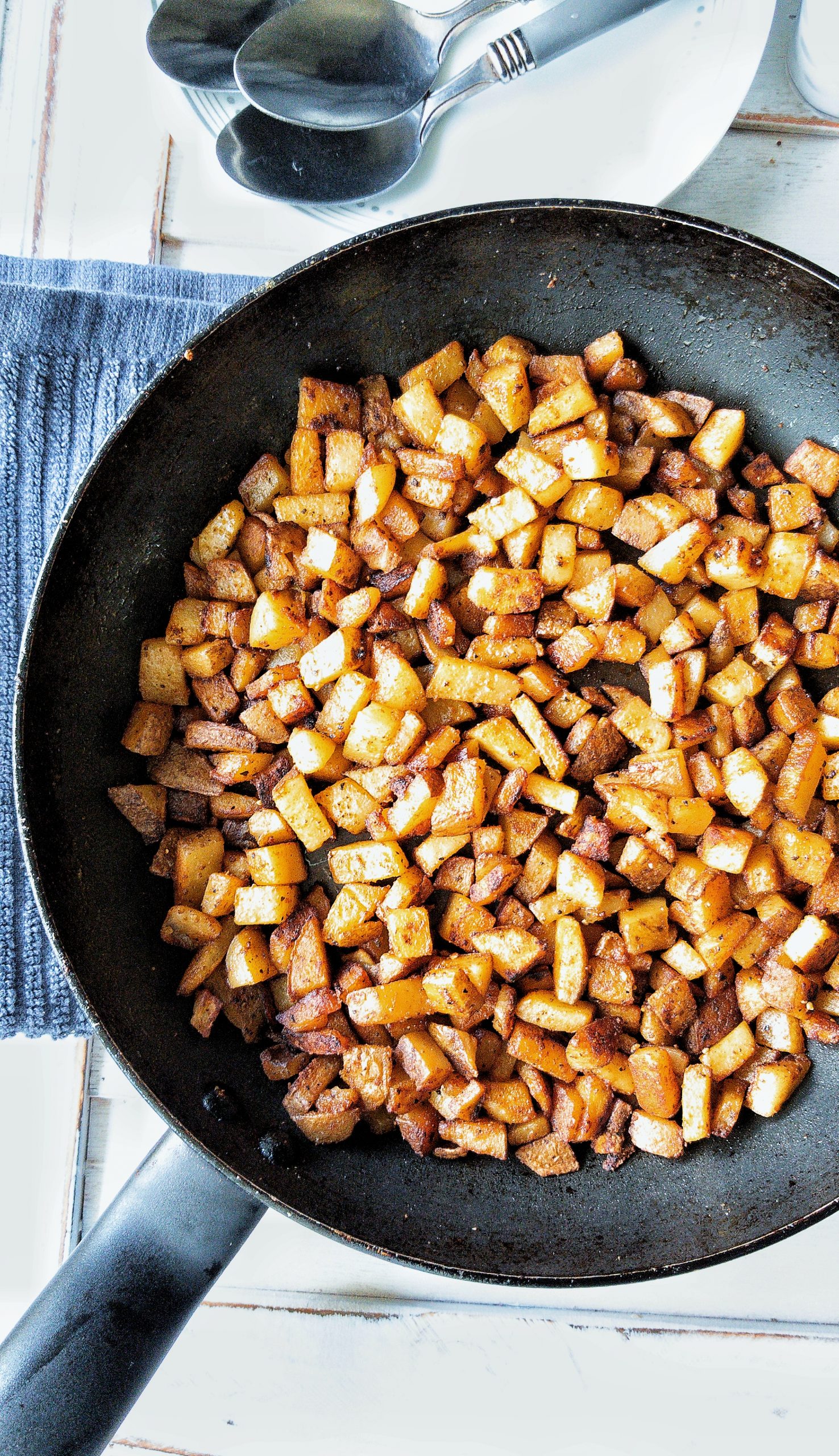 A non-stick pan will work just fine when making crispy breakfast potatoes or home fries.
Well-seasoned cast iron pans would be preferred, as they conduct heat more efficiently and evenly. But if you're like me with limited equipment, improvising is totally fine.
How To Make Home Fries Crispy
Use a high-starch potato, including, russet, Idaho, and Yukon gold potatoes. They have a lower to water starch ratio, which makes them perfect for frying. Low-starch potatoes yield too much moisture, which can make your home fries soggy. Additionally, high-starch potatoes have thick skins, which crisp up perfectly when pan-fried (another reason to keep those skins on!)
After chopping the potatoes and rinsing them under cold water, make sure to pat dry. You want them as dry as possible before tossing them into the pan. Water on the potato's surface can prevent the crispiness you're looking for.
Have potatoes in a single-layer in the pan. It would be even better if you can have some space between each potato cube. Overcrowding the pan can create steam, which can make your potatoes soggy.
For more breakfast recipes, check out 18 Frugal Plant-Based Breakfast Recipes. We have sweet, savory, and everything in between!
---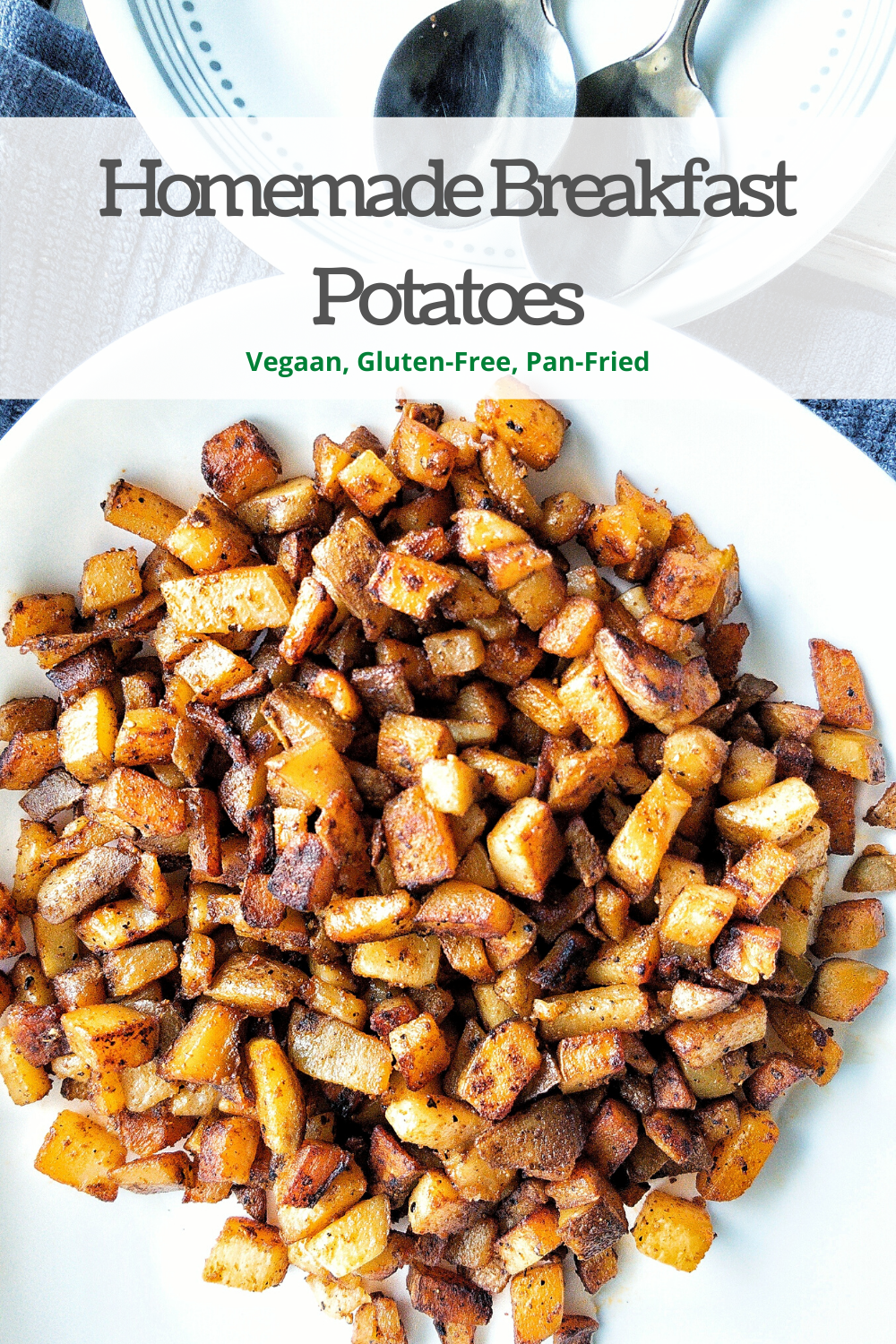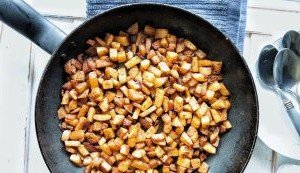 How To Make Home Fries
Pan-fried breakfast potatoes or home fries made with vegan butter and your favorite spices. Crispy on the outside and perfectly tender on teh inside!
Instructions
Roughly chop the potatoes into small, bite-sized chunks.

Place potatoes in a bowl and rinse with cold water to remove any excess starch.

Pat-dry the potato chunks with a clean kitchen towel or paper towels.

Set a non-stick pan over medium to medium-high heat. Add the butter. Once the butter has melted and there is some bubbling, add potatoes in a single layer.

Season potatoes with the smoked paprika, garlic powder, nutritional yeast, and salt.

Toss to coat the potatoes evenly.

Cook and flip potatoes on each side every few minutes, until tender and golden. About 10-12 minutes.

Remove potatoes from heat and allow them to drain on a wire rack. Serve immediately
Nutrition
Serving:
1
-Serving
Calories:
263
kcal
Carbohydrates:
40
g
Protein:
6
g
Fat:
9
g
Saturated Fat:
2
g
Polyunsaturated Fat:
3
g
Monounsaturated Fat:
4
g
Trans Fat:
1
g
Sodium:
105
mg
Potassium:
961
mg
Fiber:
3
g
Sugar:
1
g
Vitamin A:
1029
IU
Vitamin C:
12
mg
Calcium:
31
mg
Iron:
3
mg
Did you try out this Pan-Fried Home Fries Recipe?
Please leave a comment below, share it, rate it or tag a picture @plantbasedandbroke on Instagram and hashtag it #plantbasedandbroke. Show off that creation with us!