(
This post may have affiliate links. Please see my disclosure.
)
Jump to:
Salads are okay. An easy salad with a creamy, garlic salad dressing made from plant-based ingredients makes salads lip-smackin' delicious.
Warning: only serious garlic fans should proceed further.
I don't often buy salad dressings, because I find they sit in my refrigerator for an ungodly amount of time. Then the sniff test happens - and it's all over.
That salad dressing never had a chance to live a full life.
So, sometimes I make homemade salad dressings from scratch with the stuff I have in my home. I can control how much I want to make and I call the shots for what goes into it.
For this salad dressing, I decided to go for an umami-and-creamy type of salad dressing made with pan-toasted chopped walnuts, garlic, dates, dijon mustard, and smoked paprika.
More Recipes With Garlic:
Recipe Notes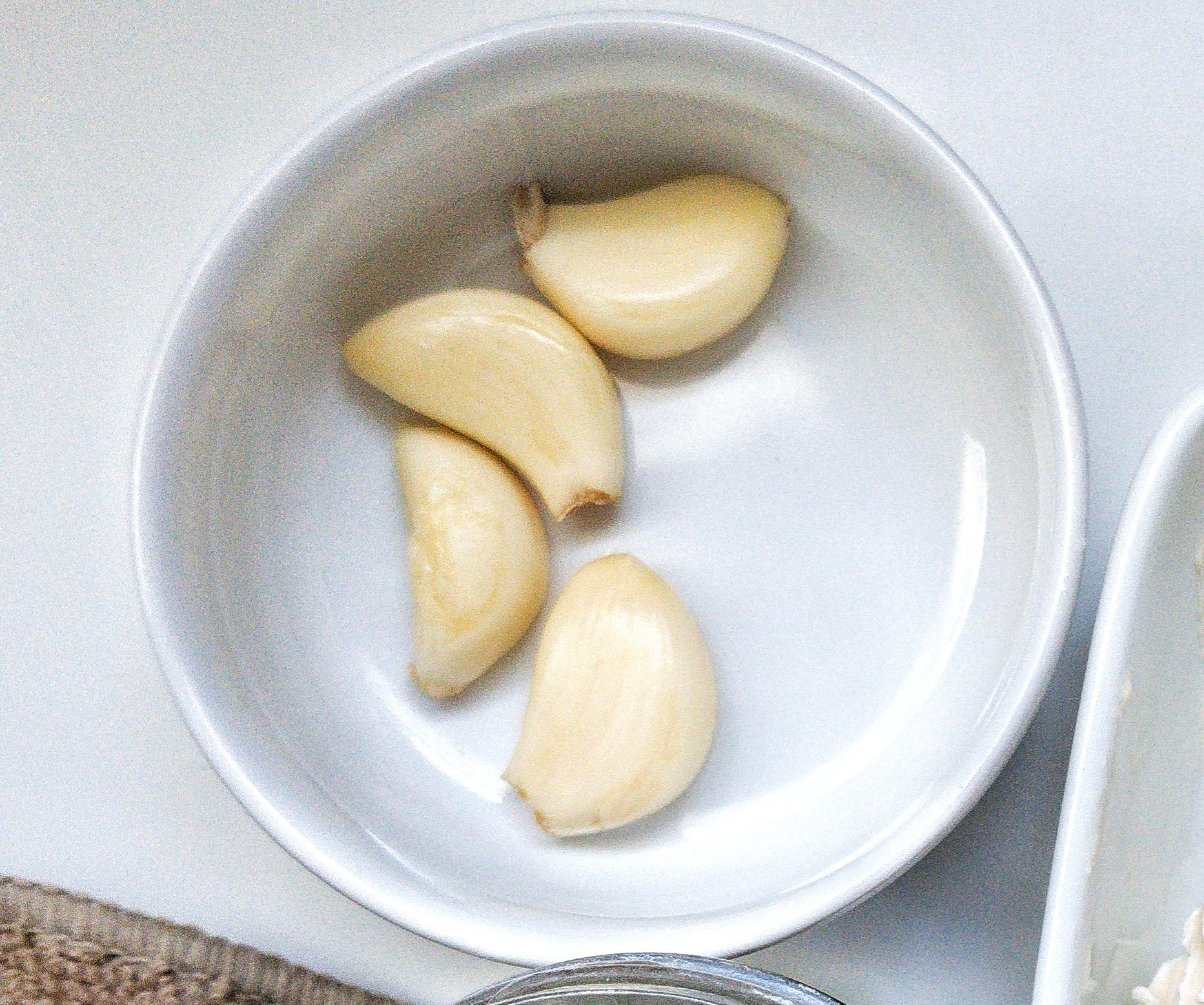 No need to chop the garlic. It's going straight to the blender and that'll take care of breaking the ingredients down to a thick sauce.
I recommend using a high-speed blender with a great blade, for example, a Nutribullet or Oster blender. This will help smoothen out the texture and make sure no chunk is left is behind.
How Garlicky Is This Dressing?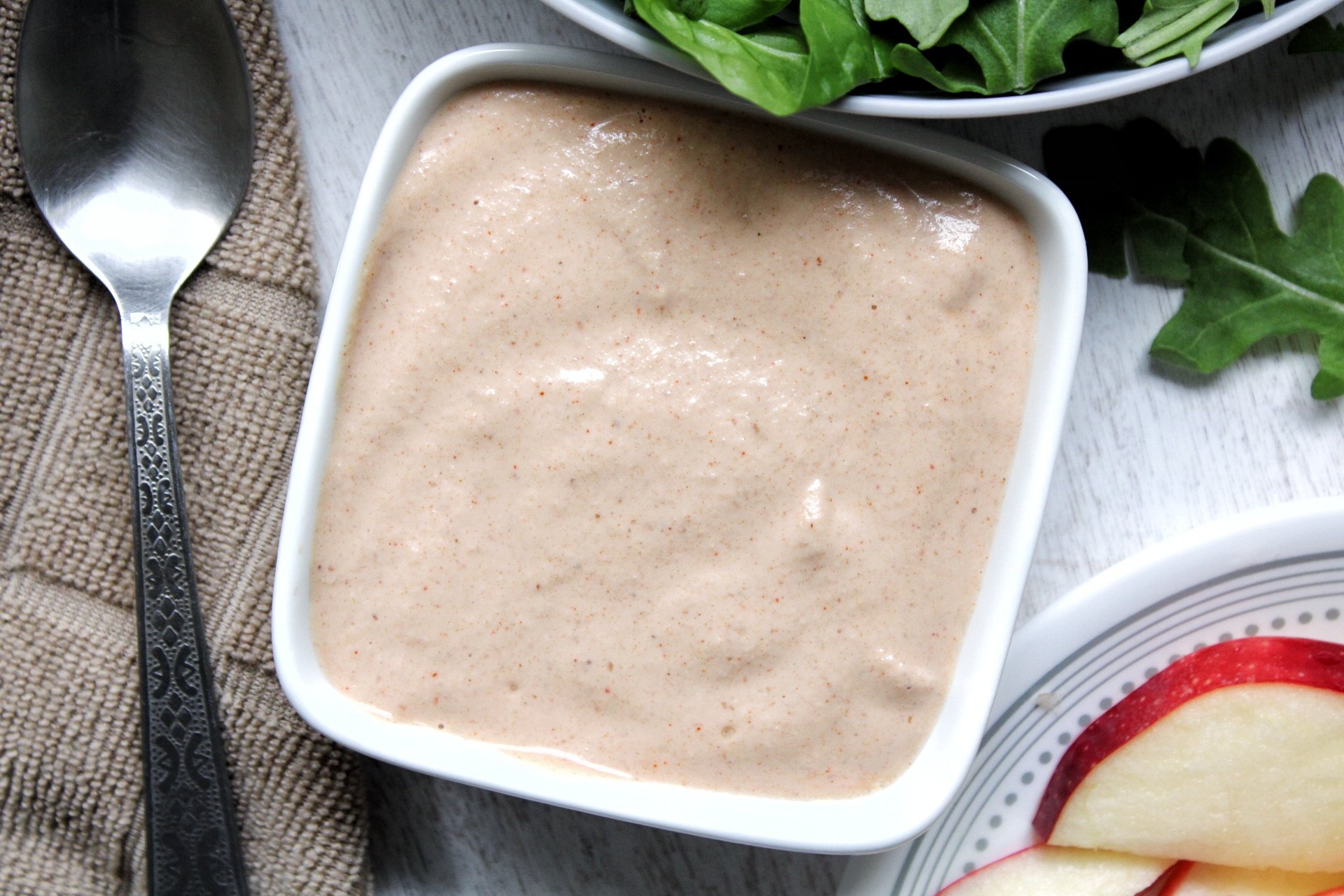 Don't be fooled - one garlic clove is enough for this recipe. Because we're using raw garlic, its flavor will show up full-force in the dressing.
But if you're feeling like you need more garlic in your life, go for two cloves. But, I've warned you, so you can't complain about how garlicky it was.
Just a tip: the longer you cook or roast garlic, the sweeter and mellow its flavor becomes. When you consume garlic raw or quickly cooked for a minute, it'll have a sharper garlic flavor.
Ingredients In The Salad Dressing: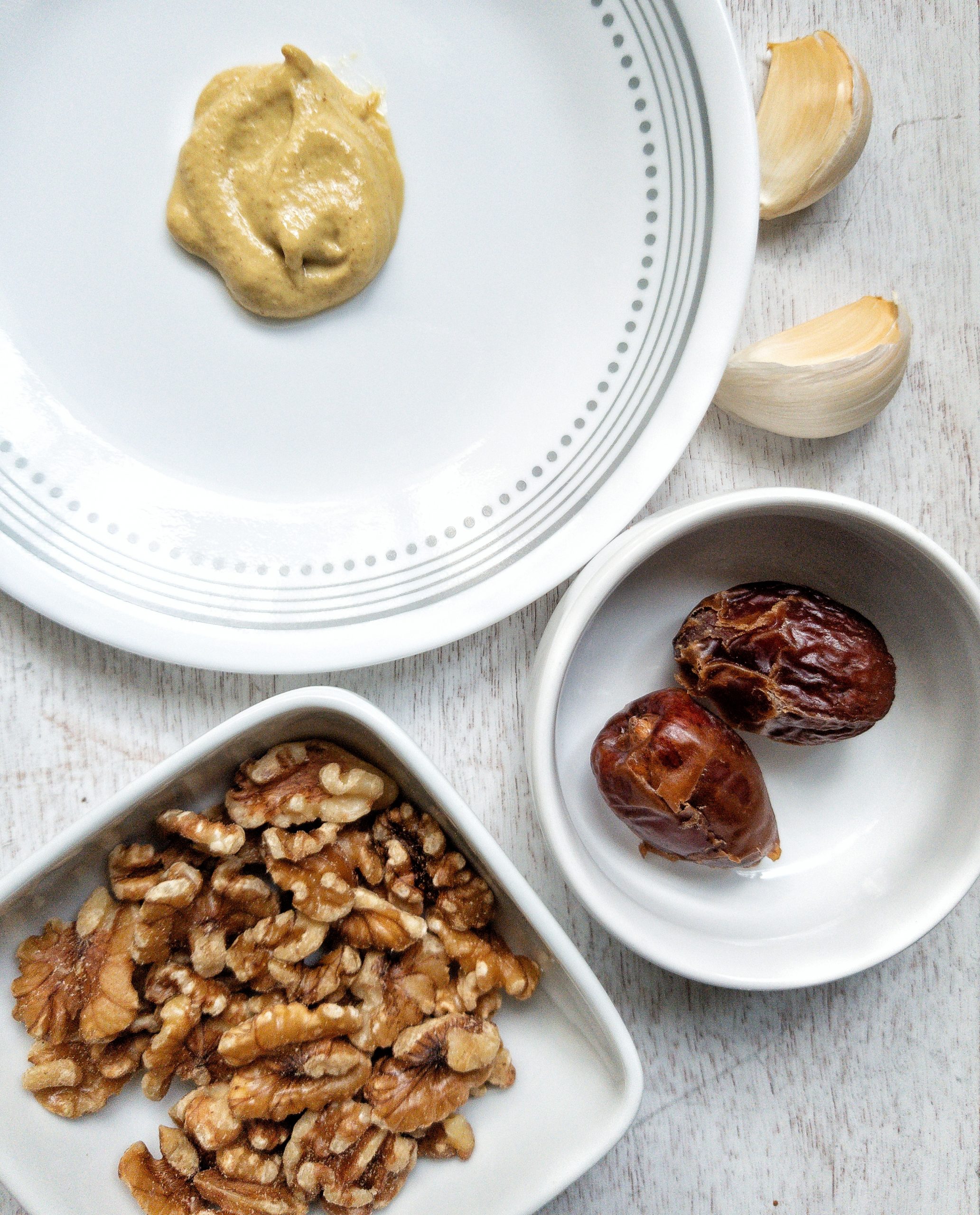 Walnuts

The walnuts are the base of this recipe - it is what provides that creamy texture we're looking for.

Smoked Paprika

The smoked paprika provided a pinch of color and smoky flavor to the dressing.

Dijon Mustard

Dijon mustard helps brings another layer of creaminess. Additionally, it adds a touch of spiciness and umami.

Dates

We're using dates as a plant-based, whole food sweetener to mellow out the flavor profile of the dressing. In addition to of course bringing a soft sweetness.

Garlic

This is the star of the recipe. One garlic clove will go a long way to bringing a zippy garlic flavor.
How To Make A Simple Salad
A good salad is one with a variety of flavors, textures, and a good protein/fat/carb ratio. They can be loaded with different ingredients, or you can take a simple salad approach.
Because I just wanted a light side salad to accompany the rest of my lunch, I tossed a handful of spinach and arugula with the homemade salad dressing. I also added a few croutons for a good crunch.
However, feel free to top the salad with what you enjoy.
Salad Topping Ideas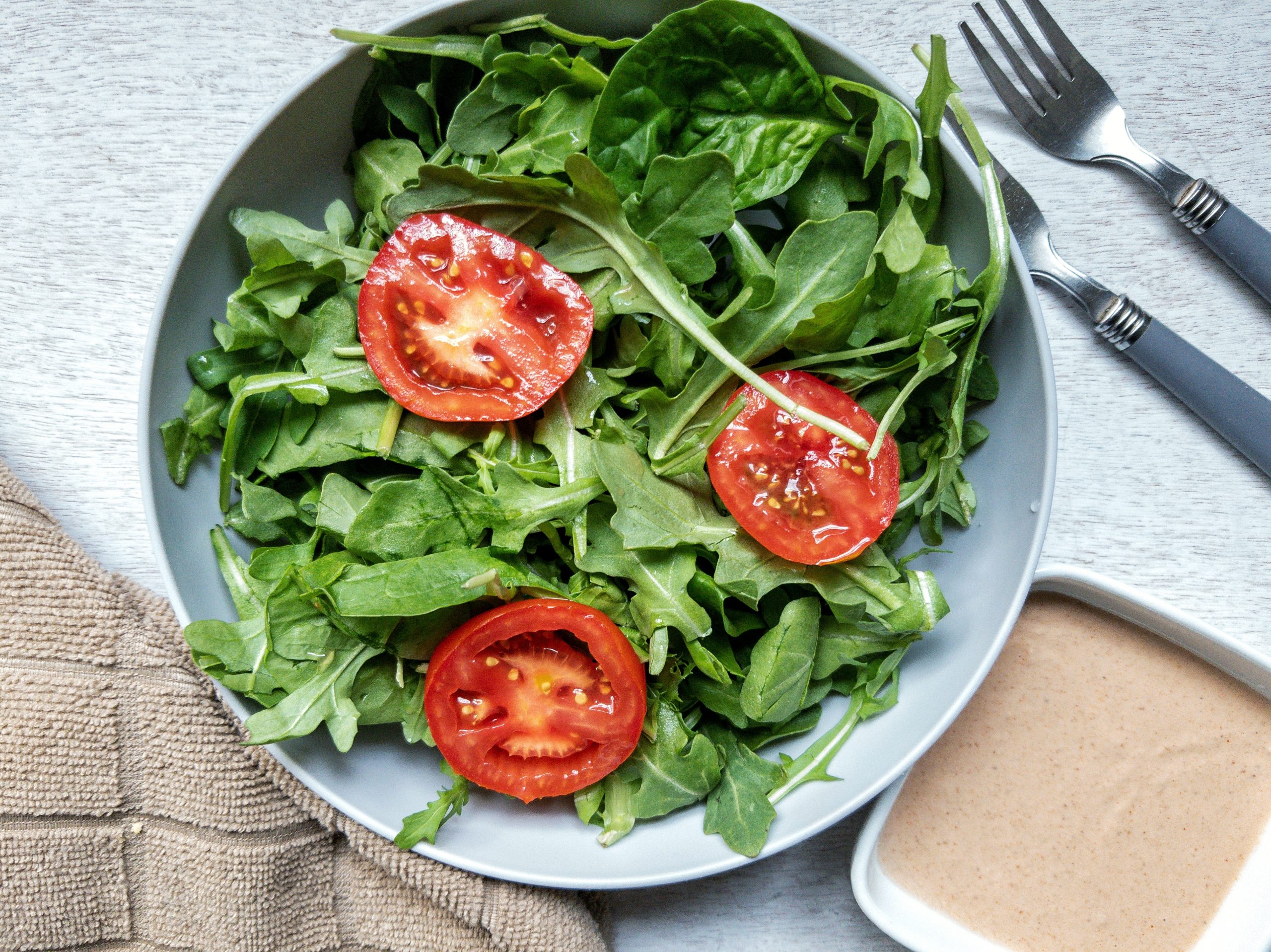 Here are some salad topping ideas that I think pair well with a garlic salad dressing and a bed of spinach + arugula:
Pan-Toasted Corn
Chopped Tomatoes
Croutons
Sliced Red Onion
If you're not in the mood for a salad, you can use the dressing with vegetables including carrots, cucumbers, celery, green beans, and bell peppers.
How To Store
Store the garlic salad dressing in an air-tight container. It will keep fresh in the refrigerator for up to 4 days.
For soup recipes to go along with that salad, try out roasted tomato basil soup, creamy garlic potato soup, or 20-minute black bean soup.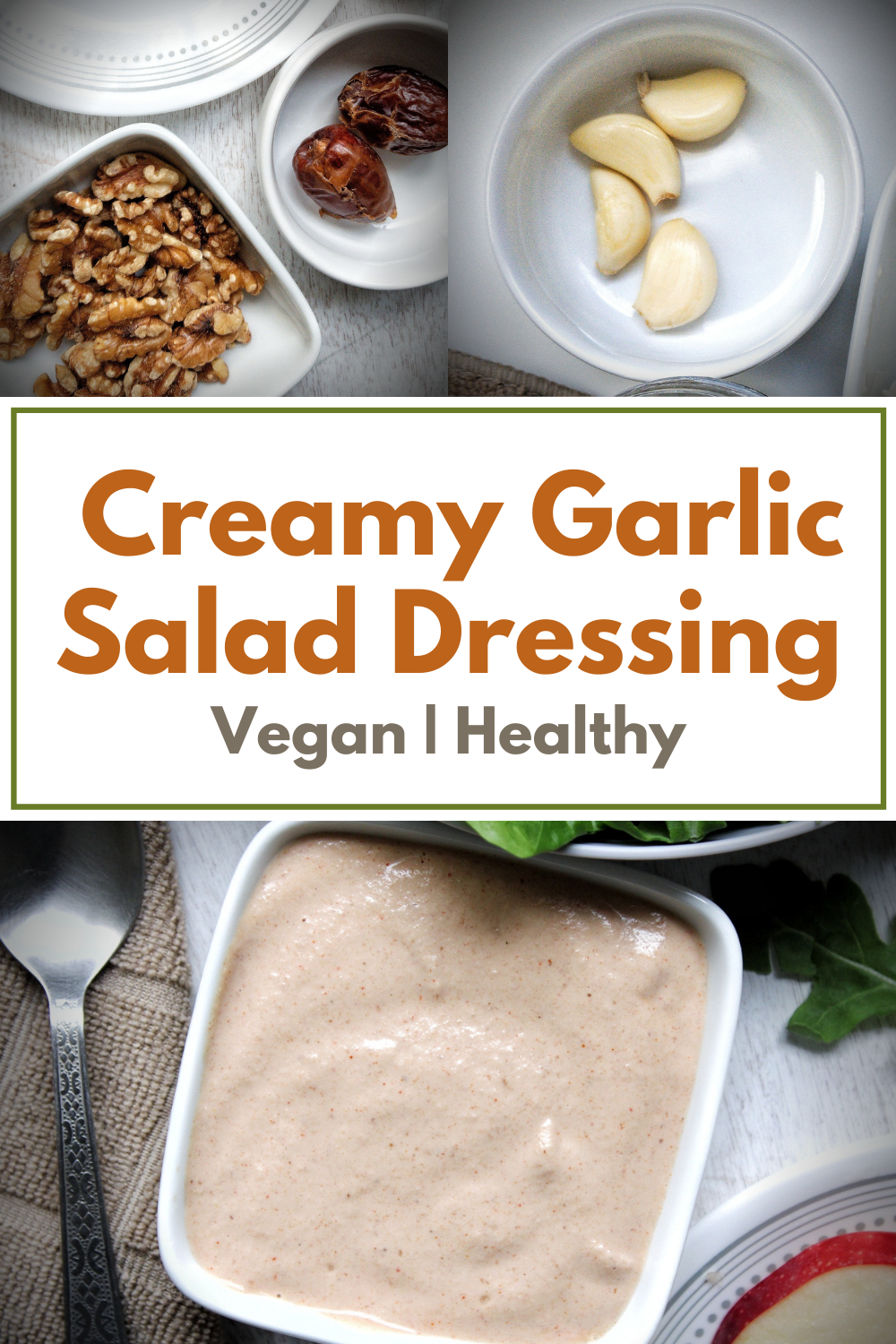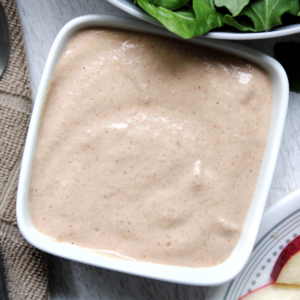 Vegan Creamy Garlic Salad Dressing
Turn that dull bed of greens to a bed of garlic yum. A homemade, vegan creamy garlic salad dressing that's insanely delicious, plant-based, oil-free, and healthy.
Ingredients
⅓

cup

walnuts

½

cup

water

¼

teaspoon

smoked paprika

2

teaspoons

dijon mustard

2

dates

pitted, roughly chopped

1

garlic clove

peeled
Instructions
Set a non-stick pan over medium heat. Once warm, add the roughly chopped walnut pieces. Dry cook and toss the walnuts until golden, about 5 minutes. Toasting the walnuts will soften its bitterness and enhance its flavor. If you want to keep this recipe raw, skip the toasting.

In a high-speed blender, add all of the ingredients including the walnuts. Blend until smooth and creamy.

Refrigerate and chill in a container for at least one hour.
Nutrition
Serving:
1
-cup
Calories:
307
kcal
Carbohydrates:
18
g
Protein:
7
g
Fat:
26
g
Saturated Fat:
2
g
Polyunsaturated Fat:
19
g
Monounsaturated Fat:
4
g
Sodium:
121
mg
Potassium:
301
mg
Fiber:
4
g
Sugar:
10
g
Vitamin A:
263
IU
Vitamin C:
2
mg
Calcium:
60
mg
Iron:
2
mg
Did you try out this Vegan Creamy Garlic Salad Dressing recipe?
Please leave a comment below, share it, rate it, or tag a picture @plantbasedandbroke on Instagram and hashtag it #plantbasedandbroke. Show off that creation with us.