(
This post may have affiliate links. Please see my disclosure.
)
Jump to:
If you're on the hunt for a delicious dish that won't break the bank, we've got you covered with our herbed air fryer sweet potatoes cubes!
It's been hot lately (I'm talking 100+ degree weather) and I've been avoiding the oven like the plague. This means my air fryer is working overtime to recreate some of my roasted favorites. One of them being sweet potato cubes that can be cooked up in just minutes. Whether you're a seasoned home cook or a kitchen newbie, this recipe is a breeze to whip up, making it the go-to option for busy weekdays or weekend gatherings.
Why You'll Love This
Budget-Friendly: This recipe uses simple, affordable, and readily available plant-based ingredients, making it perfect for anyone on a budget. All of the ingredients are pantry-friendly.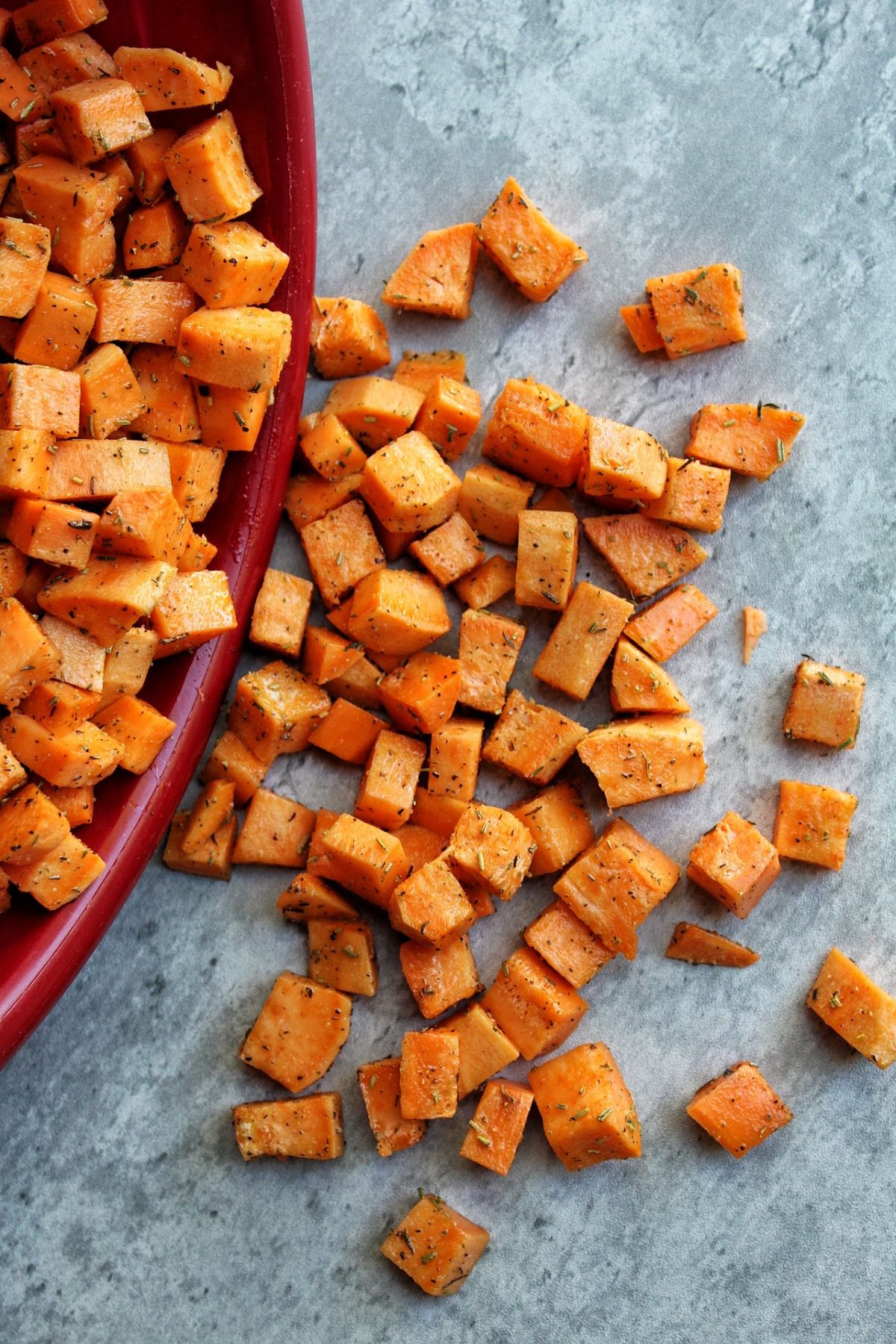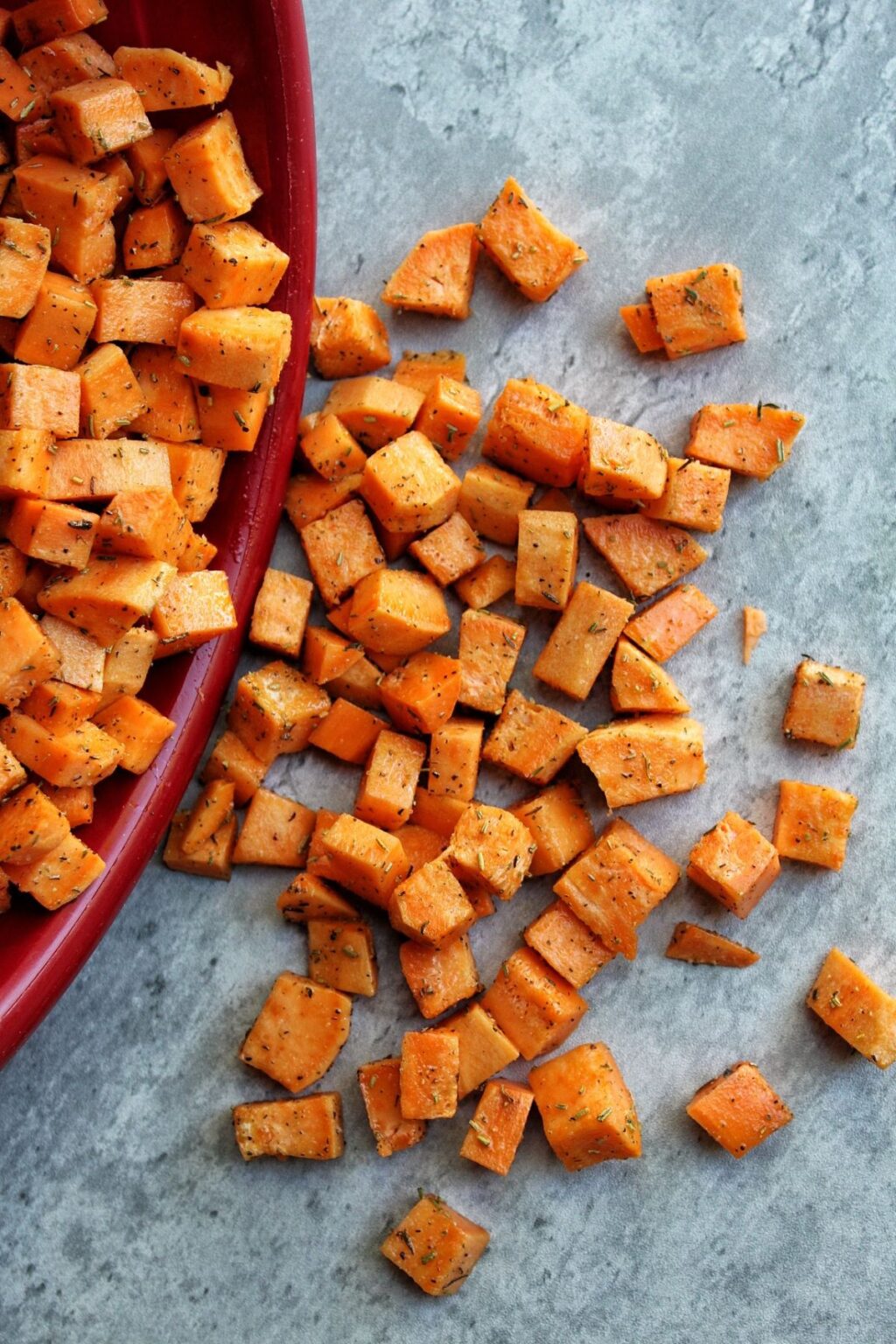 Healthy and Nutritious: Sweet potatoes are a nutritious food, packed with vitamins, fiber, and antioxidants, and this air fryer method uses less oil than traditional frying, making it a guilt-free snack or side dish.
Quick and Easy: With only 5 ingredients and dry herbs, this recipe is incredibly easy to prepare, saving you time in the kitchen while still enjoying a delicious and satisfying dish.
Ingredients & Substitutions
Sweet Potatoes: If you don't have sweet potatoes on hand, you can use regular potatoes, butternut squash, or even carrots. Keep in mind that the cooking time may vary depending on the vegetable you choose.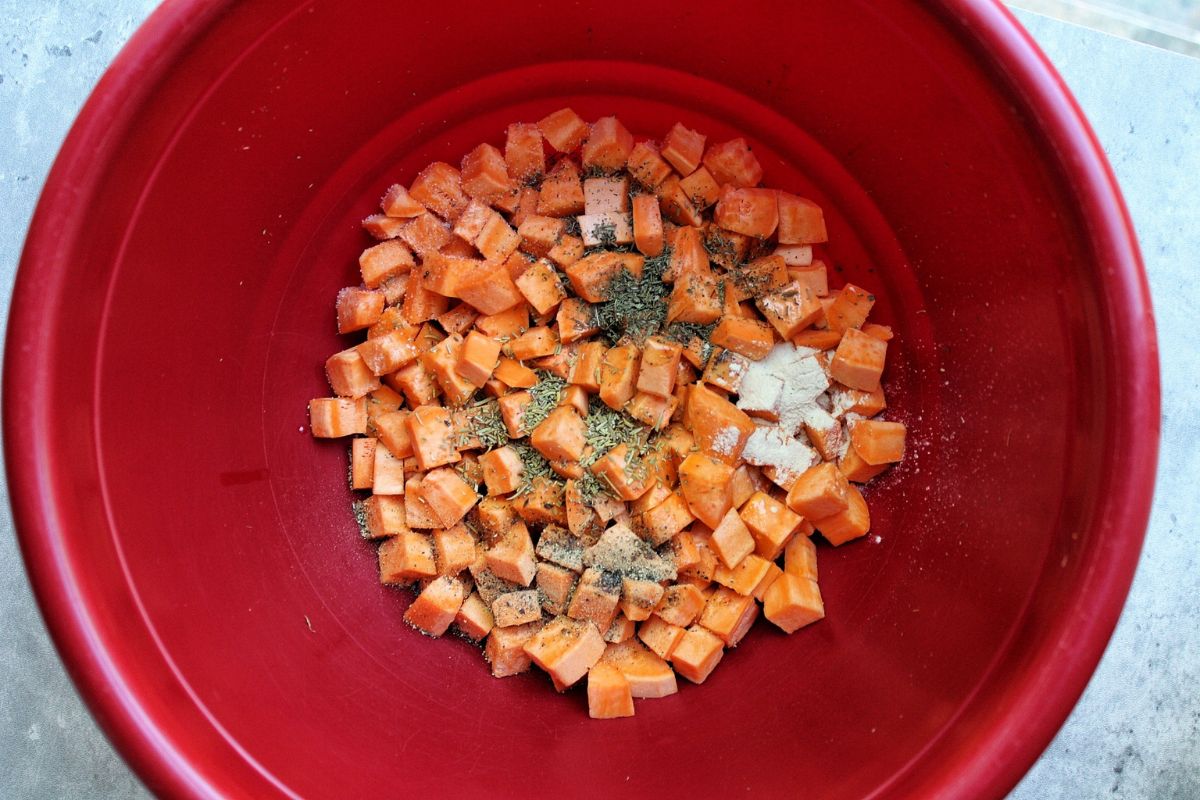 Olive Oil: Avocado oil, coconut oil, or vegetable oil are great alternatives to olive oil. I used olive oil in this recipe.
Dried Rosemary: If you're out of dried rosemary, try using dried thyme, dried oregano, or dried sage for a different aromatic twist.
Dried Thyme: Swap dried thyme with dried marjoram, dried basil, or even dried parsley. If you have Italian seasonings on hand, you can use that.
Garlic Powder: If you don't have garlic powder, onion powder works great, too!
Salt and Pepper: Any salt variety like sea salt, kosher salt, or Himalayan pink salt will work. If you're not into black pepper, totally omit it. White pepper or cayenne pepper can be used for a spicier kick.
Type of Sweet Potatoes To Use
There are so many different varieties of sweet potatoes to choose from! Each with their own unique flavor, texture, and appearance. Firm varieties, such as the Beauregard and the Jewel, have a pale yellow to orange flesh that remains sturdy when cooked. These are ideal for roasting or air frying, as they maintain their shape and texture.Their drier, less sugary flesh caramelizes perfectly, creating a crisp exterior and the soft interior.
For this recipe, we used orange sweet potatoes.
History & Background About Sweet Potatoes
Sweet potatoes have a rich history dating back thousands of years. Originating in Central and South America, they had a range of colors and sizes. They can be found in purple, yellow, orange, brown, or red.
Sweet potatoes are not only versatile in cooking but also incredibly nutritious. They are a great source of vitamins A and C, potassium, and dietary fiber. Also, their natural, subtle sweetness is great in both sweet and savory dishes.
Be sure to check out our mashed sweet potato and sweet potato tofu scramble recipe!
How to Prep & Chop Sweet Potatoes
Rinse and scrub the sweet potatoes under cold water to remove dirt and debris.
Use a peeler to remove the skin. Start at the top and peel downward, following the shape of the potato.
Cut off both ends of the sweet potato to create flat surfaces for stability. Slice the sweet potatoes lengthwise into 1-inch thick slices.
Then, chop the sweet potato into cubes, also about 1 inch thick.
Before adding the oil and spices, gently pat the cubes dry with a paper towel.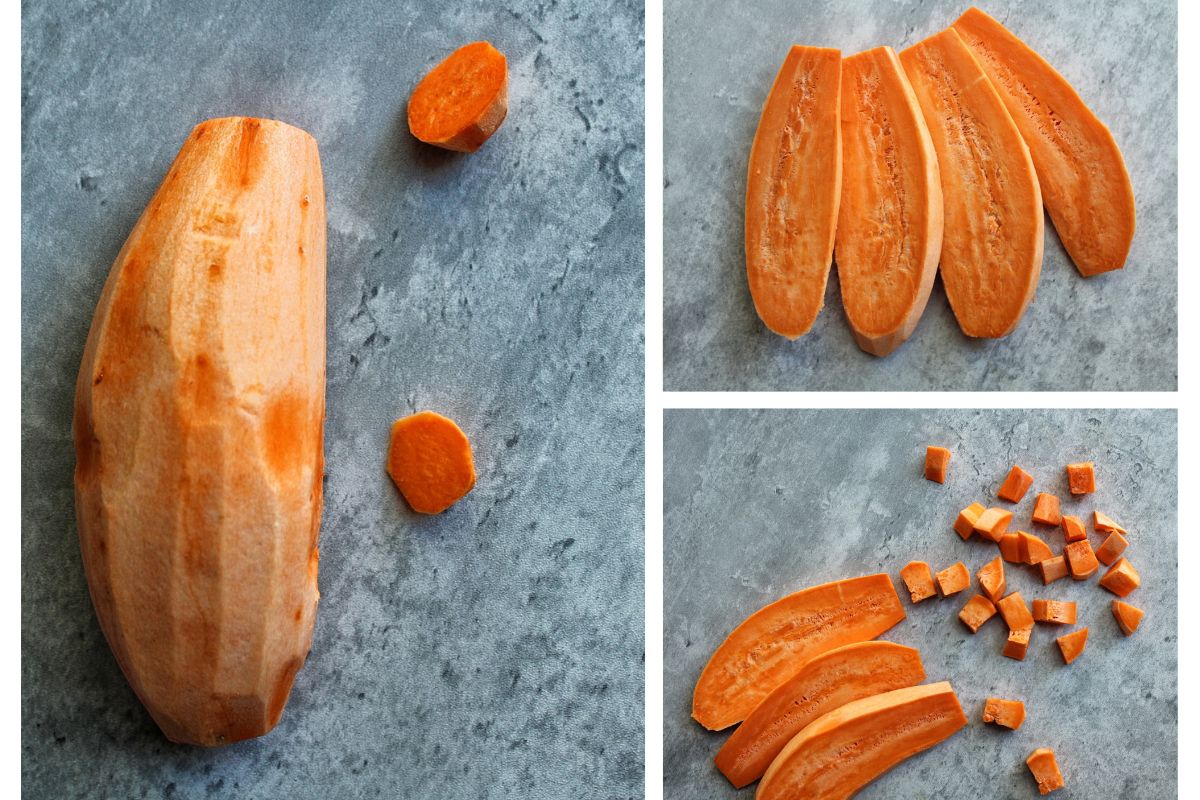 What To Serve With Air Fryer Sweet Potatoes Cubes
Air fryer sweet potato cubes can be served as a snack, a healthy side dish, or even as a part of a main meal. Pair them with:
Dipping Sauces: Enjoy them with a tangy vegan aioli, homemade pesto, or a creamy avocado dip. A yogurt-based dipping sauce also pairs perfectly with sweet potatoes. Vegan yogurt can be used.
Burgers: Add these sweet potato cubes to your plant-based burgers. They're a great substitute for fries or chips. Try it with our vegan black bean tofu burger.
Tofu or Protein-Rich Dish: Go for air fryer tofu or another protein-rich dish.
Tips For The Best Air Fryer Sweet Potato Cubes Recipe
Uniform Cubes: Cut the sweet potatoes into uniform cubes to ensure even cooking.
Preheat the Air Fryer: Preheat the air fryer before adding the sweet potatoes. This helps them cook more evenly and become crispier.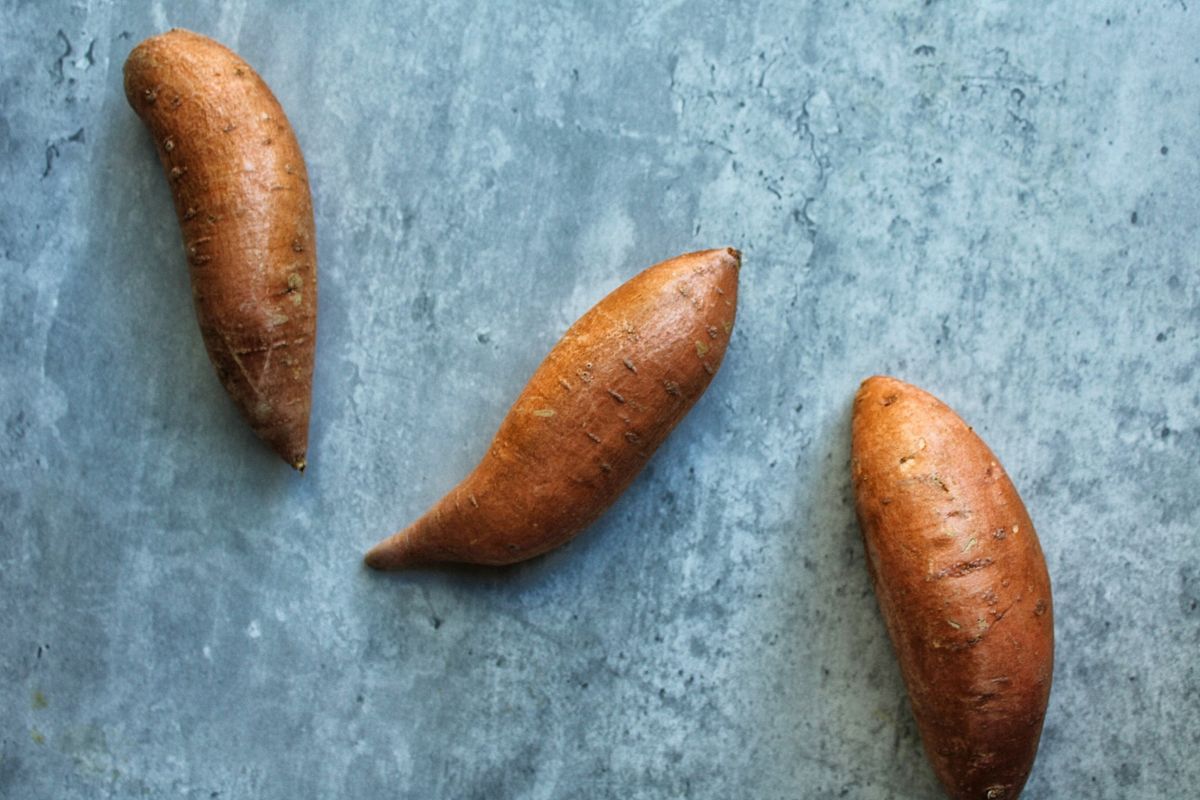 Shake the Basket: Halfway through cooking, shake the air fryer basket to ensure all sides of the sweet potato cubes are evenly exposed to the hot air. Flipping is fine, too.
Don't Overcrowd: Cook the sweet potatoes in batches if needed to avoid overcrowding the air fryer, allowing proper air circulation for crispiness. For the air fryer I have, I found that the 3 medium-sized sweet potatoes are the perfect amount to avoid overcrowding.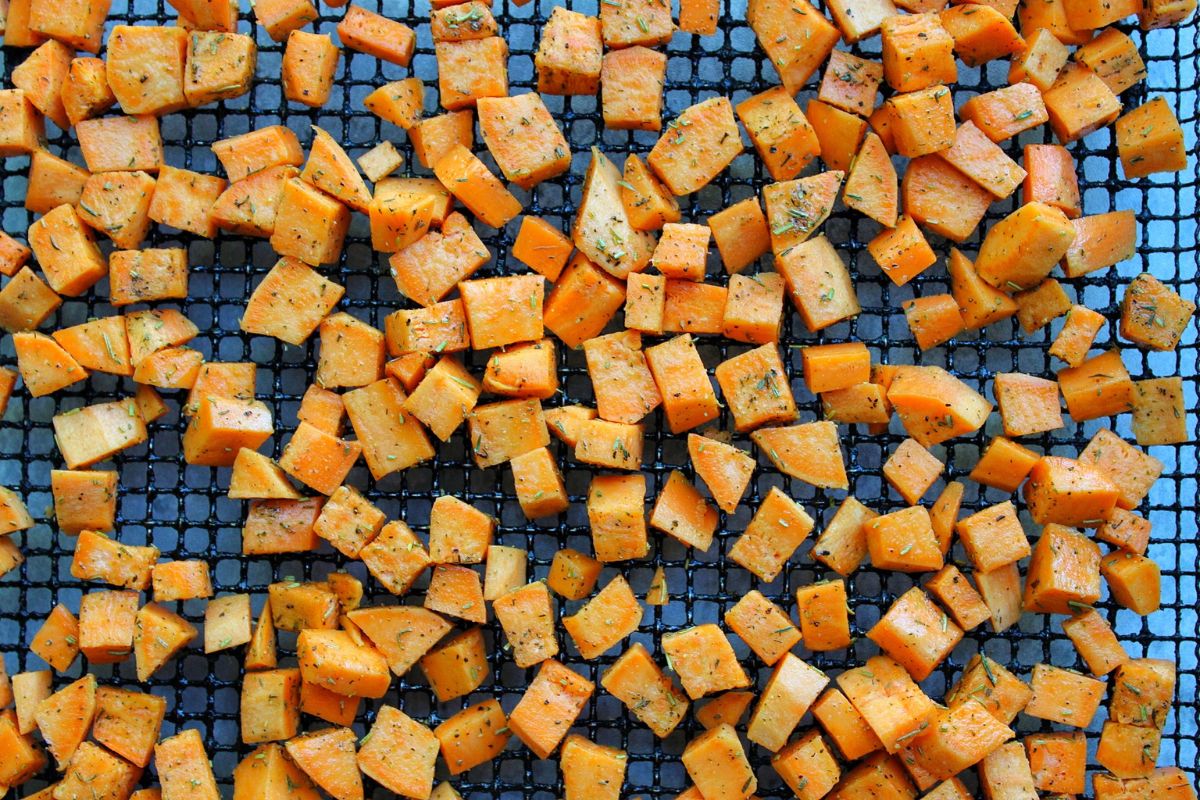 How To Store
To store air fryer sweet potato cubes, allow them to cool completely before transferring to an airtight container. They can be kept in the refrigerator for up to 3 days. If you want to keep them longer, they can be frozen for up to 2 months. To reheat, cook in the air fryer for a few minutes until warm and crispy.
More Air Fryer Recipes
FAQs about Herbed Air Fryer Sweet Potato Cubes
Can I use other herbs for seasoning?
Yep! Feel free to experiment with different dry herbs such as thyme, rosemary, or cumin. Other herbs to consider:
Sage
Chives
Parsley
Marjoram
Cilantro
Dill
Spice blends or mixes can be used, too!
Can I make this recipe without oil?
Yes, you can omit the oil or cut it back by using cooking spray. Although, a little bit of oil goes a long way in this recipe. I suggest using a little bit of oil in this recipe.
How long should I air fry sweet potato cubes?
To air fry sweet potato cubes, it usually takes around 10 to 12 minutes. However, the exact cooking time can vary depending on a few factors, such as the size of the cubes, the specific air fryer model you're using, and your desired level of crispiness.
Why does this recipe use dried herbs rather than fresh herbs?
This recipe uses dried herbs instead of fresh herbs due to their affordability, accessibility, and extended shelf life. Dried herbs are more budget-friendly, making them a cost-effective option. Additionally, their concentrated flavor allows for using smaller amounts to achieve the desired taste .Main reason? It's something I always have in my kitchen pantry.
Can I cook frozen sweet potato cubes in the air fryer?
Yes, you can cook frozen sweet potato cubes in the air fryer! To do this, preheat your air fryer to around 400°F/204°. Then, place the frozen sweet potato cubes in the air fryer basket in a single layer. Cook the cubes for about 15 minutes, shaking the basket or flipping the cubes halfway through the cooking time to ensure even browning.
Why do air fryer sweet potatoes burn easily?
Sweet potatoes can burn easily in the air fryer due to their natural sugars caramelizing quickly at high temperatures. To prevent burning, follow these tips:
Cut sweet potatoes into even-sized pieces for uniform cooking.
Coat them with oil to reduce direct contact with the air fryer's hot surface.
Cook at a slightly lower temperature (around 400°F/204°C) and monitor regularly.
Shake or flip the sweet potatoes halfway through cooking for even browning.
Avoid overcrowding the air fryer basket. By taking these precautions, you'll achieve perfectly crispy and golden sweet potatoes without burning.
Tried out this Air Fryer Sweet Potato Cube recipe?
Please leave a comment below, share it, rate it, or tag a picture @plantbasedandbroke on Instagram and hashtag it #plantbasedandbroke. Show off that creation with us.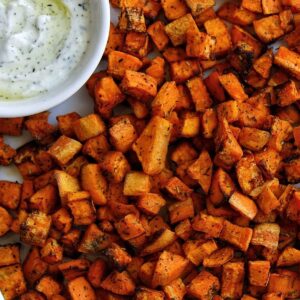 Herbed Air Fryer Sweet Potato Cubes
Get your sweet potatoes out! We're blasting them in the air fryer. These herbed air fryer sweet potato cubes are the perfect snack or side dish when the oven needs to take a break.
Ingredients
3

medium sweet potatoes

2

tablespoons

olive oil

½

teaspoon

dried rosemary

½

teaspoon

dried thyme

½

teaspoon

garlic powder

salt & pepper

to taste
Instructions
Preheat the air fryer to 400°F (204°C) for 2 minutes, or until hot.

In a large mixing bowl, toss the sweet potato cubes with olive oil until evenly coated. Sprinkle the dried rosemary, thyme, garlic powder, salt, and pepper over the potatoes. Mix well.

Place the seasoned sweet potato cubes in a single layer inside the air fryer basket. If necessary, cook them in batches to avoid overcrowding.

Air fry the sweet potato cubes for 10-12 minutes, flipping/shaking them halfway.

Once done, remove the sweet potato cubes from the air fryer, and serve right away. Serve sweet potato cubes with your favorite vegan dip.
Notes
For even crispiness, make sure the sweet potato cubes are cut into uniform sizes.

If you prefer a spicier kick, add a pinch of cayenne pepper or red pepper flakes to the seasoning mix.

Don't overcrowd the air fryer basket. This helps the sweet potatoes cook evenly and become crispy.

I used a Cusinart Air Fryer. 
Nutrition
Serving:
1
serving
Calories:
321
kcal
Carbohydrates:
46
g
Protein:
4
g
Fat:
14
g
Saturated Fat:
2
g
Polyunsaturated Fat:
2
g
Monounsaturated Fat:
10
g
Sodium:
125
mg
Potassium:
773
mg
Fiber:
7
g
Sugar:
9
g
Vitamin A:
32073
IU
Vitamin C:
6
mg
Calcium:
74
mg
Iron:
2
mg