Jump to:
Whether you're stocking your kitchen for the first time, or you're going for a regular grocery run, a well-stocked pantry is important.
Pantry items are typically shelf-stable for a very long time, affordable, and usually include ingredients that are used on a day-to-day basis. For example, sugar, flour, salt, spices, sauces, grains, nuts, seeds, and canned goods.
When we think of the basics, pantry staples are high on that list. They make cooking easy - without compromising on flavor. In fact, they add to it (i.e. spices).
For cheap, fast, and straight-to-the-point recipes, check out 25 Affordable Recipes From Pantry And Frozen Ingredients.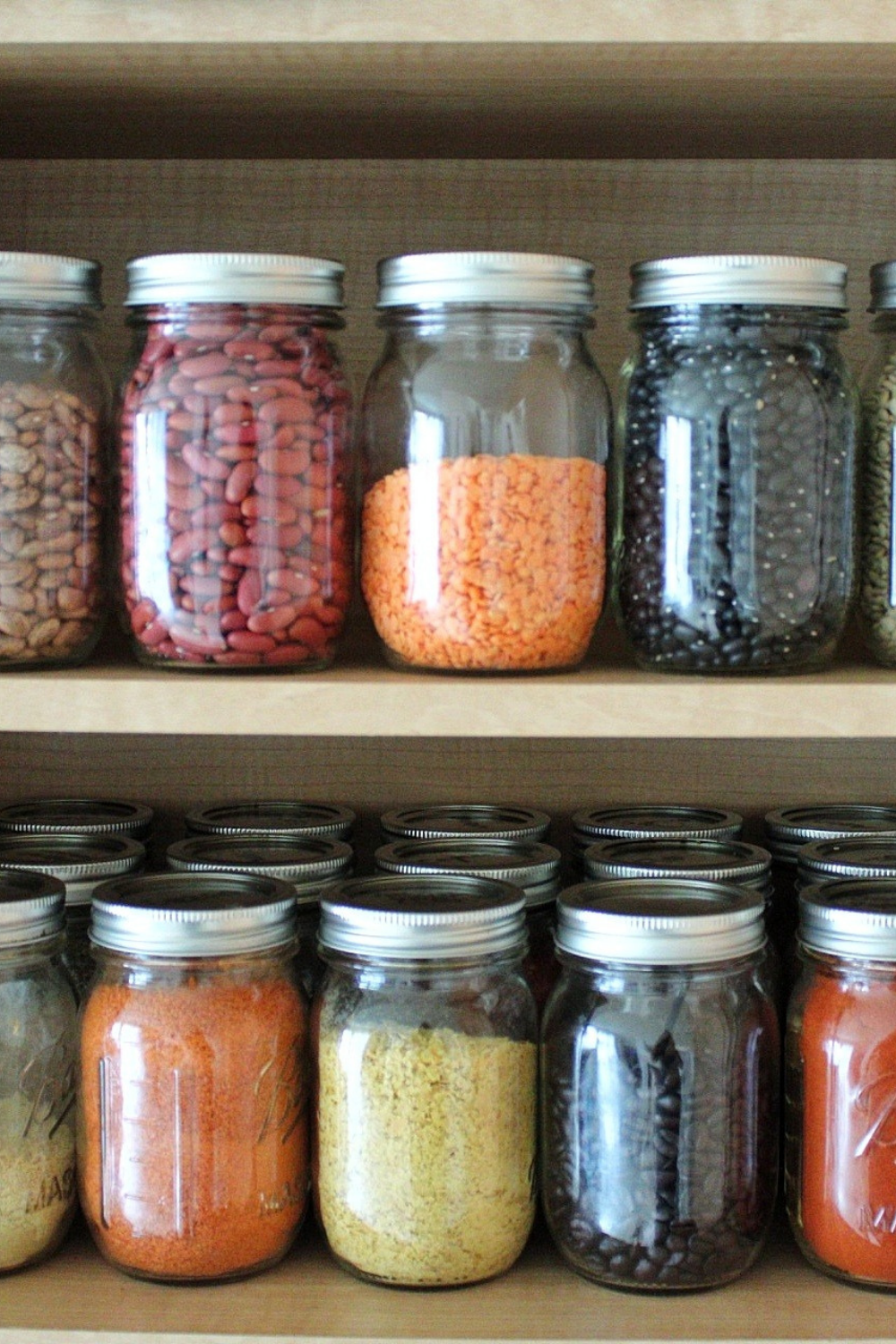 Canned Food
Recipes From Canned Food
There's so much you can do with canned food items like beans and crushed tomatoes. That includes soups, stews, homemade pasta sauces, or curry dishes. Here are some of my favorites:
Seasonings
15- Salt
16- Black Pepper
17- Sazon Complete Mix Seasoning
18- Sazon
19- Chili Powder
20- Adobo
22- Ground Cinnamon
23- Ground Cumin
24- Ground Ginger
25- Mushroom Umami Seasoning Blend
26- Red Pepper
27- Red Chili Pepper
28- Basil Leaves
29- Curry Powder
30- Paprika
31- Garlic Powder
32- Ground Turmeric
35- Bay Leaves
Recipes From Seasonings & Spices
Fresh herbs and seasonings are great, but so are the pantry stuff. They're great for when you need to whip something quickly or don't want to be bothered by strict expiration dates.
Here are some of my favorite dishes using pantry seasonings:
Nuts
38- Cashews
39- Almonds
40- Walnuts
41- Peanut Butter
42- Almond Butter
Recipes From Nuts
Need healthy, plant-based fats that don't cost an arm and a leg? Get nuts! Sure, you can maybe do a peanut butter sandwich, but here are some of the interesting ways I use my pantry nuts:
Grains
43- Brown Rice
44- White Rice
45- Oat Bran
46- Rolled Oats
48- Oat flour
Recipes From Grains
These food items are used on a daily basis at the Plant-Based and Broke household. By the way, that oat flour is homemade.
I'll drop the recipe below along with some other ideas to use grains:
Potatoes
50- Russet Potatoes
51- Sweet Potatoes
52- Red Potatoes
Recipes From Potatoes
I am a bit of a fan of potatoes. All the colors. All the sizes. All the textures. They can keep well in my pantry for over a month and they are great in so many dishes. Here's how I use them:
Tea
53- Ginger Turmeric Herbal Tea
54- Chai Tea
56- Cinnamon Tea
Dry Food
57- Black beans
58- Green Lentils
60- Green Split Peas
61- Brown Lentils
Recipes From Dry Food
Although the canned stuff can be great for when I am in a hurry, I do have some dry legumes as well.
I normally stick to lentils because it's my favorite legume, but they can be used in a variety of ways:
Sweeteners
62- Honey
63- Brown Sugar
Recipes From Sweeteners
Although plant-based sweeteners like dates can be a healthier option to sweeten your food (which I also have), I do sometimes use honey and brown sugar.
But, I don't use them regularly or often. They are considered treats. Here's some of the way I used them:
Fats & Oils
64- Unrefined Virgin Coconut Oil
65- Peanut Oil
66- Palm Oil
67- Greek Extra Virgin Olive Oil
68- Canola Oil
Other Random Things
70- Chia Seeds
72- Coffee
73- Baking Powder
74- White Flour
75- Pancake Mix
Probably the most important things on this list that we use on a daily basis are nutritional yeast, chia seeds, and coffee. Here are some of our favorite ways to use these listed items:
Recipes From Random Food
Love Your Pantry Foods
Don't stray away from pantry foods! Don't let the internet tell you that pantry foods aren't good enough to have at your home.
On the contrary, they are great foods that can really benefit your family's wallet, health, and happiness. There's definitely a lot of ways you can use these foods and you can create an entire meal just on pantry food items if you're creative enough.
Personally, I shop mostly at Trader Joe's for my pantry items. When I have the time, I do go to Costco too.
However, you can also find pantry items at stores like Walmart and the Dollar Store. Some of the pretty good pantry items you can find at the Dollar Store include seasonings, oats, and dry legumes.
Need Food But Can't Afford It?
Visit your local food pantry. You can often find them at churches, community centers, or schools.
It's a very useful tool and it even provides information if you're interested in volunteering at your local food bank.