(
This post may have affiliate links. Please see my disclosure.
)
Cheap, easy, and plant-based – this recipe is the epitome of this blog.
Additionally, if you're focused on reducing or eliminating oil from your diet, you're going to enjoy this vegan fried rice recipe.
What I really love about this "fried" rice recipe is that there are no hard rules for how you can load your rice. All veggies are totally welcome. I usually use a fried rice recipe for when I have vegetables that I really need to use before they go bad, for example, for a hearty soup, stew or pasta recipe.
Okay, so let's be real: oil makes a lot of things taste great. I'd be the first to raise my hand on that one. But there are ways to cook without it if you just don't want it, or simply just on a vegan diet.
Quick tips to cooking without oil:
Swap out the oil for water.
Use a small amount of water at a time. We're not boiling stuff. We're just merely providing some lubrication between the pan and the food.
Small amount = about a tablespoon at a time.
Stir food often.
Don't be afraid to allow food to stick or brown (not burn) when cooking with water. This will bring out more of the flavor.
Use a non-stick pan.
---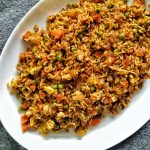 Print Recipe
Vegan Fried Rice Recipe [Oil-Free]
Ingredients
2

cups

cooked brown rice

1/2

sweet onion

1 1/2

cups

shredded cabbage

1

cup

tofu scramble

1

cup

frozen peas

4

garlic

cloves

crushed, minced

5

tablespoons

 low-sodium soy sauce 

Water
Instructions
Finely dice the onion and carrots. Mince the garlic.

Set a large pan over medium heat and add about 1 tbsp of water. 

Immediately after, add the chopped carrots, onions, and garlic. 

Cook and stir often for two minutes. 

Next, add the shredded cabbage to the pan. 

Increase heat to medium-high heat. Stir and cook for 5 minutes. 

Then, add 1 tbsp of water when necessary throughout the cooking time. 

Next, add the frozen peas. Cook and stir everything for another 2 minutes. 

Finally, add your cooked brown rice, cooked tofu scramble, and soy sauce.  

Cook and frequently stir for another 5 minutes.
Notes
Don't fret if you don't have the exact measurements for any given vegetable. Seriously, just use what you have. 
You'll want to start this recipe with pre-cooked rice. 
I used brown rice, but use whatever type of rice you have. 
You NEED to use a non-stick pan if you're cooking without oil. 
Adjust the soy sauce for more or less – depending on how you prefer your stir-fry.
Use a wooden cooking spoon or silicone cooking spatula. Non-stick pans hate metal spoons.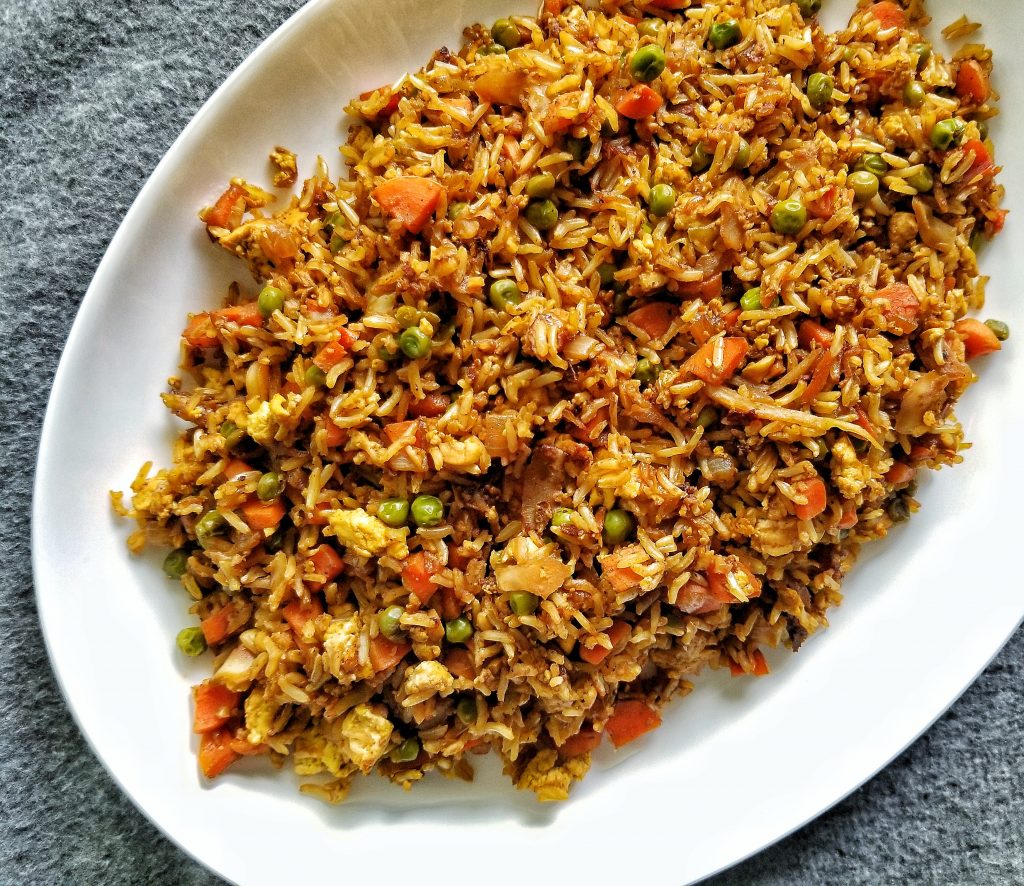 ---
Cookware Used In This Recipe
Check out some of our most popular recipes:
Crispy Cauliflower Wings Recipe
Easy Plant-Based Vegan White Sauce
Did you try out this Vegan Fried Rice Recipe?
Please leave a comment below, share it, rate it or tag a picture @plantbasedandbroke on Instagram and hashtag it #plantbasedandbroke. Show off that creation with us.
Please follow and like us: