(
This post may have affiliate links. Please see my disclosure.
)
Jump to:
Cheap, easy, and plant-based - this vegan fried rice dish is the epitome of this blog. It's made with brown rice, tofu scramble, vegetable, soy sauce.
Additionally, if you're focused on reducing or eliminating oil from your diet, you're going to enjoy this plant-based recipe.
If you want to use oil, check out my "chicken" fried rice recipe and spring vegetable fried rice. Instead of chicken, it uses extra-firm or firm tofu instead.
This recipe is very forgiving, so feel free to adjust along the way. If you want to add more soy sauce, go for it. If you want to add more vegetables, go for it.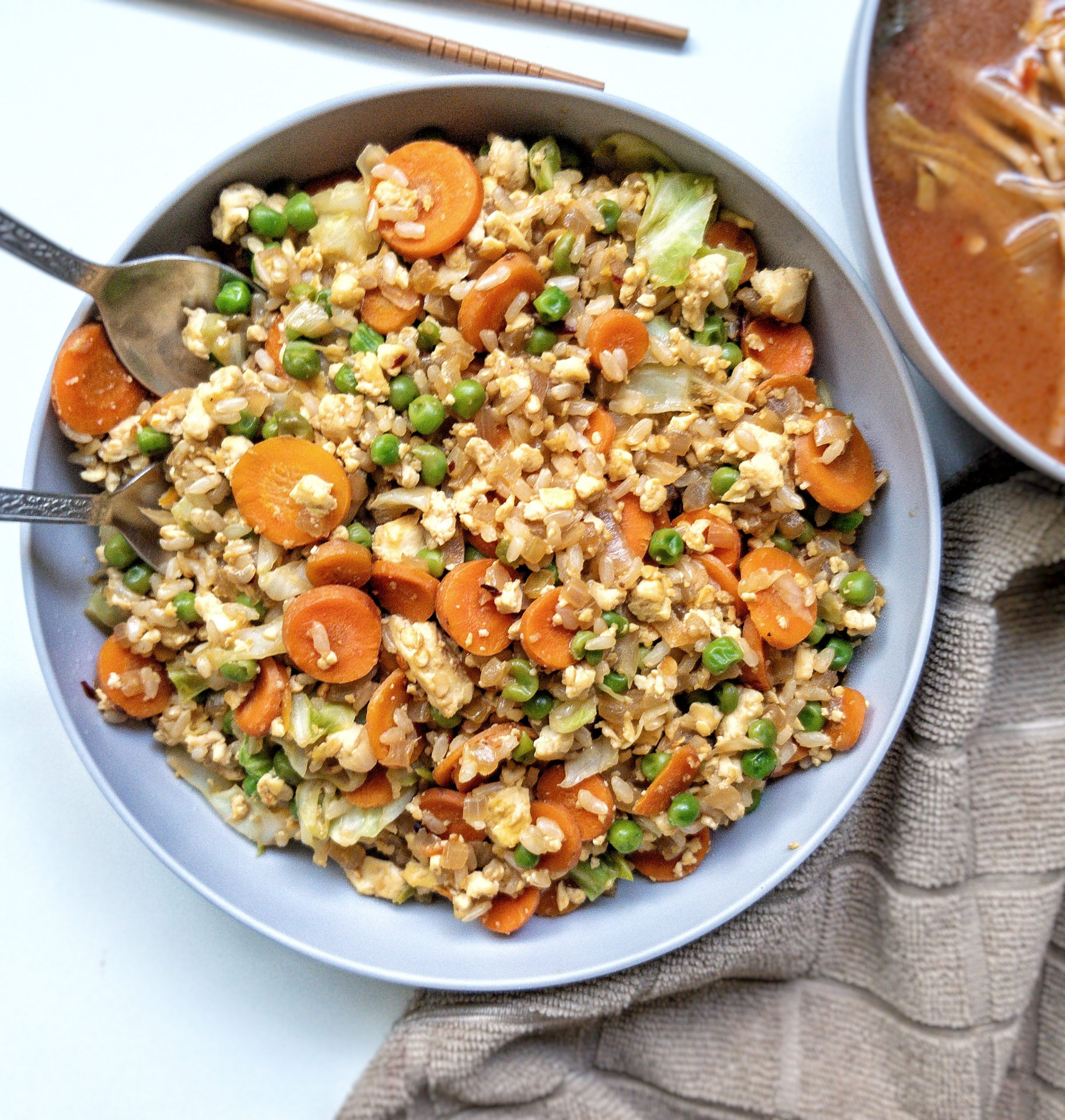 My recommendation when using soy sauce is to add it little by little. Remember it's always easy to add more than to reduce or pull back soy sauce.
In just about all of my recipes, including this one, I use reduced-sodium soy sauce.
Examples Of Vegetables To Add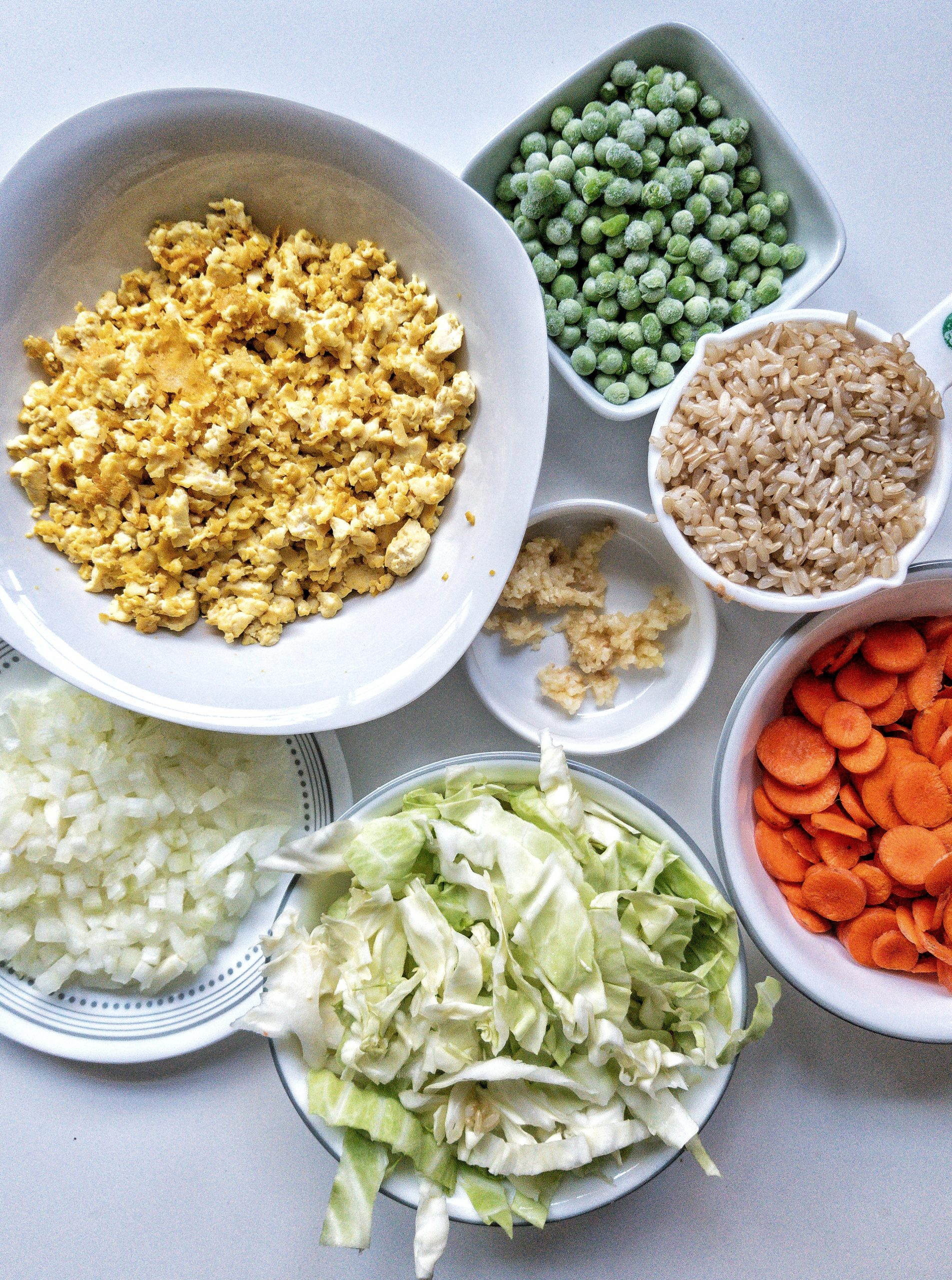 You may use your favorite vegetables, frozen, fresh, or canned. Just make sure to cook everything long enough to yield tender vegetables. Examples of vegetables to use:
Corn
Sugar Snap Peas
Red Bell Pepper
Green Bell pepper
Leafy Greens
Brussels Sprouts
Green Beans
Peas
Mushrooms
Zucchini
Edamame
Eggplant
Cabbage
Can Fresh Rice Be Used?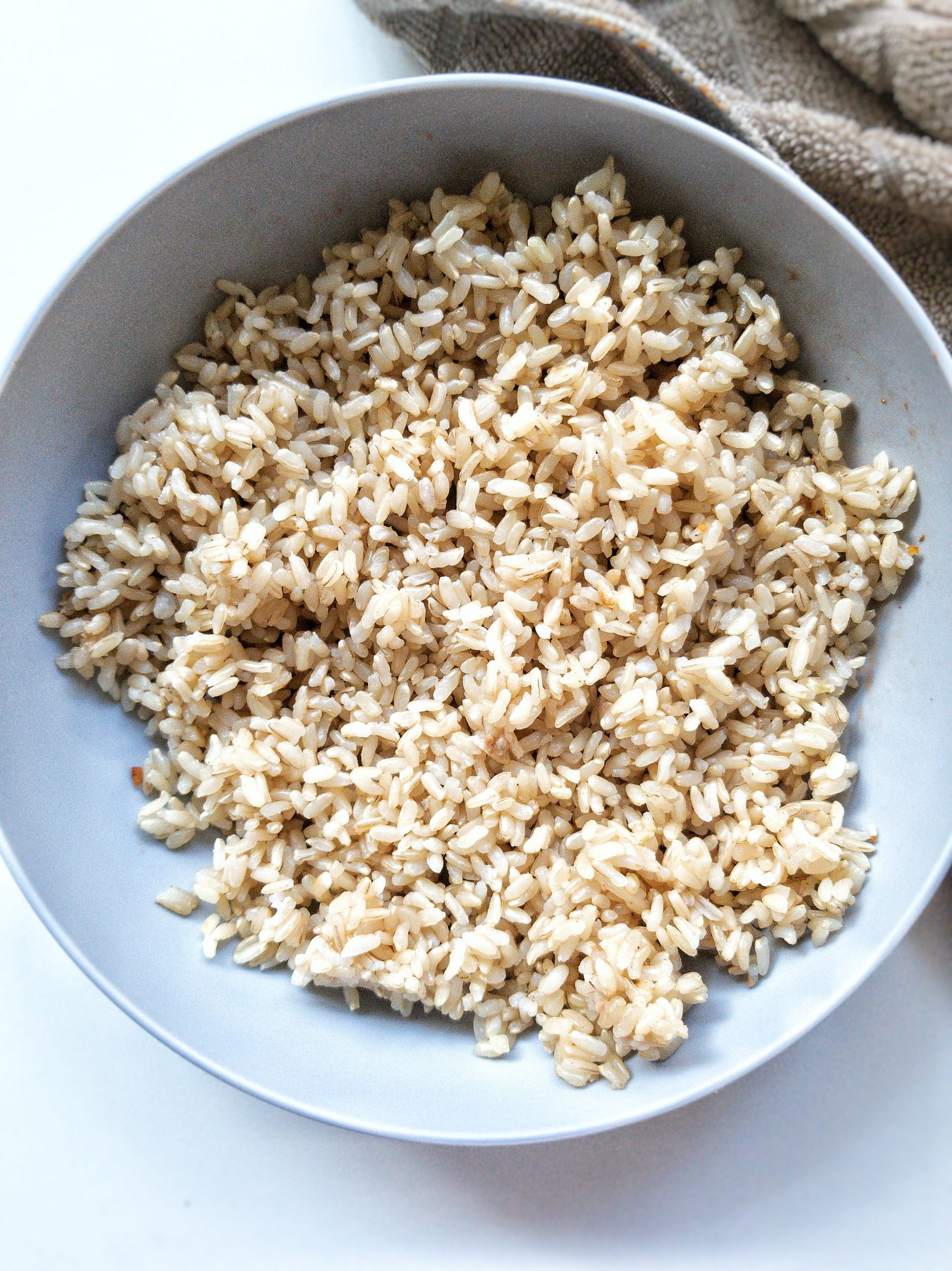 Yes, fresh rice can be used for this recipe. Once your rice is done cooking, place it on a large plate or dish and allow the excess moisture to evaporate from the rice, for at least 30 minutes.
You want your rice to dry out before using it in this recipe.
Quick Tips To Cooking Without Oil:
Swap out the oil for water.
Use a small amount of water at a time. We're not boiling stuff. We're just merely providing some lubrication between the pan and the food.
Small amount = about a tablespoon at a time.
Stir food often.
Don't be afraid to allow food to stick or brown (not burn) when cooking with water. This will bring out more of the flavor.
Use a non-stick pan.
Can I Use White Rice?
Yes, you can use white rice for this recipe.
Whether you use brown rice or white rice, you want to make sure that the rice has already been cooked and cooled for some time.
Examples of rice you're free to use in this recipe include jasmine rice, basmati rice, black rice, and wild rice. My favorite type of rice to use is brown basmati rice.
However, when it comes down to it, I just use whatever I have. My pantry is always stocked, but sometimes it's not stocked with my preferred shelf-stable food.
More Rice Recipes:
Kithcen Tools Used In Recipe
Although this recipe does not require any fancy cooking equipment, there is a kitchen tool that makes cooking this fried rice recipe mess-free, easy, and delicious: a wok.
If you have ever used a normal non-stick pan for stir-fried rice, you'll notice a large portion of your dinner landing on the stove.
A wok's deep surface allows a large volume of food to be cooked and flipped while maintaining its place in the wok.
Additionally, woks are known for distributing heat more efficiently and evenly - making cooking fried rice fast and easy.
What To Serve With "Fried" Rice:
Spring Rolls
Vegan Egg Rolls
Glazed Carrots
Roasted Broccoli
For more quick and easy plant-based dinner recipes, check out 30-Minute Plant-Based Dinner Ideas.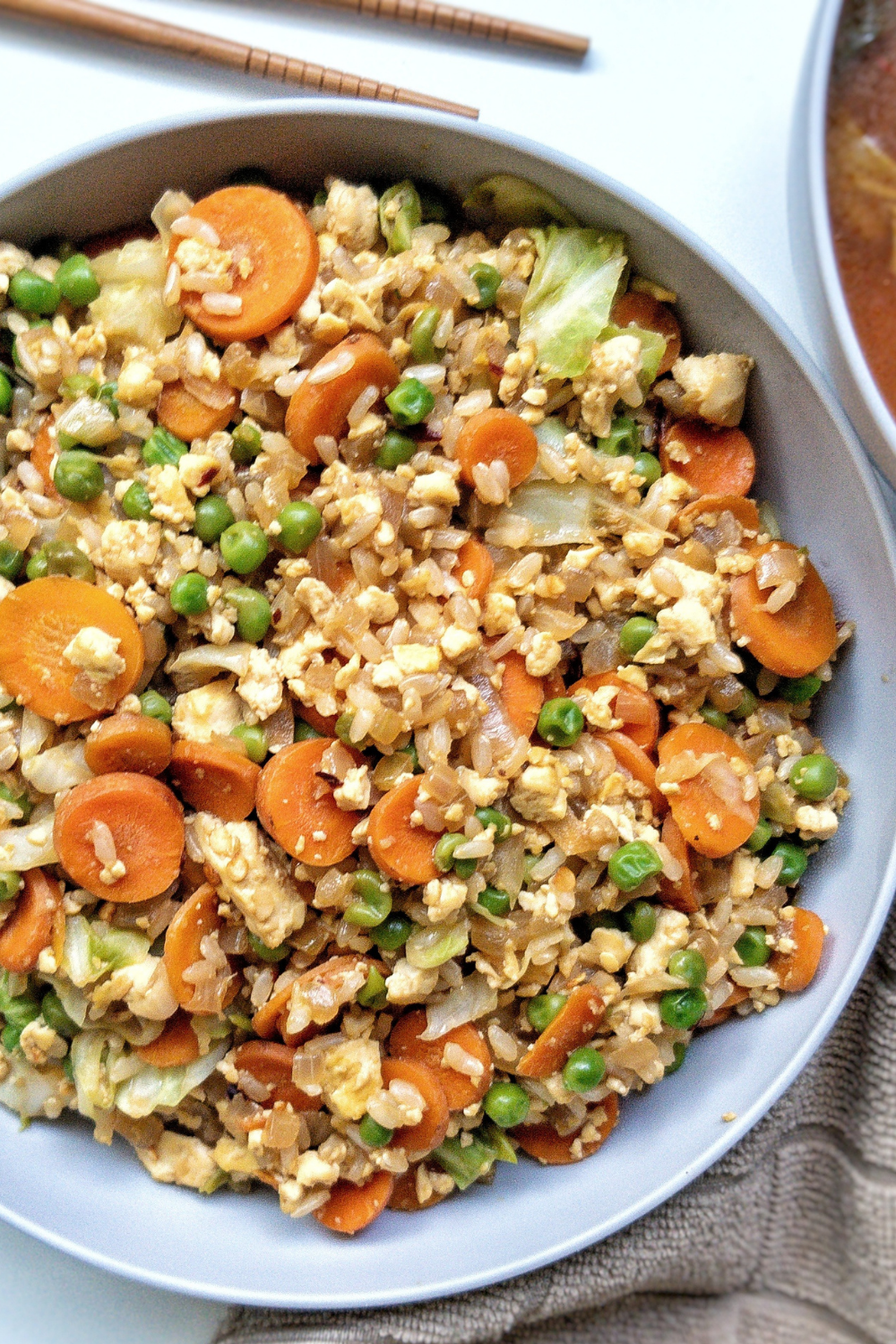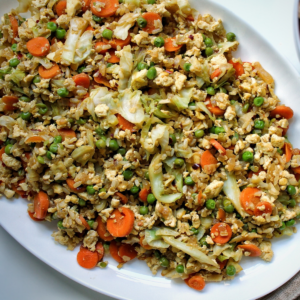 Oil-Free Vegan Fried Rice
A delicious, oil-free healthy vegan fried rice recipe loaded with your favorite veggies along with tofu scramble!
Ingredients
Water

½

sweet onion

chopped

4

garlic cloves

crushed

2

large carrots

thinly sliced or shredded

1 ½

cups

cabbage

shredded

1

cup

frozen peas

2

cups

cooked brown rice

1

cup

tofu scramble

5

tablespoons

 low-sodium soy sauce 
Instructions
Set a large pan or wok over medium heat and add about 1 tablespoon of water. Immediately after, add onions, garlic, and carrots. Cook and stir for 2 minutes.

Next, add the shredded cabbage to the pan or wok. Increase heat to medium-high heat. Stir and cook for 5 minutes. Add a splash of water when necessary throughout the cooking time to prevent sticking.

Next, add the frozen peas, cooked brown rice, cooked tofu scramble, and low-sodium soy sauce.  Cook and frequently stir for another 5-8 minutes.
Notes
Don't fret if you don't have the exact measurements for any given vegetable. Seriously, just use what you have. 
You'll want to start this recipe with pre-cooked rice. 
I used brown rice, but use whatever type of rice you have. 
You NEED to use a non-stick pan if you're cooking without oil. 
Adjust the soy sauce for more or less – depending on how you prefer your stir-fry.
Use a wooden cooking spoon or silicone cooking spatula. Non-stick pans hate metal spoons.
Be sure to include tofu scramble to this fried rice! 
Nutrition
Serving:
1
-Serving
Calories:
228
kcal
Carbohydrates:
36
g
Protein:
13
g
Fat:
4
g
Saturated Fat:
1
g
Polyunsaturated Fat:
2
g
Monounsaturated Fat:
1
g
Sodium:
1271
mg
Potassium:
319
mg
Fiber:
5
g
Sugar:
6
g
Vitamin A:
304
IU
Vitamin C:
27
mg
Calcium:
125
mg
Iron:
3
mg
Did you try out this Oil-Free Vegan Fried Rice recipe?
Please leave a comment below, share it, rate it, or tag a picture @plantbasedandbroke on Instagram and hashtag it #plantbasedandbroke. Show off that creation with us.
To get started on your plant-forward diet journey, check out A Guide To A Cheap Plant-Based Diet.