(
This post may have affiliate links. Please see my disclosure.
)
Jump to:
Got rice and vegetables begging to be cooked up? Fried rice with vegan "chicken" is a no-brainer.
Using ingredients you love and have, this recipe is insanely flexible, affordable, and accessible. The main ingredients for this recipe include cooked rice, soy sauce, and tofu. The rest can be customized.
Instead of using chicken, we're using tofu. I know, I know, that sounds a bit...different, but I promise that once you nail down how to make tofu taste like chicken, you'll be using it in just about everything.
Really into fried rice? Check out our spring vegetable fried rice recipe.
How To Make Tofu Taste Like Chicken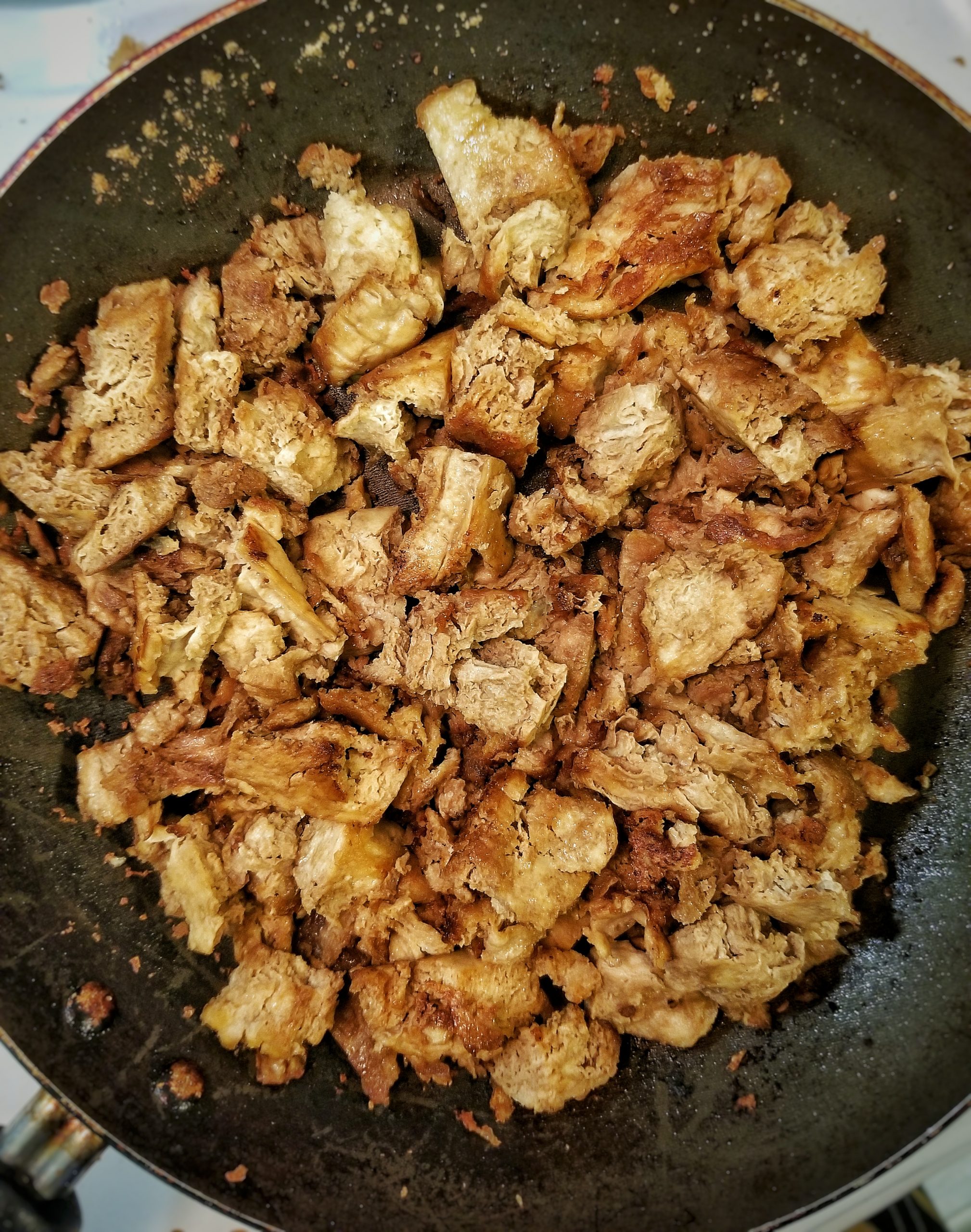 Making tofu taste like chicken is easier than it sounds. There are two parts to the magic:
Make the tofu firm and chewy.
Use a marinade that reflects the flavors we associate with chicken.
To get the tofu firm and chewy, it's important to first freeze the block of tofu, then defrost. Freezing the tofu block will help give it a nice, chewy bite.
Additionally, this step will help create pours in the tofu, which is made by ice crystals expanding within the block. These pours will make it easier to drain and press the water out from the block and it'll allow the marinade to effectively penetrate the tofu.
Pro-tip: opting for a firm or extra-firm tofu will also help to get a chewier texture.
What Veggies Can Be Used?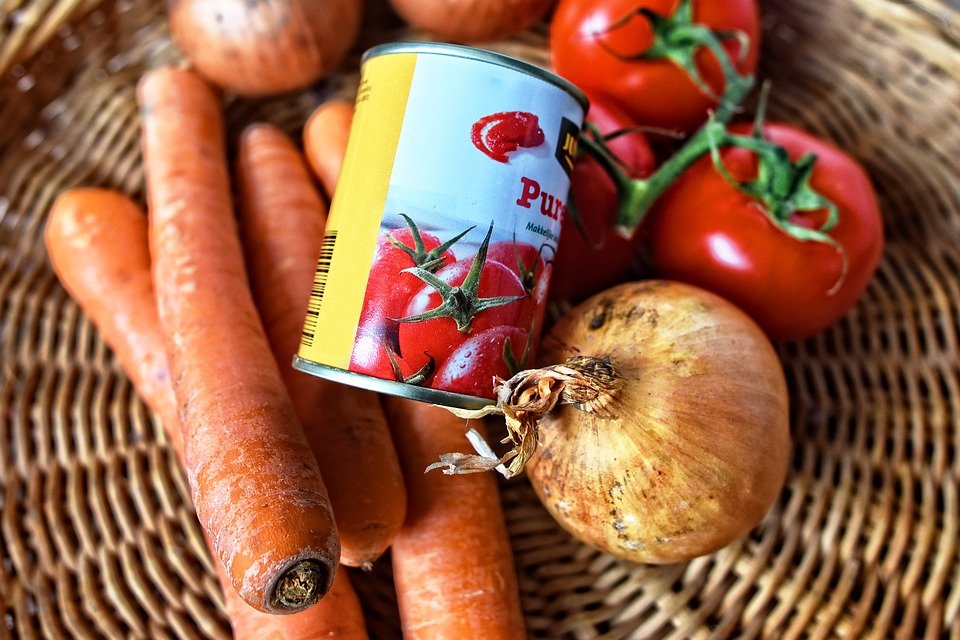 Just about any vegetable can be used for stir-fried rice. However, just keep in mind that different vegetables may need different cook times. For example, potatoes taking longer to cook than garlic.
But here's a few ideas for vegetables that can be used in a stir-fry:
Carrots
Cabbage
Onion
Bell peppers
Peas
Corn
Green beans
Mushroom
Broccoli
Brussel sprouts
Leafy greens
Edamame
Squash
Get creative and use what you have and love!
Tips To Making Tofu Taste Good
Remember, tofu is mild in flavor. It needs to take in a new flavor to be palatable and enjoyable. This is where the ingredients like soy sauce, Edward & Sons Not Chick'n Bouillon Cubes, and seasonings come in.
Tofu also has a lot of water in it, so it's important to drain and press the water as much as possible to allow new flavors to come in.
To press the tofu, you can either use a tofu press or carefully press the tofu block with the back of two plates. A tofu press will be more efficient.
Tips For Vegetable Stir-Fry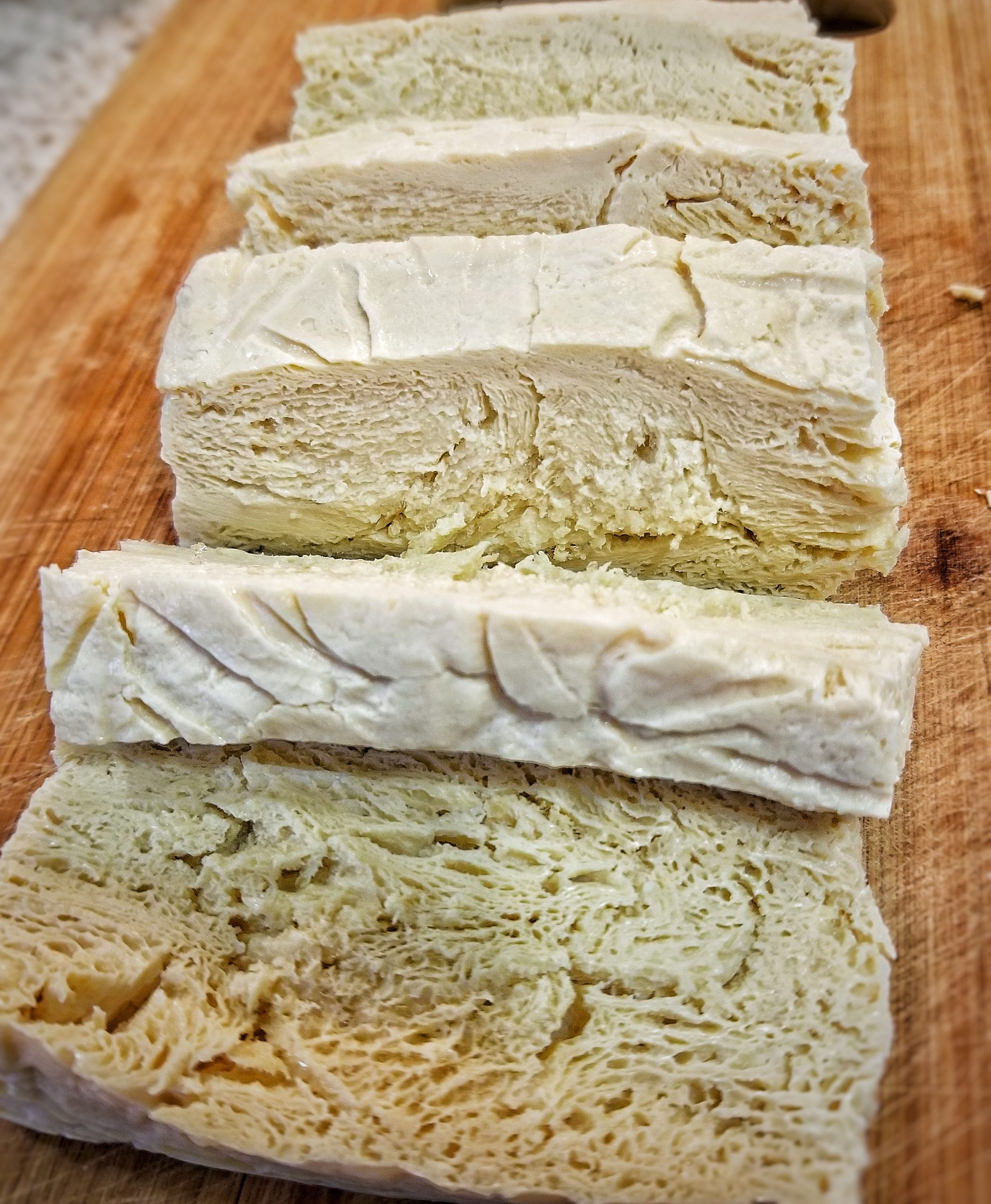 Equipment:
Using a wok or a cast-iron pan works best since they are great at maintaining even heat. However, if you are unable to get your hands on one, a non-stick skillet will work too.
Oil:
Use an oil with a high smoke point. Olive oil just won't work for this, due to its low smoke point. Examples of oils that are suited for high temperatures include avocado oil, canola oil, corn oil, vegetable oil, peanut oil, sunflower oil, and safflower oil.
Stir often:
This will prevent your ingredients from undercooking or overcooking. You want to make sure everything in that pan gets their chance to roll around in the heat.
Be Prepared:
Have all of your ingredients washed and prepped before making this recipe. If you start your stir-fry while waiting for the rice to cook, well, you're going to burn your vegetables. Stay organized and have everything laid out.
Note - you'll need to have your vegan, tofu "chicken" cooked and prepped before you begin this stir-fry recipe.
Learn more about how to use frozen tofu with 7 Things To Know About Frozen Tofu.
Now, let's get to why we're here. Here's the Stir-Fried Rice With Vegan "Chicken" recipe you've been waiting for.
---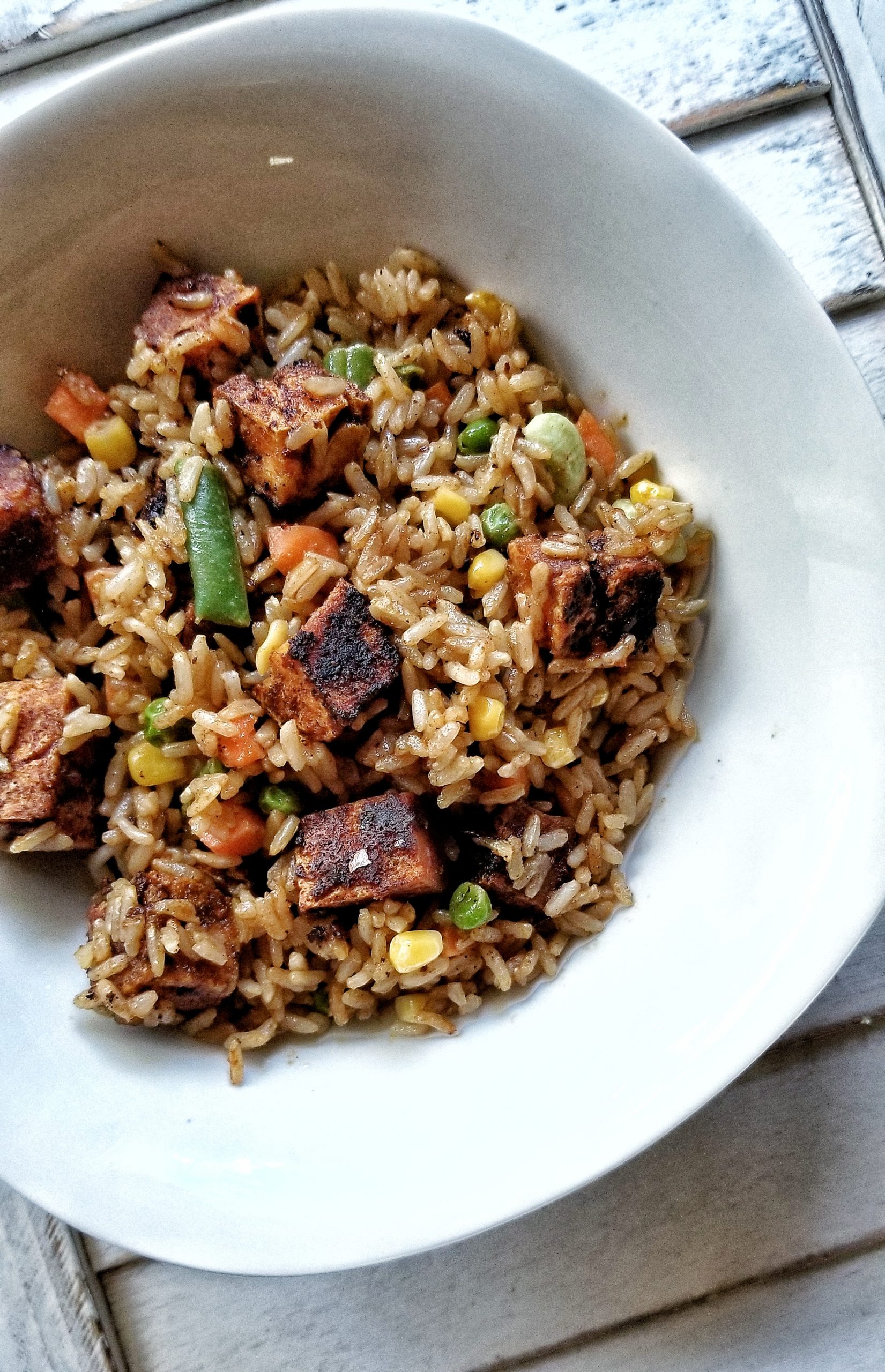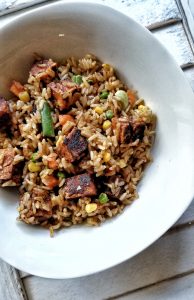 Stir-Fried Rice With Vegan Chicken
Delicious, plant-based stir fry rice using tofu, rice, and vegetables. A great dinner dish that's affordable, with approachable ingredients.
Ingredients
2

cups

cooked brown rice

½

onion

chopped

2

garlic cloves

crushed, minced

2

cups

tofu chicken 

2

cups

frozen mixed vegetables

3-4

tablespoons

low-sodium soy sauce

2

tablespoons

oil
Instructions
Set a large non-stick pan skillet over medium heat and add 1 tablespoon of oil. Add onion, stir and cook for 2 minutes. Next, stir in the garlic and cook for another 30 seconds.

Add the frozen vegetable directly to the pan. Stir and cook for 4 minutes.

Increase temperature to high and add 1 tablespoon of oil, cooked brown rice, cooked tofu chicken, and low-sodium soy sauce.  

Constantly stir and cook everything together for 3-5 minutes. Remove pan from heat and serve. 
Notes
For best results, use a 

wok

. It helps distribute heat more evenly and can handle a large volume of food, or in this case, rice. 

Have everything prepped and ready before the recipe. 

The first step to this recipe is to make

 tofu "chicken." 

It only requires two ingredients, but it does have a few steps to get it right. 
Nutrition
Did you try out this Stir-Fried Rice With Vegan "Chicken" recipe?
Please leave a comment below, share it, rate it, or tag a picture @plantbasedandbroke on Instagram and hashtag it #plantbasedandbroke. Show off that creation with us.