(
This post may have affiliate links. Please see my disclosure.
)
Smoky, peppery, and savory – get ready to bring on the smell of mushroom bacon throughout the entire house as it crackles in the oven.
We're going all plant-based and we're using our magical plant-based friend: mushrooms.
Vegan mushroom bacon is the perfect recipe to pop into a sandwich, munch on as a snack, or to brag to your meat-eating friends about how mushroom bacon is pretty epic, too. 
In this recipe, we'll be using king oyster mushrooms, also known as trumpet royale.
We don't discriminate mushrooms here, but there's a reason why I chose to use king oyster mushrooms for bacon.
These mushrooms have bacon-like shapes when sliced, creating the perfect bacon look. Additionally, they are known for their meaty texture and umami flavor. That's exactly what we're looking for in this recipe.
Although frying food is always delicious, we'll be cooking these bad boys up in the oven.
Cooking these in the oven will dehydrate the slices of mushroom, firm them up, and get them perfectly crunchy.
What To Pair Mushroom Bacon With
I hope you're not just having mushroom bacon for breakfast! Load up those plates and make it complete with these plant-based breakfast recipes that pair perfectly with a side of homemade veggie bacon.
One of my favorite ways of having mushroom bacon is by tossing a few strips onto a creamy avocado toast or twisting up a classic cucumber tea sandwich.
Although mushroom bacon is perfect as a breakfast side dish, it can be used in many other plates.
One of my favorite ways of using mushroom bacon is in a loaded veggie sandwich with soft ciabatta bread.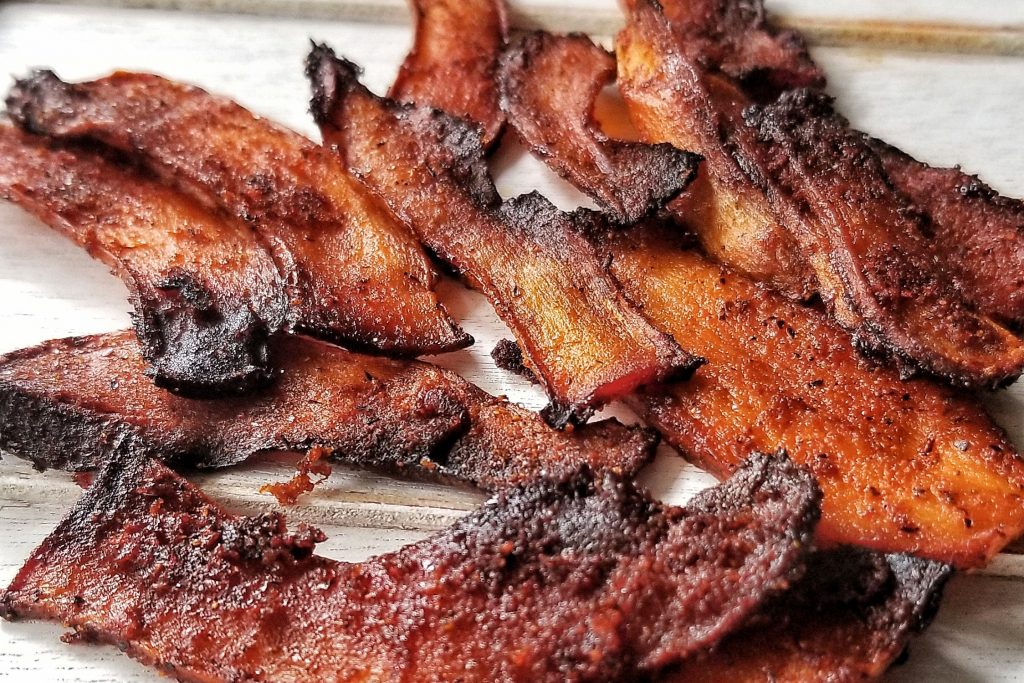 What to add in a veggie bacon sandwich: crunchy sprouts, ripe tomatoes, vegan provolone cheese, non-dairy creamy mayo, refreshing cucumber, carrot matchsticks, and slender cuts of red onions.
In addition to sandwiches, mushroom bacon can also be used to top off creamy carrot soup, added to a breakfast burrito, thrown in a salad, or stirred into a tofu scramble.
What You Should Know Before Making Mushroom Bacon
It's crucial to keep an eye out for your mushroom bacon while it's cooking in the oven.
These thin slices of flavor cook quickly and a minute longer can turn them into chard – we don't want that. 
They take about 25 minutes to cook, so I recommend keeping a close eye on them at the 15-minute mark – just in case.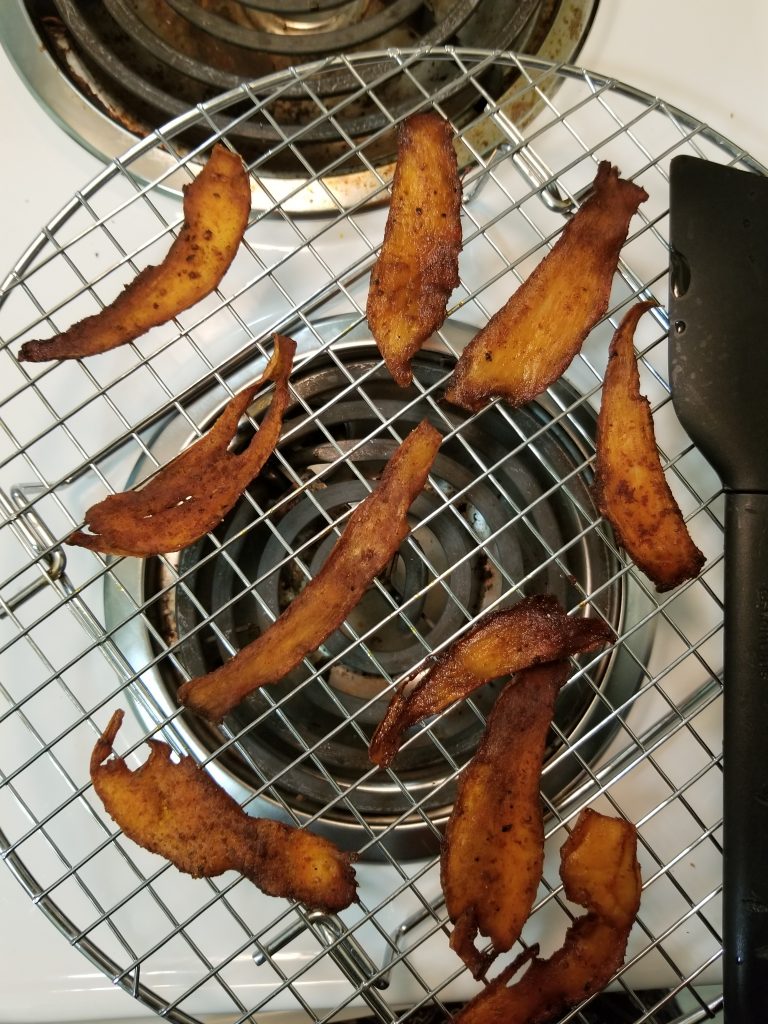 Additionally, after they are done cooking it's okay if the center of the mushroom bacon is still tender when you pull them out of the oven – they'll further cook as they crisp and cool off.
Breakdown Of The Ingredients: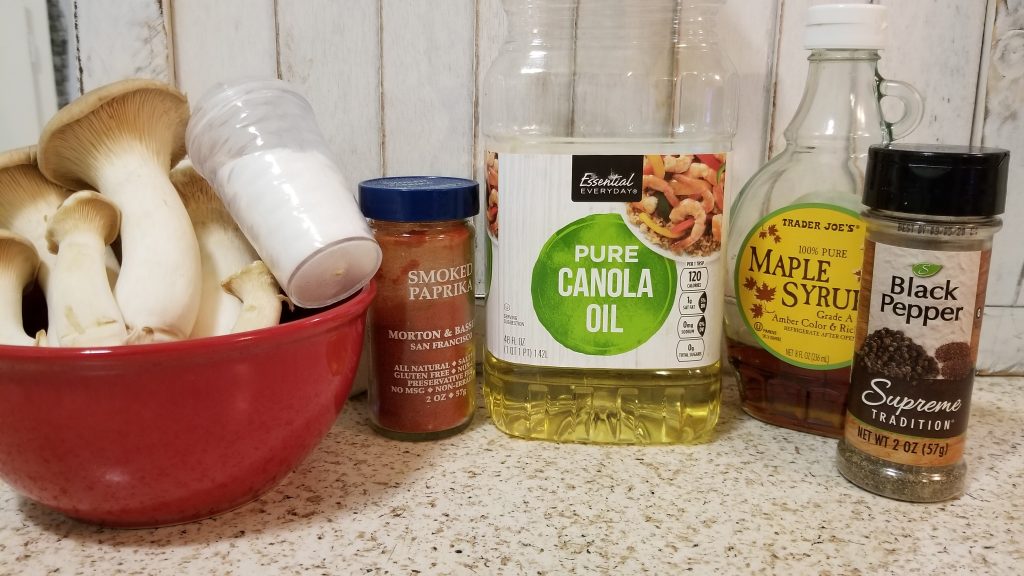 Canola/vegetable oil: This will help the mushrooms crisp up and give it a nice bacon-y texture.
Salt: It will bring forth the flavors from the mushroom and other ingredients.
Maple syrup: It'll add a touch of sweetness. It's going to give you that sweet bacon-like flavor that we all love. I recommend using real maple syrup for this recipe. If you can do Canadian maple syrup – even better (the flavor is ridiculously good!)
Smoked paprika: It'll give the mushrooms some color while giving you a depth of smokiness that we all know and love in a strip of bacon. Smoked paprika is a common seasoning that can be found in many grocery stores. However, I recommend buying it online. You can purchase a large container at a cheaper price.
If you're on a smoked paprika kick and want to switch things up, go for a bowl of crispy, smoked paprika chickpeas.
Pro-tip: Double up the recipe if need be – you'll definitely be back for seconds.
What I love most about this recipe is that you'll only need five simple ingredients.
If you're unable to find king oyster mushrooms, try to find them at a local Asian store, if you have one around.
They typically have a wide variety of mushroom species. I haven't tried other varieties for this recipe, but feel free to experiment and let me know how they come out!
To slice king oyster mushroom bacon, carefully slice lengthwise with a knife, as thinly as possible.
You'll want to run the knife evenly along and bumps or raises.
You're in for a treat with this recipe. Breakfast is going to be lit with this vegan mushroom bacon recipe.
All you need is a side of scrambled tofu and toast, and you have a meal. Ready for breakfast? Alright, let's get started. 
Kitchen Tools I Use And Love
One product I really want to highlight here is the cooling rack set. I use this kitchen tool for just about most baking/roasting recipes like these mushroom bacon strips, cookies, and double chocolate chip banana bread. It helps allow airflow in foods without moisture collecting underneath.
For more breakfast recipes, check out 18 Frugal Plant-Based Breakfast Recipes. We have sweet, savory, and everything in between!
---
Easy Vegan Mushroom Bacon
Miss that sweet-savory-smoky combination at the breakfast table? Lucky you – veggie mushroom bacon is on the menu!
Ingredients
8

ounces

king oyster mushrooms

3

tablespoon

canola oil

1

teaspoon

real maple syrup 

1

teaspoon

smoked paprika

1/2

teaspoon

salt

1/4

teaspoon

black pepper

(optional)
Instructions
First, chop the mushroom caps off and carefully slice the king oyster mushrooms as thinly as possible, to about 1/6th inch slices. 

Next, preheat oven to 400F degrees. Line a baking tray with parchment paper. 

Meanwhile, the oven is preheating, add the canola oil, salt, maple syrup, and smoked paprika to a bowl. 

Next, combine the ingredients. Taste and adjust the ingredients as needed. 

Brush and evenly coat the mushroom pieces on both sides. 

Then, lay each mushroom piece onto the parchment paper, leaving space in between each piece (do not crowd). 

Bake for 20-25 minutes, flipping halfway. Keep a close eye. Cook time may depend on the thickness of the strips and your oven. Once the edges begin to darken, they are done.

Finally, remove mushroom bacon slices from the oven and allow the pieces to crisp up for at least 5 minutes before serving. This will allow the bacon to further firm up. 
Notes
Feel free to adjust the ingredients to your liking. Taste the spice mix to see if it's to your liking. For example, if you want more sweetness, add more maple syrup.
Use parchment paper to prevent mushrooms from sticking and to create a crunchier texture. Keep in mind, wax paper is not the same as parchment paper.
However, if you do not have parchment paper, you may use aluminum foil.
This type of mushroom can typically be found at Asian stores. 
You MUST slice the mushroom into thin pieces in order to achieve a crunchy texture.
Check on the mushroom bacon often, they can easily overcook.
Did you try out this Easy Vegan Mushroom Bacon recipe?
Please leave a comment below, share it, rate it, or tag a picture @plantbasedandbroke on Instagram and hashtag it #plantbasedandbroke. Show off that creation with us