(
This post may have affiliate links. Please see my disclosure.
)
Mmm…bacon.
We're going all plant-based and we're using our magical plant-based friend: mushrooms. Vegan mushroom bacon is the perfect recipe to pop into a sandwich, munch on as a snack, or to brag to your meat-eating friends about how mushroom bacon is pretty epic, too.
In this recipe, we'll be using king oyster mushrooms, also known as trumpet royale. We don't discriminate mushrooms here, but there's a reason why I chose to use king oyster mushrooms for bacon.
These mushrooms have bacon-like shapes when sliced, creating the perfect bacon look. Additionally, they are known for their meaty texture and umami flavor. That's exactly what we're looking for in this recipe.
Although frying food is always delicious, we'll be cooking these bad boys up in the oven. Cooking these in the oven will dehydrate the slices of mushroom, firm them up, and get them perfectly crunchy.
---
Here's the breakdown of the ingredients: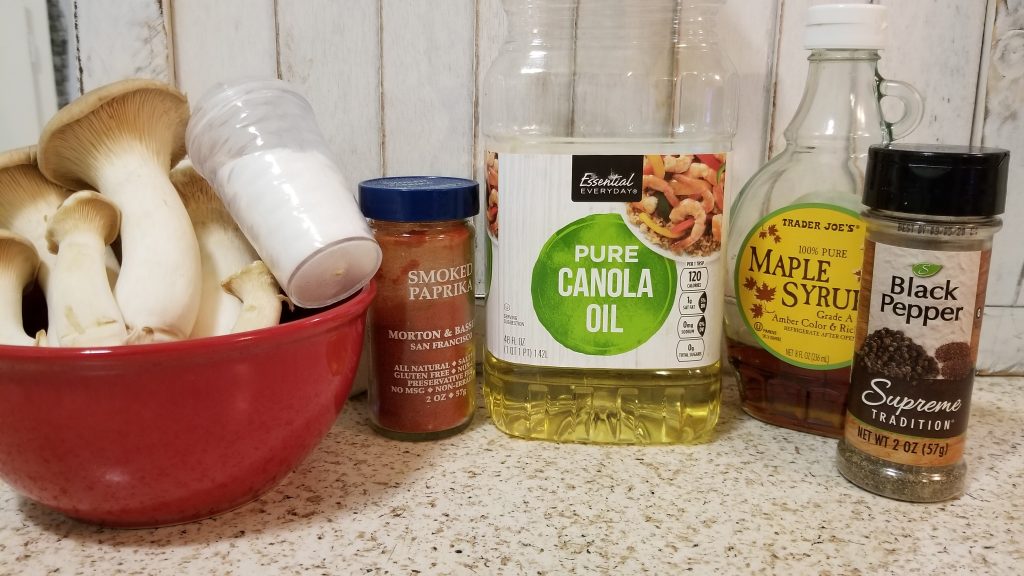 Canola/vegetable oil: This will help the mushrooms crisp up and give it a nice bacon-y texture.
Salt: It will bring forth the flavors from the mushroom and other ingredients.
Maple syrup: It'll add a touch of sweetness.
Smoked paprika: It'll give the mushrooms some color while giving you a depth of smokiness that we all know and love in a strip of bacon.
Pro-tip: Double up the recipe if need be – you'll definitely be back for seconds.
What I love most about this recipe is that you'll only need five simple ingredients.
If you're unable to find king oyster mushrooms, try to find them at a local Asian store, if you have one around. They typically have a wide variety of mushroom species. I haven't tried other varieties for this recipe, but feel free to experiment and let me know how they come out!
For slicing the mushrooms, I do recommend using a mandoline to slice the mushrooms.
But if you're like me: broke with basic cooking equipment, you can try to slice them as thinly as possible with a knife. However, a warning to all of you out there: take your time and try to slice them as evenly as possible. Don't get hurt, folks.
You're in for a treat with this recipe. Breakfast is going to be lit with this vegan mushroom bacon recipe. All you need is a side of scrambled tofu and toast, and you have a meal. Ready for breakfast? Alright, let's get started.
---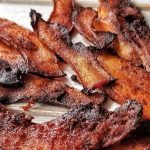 Print Recipe
Easy Vegan Mushroom Bacon
Ingredients
8

ounces

king oyster mushrooms

3

tablespoon

canola oil

1

teaspoon

real maple syrup 

1

teaspoon

smoked paprika

1/2

teaspoon

salt

1/4

teaspoon

black pepper

(optional)
Instructions
First, slice the king oyster mushrooms as thinly as possible, to about 1/6th inch slices. 

Next, preheat oven to 400F degrees. Line a baking tray with parchment paper. 

Meanwhile, the oven is preheating, add the canola oil, salt, maple syrup, and smoked paprika to a bowl. 

Next, combine the ingredients. Taste and adjust the ingredients as needed. 

Brush and evenly coat the mushroom pieces. 

Then, lay each mushroom piece onto the parchment paper, leaving space in between each piece (do not crowd). 

Bake for 25 minutes, flipping at 15 minutes. 

Finally, remove mushroom bacon slices from the oven and allow the pieces to crisp up for at least 5 minutes before serving. This will allow the bacon to further firm up. 
Notes
Feel free to adjust the ingredients to your liking. Taste the spice mix to see if it's to your liking. For example, if you want more sweetness, add more maple syrup.
Use parchment paper to prevent mushrooms from sticking and to create a crunchier texture. Keep in mind, wax paper is not the same as parchment paper.
However, if you do not have parchment paper, you may use aluminum foil.
This type of mushroom can typically be found at Asian stores. 
You MUST slice the mushroom into thin pieces in order to achieve a crunchy texture.
Check on the mushroom bacon often, they can easily overcook.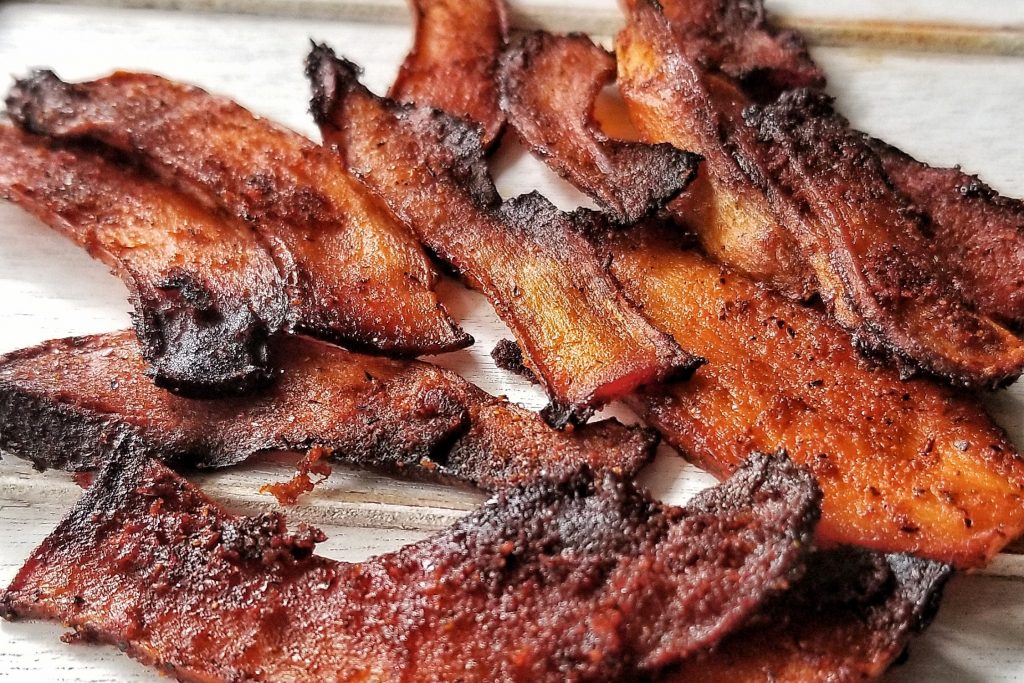 ---
Cookware Used In This Recipes
---
While you're here, check out our most popular recipes on the website:
How To Make Tofu Taste Like Chicken
Oil-Free Vegetable "Fried" Rice
Did you try out this Easy Vegan Mushroom Bacon Recipe?
Please leave a comment below, share it, rate it or tag a picture @plantbasedandbroke on Instagram and hashtag it #plantbasedandbroke. Show off that creation with us
Please follow and like us: