(
This post may have affiliate links. Please see my disclosure.
)
When I want to up my fiber intake, while still having fun – I make a pile of thick, fluffy oat bran pancakes that keeps me satisfied until, like, dinnertime. Seriously, the pancake stack alone has a whopping 21 grams of fiber.
Did you know? Cacao also has fiber. Two tablespoons of Hershey's 100% cacao has 2 grams of fiber and 10 calories per serving (1 tablespoon). Ahem…so now you know why I didn't hold back on the chocolate. 
If you want to feel full from pancakes, you came to the right place. Similar to my Pumpkin Pie Spice Oat Bran Pancakes recipe, we're using mostly whole, plant-based ingredients. The chocolate syrup is also homemade, which only requires three main ingredients: cocoa powder, sugar, and water. That. Is. It. 
For this oat bran pancake recipe, I used Quaker's Oat Bran. I typically buy in bulk online, because for whatever reason, my local store doesn't carry it, or is often out-of-stock. Bob's Red Mill brand also sells oat bran online. Stock up!
My tip for purchasing chia seeds: buy them in bulk. They're are cheaper that way. Additionally, they are shelf-stable for a long time, as long as they are kept whole (not pre-grounded). I usually buy a hefty bag that lasts me for about a year in my pantry. Yes, a year.
---
Oat Bran Pancakes With Chocolate Syrup Recipe
Recipe Notes:
As the pancake batter sits, it will soak up the water and gradually become thicker. Feel free to add additional water as needed – you're most likely going to need to.
We're throwing the oat bran and chia seeds into the blender for two reasons: 1) to get it to a flour consistency 2) breaking down the chia seeds will help increase absorption of their nutrients.
Feel free to use any kind of vegan butter you like. I am a huge fan of Melt's Organics and that is what I used.
This recipe yields about 1-2 servings.
Ingredients for Oat Bran Pancakes:
½ teaspoon salt
1 teaspoon baking powder
1.5 cup of water
Vegan butter
Directions for Oat Bran Pancakes:
First, in a high-powered blender, throw in your oat bran and chia seeds. Blend for about 30-60 seconds, or until powdery and flour-like.  
Pour the blended oat bran and chia seeds into a strainer and sift over a mixing bowl.
Add salt and baking powder to the bowl. Whisk together well. 
Next, add water and whisk again until well-combined and smooth. 
Over medium heat in a non-stick pan, add vegan butter. Once hot, pour about ¼ cup of pancake batter into the pan. Cook for 4-6 minutes on each side.
Ingredients for Homemade Chocolate Sauce
½ cup cocoa powder
½ cup water
Directions for Homemade Chocolate Sauce
In a small saucepan over medium-low heat, whisk all the ingredients together.
Stir constantly until the sauce has thickened to your liking.
Note: to prevent the chocolate sauce from burning, be sure to stir often. Additionally, the temperature should be hot enough to only bring the sauce to a very soft simmer.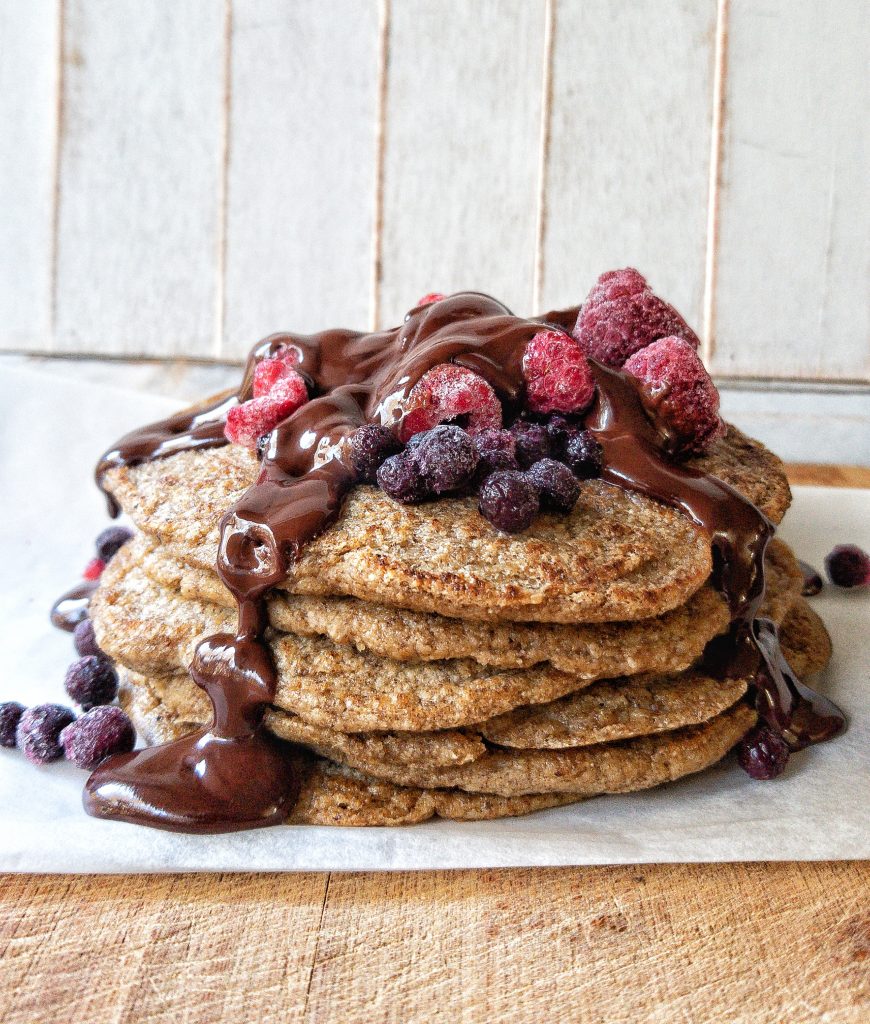 Want Breakfast Sides To Go With These Oat Bran Pancakes With Chocolate Syrup? Check These Recipes Out:
Quick & Easy Loaded Tofu Scramble
Did you try out this recipe?
Please leave a comment below, share it, rate it or tag a picture @plantbasedandbroke on Instagram and hashtag it #plantbasedandbroke. Show off that creation with us.
How useful was this post?
Click on a star to rate it!
Average rating 5 / 5. Vote count: 4
Please follow and like us: