(
This post may have affiliate links. Please see my disclosure.
)
A few years ago, I had no idea what tempeh was, but I am sure I wasn't alone.
Although tempeh is not a new thing, it's not exactly widely-known, either. But once you get the chance to experience it, you'll fall in love. It's an amazingly versatile, protein-packed vegetarian option that can be used for a plethora of vegan dishes.
Fast-forward to today, I have learned to love tempeh. The flavor is mild, but it is a vessel for marinades, flavor, and spices. Without the introduction of added flavors, tempeh has a subtle nuttiness to it. It is also slightly bitter, which can be reduced through steaming or boiling.
Over the years, I've learned to love it, make lots of mistakes with it, and learn more along the way. I've had it in burritos, BLTs, with a side of tofu scramble, and topped a soup with it. Tempeh is typically sold in a block and can sometimes be found next to tofu at the grocery store.
---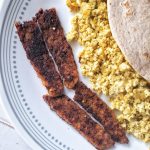 Print Recipe
Easy Tempeh Bacon Recipe
Instructions
Boil tempeh in a pot for 10 minutes. 

Cut the tempeh into thin slices without falling apart. 

In a bowl, whisk together the soy sauce, smoked paprika, garlic powder, and black pepper. 

On a plate or shallow dish, pour the marinade over the tempeh and allow it to sit while you heat your pan.

Add oil to a pan over medium-high heat.  

Once the oil is hot, add tempeh slices and cook for 4-5 minutes on each side, until golden.

Remove tempeh slices from the pan and allow to cool on a cooling rack or paper towels for a couple of minutes. 
Notes
Use low sodium soy sauce or it will be too salty. 
I used about ¼ teaspoon of marinade for each tempeh bacon slice. 
If you want a sous vide version of this recipe, check this one out. 
I personally like the sous vide version more, as I find marinade penetrates the tempeh better. But both ways are delicious.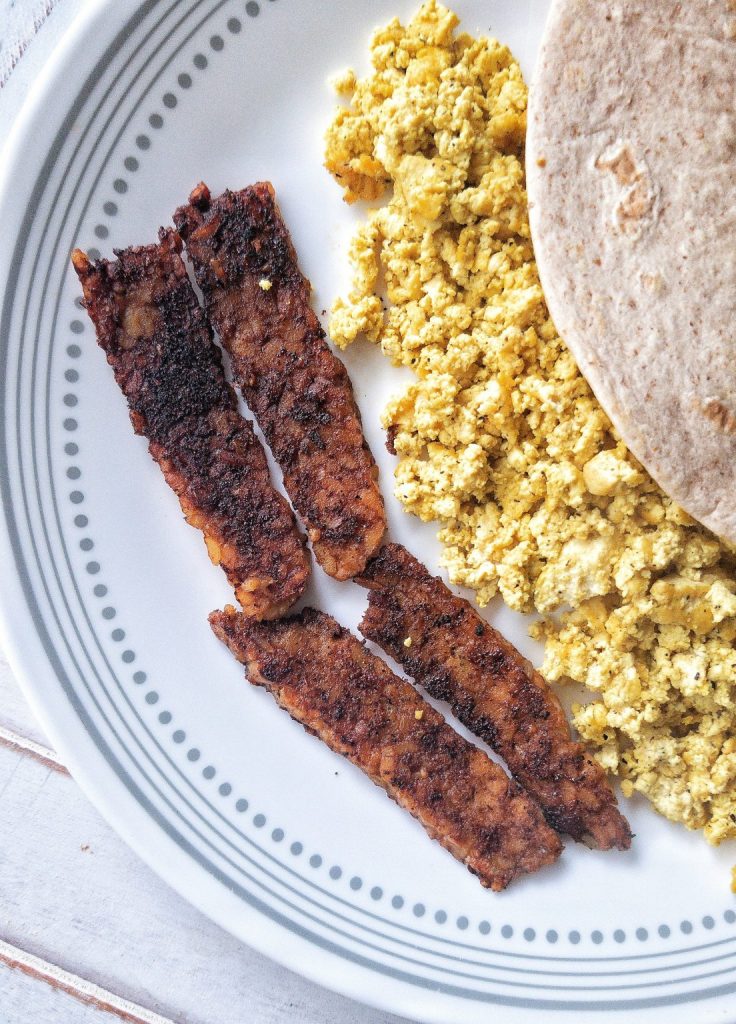 Add a serving of tofu scramble with your plant-based, tempeh bacon.
---
Cookware Used In This Recipe
---
While you're here, check out our most popular recipes on the website:
How To Make Tofu Taste Like Chicken
Did you try out this Easy Tempeh Bacon Recipe?
Please leave a comment below, share it, rate it or tag a picture @plantbasedandbroke on Instagram and hashtag it #plantbasedandbroke. Show off that creation with us.

Please follow and like us: