(
This post may have affiliate links. Please see my disclosure.
)
Creamy. Thicc. Authentically delicious. Grab your napkin – it's gonna be a feast.
As per usual, I was craving Indian food. But I wanted to be in control over what went into it and I wanted it to be veganized – which is a challenge to get when just wandering into any usual Indian restaurant (they often use ghee, butter, and milk – which aren't vegan).
Okay. So, I knew I wanted something creamy, rich, fragrant, and something that reminded me of the butter chicken I used to order back in the day. So, just as the headline suggests, I'll be veganizing butter chicken, also known as murgh makhani. You can also make this into a vegan version of paneer.
You decide how you want to call this.
This was really fun to make and I'd say the kinda-biggest challenge was trying to find all of the ingredients needed for this recipe. Fortunately, I have an Indian grocery store nearby and an Asian store with amazing deals on tofu (we still gotta do this on a budget).
Pro-tip: most of these ingredients can be found online.
By the way, everything for this recipe costs about $20 bucks. For about 4-6 servings – that's not bad.
Once you get over the challenge of finding your ingredients, this recipe is pretty easy to make (don't be fooled by the number of steps). Are you ready to impress your friends and family with this recipe?
Alright, cool. Let's get to it.
---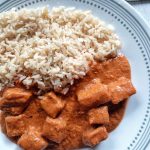 Print Recipe
Vegan Butter Chicken Recipe
Ingredients
Tofu "Chicken"
2

blocks extra firm tofu

2

tablespoons

oil

2

tablespoon

all-purpose flour

Salt
Instructions
Tofu "Chicken"
First, preheat the oven to 400 F degrees. 

Cut the tofu into 1-inch thick cubes. Pat dry the pieces, getting it as dry as possible. 

In a large bowl, gently toss the tofu with 2 tablespoons of olive oil. 

Next, add the flour and toss again. 

Then, Line a baking pan with parchment paper. Arrange the tofu pieces onto the baking sheet. 

You may need 2 baking sheets for all the pieces to fit with space in between. 

Next, bake the tofu pieces for 30 minutes, flipping halfway. 

Once done baking, remove the tofu pieces from the oven and set aside. 
Gravy
First, in a large pan over medium heat, throw in 3 tablespoons of butter. 

Add the cumin seeds and allow to cook for one minute, or until fragrant. 

Next, throw in the onions in the pan until they are sweating and tender, about 3 minutes. 

Add the garlic and ginger and allow to cook for 1 minute. 

Add the tomato paste and allow to cook for a minute. 

Then, add the rest of the spices, coconut milk and the last tablespoon of butter. Stir well. 

Lower heat to low and allow to simmer all together for five minutes.

Next, carefully pour the gravy into a blender and blend until smooth. 

Pour the gravy back into the pan and add the tofu pieces. Stir and coat well. 

Finally, serve with rice or whatever you want. We did brown rice. 
Notes
It should be fairly easy to find these ingredients. However, if you're unable to locate them, you can find these items on Amazon. I'll add their links under the ingredients' list. 
Note, you'll need extra firm tofu to get that springy, texture you want to get from the tofu. Avoid silken tofu for this recipe. 
If you don't want to use all-purpose flour, feel free to use cornstarch. This will help get your tofu pieces crispier. ::insert Homer Simpson drooling meme here:: 
Use your vegan butter of choice. I used Melt butter. 
For this recipe, I used a pinch of sugar to balance the acidity that comes from the tomato paste. However, if that's your jam – omit the sugar. 
If your recipe isn't as thick as you want it to be, let it simmer for a few more minutes after it's done. However, this shouldn't be necessary. My dish came out perfectly creamy and thick all on it's own. Alternatively, you can add a teaspoon of flour to thicken up the gravy.
It's important to break down and blend the gravy prior to tossing the tofu pieces in. This will yield a much creamier gravy that you find in traditional butter chicken recipes. I used my regular ol' blender. 
If you do not half fresh garlic on hand, use a tablespoon of dry garlic powder, instead.
I would typically freeze tofu prior to using, but I forgot. Feel free to freeze the tofu to yield a much chewier texture and make it easier for the tofu to take on the flavors of the gravy. But…it's not necessary.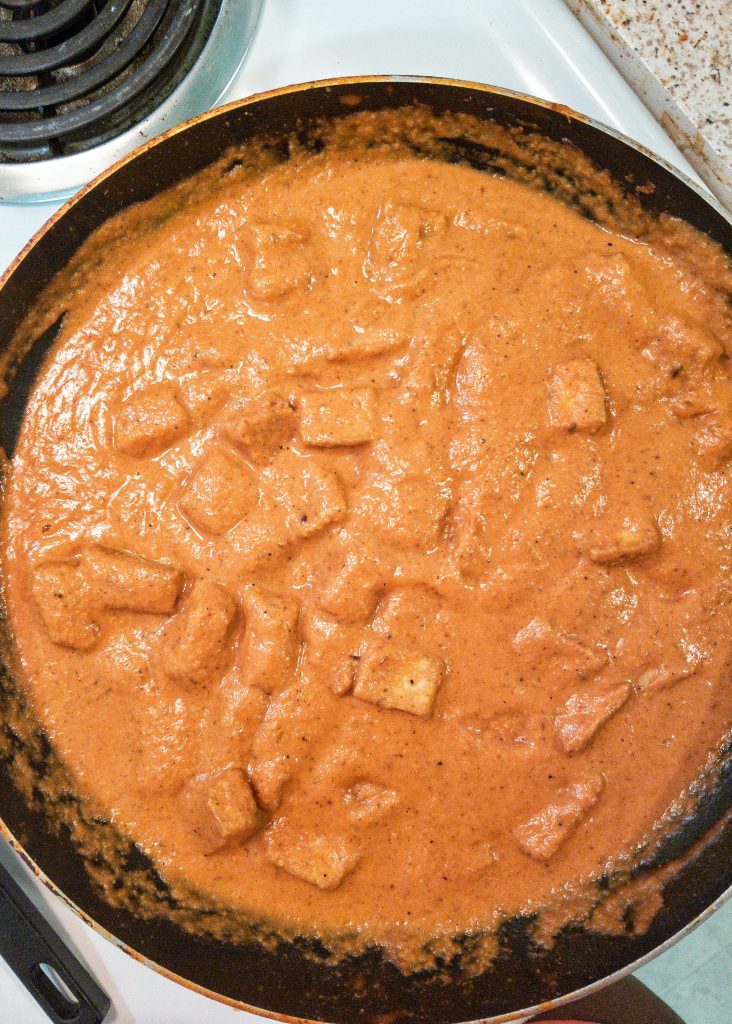 ---
Cookware Used In This Recipe
---
While you're here, check out our most popular recipes on the website:
How To Make Tofu Taste Like Chicken
Oil-Free Vegetable "Fried" Rice
Did you try out this Vegan Butter Chicken Recipe?
Please leave a comment below, share it, rate it or tag a picture @plantbasedandbroke on Instagram and hashtag it #plantbasedandbroke. Show off that creation with us
Please follow and like us: