(
This post may have affiliate links. Please see my disclosure.
)
Creamy. Thicc. Authentically delicious. Grab your napkin – it's gonna be a feast.
As per usual, I was craving Indian food. But I wanted to be in control over what went into it and I wanted it to be veganized – which is a challenge to get when just wandering into any usual Indian restaurant (they often use ghee, butter, and milk – which aren't vegan).
Okay. So, I knew I wanted something creamy, rich, fragrant, and something that reminded me of the butter chicken I used to order back in the day. So, just as the headline suggests, I'll be veganizing butter chicken, also known as murgh makhani. You can also make this into a vegan version of paneer.
You decide how you want to call this.
This was really fun to make and I'd say the kinda-biggest challenge was trying to find all of the ingredients needed for this recipe. Fortunately, I have an Indian grocery store nearby and an Asian store with amazing deals on tofu (we still gotta do this on a budget).
Pro-tip: most of these ingredients can be found online.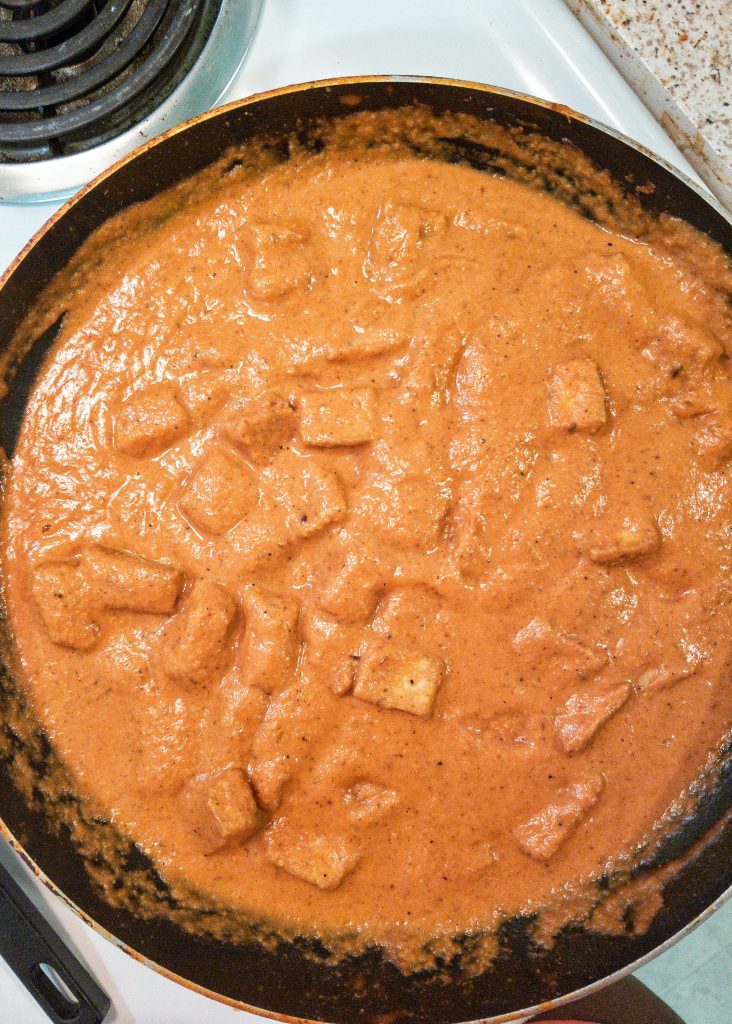 How To Make Vegan Butter "Chicken" Creamy
The trick is to use high fat, non-dairy milk. A great example of that would be coconut milk. Coconut milk is thicker, creamier, and fattier than your more popular vegan or non-dairy milk including almond milk, cashew milk, and soy milk.
Coconut milk is a very important ingredient in this recipe – don't skip out on it! By the way, you'll want to use coconut milk in a can. More often than not, coconut milk in a carton is mixed with other non-dairy milk or diluted with water.
Can you guess the second ingredient that helps make this dish creamy? I'll give you a clue: it's in the name. Butter is a must-have ingredient for this flavor, as it adds a layer of flavor, creaminess, and savory.
You can use any vegan butter of choice. I always go for Melt Organic, since I find it to taste closest to real butter. Additionally, it does not carry an odd lingering or aftertaste. I highly recommend it if you're just looking for something versatile and can be used on anything from baked goods to toasted bread.
Sides To Have With Vegan Butter "Chicken"
Vegan butter "chicken" is delicious on its own, but it delicious when paired with a buttery naan or white rice. Here are some other sides to consider.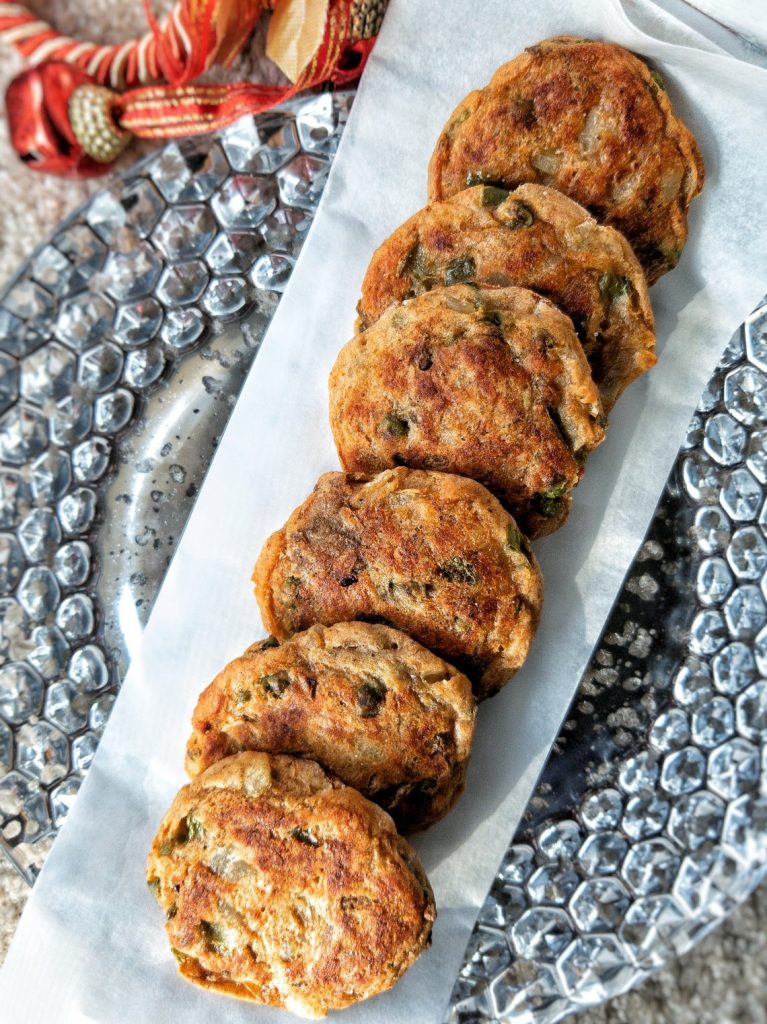 Naan
White Rice
Steamed Vegetables
Roti
Samosa
Or, you can make your own side dish rules and choose whatever you like to have with cooked up vegan butter chicken. I love a side of steamed rice or buttered garlic naan to help soak up some of the butter chicken gravy.
How To Make The "Chicken"
We're not doing anything special with the tofu in this recipe. We're simply removing the tofu block from its packaging and pressing the excess water from it.
However, if you want to achieve a chewy, "meaty," and porous tofu vessel that'll soak up every bit of that spiced gravy, first freeze a block of tofu. This means, if you're thinking about creating this dish, you'll need to do a bit of planning.
Tofu can either be left in its packaging and thrown directly in the freezer, or it can be pre-cut into cubes and transferred into a reusable silicone bag or freezer-grade ziplock bag.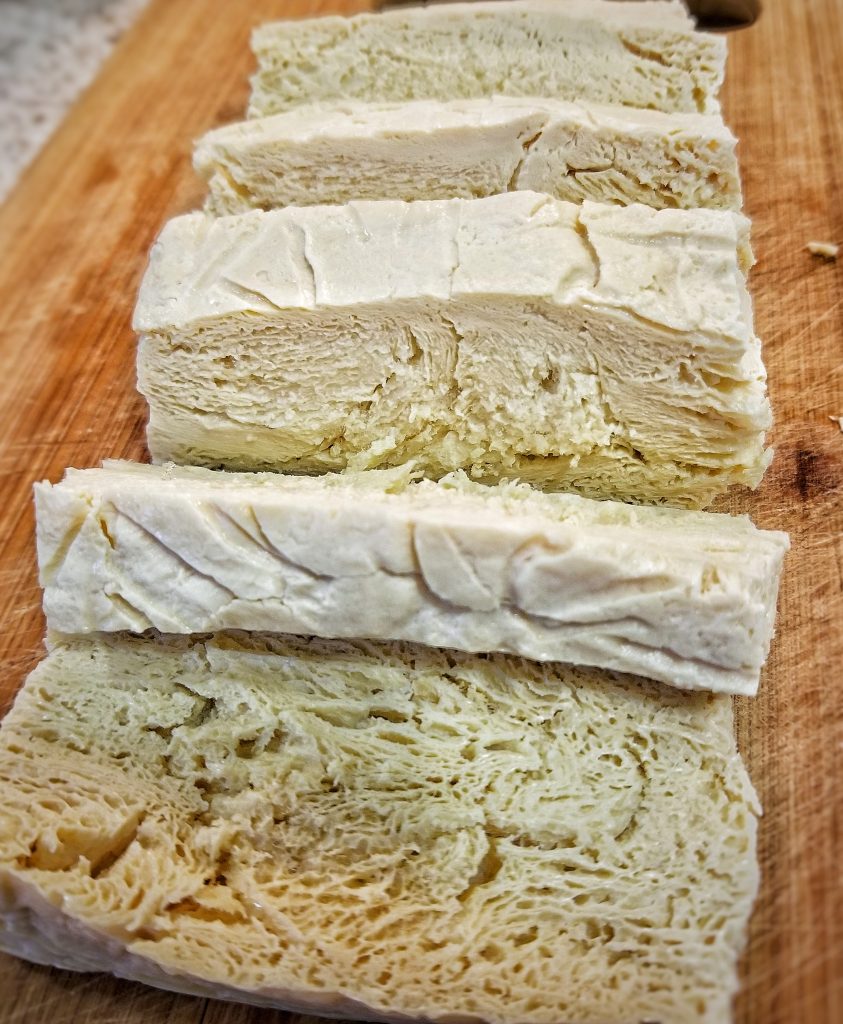 When you're ready to thaw the tofu, remove it from the freezer. It can be thawed on a countertop, in the refrigerator, under cool water, or in a microwave. I typically microwave to thaw my tofu, since it's the fastest method.
For more information on how to freeze, thaw, and prepare frozen tofu, check out 7 Things To Know About Frozen Tofu.
Once the tofu has been completely thawed, press the excess water from the tofu and pat dry. Now you're ready to get this recipe started.
This step is not required, but if you have the time – it's worth it. The recipe below will dive right in.
More Recipes With Tofu:
For more quick and easy plant-based dinner recipes, check out 30-Minute Plant-Based Dinner Ideas.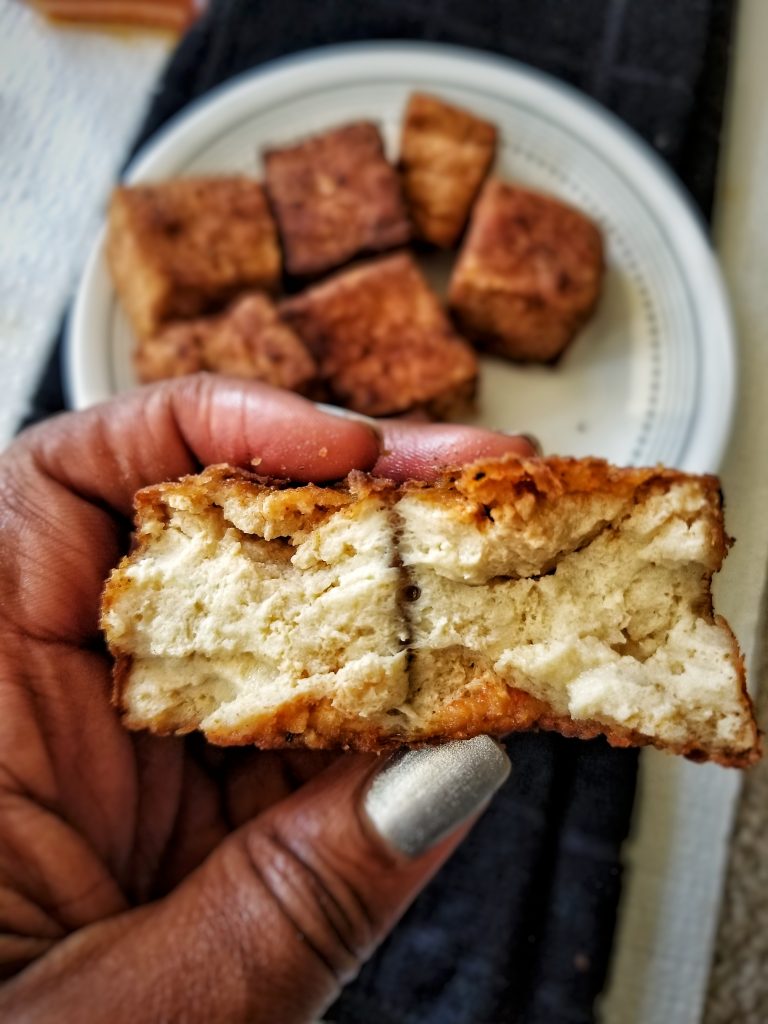 By the way, everything for this recipe costs about $20 bucks. For about 4-6 servings – that's not bad.
Once you get over the challenge of finding your ingredients, this recipe is pretty easy to make (don't be fooled by the number of steps). Are you ready to impress your friends and family with this recipe?
Alright, cool. Let's get to it.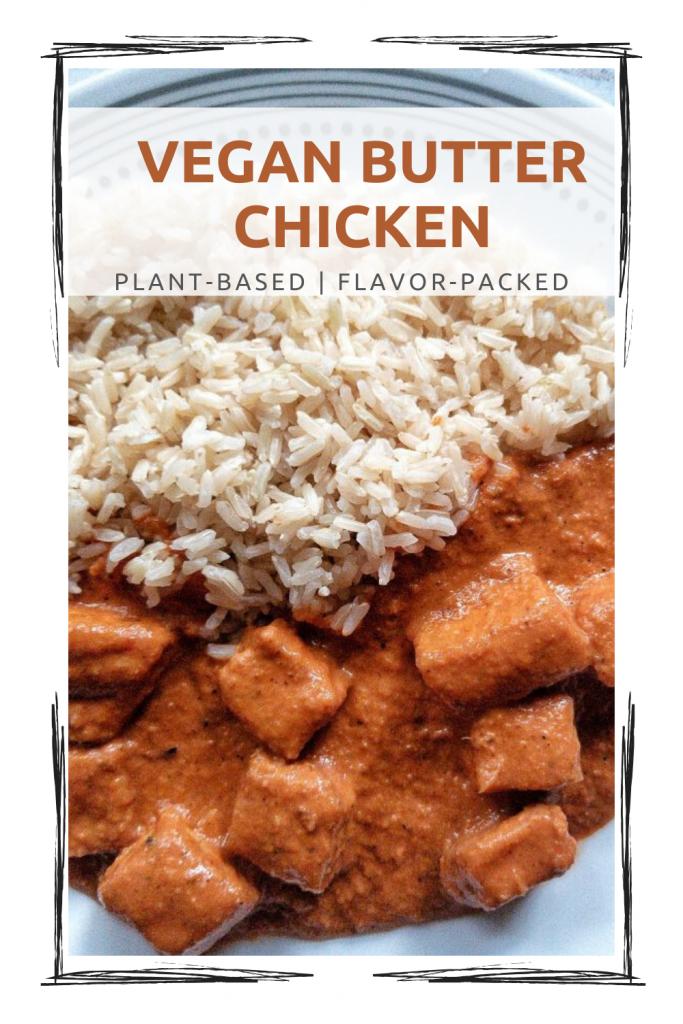 ---
Vegan Butter Chicken Recipe
A creamy, savory, rich vegan butter chicken recipe made with tofu. This recipe is 100% meat free and packed with insane flavor. Pair this dish with rice, naan, or roti.
Ingredients
Tofu "Chicken"
2

blocks extra firm tofu

2

tablespoons

oil

2

tablespoon

all-purpose flour

Salt
Instructions
Tofu "Chicken"
Cut the tofu into small, 1-inch thick cubes. In a large bowl, gently toss the tofu with 2 tablespoons of olive oil and a pinch of salt. Next, add the flour and toss again. 

Line a baking pan with parchment paper and arrange the tofu pieces onto the baking sheet. Bake the tofu pieces for 30 minutes, flipping halfway. 

Once done baking, remove the tofu pieces from the oven and set aside. 
Gravy
First, in a large pan over medium heat, throw in 3 tablespoons of butter. Add the cumin seeds and allow to cook for one minute, or until fragrant. 

Next, throw in the onions in the pan until they are sweating and tender, about 3 minutes. Add the garlic and ginger and allow to cook for 1 minute. Add the tomato paste and allow to cook for a minute. 

Then, add the rest of the spices, coconut milk and the last tablespoon of butter. Stir well. Lower heat to low and allow to simmer all together for five minutes.

Next, carefully pour the gravy into a blender and blend until smooth. Pour the gravy back into the pan and add the tofu pieces. Stir and coat well. Serve.
Notes
It should be fairly easy to find these ingredients. However, if you're unable to locate them, you can find these items on Amazon. I'll add their links under the ingredients' list. 
Note, you'll need extra firm tofu to get that springy, texture you want to get from the tofu. Avoid silken tofu for this recipe. 
If you don't want to use all-purpose flour, feel free to use cornstarch. This will help get your tofu pieces crispier
For this recipe, I used a pinch of sugar to balance the acidity that comes from the tomato paste. However, if that's your jam – omit the sugar. 
If your recipe isn't as thick as you want it to be, let it simmer for a few more minutes after it's done. However, this shouldn't be necessary. My dish came out perfectly creamy and thick all on it's own. Alternatively, you can add a teaspoon of flour to thicken up the gravy.
It's important to break down and blend the gravy prior to tossing the tofu pieces in. This will yield a much creamier gravy that you find in traditional butter chicken recipes. I used my regular ol' blender. 
If you do not half fresh garlic on hand, use a tablespoon of dry garlic powder, instead.
I would typically freeze tofu prior to using, but I forgot. Feel free to freeze the tofu to yield a much chewier texture and make it easier for the tofu to take on the flavors of the gravy. But…it's not necessary.
---
Cookware Used In This Recipe
Did you try out this Vegan Butter Chicken Recipe?
Please leave a comment below, share it, rate it, or tag a picture @plantbasedandbroke on Instagram and hashtag it #plantbasedandbroke. Show off that creation with us