(
This post may have affiliate links. Please see my disclosure.
)
Jump to:
Pasta is starting to become a staple in our household (after rice of course) and we are loving it. It's an affordable dish that takes just 30 minutes to make. I made this recipe with linguine pasta along with a handful of pantry-friendly items.
Why You'll Love This
Only 13 ingredients are required for this recipe! Half of which comes from your kitchen pantry.
This recipe is completely meat-free, vegan, dairy-free, eggless, and can be made gluten-free!
Chickpea pasta is the perfect recipe for something quick, easy, delicious, and can feed a whole family for CHEAP!
For more pasta recipes, check out our vegan Puerto Rican spaghetti, creamy rigatoni, spring spaghetti.
Ingredients & Substitutions
Linguine Pasta - This type of pasta is great for creamy dishes! However, feel free to switch it up and use what you like. Other types of pasta that go great with a creamy sauce include spaghetti or bucatini.
Olive Oil
Chickpeas - Canned or cooked from dried is fine. If using canned, be sure to drain and rinse the chickpeas. You'll also find chickpeas under the name of "garbanzo beans" - same thing.
Red Onion - Shallots, yellow, and white onions may also be used in replacement of red onions.
Garlic - We're going for a small handful of garlic cloves for this recipe. If you're not into garlic, omit it. If you're a garlic lover (so are we), feel free to add more.
Coconut Milk - This will be used as our dairy-free base for the cream sauce. The flavor in full-fat coconut milk is mild and will mellow out further in combination with the other ingredients in this recipe.
Baby Spinach - Mature/regular spinach will work too.
Nutritional Yeast - This will add some umami "cheesy" flavor to the pasta. However, feel free to omit this nutritional yeast.
Dried Parsley
Pasta Water - will add thickness, creaminess, and flavor to your cooked pasta!
What Sides Go Well With Creamy Pasta
Creamy and rich pasta dishes are well-paired with a fresh and vibrant side like a small green salad. Other sides to consider include roasted or sautéed vegetables (green beans, asparagus, zucchini).
For heavier sides, garlic bread, crusty bread, or even bruschetta are great additions.
Recipe FAQs
Can You Eat Chickpeas With Pasta
We're doing that very exact thing! So, why not! Chickpeas add plant-based protein, fiber, and texture to the pasta. Canned chickpeas are also a quick and easy addition to any pasta.
How To Thicken Coconut Milk Sauce
To thicken coconut milk for a pasta sauce, you can use a thickening agent, like all-purpose flour or cornstarch. Then, mix with a liquid.
In this case, we used cornstarch and whisked it into the coconut milk mixture, directly into the skillet.
How To Make This Recipe Gluten-Free
To make this chickpea pasta recipe gluten-free, go for gluten-free pasta! There are many types out there in grocery stores. You can even find pasta made from chickpeas.
More Recipes with Chickpeas:
How To Store
Creamy chickpea pasta can be stored (and salvaged) for leftovers! Store the pasta in an airtight container or reusable silicone bag for up to 3-4 days in the refrigerator.
To reheat: Creamy or saucy pasta is best eaten right away, but it can be used for the following day. To reheat over stovetop, heat the past over low heat with a touch of water or coconut milk, until warm all the way through.
Tried out this Creamy Chickpea Pasta recipe?
Please leave a comment below, share it, rate it, or tag a picture @plantbasedandbroke on Instagram and hashtag it #plantbasedandbroke. Show off that creation with us.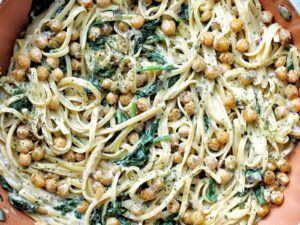 Vegan Creamy Chickpea Pasta with Spinach
Whip up a creamy, velvety chickpea pasta for your next weekday dinner! Made with linguine, pan-roasted chickpeas, garlic, and creamy coconut milk. This recipe is 100% dairy-free, vegan, and can be made gluten-free.
Instructions
Bring a large pot of salted water to a boil. Once at a boil, add the linguine pasta. Cook according to the pasta's packaging - until al dente. Drain, reserving ½ cup of pasta water, and set aside. 

In the same skillet, add another tablespoon of olive oil over medium heat. Add the onion and cook until tender, about 5 minutes. Then, add the crushed garlic. Cook for 30 seconds, or until garlic is fragrant. Add the spinach and cook down until wilted. 

Reduce heat to medium-low and add the coconut milk, nutritional yeast, cornstarch, parsley, and some salt. Stir and simmer for about 3-5 minutes until thick and creamy. 

Add the cooked linguine pasta to the skillet and add ½ cup of the reserved pasta water. Stir until well-combined. Then, toss in the cooked chickpeas. 

Serve and garnish with additional dried parsley.
Notes
This recipe was inspired and adapted by 

NYT's Cooking's Creamy Chickpea Pasta with Spinach and Rosemary

. We're taking our own twist on the dish and making it dairy-free, vegan-approved, with pantry-friendly ingredients.  

I recommend using a non-stick wok for this recipe. It can handle larger volumes of food than a regular skillet. A wok also reduces spillage, due to its depth. 

If you don't have linguine on hand, other kinds of pasta that work well in cream-based dishes include spaghetti or fettuccine. 
Nutrition
Serving:
1
-serving
Calories:
436
kcal
Carbohydrates:
60
g
Protein:
14
g
Fat:
16
g
Saturated Fat:
10
g
Polyunsaturated Fat:
1
g
Monounsaturated Fat:
3
g
Sodium:
31
mg
Potassium:
521
mg
Fiber:
6
g
Sugar:
4
g
Vitamin A:
2009
IU
Vitamin C:
8
mg
Calcium:
71
mg
Iron:
4
mg