(
This post may have affiliate links. Please see my disclosure.
)
Jump to:
When I have a potato craving, THIS is one of my go-tos! They're not only comforting but also satiating, affordable, and readily available at the grocery store. This makes them an ideal choice for budget-conscious plant-based eaters. 
What Are Stewed Potatoes
A stew is a dish that's slowly cooked in a liquid, like a broth or sauce, with a variety of ingredients, oftentimes including legumes, vegetables, and a protein.
Stewed potatoes highlight potatoes as the main ingredient in the dish. Along with anything else you decide to throw in. The strew can be served as a main dish, or as a side.
Potato stews are a recurring culinary theme across various cultures, known by different names. For instance, there's "aloo dum," a North Indian delicacy featuring potatoes in a rich stew or curry. While Spain has "patatas a la riojana" as another delicious variant of stewed potatoes.
Why You'll Love This
It's Satiating & Delicious: Stewed potatoes are not only delicious, but they're also incredibly filling. Served with a thick, flavorful sauce, they're insanely good.
Using Simple, Affordable Ingredients: Made from just 10 readily affordable ingredients, this stewed potato recipe is the definition of simple, without compromising on taste. The basic ingredients like potatoes, onions, and seasonings come together to create a well-balanced dish of flavors that's both familiar and delightful.
Easy To Make: In fewer than 7 steps, 1 pot, and less than 30 minutes, you'll have a delicious dish that can satisfy any appetite!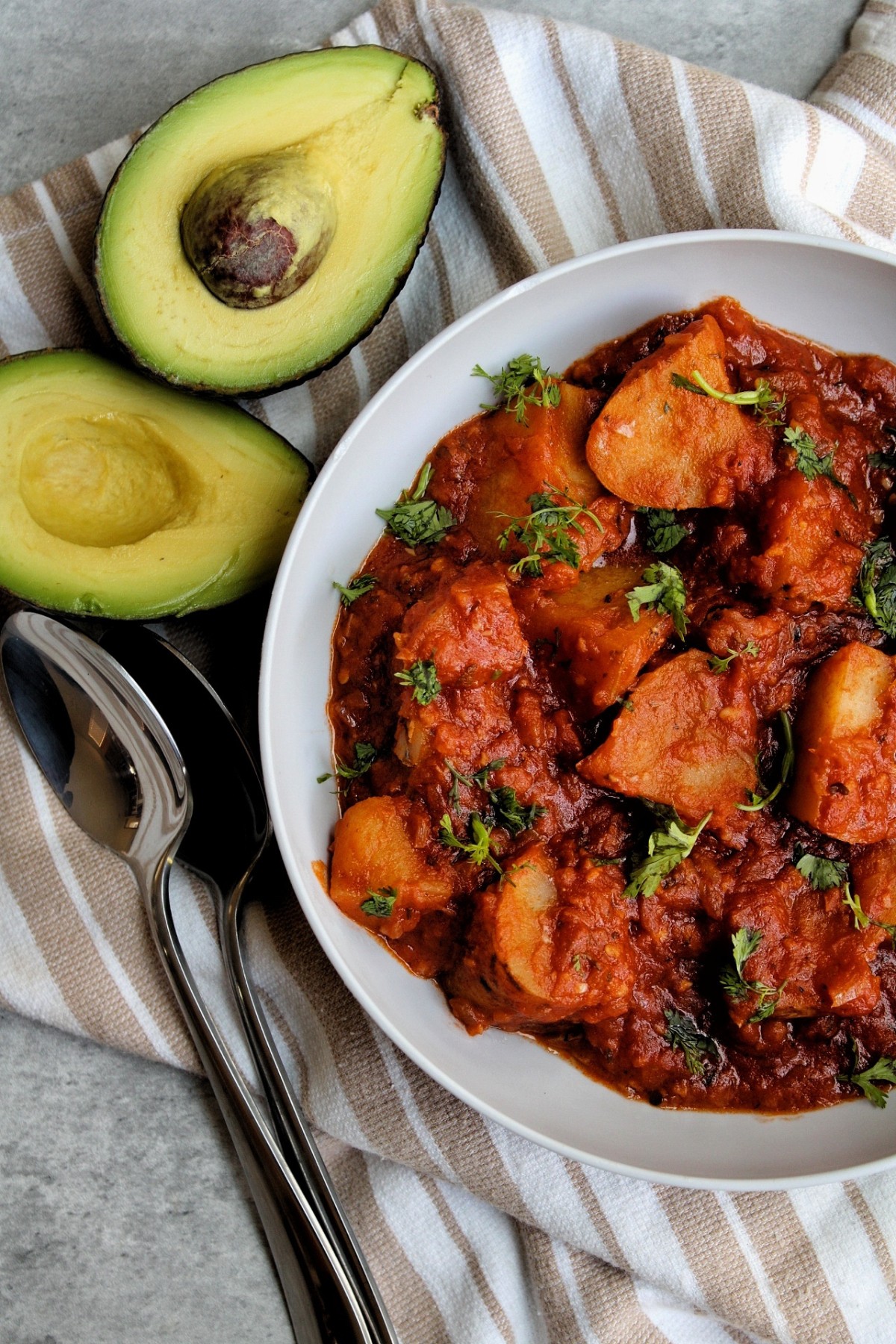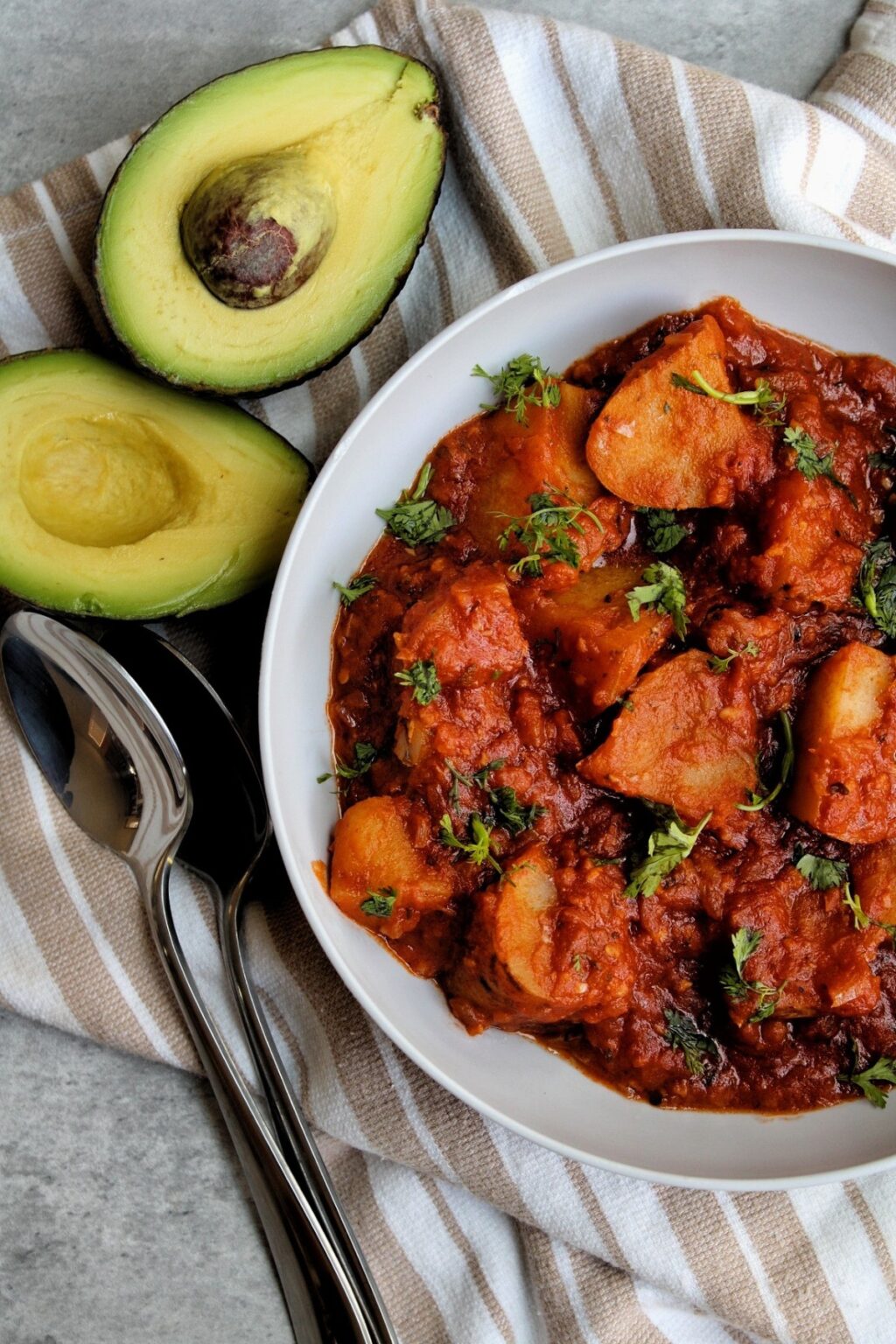 Ingredients & Substitutions
Olive Oil: If you're out of olive oil, you can easily swap it with vegetable oil or canola oil. Coconut oil can work, just keep in mind it might change the flavor a bit in your stew. Onion

: In case you're running low on onions, shallots or leeks can step in admirably. Shallots offer a slightly milder and sweeter taste, while leeks add a unique, subtle onion-like flavor that can complement your stew's character.

Garlic: If fresh garlic is unavailable, garlic powder can be a suitable alternative. Remember that 1 clove of garlic roughly translates to about ⅛ teaspoon of garlic powder. Adjust to your taste preference.
Russet Potatoes: If russet potatoes aren't on hand, Yukon Gold potatoes or red potatoes can work as substitutes. Each variety brings a slightly different texture and flavor to the stew, but the result will still be comforting and delicious.
Oregano: Out of oregano? Go with thyme, rosemary, or marjoram as a replacement replacements.
Parsley: No parsley, no problem. Cilantro or chives can be used as alternatives.
Salt: If you're looking to cut down on sodium, you can either use a salt substitute or simply reduce the amount of salt in the recipe. Keep in mind that the stock or broth you use might also contain sodium.
Red Chili Flakes: Running low on red chili flakes? Cayenne pepper or paprika can provide a similar touch of heat and flavor to your stew.
Tomato Sauce: If you don't have tomato sauce, tomato puree or crushed tomatoes can be used as alternatives. They will contribute the desired tomato flavor and thickness to your stew. Tip: you can combine equal parts water + equal parts tomato paste to make a tomato sauce.
Mushroom Stock: If mushroom stock isn't available, go for your choice of vegetable stock. I used 1 teaspoons of mushroom bouillon with 1 cup water.
Cilantro: Cilantro may be omitted if you don't have it on hand.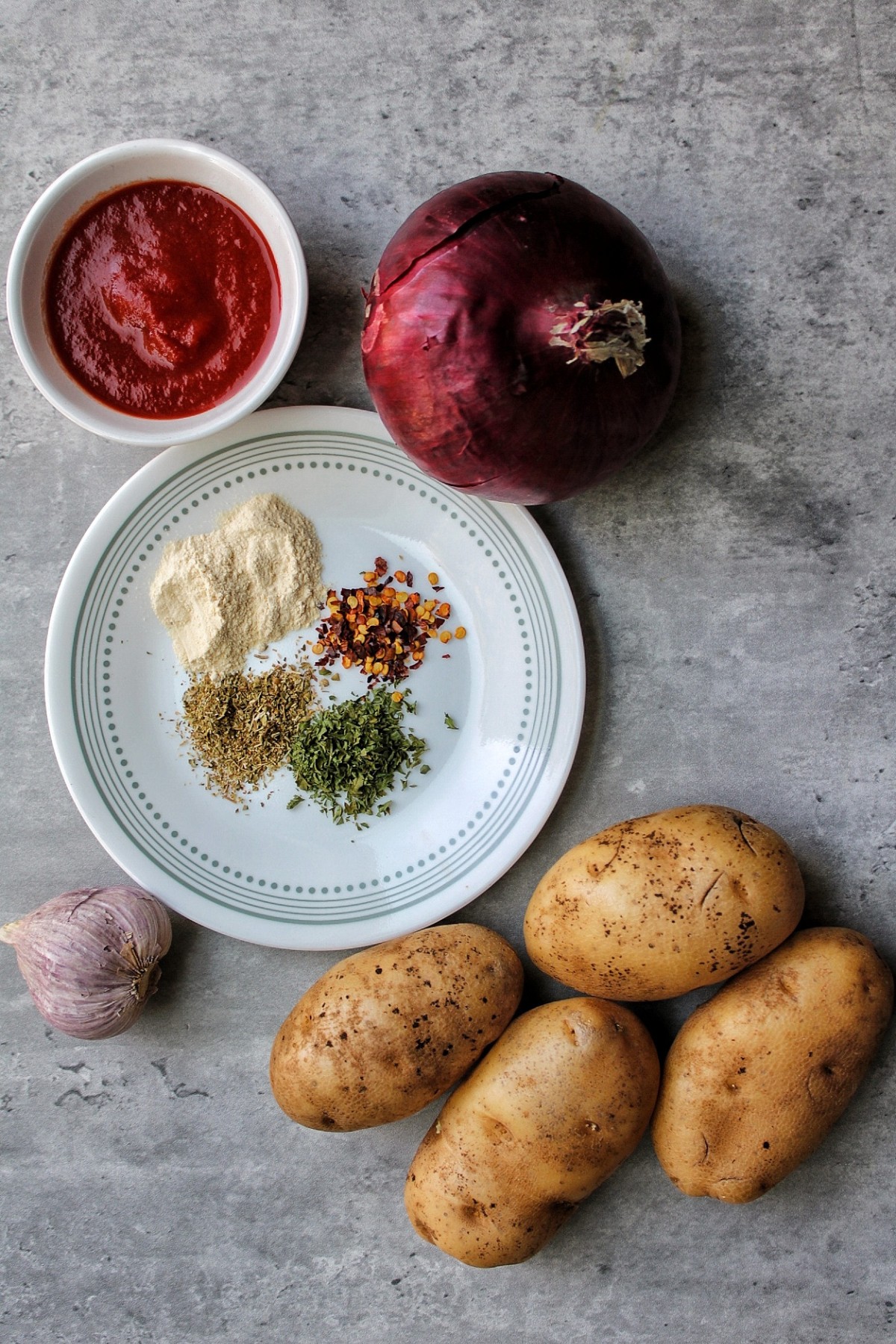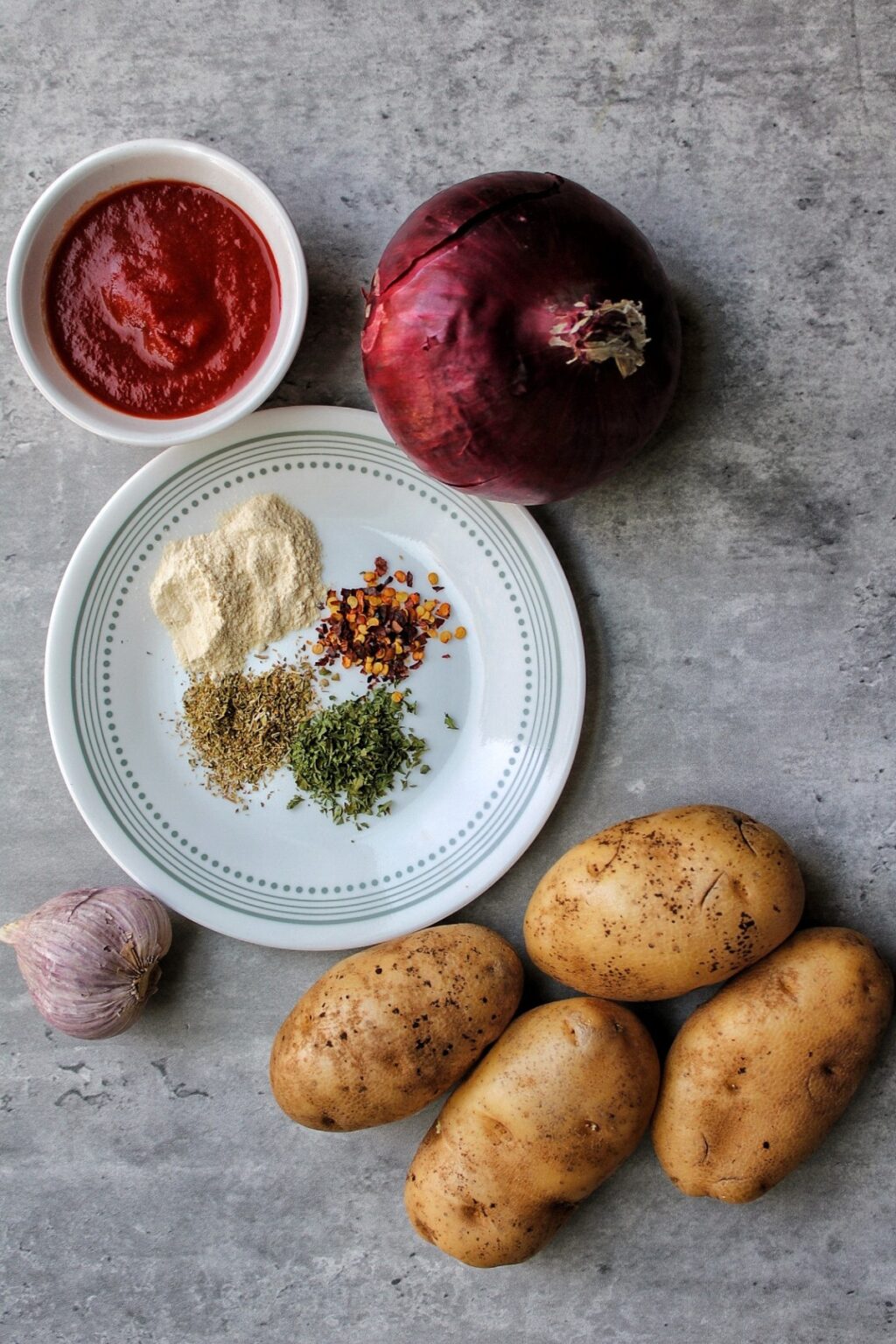 Tips For The Best Stewed Potatoes
To cook up a dish full of taste, start by getting great ingredients – like fresh, strong potatoes and flavorful herbs. Chop the potatoes evenly so they can all cook until tender at the same time. For flavor: don't hold back – add your favorite herbs and seasonings. I also suggest adding a small pinch of salt during every cooking step. Additionally, use low to medium heat and simmer gently. This makes everything tender and amazing, without overcooking. Next, remember to stir things now and then to stop sticking and make sure every bite's tasty.
How To Thicken Stewed Potatoes
Cornstarch: Create a slurry by mixing cornstarch with a bit of cold water until smooth. Gradually stir the slurry into your simmering stew. As the mixture heats up, the cornstarch will activate, thickening the liquid. Just be sure not to overdo it, as cornstarch can make the stew overly gummy if used excessively.
Reducing and Simmering: Sometimes, the best way to thicken a stew is through patience. Simmer the stew uncovered, allowing the liquid to gradually reduce. This concentrates the flavors while naturally thickening the consistency over time.
Blend and Blend Again: For a super smooth texture, you can blend a portion of the stew using an immersion blender or traditional blender. Once blended, reintroduce the mixture to the pot, enhancing thickness while retaining the dish's essence.
What To Serve With Stewed Potatoes
Because this is a carb-heavy dish, I love to pair it with a protein or more vegetables. Air fryer tofu or tempeh is a great option along with your favorite roasted vegetables.
Try it with my favorite: slices of avocado.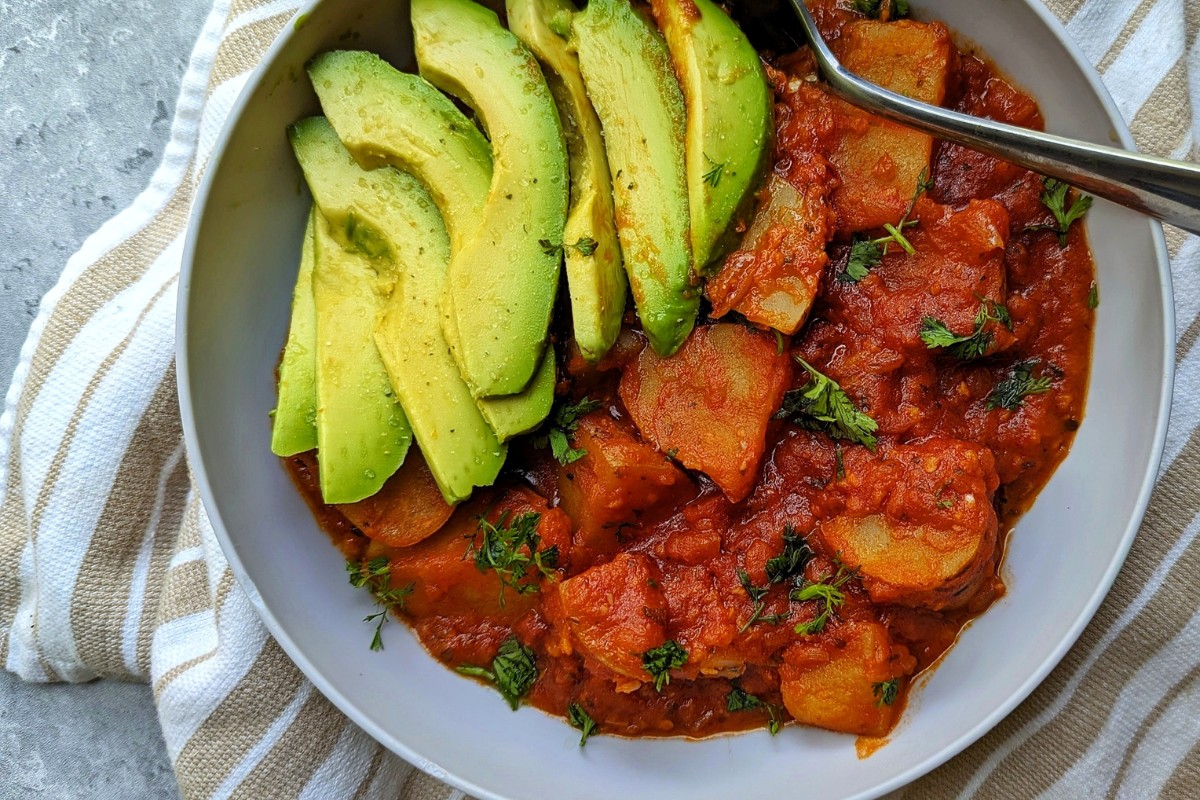 More Recipes With Potatoes
For potatoes in stew, check out our vegan beef stew, Puerto Rican tofu guisado, Puerto Rican bean stew, and vegan spiced ground "beef."
How To Store
To store stewed potatoes, allow it to cool completely before transferring to an airtight container. They can be kept in the refrigerator for up to 3 days.
To reheat, gently warm the stewed potatoes on the stovetop over low heat, adding a splash of water or broth if needed to maintain the desired consistency.
Frequently Asked Questions About Stewed Potatoes
What Are The Best Potatoes For Stews?
I love using russet potatoes for stews because of their affordability, versatility, and their texture. Their high starch content is perfect for creating a thick and hearty stew. Additionally, they're perfect for absorbing flavor.
Should I Boil The Potatoes For Stew?
No need. In fact, these russet potatoes do best when slowly stewed and cook under low heat.
How To Prevent Potatoes From Becoming Mushy During Stewing?
To prevent russet potatoes from becoming mushy in a stew, there are a few key steps to follow. When preparing them, cut them into uniform pieces to ensure even cooking. Then, when it's time to stew, use low to medium heat and a gentle simmer rather than a rolling boil. Finally, periodically check on their doneness and aim for a tender but still firm texture.
Will Potatoes Soften In Tomato Sauce?
Although tomato sauce is known to slow down the cooking process of most foods, the potatoes will soften. Aim to slowly stew the potatoes, as directed in the recipe, and they will be fully cooked and tender.
Tried out this Stewed Potatoes recipe?
Please leave a comment below, share it, rate it, or tag a picture @plantbasedandbroke on Instagram and hashtag it #plantbasedandbroke. Show off that creation with us.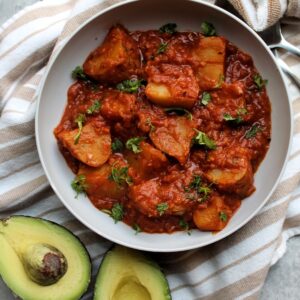 Stewed Potatoes with Tomato Sauce and Garlic
Enjoy stewed potatoes in tomato sauce with garlic! These stewed potatoes are made with just a handful of basic ingredients, making them a budget-friendly choice. With a slow-cooked blend of russet potatoes, aromatic herbs, and rich tomato sauce, this dish is both comforting and satisfying.
Instructions
Heat 2 tablespoons of olive oil in a wok or deep skillet over medium heat.

Once the oil is hot, add the chopped onion. Sauté until the onion is tender, approximately 3-4 minutes.

Introduce the minced or crushed garlic to the skillet and cook for about 30 seconds, or until its aroma is released.

Add in the chopped potatoes, oregano, parsley, salt, powdered garlic, and red chili flakes. Combine all the ingredients thoroughly and cook for 1 minute.

Pour in the tomato sauce and mushroom stock. Allow the mixture to come to a boil, then reduce the heat to medium-low.

Let the stew simmer for around 20-25 minutes, or until the potatoes can be easily pierced with a fork. Stirring occasionally.

Serve with a squeeze of fresh lemon juice and chopped cilantro (optional).
Notes
Mushroom stock:

1 teaspoon bouillon powder + 1 cup water. 
Nutrition
Serving:
1
serving
Calories:
226
kcal
Carbohydrates:
37
g
Protein:
5
g
Fat:
7
g
Saturated Fat:
1
g
Polyunsaturated Fat:
1
g
Monounsaturated Fat:
5
g
Sodium:
685
mg
Potassium:
923
mg
Fiber:
4
g
Sugar:
5
g
Vitamin A:
472
IU
Vitamin C:
16
mg
Calcium:
44
mg
Iron:
2
mg