(
This post may have affiliate links. Please see my disclosure.
)
On most days, a basic bowl of potatoes will do. With all of the recipes out in the abyss, keeping it simple is sometimes key. With this creamy, garlicky mashed potatoes recipe, there's not much to it, except for a lot of flavors. 😉
In just under 20 minutes, you'll have a satisfying side (or meal) that's cheap, delicious, and filling.
Also – this recipe is also vegan.
---
Creamy, Garlicky Mashed Potatoes Recipes
Cooking Notes:
No need to peel the potatoes. We use all of the potatoes here.
Don't forget to scrub and rinse your potatoes from any dirt.
When chopping the potatoes in cubes, they don't need to be uniform. They're just potatoes, we're not baking a cake.
Use any vegan butter of choice. I used Melt's vegan butter.
Add more water to the final mashed potatoes if you want it more smooth. Less if you want it more chunky.
This recipe yields about 3 servings.
Ingredients:
3 russet potatoes
4 garlic cloves
Salt
Water
*Reserved potato water
*We'll talk about the reserved potato water later in this recipe.
Directions:
Rinse and wash your potatoes. Then, cube your potatoes into chunks.
Toss in your potatoes into a pot of cold water.
Then, over high heat, bring the pot of water to boil and add a pinch of salt.
While the potatoes are cooking, bring a separate pan over low-medium heat.
Add 1 tablespoon of butter and the minced garlic.
Cook and stir for about 3-4 minutes.
When the potatoes are fork-tender (about 15 minutes), reserve ¼ cup of the *potato water and set aside.
Then, remove the potatoes from the water and place them in a large bowl.
Mash the potatoes with a fork or potato masher.
Then add the melted garlic butter, ½ tsp of salt, and ¼ cup of reserved potato water.
Mix well and serve.
Want a little bit of cheesiness to these vegan, creamy, garlicky mashed potatoes? Top 'em with a little bit of nutritional yeast.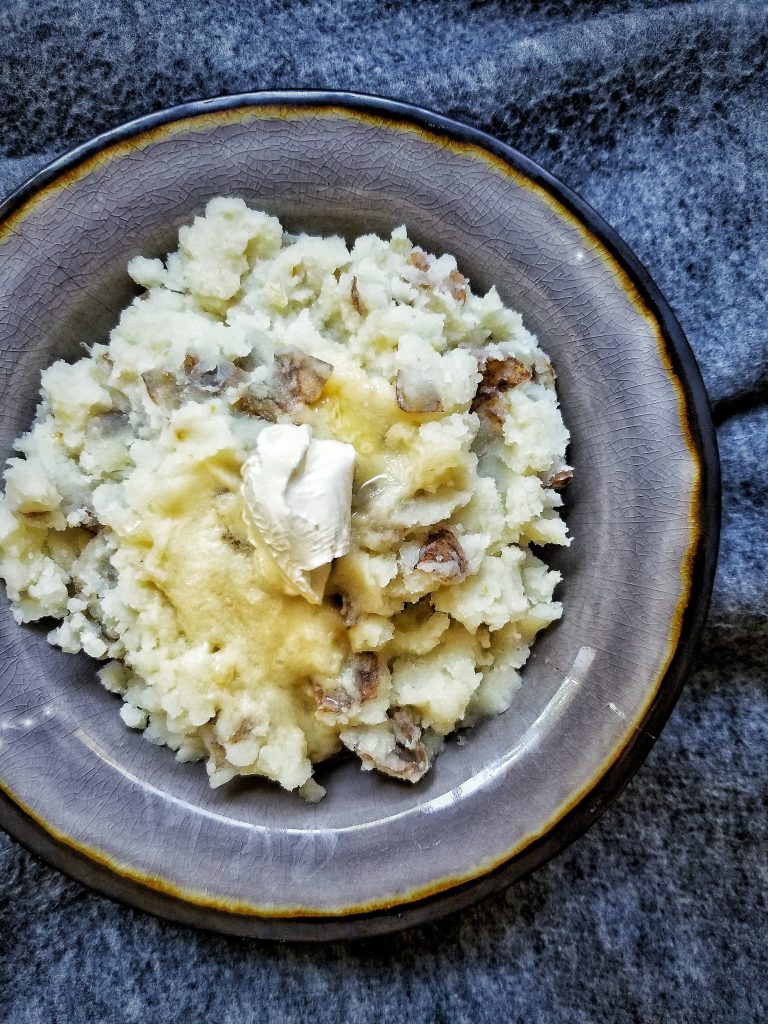 Need some gravy with those potatoes? Check out this recipe:
Vegan Mushroom Gravy, Oil-Free