(
This post may have affiliate links. Please see my disclosure.
)
We can all enjoy creamy, garlic mashed potatoes – without the butter and milk. All we need are the essentials: peeled potatoes, dairy-free milk, vegan butter, and the glorious bulb of garlic.
To create something incredibly garlicky and buttery, we're using a quick and easy homemade garlic butter sauce using plant-based butter.
We're essentially cooking the garlic just enough to release its bold garlicky flavor – which only requires a few seconds over medium heat in simmering butter.
I am pretty stoked for the next upcoming months. This year has been a bit….weird. So, I am looking forward to autumn and winter comfort foods including mushroom gravy, beefless "beef" stew, Puerto Rican stewed beans, and yellow rice.  
Garlic mashed potatoes are the perfect side dish, especially with Mushroom Lentil Loaf.
More Potato Side Recipes:
What Type Of Potatoes To Use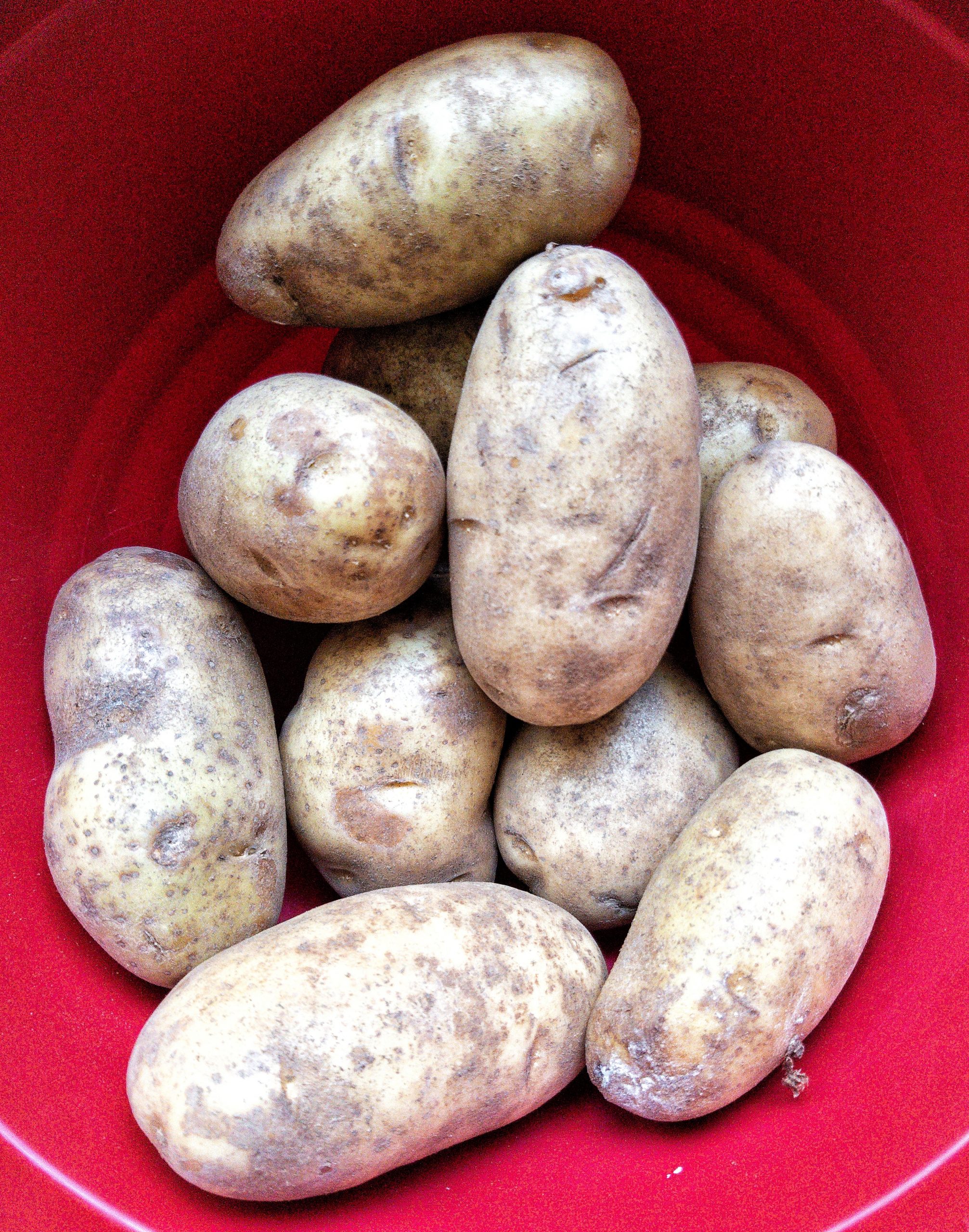 High-starch potatoes like russet potatoes are perfect for mash. They are the perfect vessel for soaking up butter and flavor.
Additionally, they are affordable and easy to find. Nearly every grocery store will have their stack of russet potatoes ready to be grabbed and enjoyed.
Other high-starch potatoes including Yukon gold and Idaho (also falls in the russet potato category).
Recipe Notes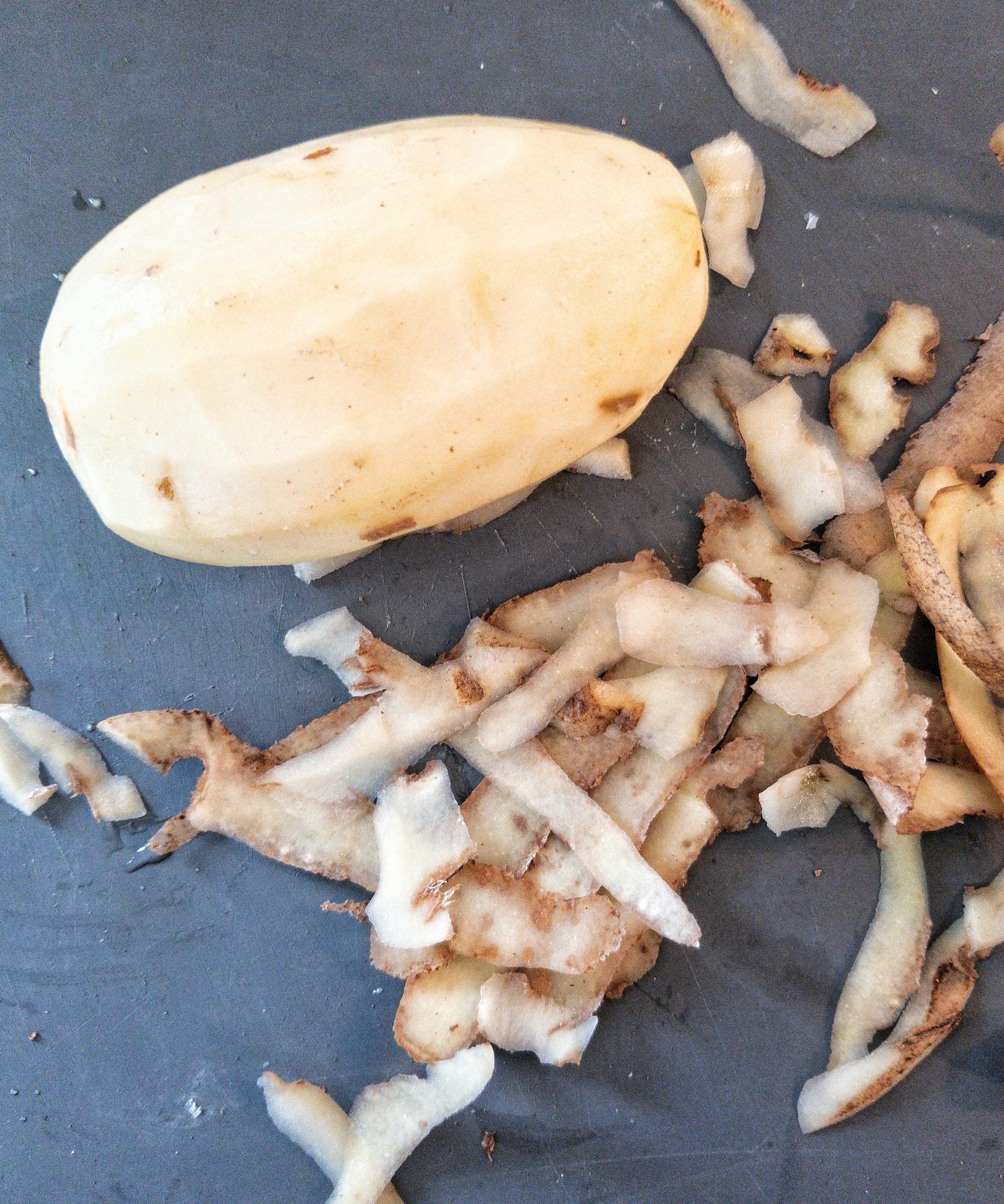 Peeling the potatoes is entirely up to you – I go both ways depending on my mood. Keep in mind both ways have their pros and cons. Peeling potatoes takes some work and you're omitting some of the fiber coming from the potato peels. However, if you peel the potatoes, you have a creamier and uniform mashed potato texture. I'd say go for what you prefer. You can always save the peels, drizzle some oil, and pop them in the oven for a few minutes at 400 degrees F until crispy.
For this recipe, feel free to use any kind of vegan butter you prefer and enjoy. I always use Melt Organic butter. I find this butter to be very creamy, without a slight aftertaste that I find in some vegan butter.
Mashed Potato Toppings
If you're in the mood to take your creamy, garlic mashed potatoes to the next level, here are some plant-based toppings and additions to consider.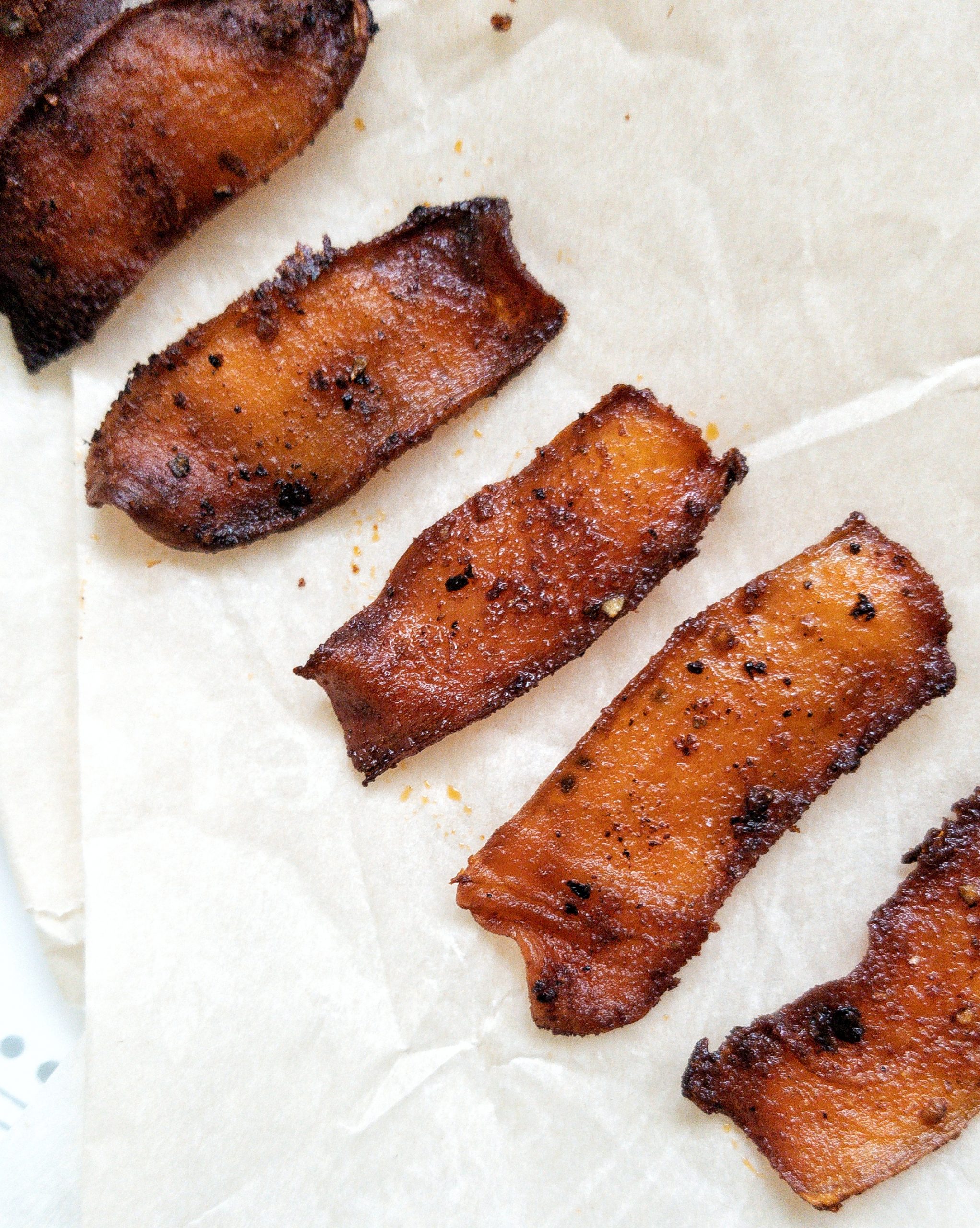 Green Onions
Chives
Vegan Cream Cheese
Vegan Sour Cream
Salsa
Pan-Roasted Corn
Parsley
How To Reheat Mashed Potatoes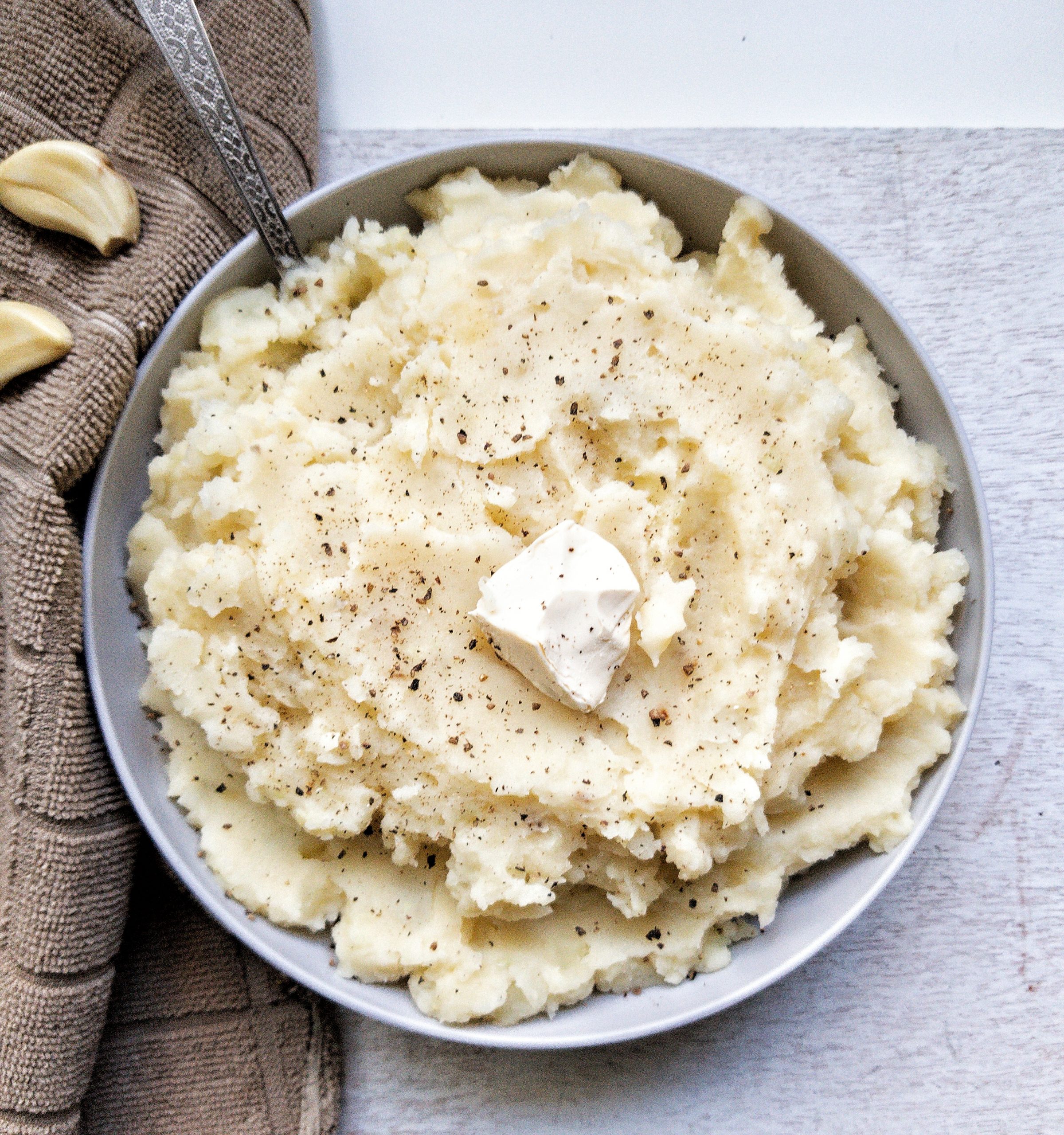 Mashed potatoes are best enjoyed fresh. However, if you need to pack them up for another day, you can zap them in the microwave for a few minutes.
They will be a bit dry, but you can add more butter, milk, and even water to bring back its creaminess.
How Long Boil Potatoes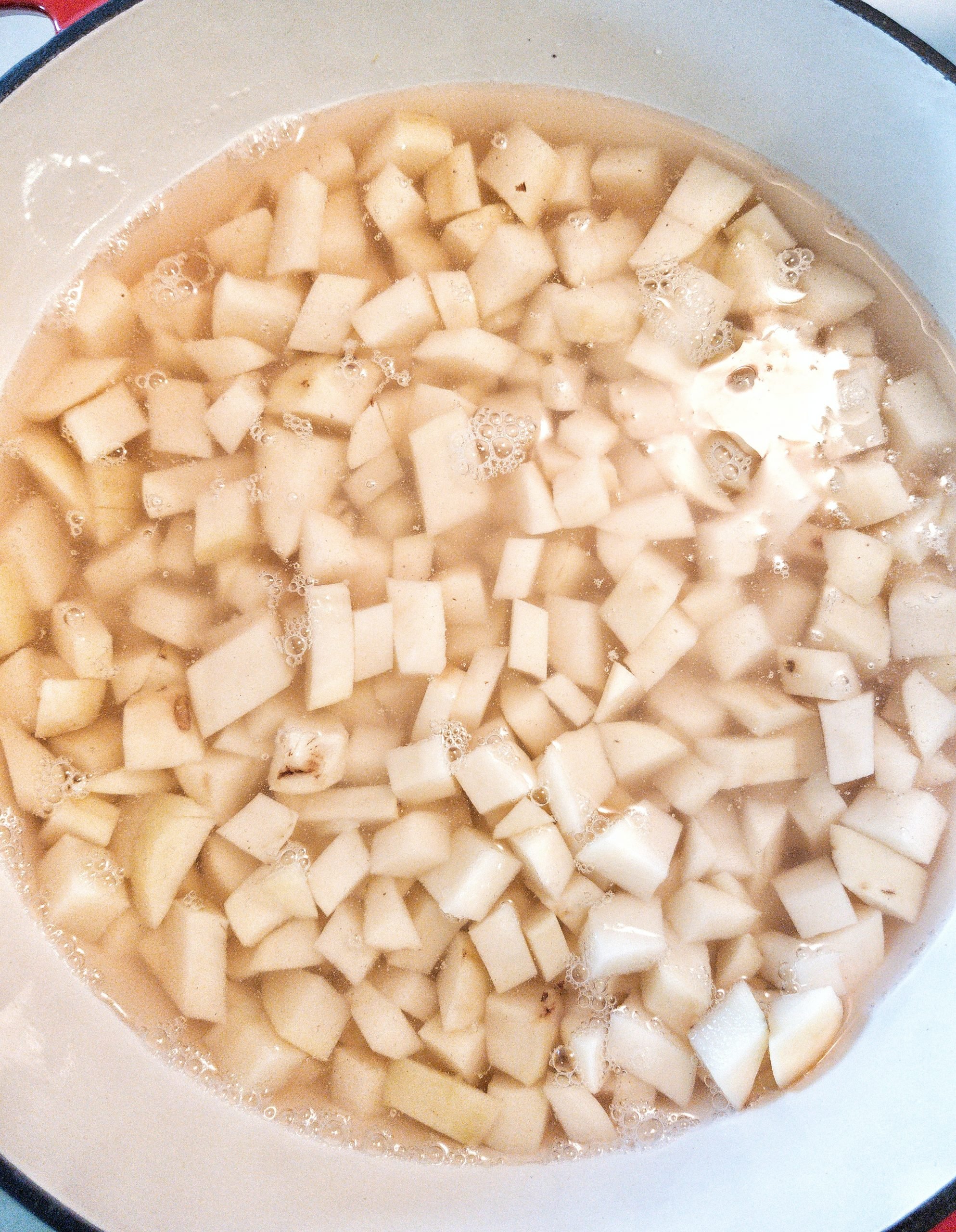 Boil time will depend on the size of the potatoes and whether or not you are opting to roughly chop them or boil/steam them whole. It's best to occasionally check with a fork if they are tender.
You'll want them to be fork-tender, but not so soft that they fall apart and crumble.
I prefer to roughly chop my potatoes because this cuts the boiling time significantly. Most days, I just need to get the food done quickly and this is one way I do that.
Chopped potatoes take about 10-15 minutes to boil, while whole potatoes take about 25 minutes or longer to become fork-tender.
How To Mash Potatoes Without A Masher
Mashing potatoes without a potato masher can be done with a fork. I am sure this was the way to do it before having a masher was mainstream.
It's just as effective, it just might take a little it more work.
If you're looking for a potato masher to buy, they can be found at Target, sometimes ROSS, or online at Amazon.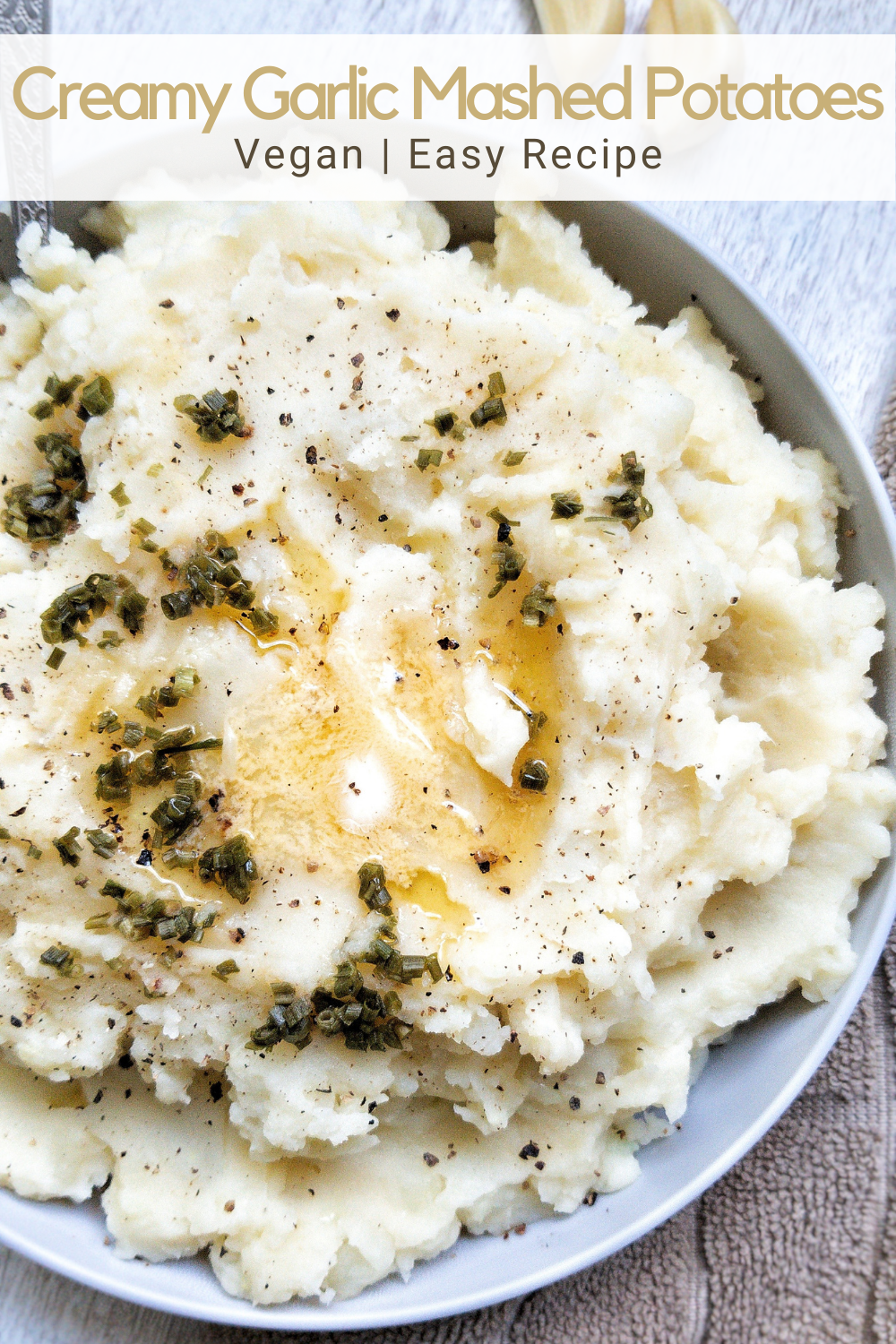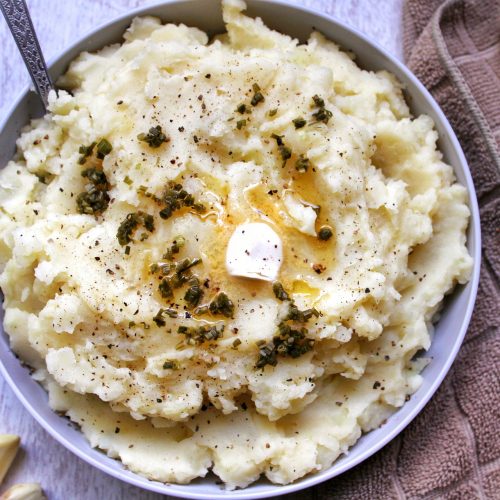 Creamy Garlic Mashed Potatoes
We can all enjoy creamy, garlic mashed potatoes – without the butter and milk. All we need are the essentials: peeled potatoes, dairy-free milk, vegan butter, and the glorious bulb of garlic.
Ingredients
1/2

cup

vegan butter

6

cloves of garlic

crushed

6

cups

water

4

pounds russet potatoes

peeled, cut into 2-inch cubes

1

cup

soy milk

1

tablespoon

salt
Instructions
Mashed Potatoes
Pour about 6 cups of cold water and salt into a large dutch oven or pot. Add the chopped potatoes and set heat to high. Boil for 10-20 minutes, until fork-tender

Drain potatoes in a colander. Mash potatoes with a potato masher or fork. Next, gently fold in soy milk and garlic butter into the mashed potatoes. Stir until creamy.

Serve and salt and pepper to taste. Add more butter or toppings if you like.
Nutrition
Serving:
1
-serving
Calories:
237
kcal
Carbohydrates:
27
g
Protein:
4
g
Fat:
13
g
Saturated Fat:
3
g
Polyunsaturated Fat:
4
g
Monounsaturated Fat:
5
g
Trans Fat:
1
g
Sodium:
1320
mg
Potassium:
664
mg
Fiber:
3
g
Sugar:
1
g
Vitamin A:
806
IU
Vitamin C:
29
mg
Calcium:
81
mg
Iron:
1
mg
Did you try out this Creamy Garlic Mashed Potatoes recipe?
Please leave a comment below, share it, rate it, or tag a picture @plantbasedandbroke on Instagram and hashtag it #plantbasedandbroke. Show off that creation with us.
Struggling to get started with a plant-based diet that's easy on your wallet? Check out our guide to getting started with a plant-based diet without breaking the bank.