(
This post may have affiliate links. Please see my disclosure.
)
Do you hear that?
It's that satisfying potato chip-crunch from a perfectly roasted starch nugget. Yeah, I said nugget.
When it comes to the right flavor, texture, and shimmering gold color of roasted potatoes, there are 5 easy tricks. There is a bonus trick, though: make more than what you think you might need because I promise you'll want to go back for seconds and thirds.
Because who just ate three potatoes worth of the stuff? :: raises hands::
Here are my 5 Tricks For Crispy Roasted Potatoes
1 – Use Baking Soda
While parboiling your potatoes prior to roasting (trust me, this is a good idea), add a bit of baking soda and a dash of salt. When salt and baking soda come together, they help dry out the potato skin, yielding a much crispier outside.
If you want to get nerdy about it: parboiling the potatoes in water that's alkaline will initiate the breakdown of the potato's pectin, helping it achieve that glorious crunch when it's time to roast.
Additionally, parboiling in salt will also bring forth a deeper potato-y flavor all throughout the pieces, and not just at the surface level. It sounds like a win-win to me.
Sidenote: I'll have a full recipe at the end of this article, so you can understand how all of these tricks come together.
2 – Bake On Parchment Paper
Ever had that a chunk of potato fall so deeply in love with that sheet of aluminum foil, that it just doesn't want to part ways….ever? Yeah, well, even with foil's shine and strength, it's not exactly the best at being non-stick. And that's okay – it's a great thing to use under the right circumstances.
At first glance, it might seem like parchment paper may be the kind of thing that'll make all things stick, but they actually have a non-stick coating, typically of silicone, that makes it heat-resistant and nonstick, making it the perfect candidate for roasted potatoes.
When potatoes stick to a baking tray, you're compromising its crispy skin, shape, and hold. Do the right thing and use parchment paper.
Sidenote: wax paper is not the same as parchment paper and they should not be used interchangeably, especially with high heat. Wax paper WILL burn and can become a fire hazard. Don't use it for baking or roasting.
3 – Don't Overcrowd The Potatoes
When it's time to line up your pieces of potato onto a baking sheet, they do best when they aren't holding hands. Give them space, they are a little shy, anyway.
Okay, so let's get serious here. The reason why you want to give each piece some space is because when they are either stacked or touching each other, they will steam – ruining that crunchy exterior you've been longing for.
If you run out of room, just bring out another baking sheet. No biggie.
4 – Let Them Hang Out And Dry
After you're done parboiling your potatoes, drain the water and have the potatoes air dry to allow the excess moisture to evaporate. It doesn't have to be for long, just for about 10-15 minutes.
The less moisture you have on the potatoes, the crunchier the outcome. Let them enjoy the breeze for a bit.
5 – Crank Up The Oven
Bring on the heat! Don't be afraid to throw those bad boys into an open flame – okay, well, maybe not literally. But you do want to get your oven hot enough to do the rest of the work. 450F is a good temperature to go with.
Then, you can set the oven to broil for just a couple of minutes at the end of your cook to really scorch those skins until perfectly golden and blistered.
For more breakfast recipes, check out 18 Frugal Plant-Based Breakfast Recipes. We have sweet, savory, and everything in between!
Crispy Roasted Potatoes Recipe
Potatoes for breakfast is always the answer – get the plate out and pair it with a side of tofu scramble.
Ingredients
3

russet potatoes

1

tablespoon

salt

2

tablespoons

vegetable/canola oil

1/2

teaspoon

baking soda
Instructions
Preheat oven to 450 degrees F degrees. 

Wash potatoes and cut lengthwise, then chop potatoes into large bite-sized chunks. Bring a pot of water to a boil. Add ½ teaspoon baking soda and 1 tablespoon salt.

Cook potatoes for about 8-10 minutes, until it can be easily pierced and still hold its shape. Once done, drain water from potatoes. 

Allow the potatoes to sit and steam off excess moisture for 10 minutes. Transfer potatoes into a large bowl. Coat with salt and oil, gently mix.

 On an oven-safe pan lined with parchment paper, line up the potatoes with some space in between each piece. Roast for 40 or so minutes, flipping a couple of times until all sides are golden. Broil for 1-2 minutes.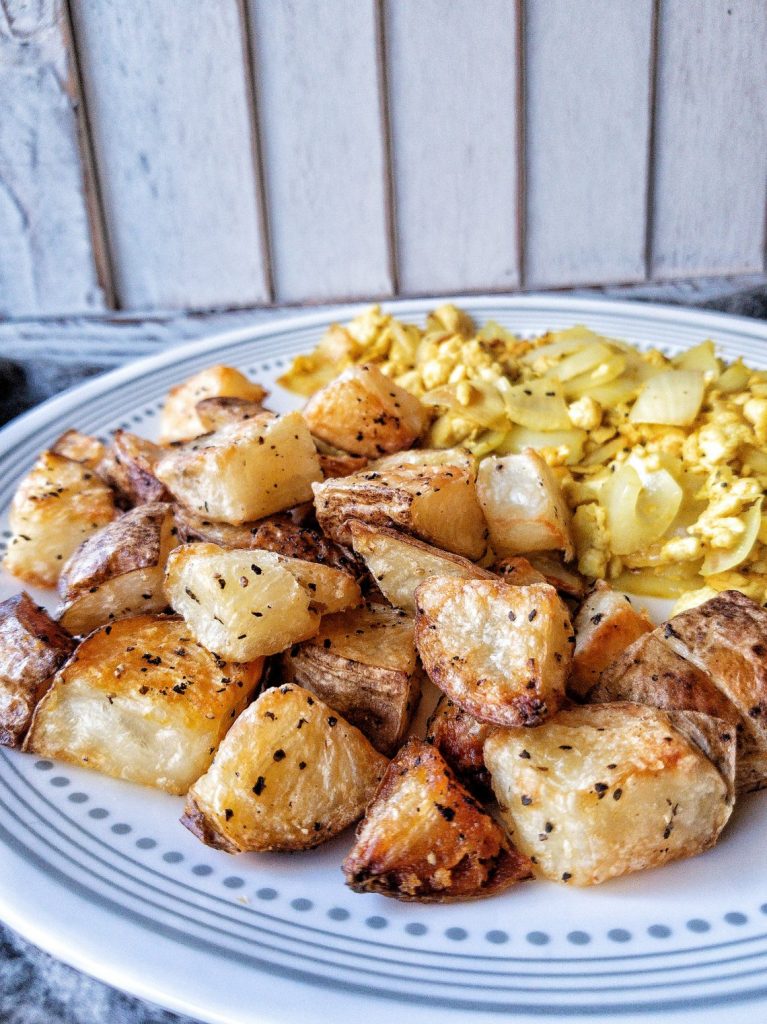 ---
Did you try out this Crispy Roasted Potatoes recipe?
Please leave a comment below, share it, rate it, or tag a picture @plantbasedandbroke on Instagram and hashtag it #plantbasedandbroke. Show off that creation with us.