(
This post may have affiliate links. Please see my disclosure.
)
Jump to:
One-pot chickpeas and sweet potato curry is one of my favorite dishes to make when I am just tired and I want something quick. With a side of white rice or flatbread - you've got yourself a full, comforting meal.
This sweet potato curry uses an aromatic blend of spices that doesn't hold back on flavor! We've got the perfect blend of ginger, garlic, turmeric, curry powder, a splash of lemon juice, and fresh cilantro. Every bite is packed with a fusion of warm spices and refreshing garnishes.
Although this dish is budget-friendly, it doesn't hold back on taste!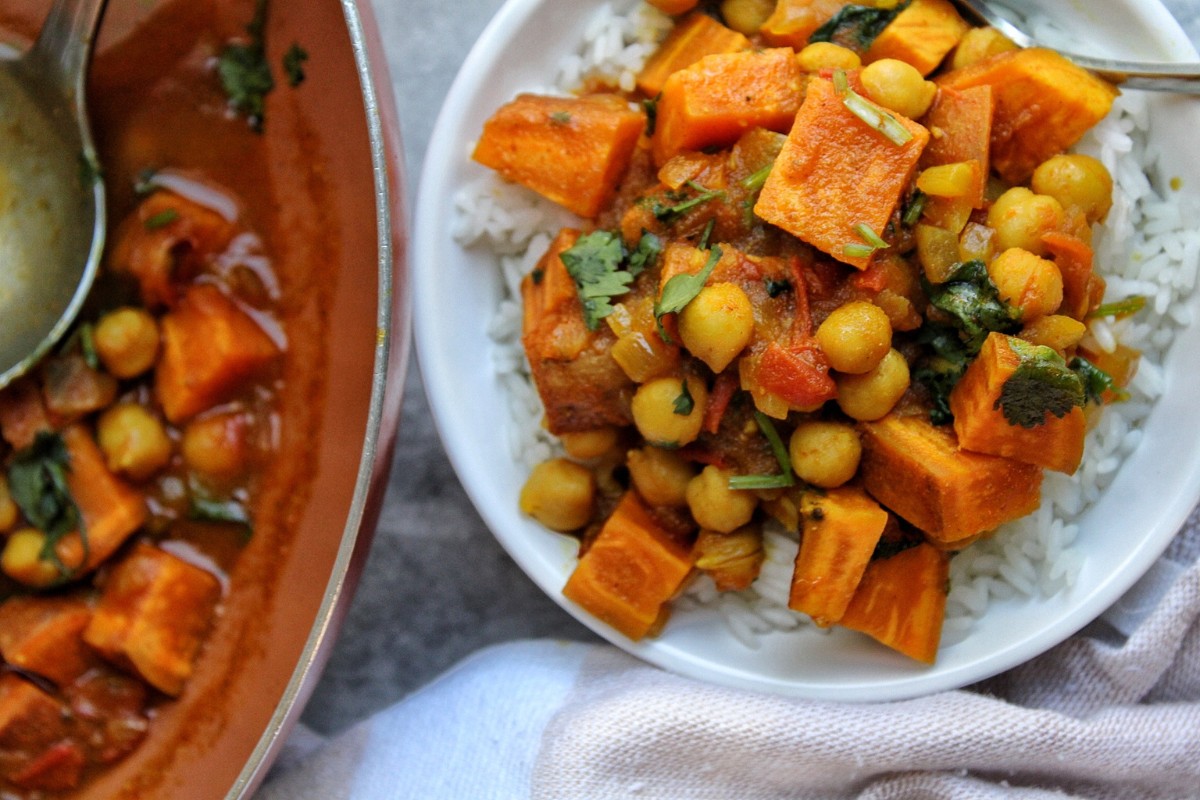 Why You'll Love This
Affordable Ingredients: Sweet potato curry is a budget-friendly option as it primarily relies on affordable staples like sweet potatoes, canned chickpeas, and dried herbs and spices, which are readily available year-round. This dish showcases how simple, accessible ingredients can create a satisfying and flavorful meal without breaking the bank.
Ready in Less than 30 Minutes: We're all very busy, so finding quick yet nutritious meals for the family is a priority for many of us. Sweet potato curry comes to the rescue! This dish can be prepared in under 30 minutes. Additionally, this makes it an ideal choice for busy weeknights, ensuring that you can enjoy a homemade, wholesome dinner without sacrificing precious family time. And as a new mom (1 year in) - this is essential for us!
Plant-Based, Nutritious, and Flavorful: Sweet potato provides a hearty and nutritious option for both vegetarians and vegans (everyone, really). It's packed with fiber, protein, and essential nutrients. Oh, and it's bursting with flavor! The combination of sweet potatoes and aromatic spices creates a rich, flavorful curry that not only satisfies your taste buds but also promotes overall health. This dish is a tasty way to incorporate a variety of nutrients into your diet, all while relishing a comforting and satisfying meal.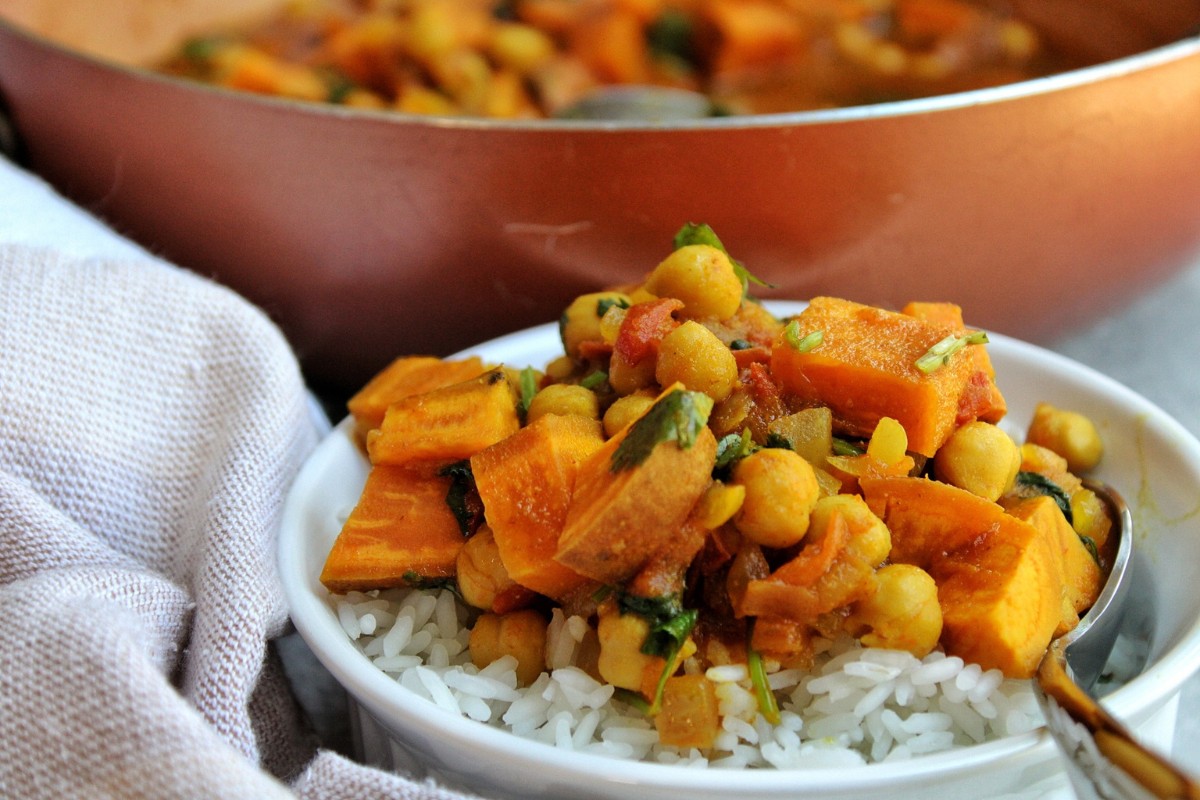 Ingredients & Substitutions
Olive Oil: You can substitute olive oil with other cooking oils like vegetable oil, coconut oil, or avocado oil depending on your flavor preferences and dietary requirements.
Onion: If red onion isn't available, you can use yellow or white onion for a similar flavor base in your curry.
Garlic: In the absence of fresh garlic, you can use garlic powder as a convenient substitute. ¼ teaspoon of garlic powder is approximately equivalent to one fresh garlic clove. Frozen garlic works, too. Add as little or as much as you like - depending on what your preferences are.
Ginger: If fresh ginger isn't on hand, ground ginger can be used as a replacement. About ¼ teaspoon of ground ginger can replace one teaspoon of fresh minced ginger. Pro-tip: We stock up on fresh ginger, mince them in a food processor, then freeze. That way, we have ginger on hand, and ready to use, whenever we need.
Curry Powder: If you're out of curry powder, you can make a simple substitute by mixing coriander, cumin, turmeric, and other spices to achieve a similar curry-like flavor profile. Or, you can use garam masala, you'll just be working with a slightly different flavor profile.
Turmeric: Ground mustard or saffron can provide a similar golden hue and subtle flavor.
Tomato Paste: If you're lacking tomato paste, you can use tomato sauce. Keep in mind that the consistency and flavor might vary slightly.
Tomatoes: When fresh tomatoes aren't available, you can use canned diced tomatoes or tomato puree as a substitute. Adjust the quantity to match the desired level of tomato flavor. You'll only need a cup worth in this recipe.
Sweet Potatoes: Any type of potatoes can be used as a replacement for sweet potatoes, such as regular potatoes or yams. The cooking time may vary slightly depending on the variety you choose.
Chickpeas: If you don't have canned chickpeas, you can also use dry chickpeas. Just be sure to cook fully beforehand.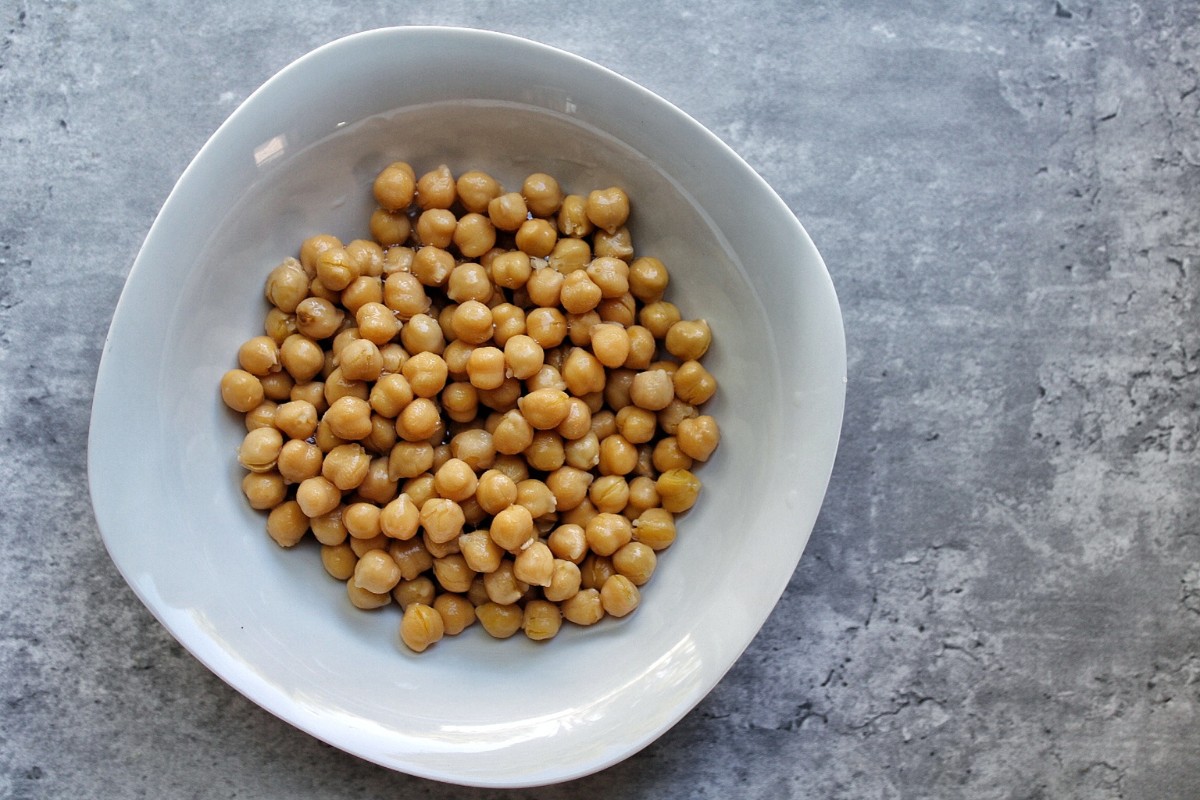 Vegetable Broth: In the absence of vegetable broth, you can use water mixed with bouillon cubes or even broth. I used a mix of mushroom bouillon powder and water to make a vegetable broth.
Salt and Pepper to Taste: Adjusting the seasoning is key, and you can use your preferred spices and herbs to enhance the flavor according to your taste preferences.
Lemon Juice: If fresh lemon juice is unavailable, you can use bottled lemon juice. You can also substitute with other citrus juices like lime or orange for a different tangy element.
Cilantro: If cilantro isn't to your liking, you can replace it with fresh parsley or even mint for a different burst of herbaceous flavor. Or, you can simply omit the garnish. It's optional.
Tips For The Best Sweet Potato Curry
You'll want to chop the sweet potatoes into 1-inch pieces, so they can cook evenly and quickly. You can leave the peels on, or remove them. If you decide to keep the peels, be sure to thoroughly scrub and clean the sweet potatoes. Be sure to "bloom" the spices. Blooming just refers to a cooking technique where spices are quickly heated in oil to enhance the flavors, which is what we'll be doing here in this recipe.
What To Serve With One Pot Sweet Potato Curry
My favorite way to serve sweet potato curry is with cooked rice. It's an ingredient I always have on hand, it's cheap, and it's quick to make. It's the perfect vessel for soaking up this delicious curry sauce. Other options include roti/flatbread, quinoa, and fresh bread.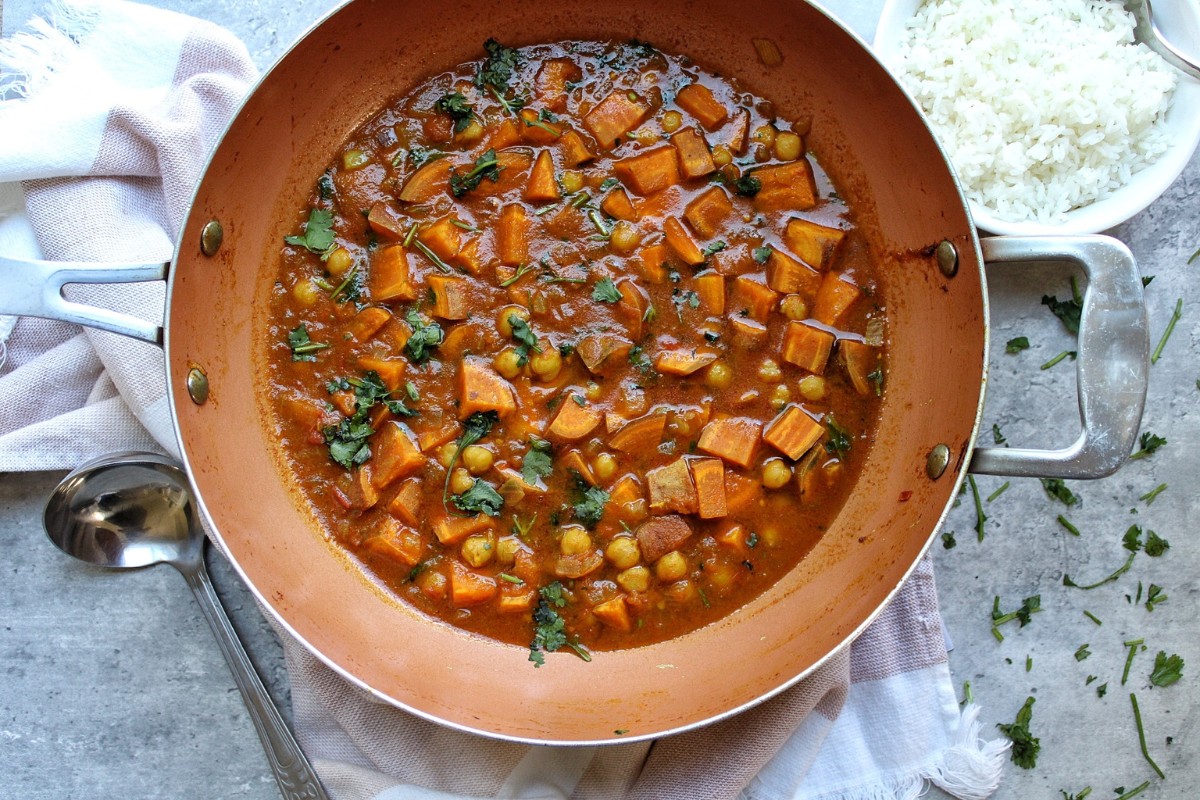 To brighten up the dish, you can serve it up with fresh salad made up of crunchy greens like romaine, along with ingredients including cucumbers, and tomatoes, with a drizzle of olive oil or a light vinaigrette.
For a crunch, you can add toasted sunflower seeds on top, or your favorite crushed nuts. For a creamier dish, you can add a bit of coconut cream, too.
How To Store
To store sweet potato curry, allow them to cool completely before transferring to an airtight container. They can be kept in the refrigerator for up to 3 days. If you want to keep them longer, the curry can be frozen for up to 2 months. To reheat, cook in a pot for a few minutes until warm. Add some water if needed.
More Sweet Potato Recipes
Got sweet potatoes? Don't let them go to waste! Try out these recipes: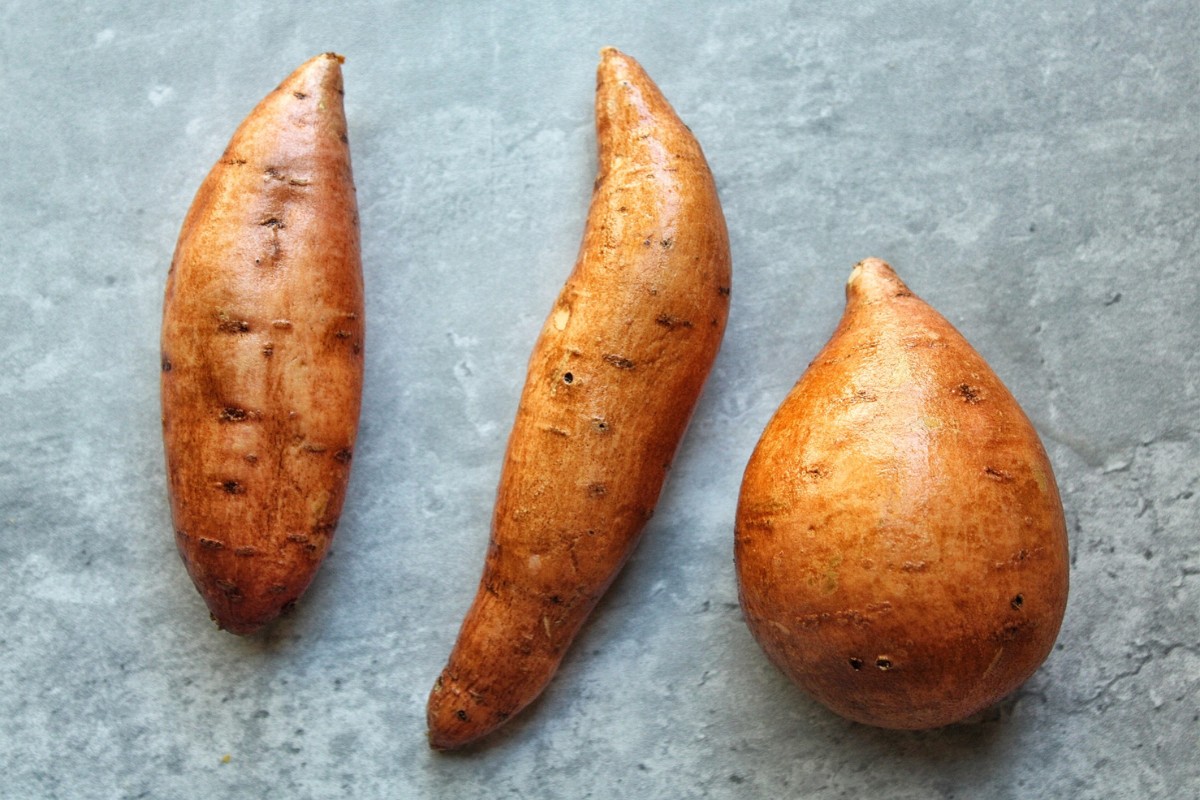 If you're on a curry kick, be sure to try out our butter chickpea curry and Thai-style curry with potatoes and vegetables
FAQs About Sweet Potato Curry
Can I use different types of sweet potatoes for the curry?
Yes, you can use various types of sweet potatoes, such as orange, white, or purple. Each type might offer slightly different flavors and textures to the curry.
How can I adjust the spiciness of the curry?
To control the spiciness, you can modify the amount of curry powder you use. If you prefer milder flavors, use less curry powder, and for a spicier curry, increase the amount. You can also add red pepper flakes or cayenne pepper for extra heat. Or, add a couple of chiles.
Is it necessary to peel the sweet potatoes before cooking?
I leave the skin on the sweet potatoes. However, you can peel them if you like. Both work fine.
Can I use homemade vegetable broth instead of store-bought?
Of course! Homemade vegetable broth can enhance the flavor of the curry even more. Just ensure it's well-seasoned (and add salt) to provide the best taste.
What other vegetables can I add to the curry?
You can experiment with additional vegetables like bell peppers, spinach (frozen can be used, too), peas, or carrots. Add them along with the sweet potatoes to create a more diverse and nutritious dish.
Is there a way to make the curry creamier without using coconut milk?
To achieve a creamier texture without coconut milk, you can blend a portion of the cooked sweet potatoes and chickpeas before adding them back to the curry. This will create a thicker sauce without using dairy or coconut.
Can I use other spices along with curry powder?
Absolutely! Feel free to add complementary spices like cumin, coriander, or cinnamon to enhance the flavor profile of the curry.
Tried out this One-Pot Chickpeas and Sweet Potato Curry recipe?

Please leave a comment below, share it, rate it, or tag a picture @plantbasedandbroke on Instagram and hashtag it #plantbasedandbroke. Show off that creation with us.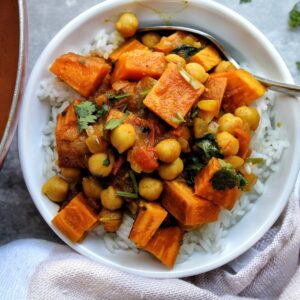 One-Pot Chickpeas and Sweet Potato Curry
Time for one-pot chickpeas and sweet potato curry! It's the perfect family-friendly dinner recipe, packed with fiber, protein, and flavor.
Ingredients
2

tablespoons

olive oil

1

red onion

chopped

2

garlic cloves

minced or curshed

1

teaspoon

ginger

minced

2

tablespoons

curry powder

1

teaspoon

turmeric

1

tablespoon

tomato paste

1

cup

tomatoes

chopped, pureed, or crushed

2

sweet potatoes

cubed into 1-inch pieces

15

ounces

chickpeas

canned

2

cups

vegetable broth

Salt and pepper

to taste

lemon juice

optional

cilantro

chopped, optional
Instructions
In a large wok or pot, heat oil over medium heat. Add the chopped onion and sauté until soft, about 2-3 minutes. Add the minced garlic and ginger. Sauté for another 30 seconds until fragrant.

Add the curry powder, turmeric, and tomato paste. Stir well to coat the onions and garlic with the spices. Cook for 1 minute.

Pour in the diced tomatoes with their juice. Stir and let the mixture simmer for a couple of minutes.

Add the sweet potatoes to the pot and sauté for 5 minutes, allowing them to get slightly browned and absorb the flavors. Add a bit of water, if needed, to prevent burning or sticking.

Add the drained chickpeas to the pot and stir to combine everything evenly. Pour in the vegetable broth, ensuring that the sweet potatoes and chickpeas are mostly submerged. Season with salt and pepper to taste.

Cover the pot with a lid and let the curry simmer on low-medium heat for about 15-20 minutes, or until the sweet potatoes are tender. Optional: for a creamier curry, blend a portion of the curry and return back to the pot. Simmer for a few more minutes. Optional: Add a squeeze of fresh lemon juice.

Adjust the seasoning if necessary and serve the sweet potato chickpea curry over cooked rice, quinoa, or with naan bread. Garnish with fresh chopped cilantro (optional).
Notes
For a creamier sweet potato curry without coconut milk, blend a portion of the curry and pour it back into the pot. Combine and simmer for a few more minutes. 
Nutrition
Serving:
1
serving
Calories:
374
kcal
Carbohydrates:
61
g
Protein:
13
g
Fat:
10
g
Saturated Fat:
1
g
Polyunsaturated Fat:
2
g
Monounsaturated Fat:
6
g
Sodium:
576
mg
Potassium:
926
mg
Fiber:
14
g
Sugar:
14
g
Vitamin A:
16712
IU
Vitamin C:
13
mg
Calcium:
116
mg
Iron:
5
mg