(
This post may have affiliate links. Please see my disclosure.
)
---
Listen, sometimes I just want a snack just using what I already have at my home. (hint: roasted chickpeas with cinnamon).
Besides, I am not about that go-to-the-grocery-store-just-to-make-a-dish life. I love all of my readers, but I also love being frugal. 😉
Anyway, I took a peek into my very sad and nearly empty pantry (I haven't done propper shopping in a couple of weeks) and I spotted a beautiful can of chickpeas.
Then I saw that I had cinnamon. Hmmmm. My brain was definitely turning with ideas. So, I decided that I should throw those bad boys into an oven, get something them nice and crispy, then toss it in the stuff that'll remind me of winter….just so I can stop thinking about how ridiculously hot it is in my apartment right now.
If you care, it's nearly 100F degrees where I am and I am rethinking my whole "I prefer warm weather" stance. Ironically, I used my oven for this recipe. Using an oven in the middle of a heat wave kinda sucks, but I digress.
Okay, ready for the recipe? Make sure to read the cooking notes! It's important. 
---
Crispy Roasted Chickpeas with Cinnamon Recipe
Cooking Notes:
When removing the outer shell of the chickpeas, pinch it very softly and the shell should easily come off.
Removing the outer shell will yield much crispier roasted chickpeas.
Eating this as a snack will be a bit messy, but totally worth it. Eat it with a spoon if you don't want your hands sticky!
You can totally customize this recipe add flavors you like. The popular ones: garlic powder, cayenne pepper, bbq.
Check on the level of crispiness of the chickpeas by trying one out. If they are crispy enough, take 'em out. If not, leave them in the oven for a few more minutes.
If you want more sweetness, add more your sweetener of choice.
If you want it more cinnamon-y (I always do), add more cinnamon.
Ingredients:
1 tablespoon oil
1 tablespoon maple syrup or honey
A pinch of salt
Directions:
Drain and rinse the can of chickpeas.
Set the chickpeas in a bowl and pat dry.
Preheat the oven to 375F degrees.
While it's preheating, remove the outer shell or skin from each chickpea.
Next, set the skinned chickpea into another bowl.
Repeat until all of the chickpeas' outer shell has been removed.
Pat the chickpeas dry as much as you possible can.
Next, line a baking sheet with parchment paper.
Evenly distribute the chickpeas onto a baking sheet.
Then, bake for about 35-45 minutes, or until golden and crispy.
Remove chickpeas from the oven and immediately toss with the rest of the ingredients (oil, cinnamon, maple syrup/honey, salt).
Finally, allow the chickpeas to cool for about 5 minutes.
Eat your roasted chickpeas as a snack!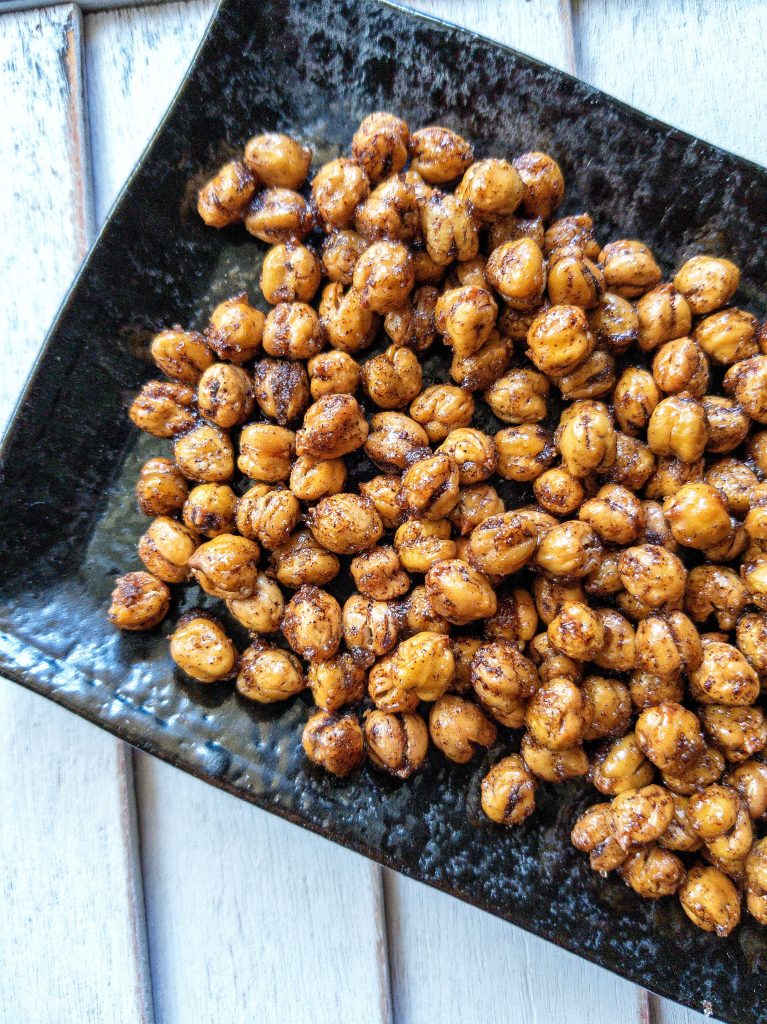 Check out our most popular recipes:
How useful was this post?
Click on a star to rate it!
Average rating 5 / 5. Vote count: 1
Please follow and like us: