(
This post may have affiliate links. Please see my disclosure.
)
I am a bit picky about my snacks, but hands down, roasted chickpeas tossed in cinnamon and honey is one of my favorites – especially when the winter chill rolls in.
No matter the season, my kitchen pantry is always stocked with both dry and canned legumes, including chickpeas – which comes in handy for this sweet treat, or for a stew, sandwich, or lunch wrap.
These roasted chickpeas pack a crunch and take on whatever flavors you add to them. Similar to homemade popcorn, they are a light, nutrient-dense, plant-based snack.
They are best eaten fresh and warm, right out of the oven.
How To Get Roasted Chickpeas Crunchy
If you find your chickpeas are soggy or soft – the culprit is mostly moisture. One of the most important step in this recipe is to ensure the chickpeas are as dry as possible.
After they have been drained, rinse, and their outer shell had been removed, pat-dry the chickpeas as much as possible. You can also leave the chickpeas spread out on a pan or plate to air-dry.
Wet chickpeas will create steam in the oven, which will of course impact its texture.
Are Chickpeas The Same As Garbanzo Beans?
Chickpeas and garbanzo beans are exactly the same. Like many foods, they may go by many names. Garbanzo is the Spanish name for Chickpeas. Use one or the other – your call.
Other Spices To Use For Roasted Chickpeas
Nutmeg
Garam masala
Nutritional yeast
Onion powder
Garlic powder
Chili powder
Cayenne pepper
Smoked paprika
Cumin
Turmeric
Basil
Curry powder
If you care, it's nearly 100F degrees where I am and I am rethinking my whole "I prefer warm weather" stance. Ironically, I used my oven for this recipe. Using an oven in the middle of a heatwave kinda sucks, but I digress.
Roasted Chickpeas Recipe Notes
When removing the outer shell of the chickpeas, pinch it very softly and the shell should easily come off.
Removing the outer shell will yield much crispier roasted chickpeas.
Eating this as a snack will be a bit messy, but totally worth it. Eat it with a spoon if you don't want your hands sticky!
You can totally customize this recipe add flavors you like. The popular ones: garlic powder, cayenne pepper, bbq.
Check on the level of crispiness of the chickpeas by trying one out. If they are crispy enough, take 'em out. If not, leave them in the oven for a few more minutes.
If you want more sweetness, add more your sweetener of choice.
If you're craving something savory, check out my Crispy Smoked Paprika Chickpeas recipe.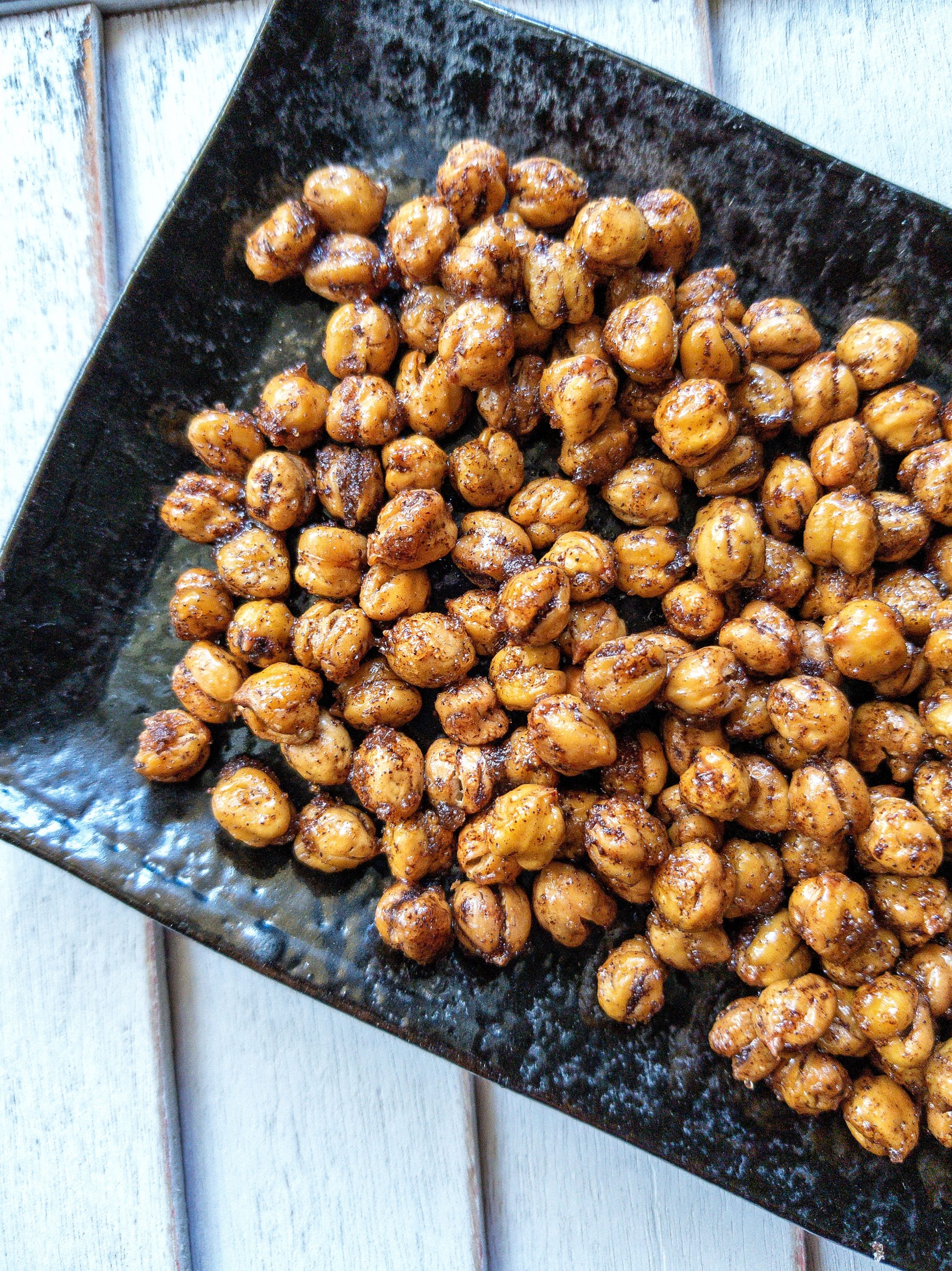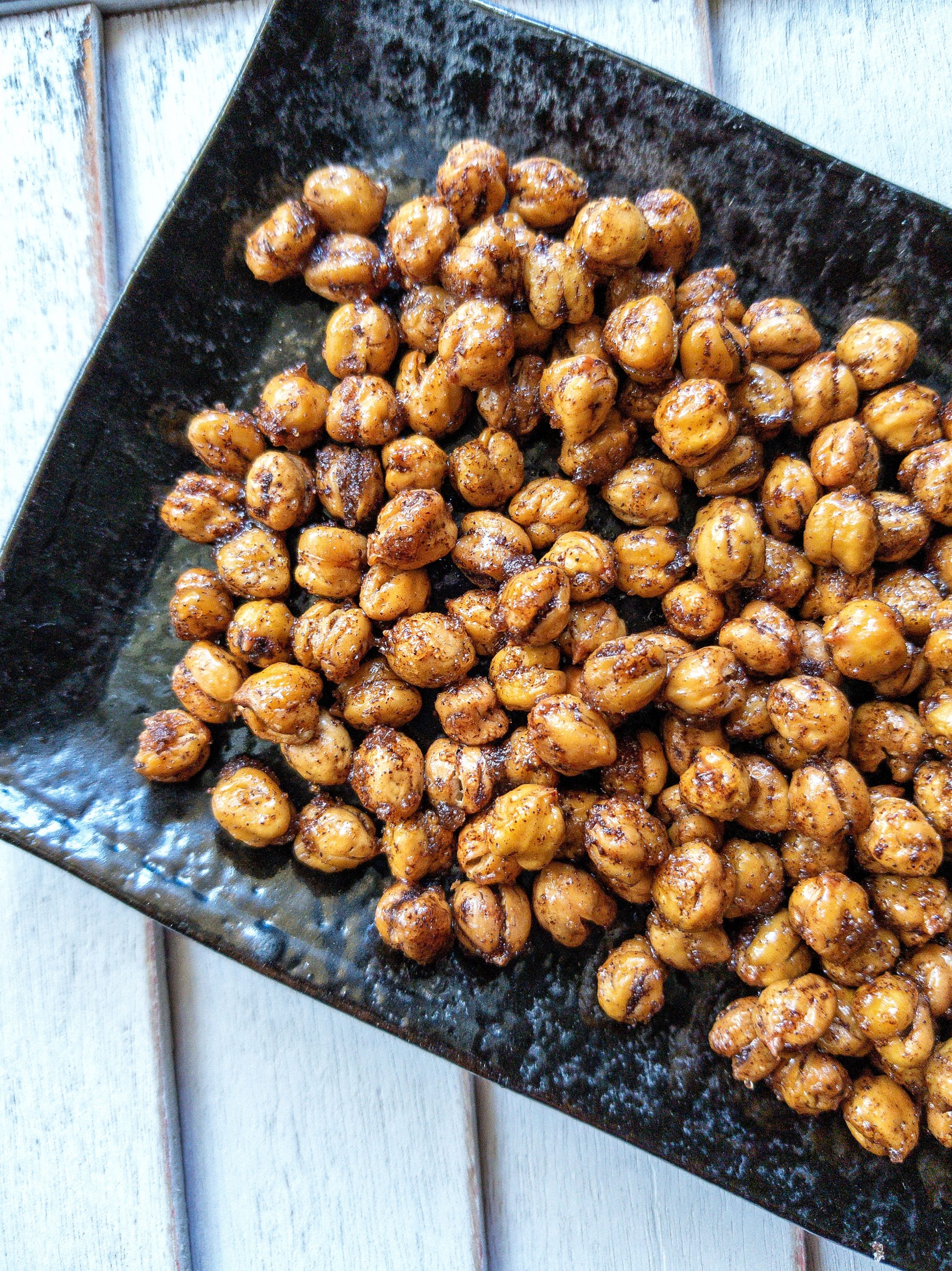 Crispy Roasted Chickpeas with Cinnamon
Crispy, cinnamon-spiced roasted chickpeas that are perfect for a warm, winter snack.
Instructions
Preheat the oven to 400 degrees F. Remove the outer shell or skin from the chickpeas, or leave them on for a slightly tender chickpea snack.

Dry out the chickpeas as much as possible. Evenly toss in oil and salt. Next, line a baking sheet with aluminum foil.

Evenly distribute the chickpeas onto a baking sheet. Then, bake for about 25-30 minutes, shaking the pan every 10 minutes.

While chickpeas are still warm, immediately toss chickpeas in cinnamon and maple syrup.
---
Cookware Used In This Recipe
Did you try out this Crispy Roasted Chickpeas with Cinnamon recipe?
Please leave a comment below, share it, rate it, or tag a picture @plantbasedandbroke on Instagram and hashtag it #plantbasedandbroke. Show off that creation with us