(
This post may have affiliate links. Please see my disclosure.
)
Easy, affordable, and fast to make – this plant-based cucumber sandwich with 4 ingredients is exactly that.
As much as I love to impress everyone with my cooking enthusiasm, we're all living a real-life that sometimes limits our time, resources, and bandwidth.
This perfect-for-summer sandwich recipe is made with fluffy, traditional, slices of white bread. No need to fancy this up – I mean the kind of loaf of bread you can find for 99 cents. Additionally, we have a layer of smooth and soft vegan butter painted on each slice of bread.
Then we have the cucumber. English cucumbers pair well in this sandwich but don't be so hard on yourself if you can't find them, Any kind of cucumber you can find at your local grocery store will do just fine.
The trick is to slice them thinly. We're aiming for an equal balance between the butter and cucumber.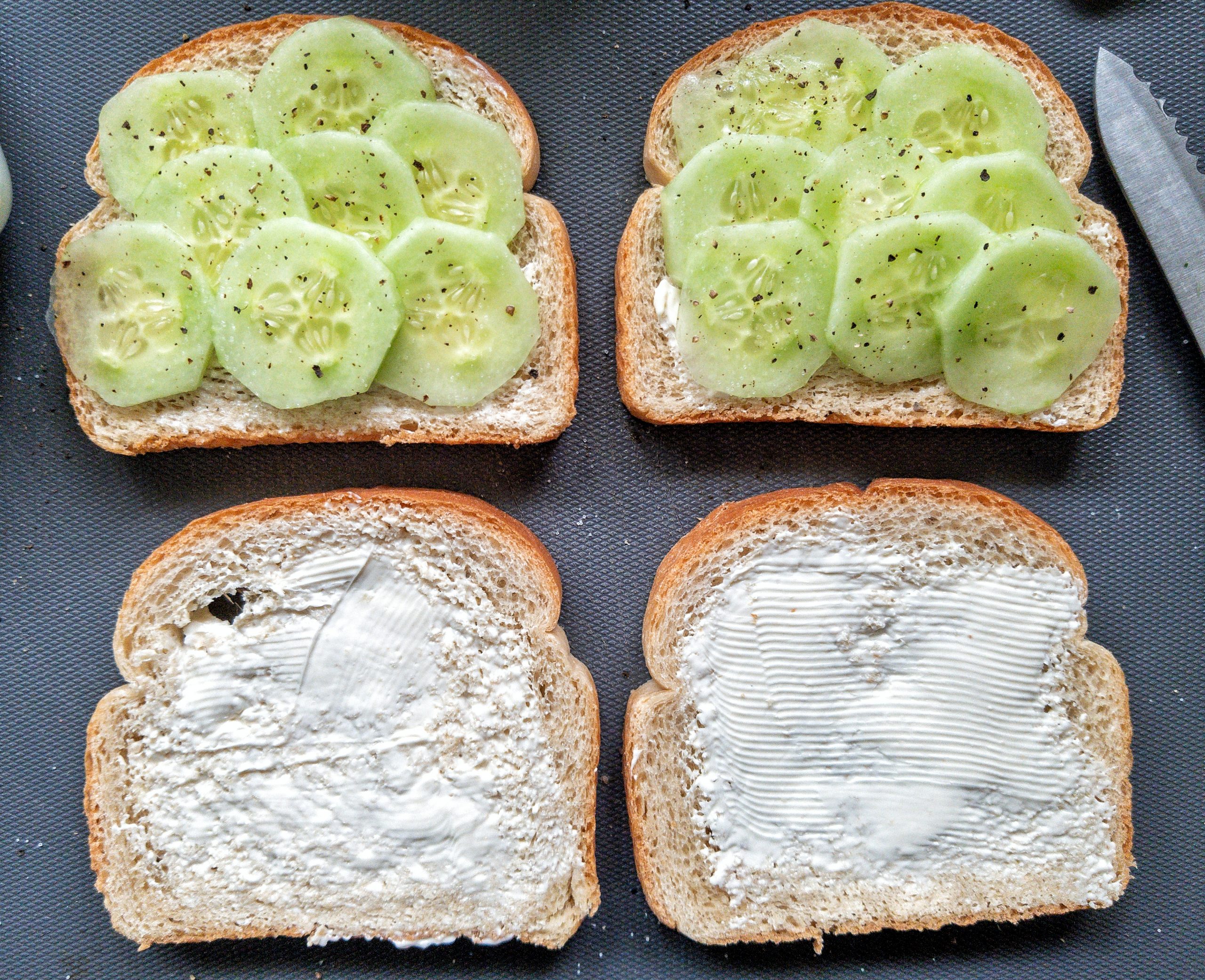 Some recipes call for cream cheese or mayo, however, I wanted to keep this sandwich affordable and light, with easy-to-find ingredients. I used Melt Organic butter, but feel free to use what you like and have available.
Recipe Notes:
I recommend peeling the cucumbers. This will make the sandwich much easier to slice. Speaking about slicing – it's best to use a sandwich knife for an easier cut.
Any white bread will do – of course, freshly baked is always a tasty winner. You'll want to skip on the thick slice white bread – it will be too dense for this sandwich.
What Is A Cucumber Sandwich?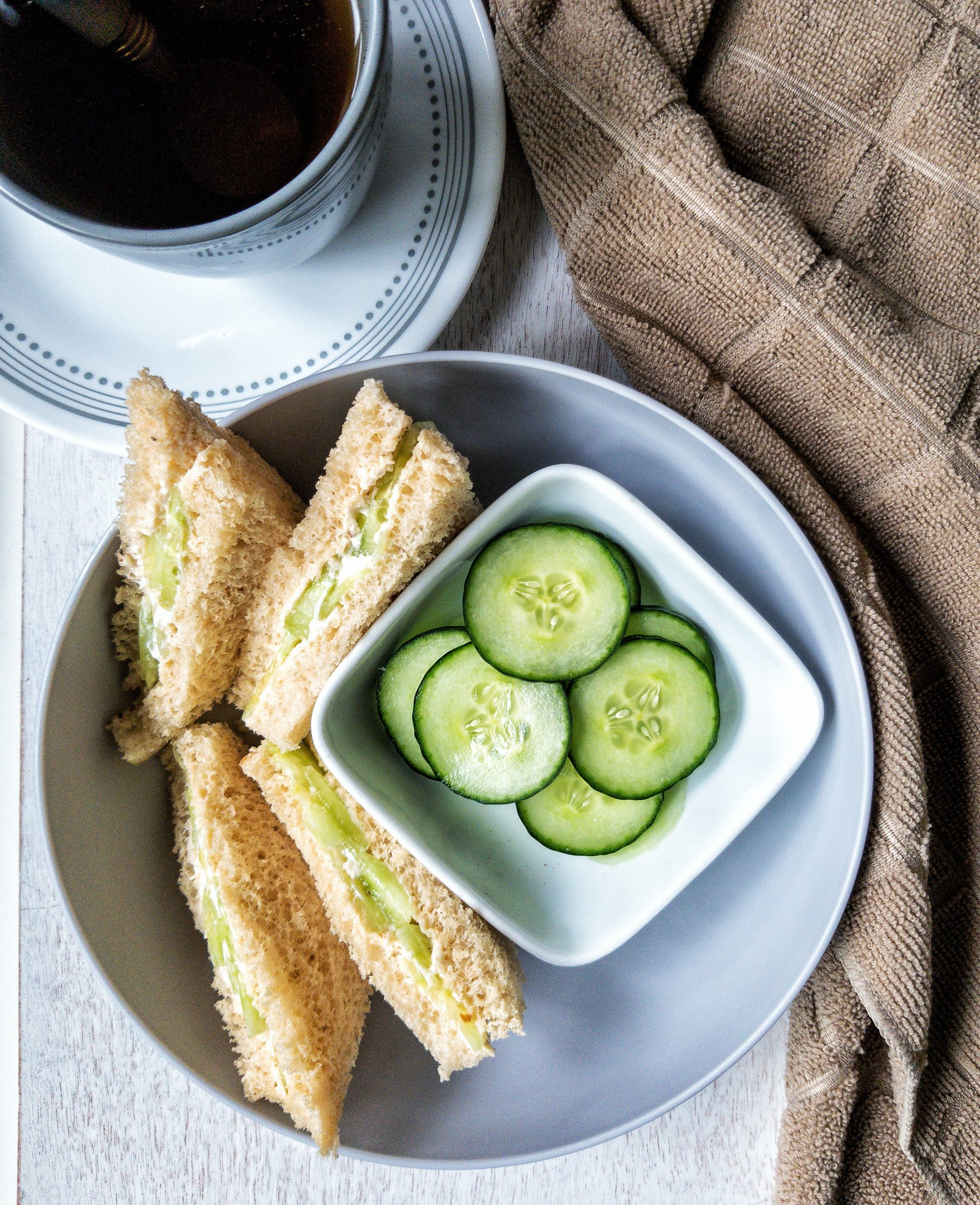 Cucumber sandwiches are known as tea-time snacks served late afternoon before supper. The skin or peel of the cucumber is typically removed along with the bread's crust. They are light snacks served with tea – hence their name "tea sandwiches."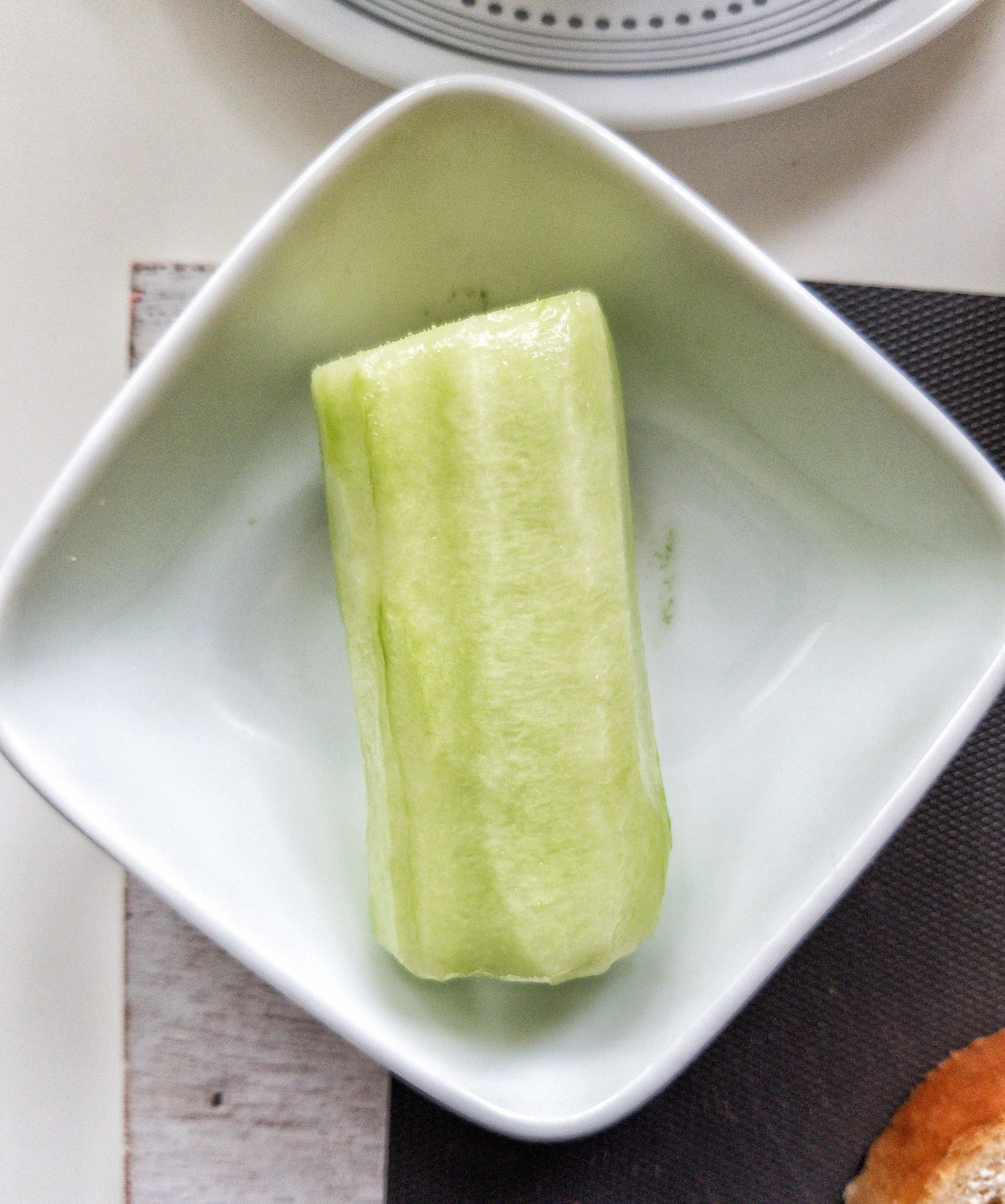 How To Keep Tea Sandwiches From Getting Soggy?
Cucumbers are a very watery fruit and can get the sandwiches soggy – especially if left out for too long.
After thinly slicing the cucumbers, pat them dry with paper towels.
Use only a thin layer of butter.
Add a layer of butter on both slices to act as a barrier against the cucumbers.
It's best to eat the sandwiches right away or a few hours later after preparing them.
How To Soften Butter For Cucumber Sandwiches?
If the butter is too hard or cold, it will be difficult to paint a thin, clean layer edge-to-edge without potentially damaging the bread. I recommend placing the butter on the countertop before making the sandwich, so it has a chance to soften.
Note, we don't want the butter melted – just soft.
How To Make Cucumber Tea Sandwiches?
Cucumber tea sandwiches are very easy to make with just four main ingredients: white bread, English cucumbers, butter, and salt + pepper to taste.
The cucumber is typically peeled first and then thinly sliced. If you want to leave the peels – that's fine too. However, it will not be as easy to cut.
Once the cucumber is thinly sliced, pat dry, as they will release some water.
Then, take the two slices of white bread and paint a thin layer of soft, vegan butter on each slice. Place the slices of cucumbers onto the white bread, add salt and pepper to taste, then close the sandwiches.
Cut off the sandwiches' edges. Then, cut up the sandwiches into squared, triangles, or in half to create rectangles – which is what I opted to do.
I highly suggest using a bread knife or a serrated knife for easier cutting. The bread is very soft and will need a proper knife so it does not crumble or break.
If you prefer, also go for whole wheat bread instead of white.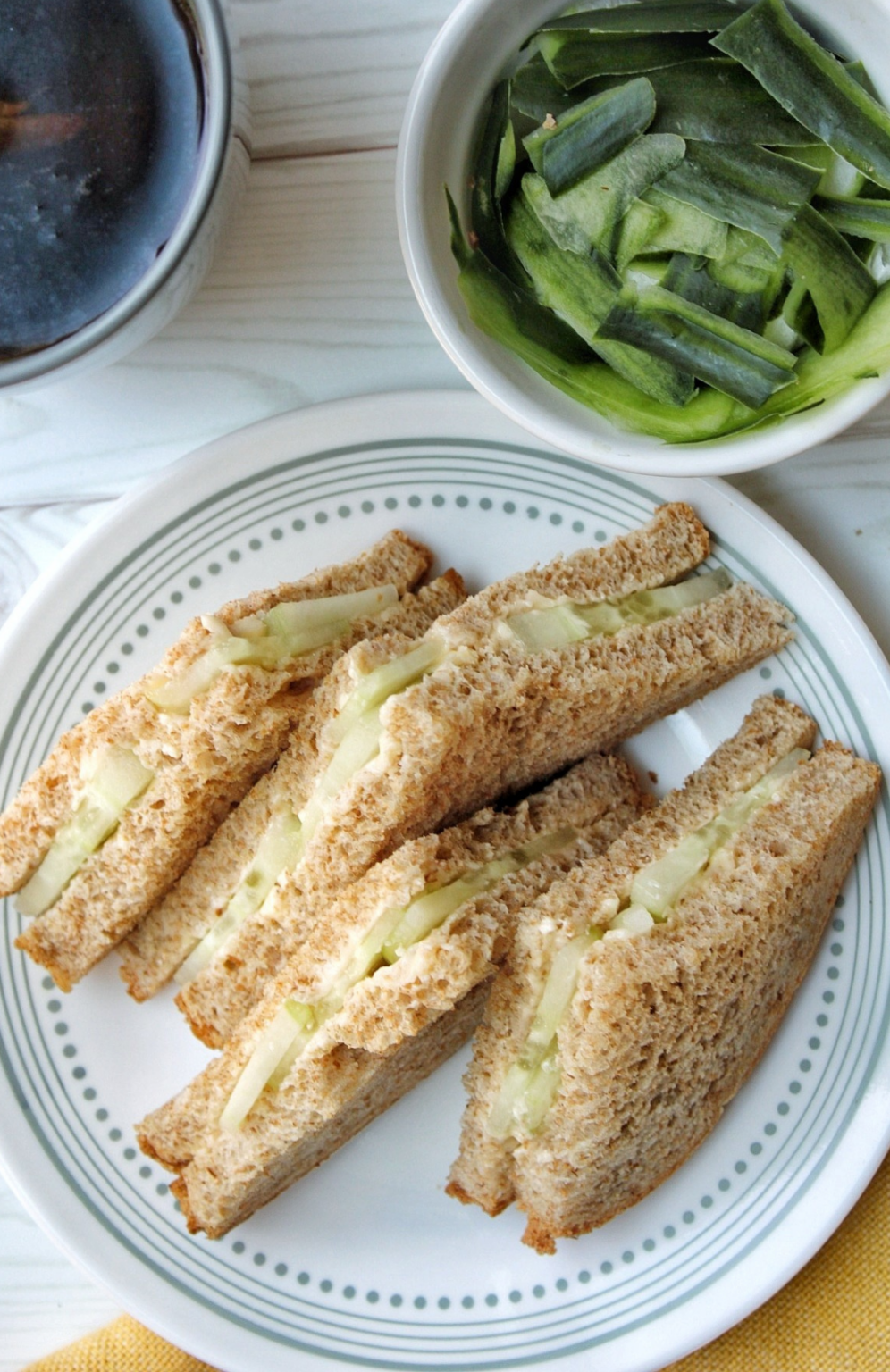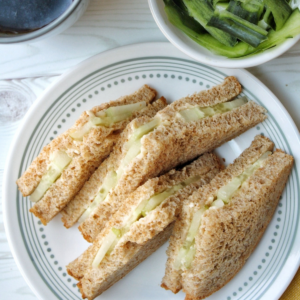 Plant-Based Tea Cucumber Sandwich
This perfect-for-summer Plant-Based Tea Cucumber Sandwich recipe is made with fluffy, traditional, slices of white bread. Additionally, we have a layer of smooth and soft vegan butter painted on each slice of bread with lighly seasoned English cucumber slices.
Ingredients
1/4

cucumber

4

slices

white bread

Vegan butter

Salt & pepper to taste
Instructions
Wash and peel the cucumber. Next, cut the cumber into very thin slices and pat dry with a paper towel.

Add a thin layer of softened butter on both slices of bread. Then, place the cucumber slices on top of the butter. Add a pinch of salt and black pepper.

Close the sandwiches. With a serrated bread knife, cut off the edges/crusts. Then, cut the sandwiches into four rectangles, triangles, or any shape you prefer. Serve with tea (optional)
Nutrition
Serving:
1
-Serving
Calories:
137
kcal
Carbohydrates:
25
g
Protein:
5
g
Fat:
2
g
Saturated Fat:
1
g
Polyunsaturated Fat:
1
g
Monounsaturated Fat:
1
g
Trans Fat:
1
g
Sodium:
246
mg
Potassium:
109
mg
Fiber:
2
g
Sugar:
3
g
Vitamin A:
28
IU
Vitamin C:
1
mg
Calcium:
135
mg
Iron:
2
mg
Did you try out this Plant-Based Cucumber Sandwich Recipe?
Please leave a comment below, share it, rate it, or tag a picture @plantbasedandbroke on Instagram and hashtag it #plantbasedandbroke. Show off that creation with us.