(
This post may have affiliate links. Please see my disclosure.
)
During my nightly Reddit routine, I stumbled upon a Devil's Food Cake recipe and I was like - I have to try this. I decided to go eggless and dairy-free for my version of a vegan chocolate devil's food cake.
This particular recipe on Reddit's Old Recipes subreddit is called Nana's Devil's Food Cake and folks are hopping on the trend. I was 100% up for the challenge.
I am not much of a baker, but this recipe looked too easy. Besides, I am working on my soft and warm winter bod, and I figured, hey let's start now.
Of course, I wanted to make this homemade cake recipe plant-based, so there were some tweaks I had to make.
I didn't have to make many, though. Instead of using eggs, I used a chia seed and water mixture which acts as an egg replacement and binder in this recipe. Additionally, I used soy milk rather than dairy milk.
More Chocolate Recipes :
What Is A Devil's Food Cake?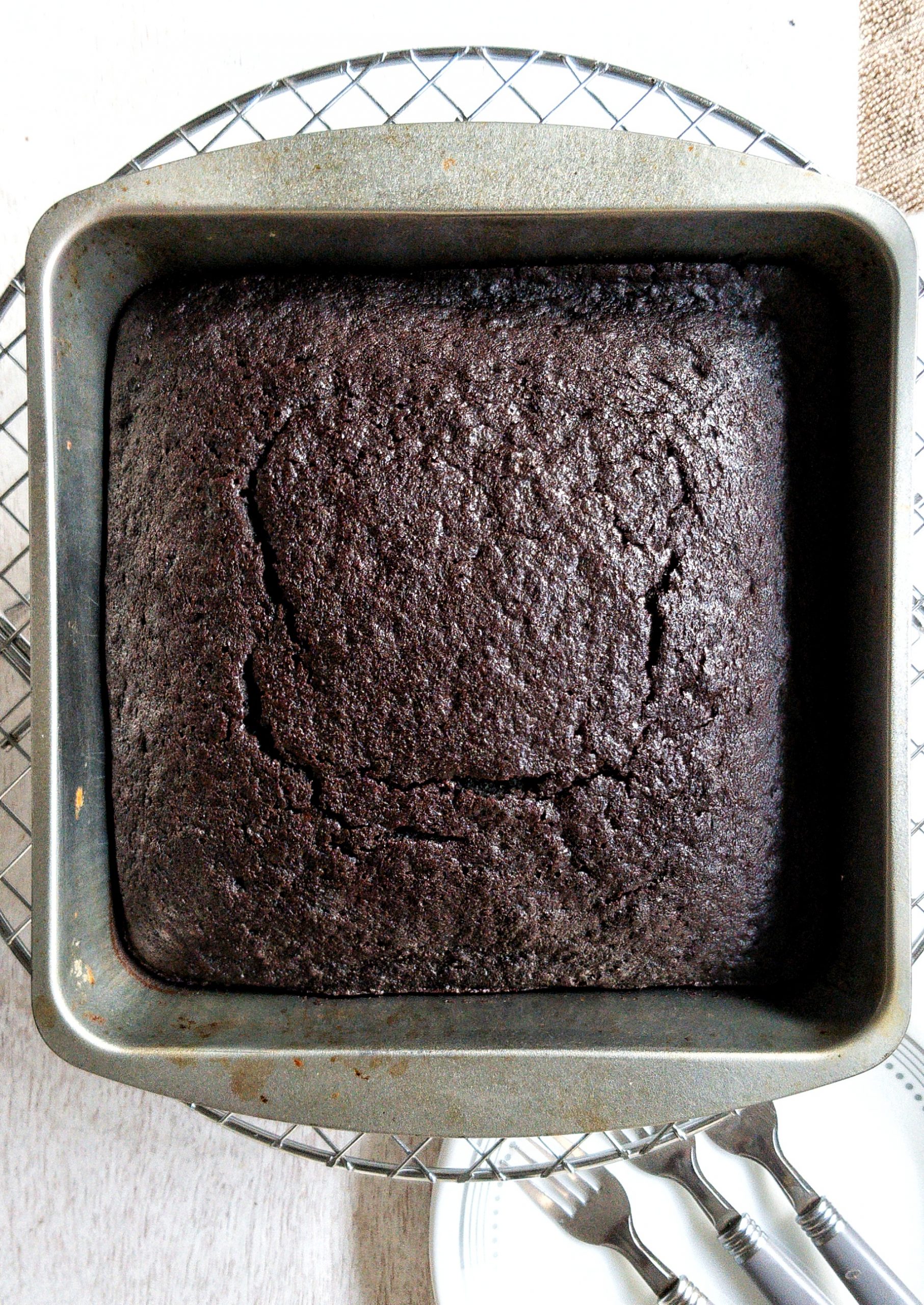 Nana's Devil's Food Cake is a light, fluffy, moist, and rich chocolate cake. The airy texture of the cake comes from the extra dose of baking soda.
Additionally, we're using a neutral oil (canola or vegetable) instead of the traditional addition of butter to create a richer chocolate flavor.
If you're in the mood for something different, try out our buttery snowball cookies.
What Makes The Texture & Taste Different?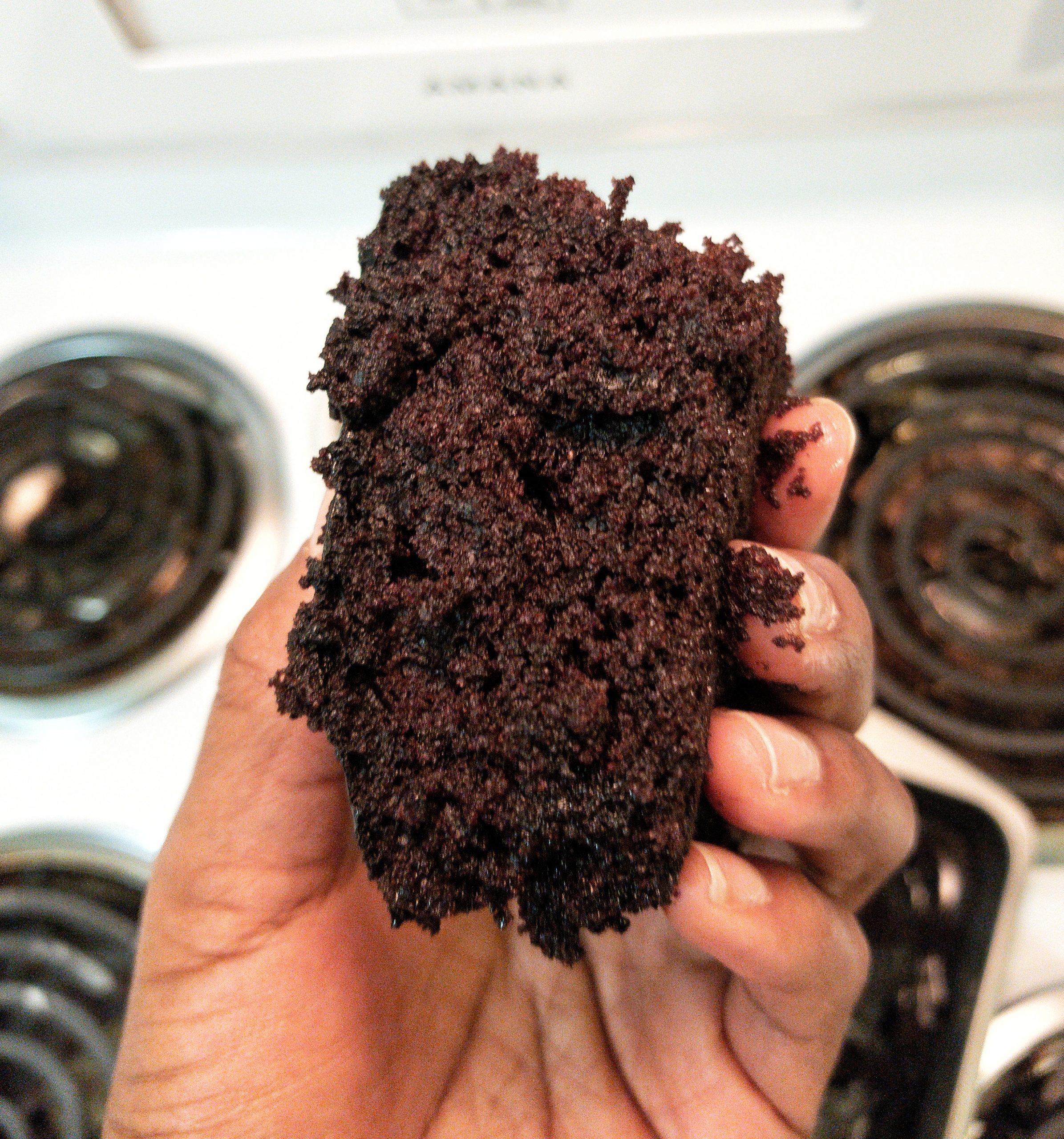 Personally, I am a very picky dessert and cake eater. I find most traditional cakes to be too dense, sweet, and heavy. This can be especially true for store-bought, ready-made cakes. However, I think this cake was made specifically for me.
This eggless, vegan cake is hands down the most pillowy, rich, and soft chocolate cake my mouth has ever tasted. I am seriously blown away by how it came out.
It had the perfect amount of sweetness with a bold chocolate flavor. I can probably eat the whole pan. But, I had to share it, unfortunately. Next time I'll make this cake when nobody's home.
Recipe Notes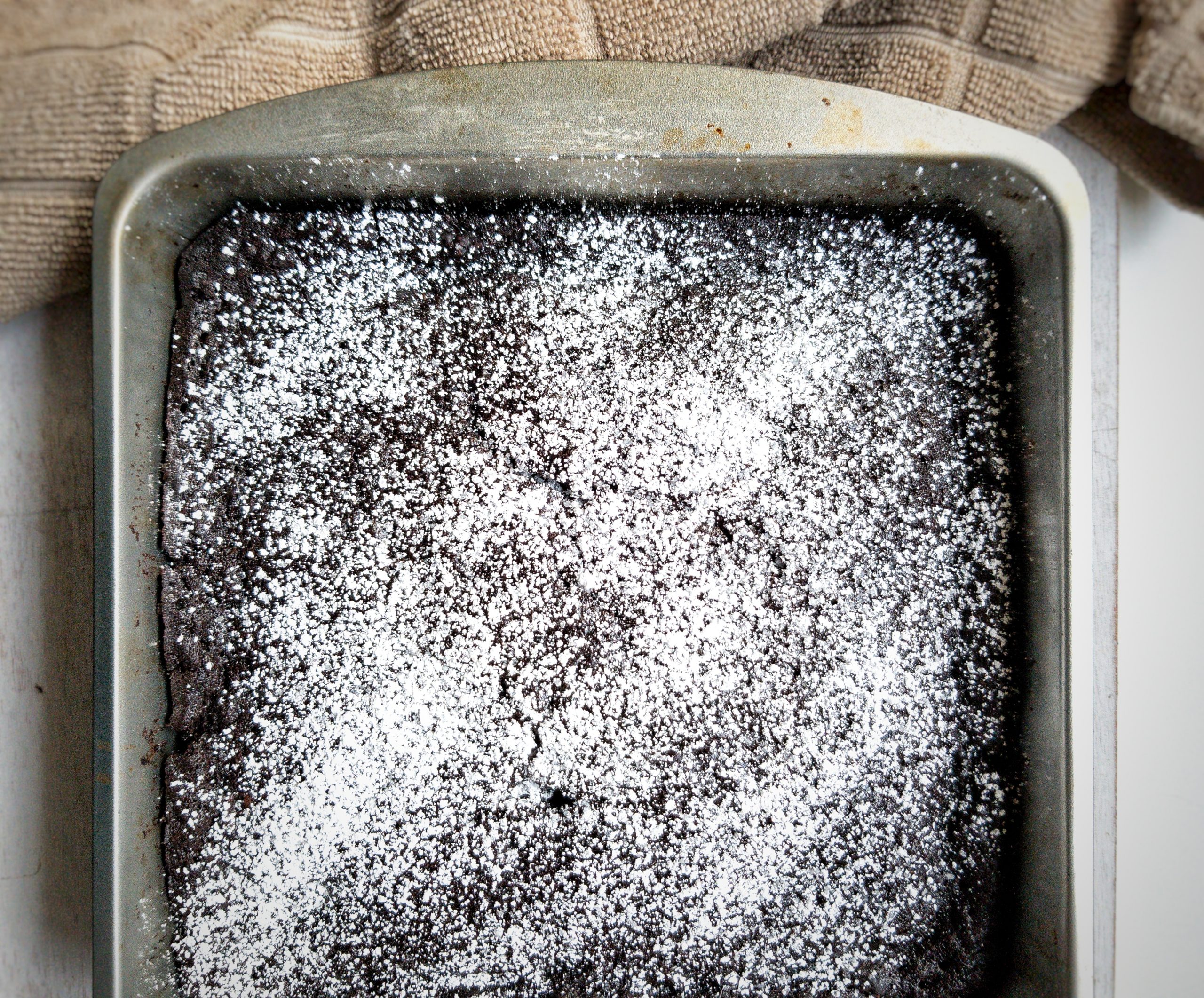 Be sure to sift all of the dry ingredients into a mixing bowl. This will ensure the texture is light and fluffy throughout. This should be done with a sifter.
I recommend using Dutch-processed cocoa powder. This brings a more rich chocolate flavor while toning down the bitterness. It's great to use in baked goods including cake, muffins, and cookies.
If you're using a different cake pan size than what's listed in the recipe, you may need to cook the cake longer or shorter. Check on it and slide a toothpick through to see if it's done. If it comes out clean, it's ready to go.
Because we're going vegan with this recipe, we're replacing eggs with chia seeds and water. All you will need is one tablespoon of chia seeds and 3 tablespoons of water. Whisk together and it will become gel-like as it sits for a few minutes. This will be your binder. Instead of dairy milk, we'll be using soy milk - which works just fine in this recipe.
Allow cake to cool and set for at least 45 minutes before cutting into it or adding glaze/frosting.
How To Make A Frosting Or Glaze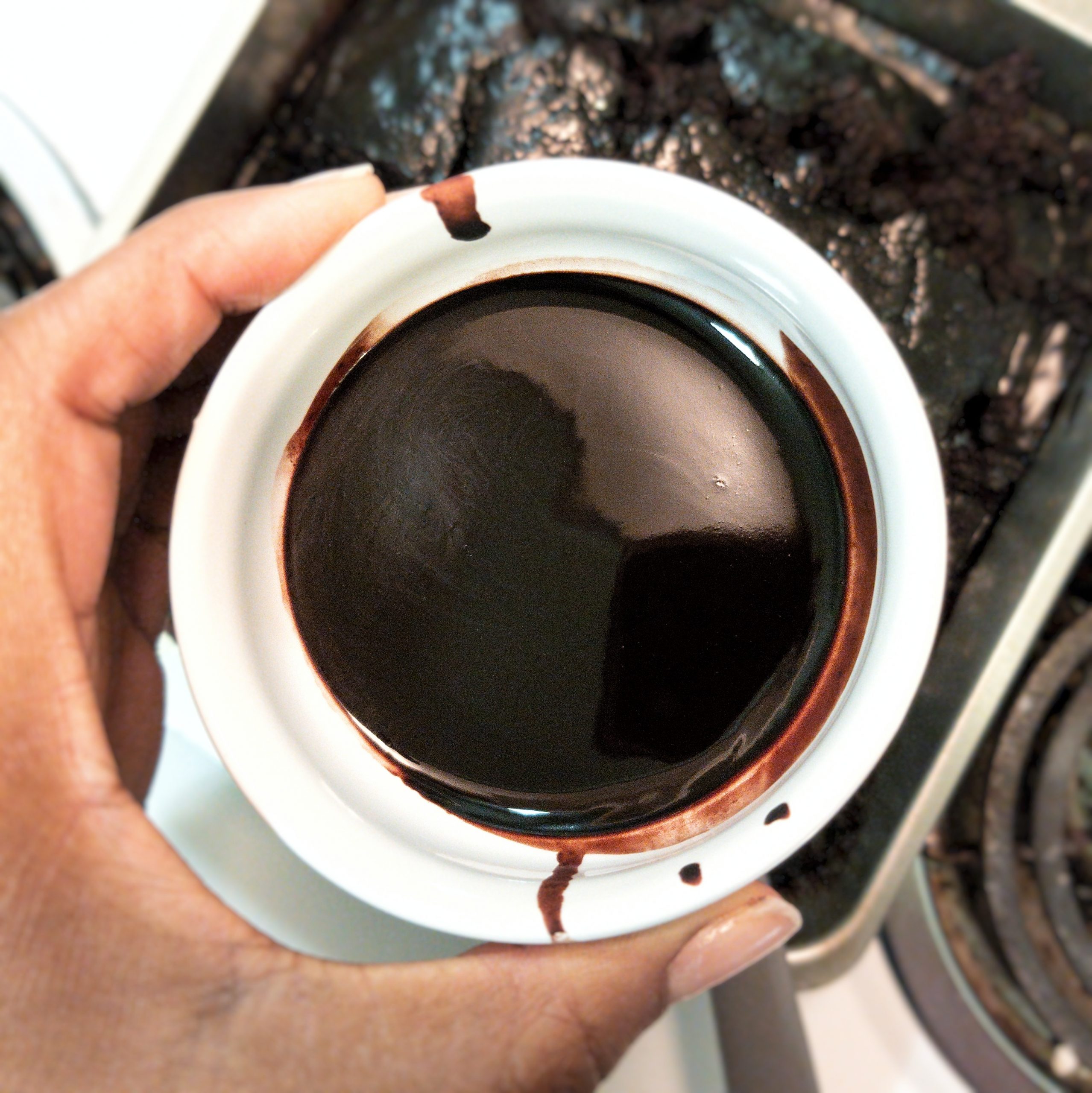 I'm a bit lazy and didn't want to go out of my way to use anything that wasn't already in my pantry. I decided to go for a homemade chocolate glaze or syrup.
For this, I just used three ingredients: Dutch-processed cocoa powder, brown sugar, and water.
I mixed the ingredients together and poured it into a saucepan over medium heat. I stirred and cooked the chocolate glaze or syrup until thick to my liking. This is the same recipe from my gluten-free pancakes with chocolate syrup.
Then I just evenly poured and spread the glaze over the cake - that's it.
You can opt to use any kind of frosting, glaze, or you prefer. You can even sprinkle a bit of powdered sugar on top. Sometimes I add coconut whipped cream to add some coolness to the cake.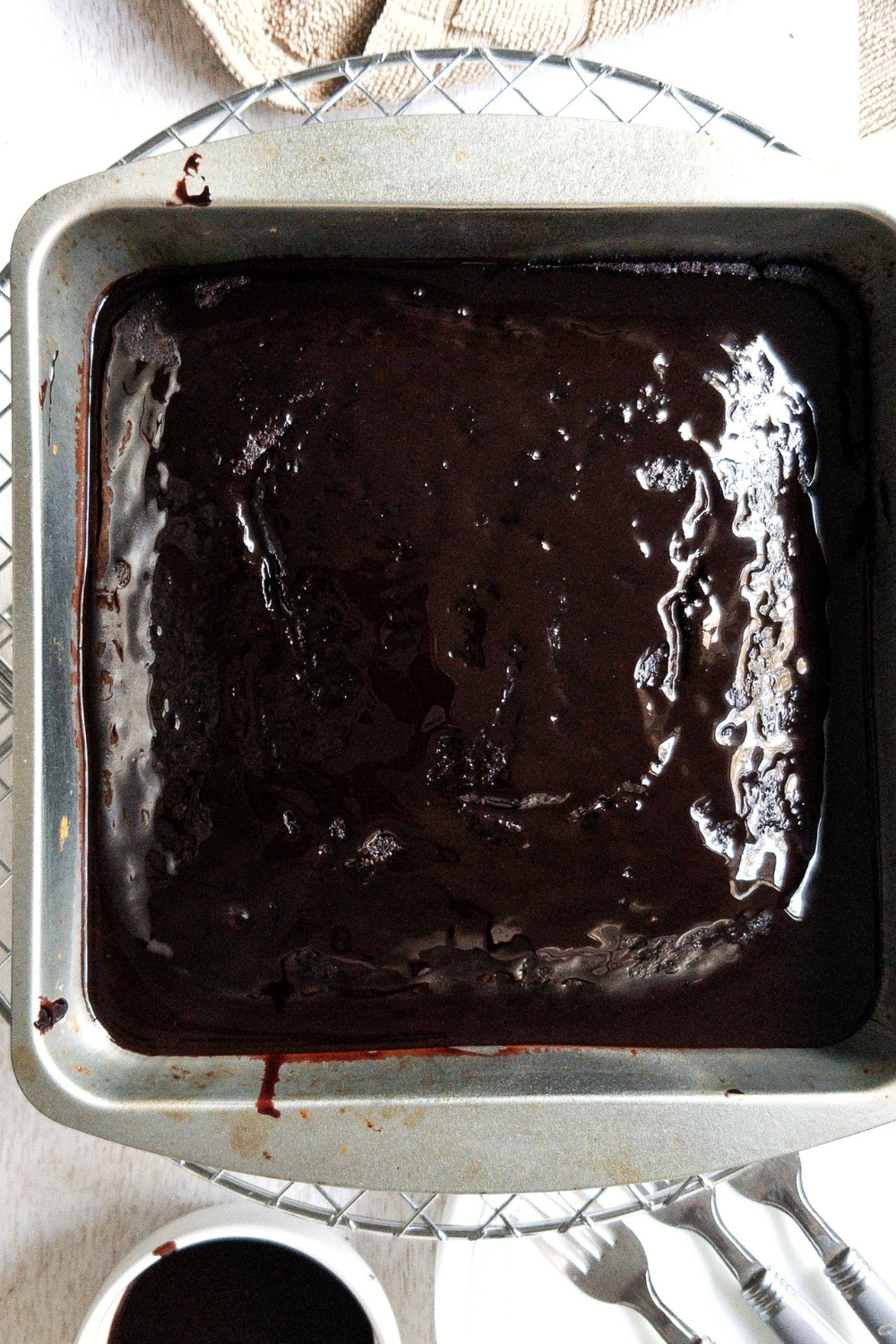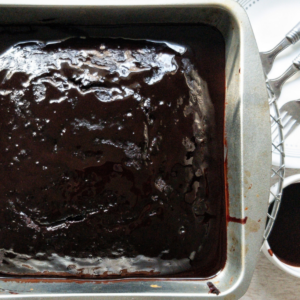 Vegan Chocolate Devil's Food Cake
Buckle up - we are making a vegan, rich chocolate Devil's Food Cake. It is light, fluffy, perfectly sweet, and great to pair with a scoop of vegan ice-cream or hot chocolate.
Instructions
Preheat the oven to 375 degrees F.

In a small bowl, combine chia seeds and 3 tablespoons of water. Set aside for a few minutes, until it's time to use it. It will gel up and become thick as it sits - similar in texture to eggs. This will be our egg replacer.

Make ½ cup of coffee ahead of time. Set aside to cool to room temperature.

In a large mixing bowl add sifted flour, salt, baking powder, baking soda, cocoa powder, and brown sugar. Combine together with a fork, whisk, or spatula.

Next, pour the oil, milk, black coffee, oil, and chia + water mixture. Fold batter with a silicone spatula. The batter will be a bit lumpy - that's okay

Pour the cake batter into an 8-inch cake pan. Bake for 30 minutes, or until done. Remove from oven and cool cake completely for about an 45 minutes to an hour before serving or adding frosting/glaze.
Nutrition
Serving:
1
-Serving
Calories:
403
kcal
Carbohydrates:
56
g
Protein:
4
g
Fat:
20
g
Saturated Fat:
15
g
Polyunsaturated Fat:
1
g
Monounsaturated Fat:
2
g
Trans Fat:
1
g
Sodium:
434
mg
Potassium:
190
mg
Fiber:
3
g
Sugar:
36
g
Vitamin A:
78
IU
Vitamin C:
1
mg
Calcium:
100
mg
Iron:
2
mg
Did you try out this Vegan Chocolate Devil's Food Cake recipe?
Please leave a comment below, share it, rate it, or tag a picture @plantbasedandbroke on Instagram and hashtag it #plantbasedandbroke. Show off that creation with us.